Air fryer baked sweet potatoes served with butter or any other topping of your choice. This is one of the easiest ways of cooking sweet potatoes.
Air fryer baked whole sweet potatoes
I have a thing for sweet potatoes… really love them! Baked slices, sauteed, in a salad or as puree, it doesn't matter! My favorite ones lately have been these super-quick air fryer frozen sweet potato fries and today's baked sweet potatoes in the air fryer.
They are supposed to be served as a main dish (usually), but for us, they make the main meal most of the time. A salad or other veggies on the side are all you need. A healthy, complete, and delicious meal, with practically no work involved at all.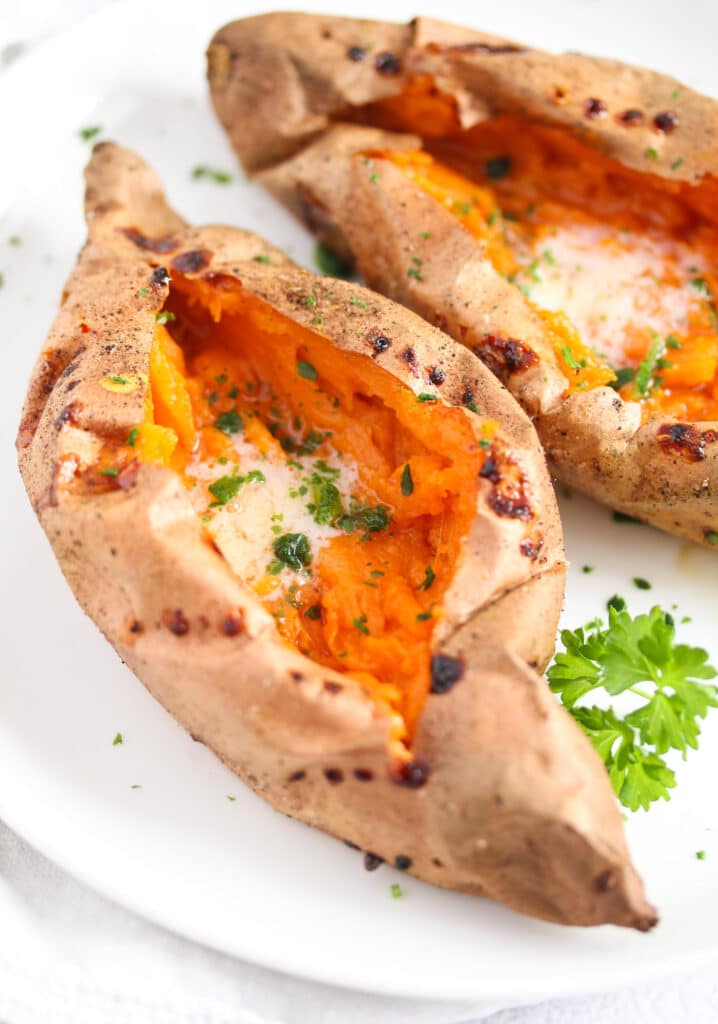 What do you need?
Sweet potatoes:
4 medium ones to serve 2-4 people. If you serve them as a side dish, 1 per person is enough. If you serve them as a main meal, then you would probably need 2 per serving.
Make sure that all the potatoes you are cooking are of similar size so that they will bake evenly.
A medium one weighs about 115-130 g/ 4-4.6 oz. If they are smaller or larger it won't matter that much, just make sure you adjust the cooking time accordingly.
Also, slender and longer ones will cook faster than those that are rounder and thicker.
You can cook more than 4 potatoes at a time, as many as they will snuggly fit in the basket of the machine. However, don't overcrowd the basket, there should be enough space between the sweet potatoes so that air can circulate properly.
Other ingredients: a small amount of olive oil, salt and pepper to rub the potatoes.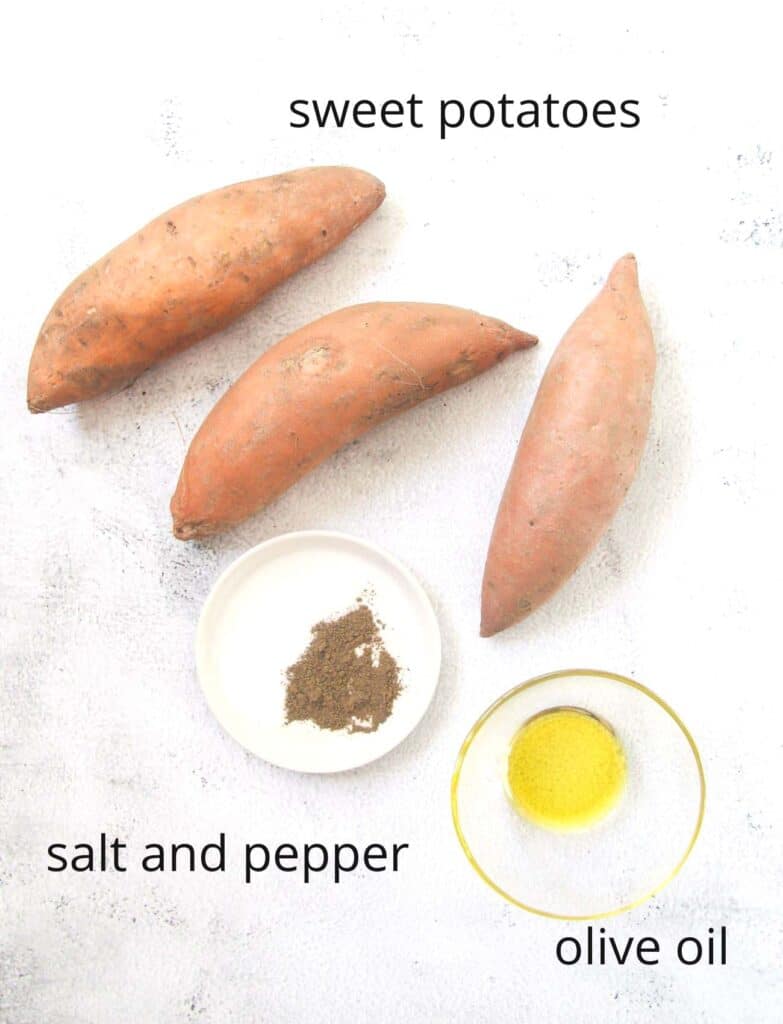 How to bake sweet potatoes in the air fryer?
Wash them very well if they are very dirty scrub them with a kitchen brush. Dry well with kitchen towels. If they are wet, they will steam instead of frying and that's not what you want. You want the skin to be crispy.
Poke them all over with a fork.
Rub them well with oil, salt, and pepper.
Place in the basket and cook for 40 to 50 minutes, flipping halfway.
The cooking time depends greatly on the size of the potatoes. Make sure you check after 40 minutes, even sooner if the sweet potatoes are smaller. You want them to be tender on the inside, but if overcooked they will become mushy.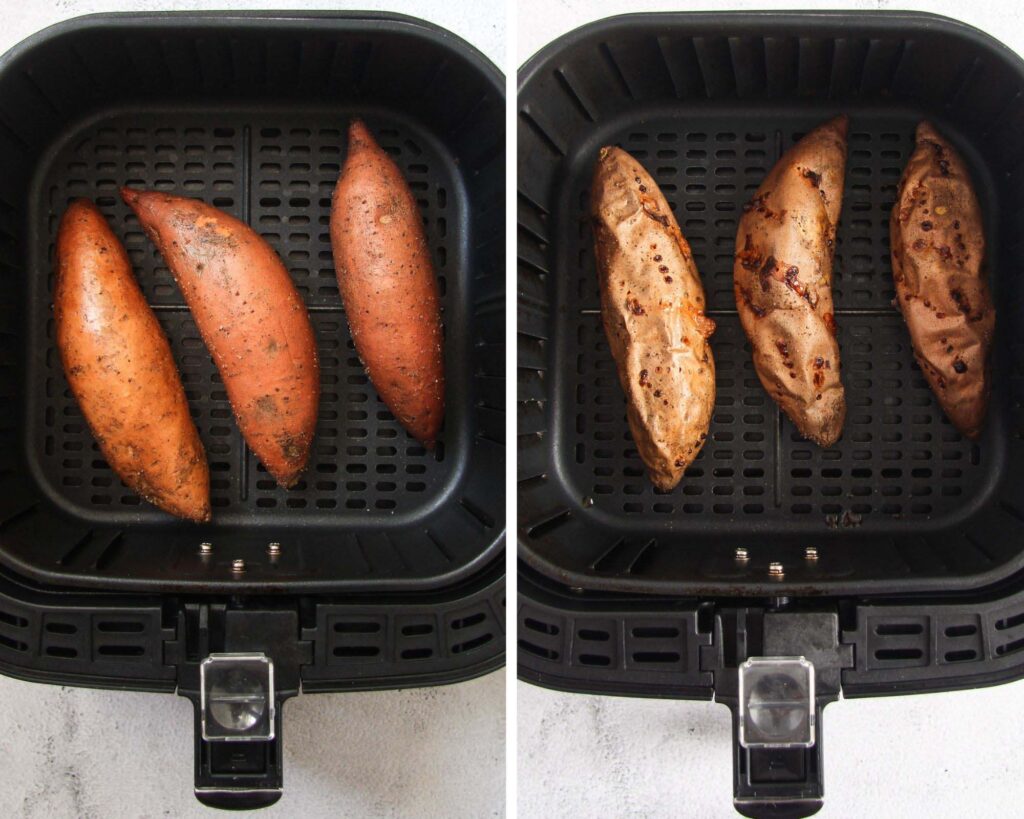 Do I have to wrap them in foil?
No, I never do. The skin would be soft instead of crispy, it can even get slightly slimy.
Can I bake them in the oven?
Of course, you can go the traditional way. Place the cleaned, poked, and rubbed potatoes on a baking tray lined with parchment paper. Bake for 40-50 minutes at 220 degrees Celsius/ 425 degrees Fahrenheit until fork-tender. Again, the baking time depends very much on their size and shape.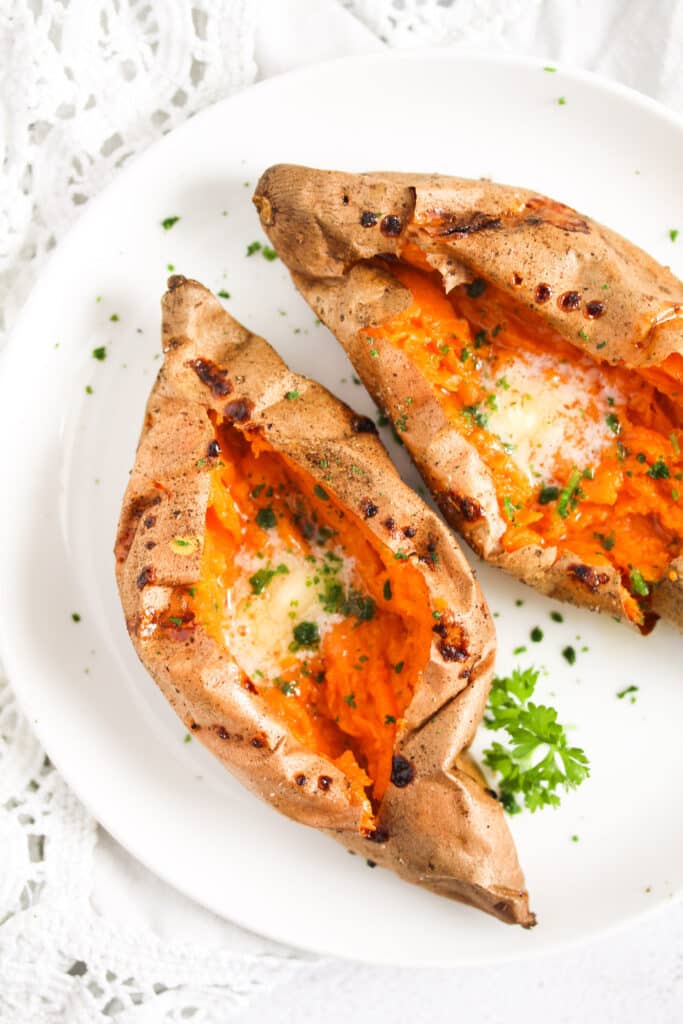 How to prepare for serving?
Cut a simple slit or an X on the top of the potatoes.
Carefully pull the skin apart. Hot! Use forks or spoons or wear kitchen mitts.
Gently mash a little of the flesh with a fork.
Top with a knob of salted butter and allow it to melt slightly before serving.
Can I eat their skin?
Definitely, it is nice and crispy and packed with vitamins and fibers. Make sure is that you clean the sweet potatoes very well before cooking.
Other topping ideas
Top them with sour cream or Greek yogurt generously spiced with grated garlic, salt, and pepper. Sprinkle with chives or other fresh herbs.
Add a dollop of guacamole or avocado slices and sprinkle with cheese.
Make these Jacket Sweet Potatoes. Top with the suggested ingredients and place back in the air fryer for 1-2 minutes or until the camembert is nicely melted.
Mix about 100 g/3.5 oz/ ¾ cup grated cheese (Cheddar, Gouda, or similar) with 3-4 teaspoons mayonnaise and 1 finely sliced green onion. Season to taste. Top the potato and air fry for another couple of minutes or until the cheese is melted. This is my favorite filling for regular baked potatoes as well. Check Cheese Jacket Potatoes for more filling ideas.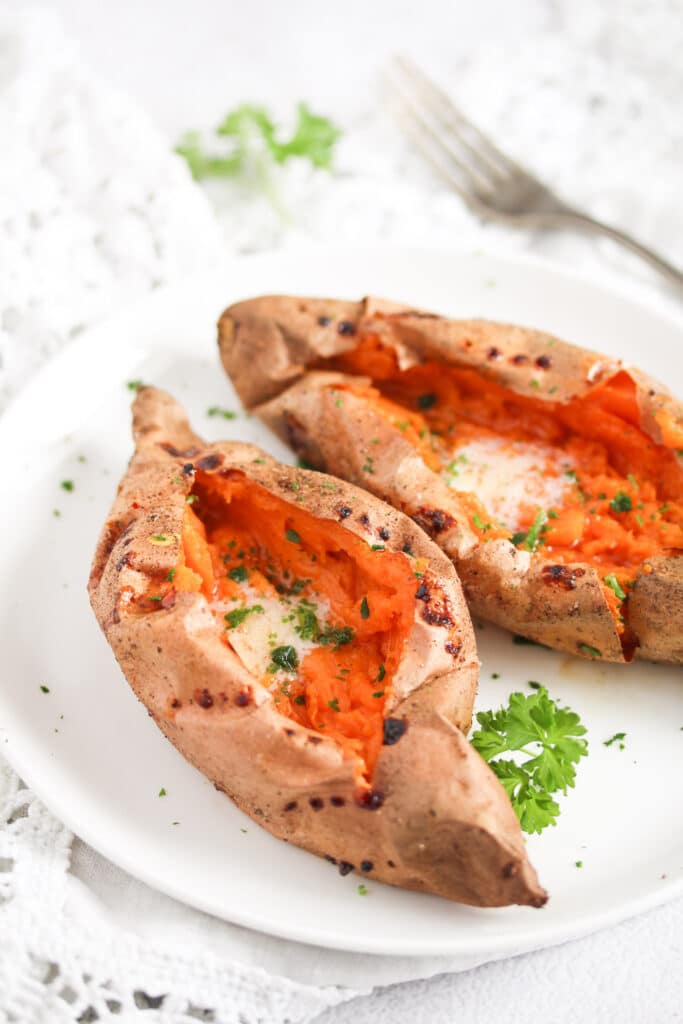 Can I serve them sweet?
Make the above-mentioned slit on top. Top with the butter and sprinkle with cinnamon and brown/white sugar to taste.
How to store and freeze baked sweet potatoes?
Keep in an airtight container for up to 3-4 days in the fridge. Or wrap individually in plastic foil and freeze for up to 3 months. You can reheat them in the air fryer, microwave or oven. The skin will not be crispy anymore, but they will still be delicious.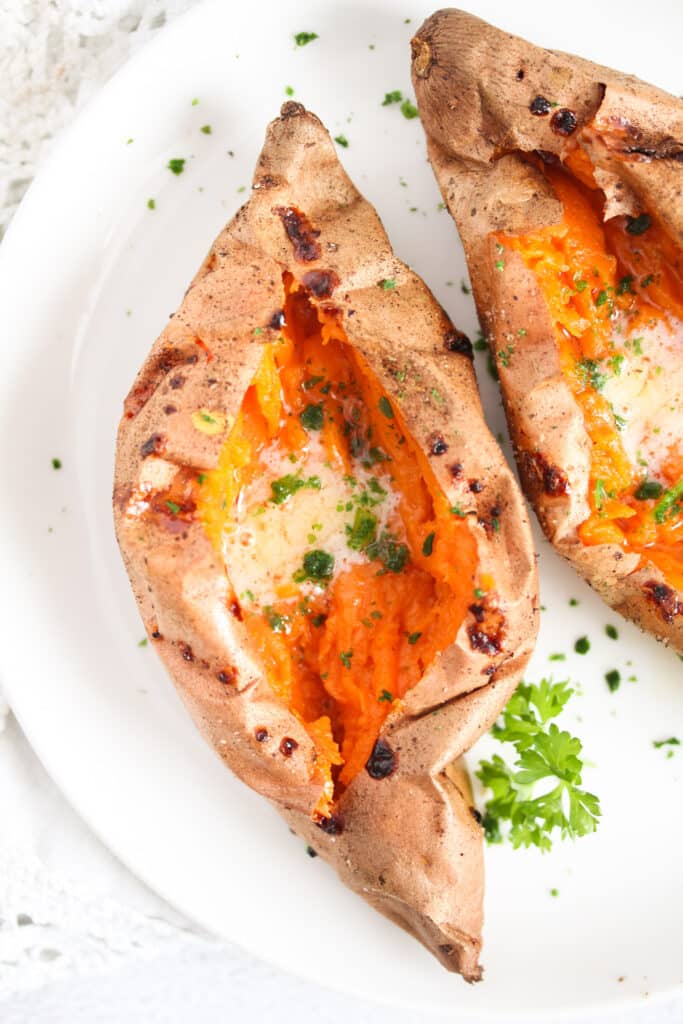 What to serve with baked sweet potatoes?
If they are only topped with butter, they can be the side dish for other dishes. Try them with tagliata or any other steak, cast-iron chicken breast, roasted whole chicken, or roasted turkey for Thanksgiving.
If you top them with something else, they will be the main dish. Serve with Shopska Salad with Feta, with Buttered Leeks or Roasted Leeks.
More sweet potato recipes: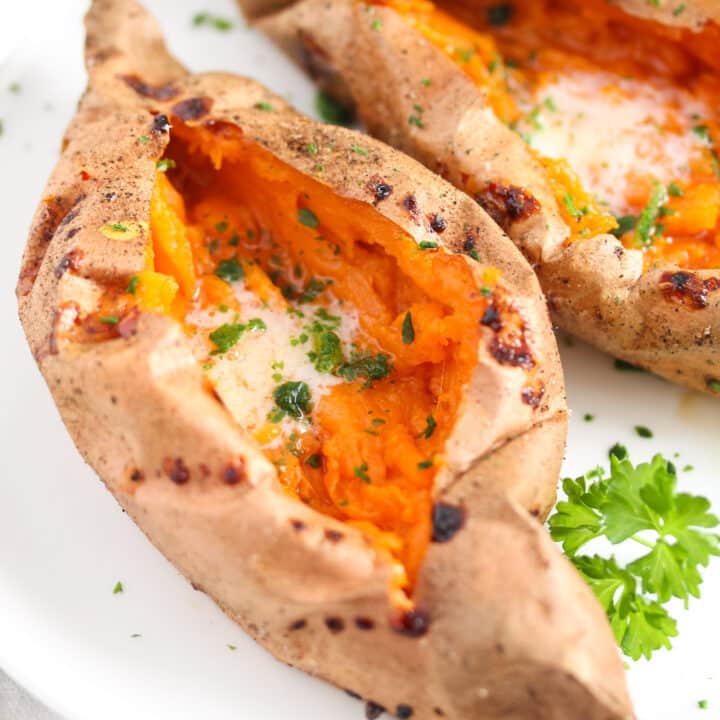 Air Fryer Baked Sweet Potato
Air fryer baked sweet potatoes served with butter or any other topping of your choice. This is one of the easiest ways of cooking sweet potatoes.
Ingredients
4 medium sweet potatoes (weighing about 115-130 g/ 4-4.6 oz) (Note)
1-2 teaspoons olive oil
fine sea salt and ground black pepper
Instructions
Preheat the air fryer, if necessary.
Wash and dry the sweet potatoes very thoroughly. Pierce them all over with a fork. Rub well with oil, salt, and pepper. Place in the basket.
Cook at 200 degrees Celsius/ 390 degrees Fahrenheit for 40 to 50 minutes, depending on their size and shape. Flip halfway through using tongs.
Slender, longer sweet potatoes will cook faster than round thick ones.
Notes
They can be smaller or larger than that. Adjust the cooking time accordingly.
Nutrition Information:
Yield:

4
Serving Size:

1 sweet potato
Amount Per Serving:
Calories:

134
Total Fat:

2g
Saturated Fat:

0g
Trans Fat:

0g
Unsaturated Fat:

2g
Cholesterol:

0mg
Sodium:

310mg
Carbohydrates:

26g
Fiber:

4g
Sugar:

8g
Protein:

3g
Nutritional information is not always accurate.