Children's birthday cookie cake with decorated butter cookies, candy, and a peach yogurt and pudding filling.
Children Party Cake
I made this cake twice already, once the boy version for my son with blue and yellow iced biscuits and more recently a girlie cake for my godchild with pink and lilac icing. Both subjects absolutely loved the cake, not only the outside but the inside as well.
The filling is also very child friendly: cake, then a layer of vanilla pudding and one of yogurt – heavy cream with canned peach pieces. Everything covered with iced biscuits decorated with what children love most: gummy bears, smarties, multicolored sprinkles or whatever other sweets your children like.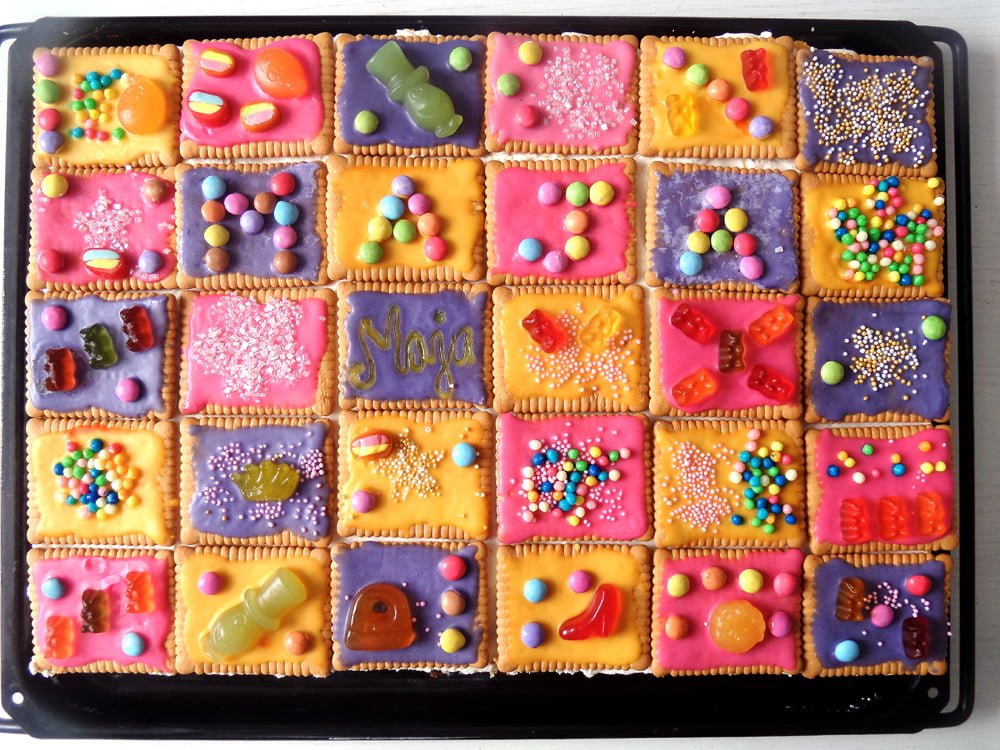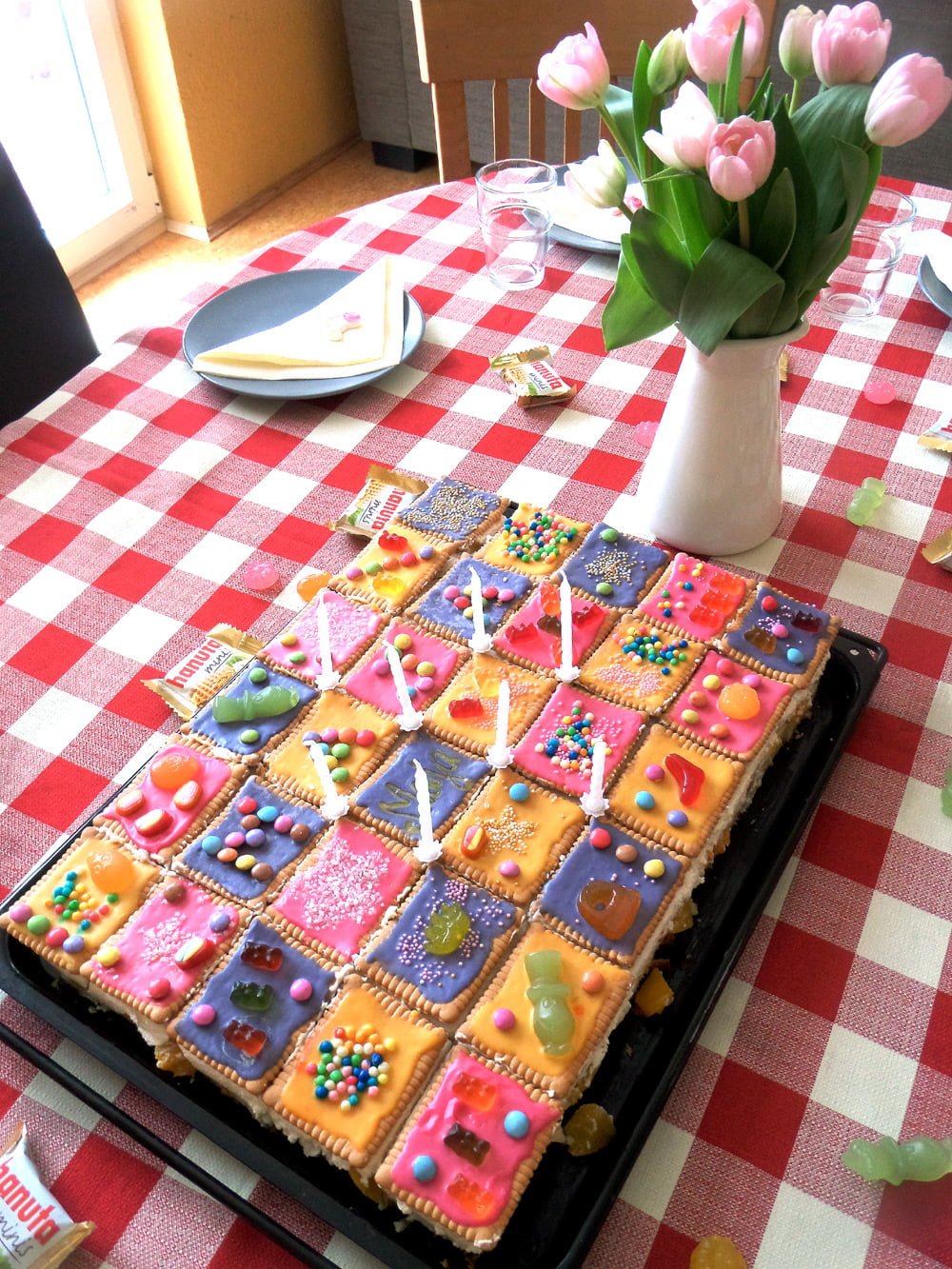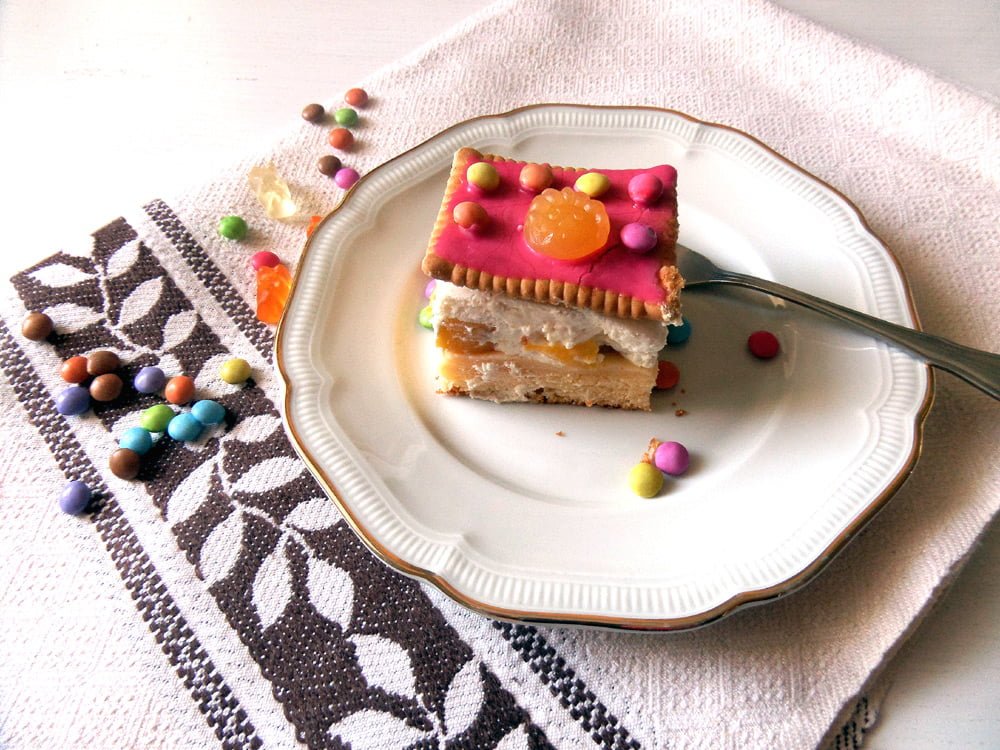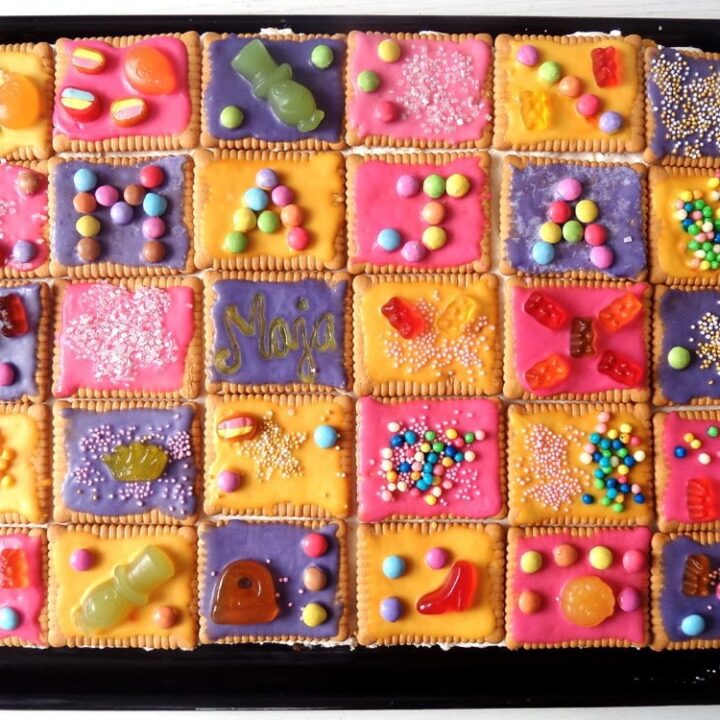 Birthday Cookie Cake
Prep Time:
1 hour
10 minutes
Total Time:
1 hour
30 minutes
Children's birthday cake with decorated cookies and a peach yogurt and pudding filling.
Ingredients
Ingredients for the iced biscuits:
about 36 butter biscuits
about 200 g/ 2 cup icing sugar
juice of 1 lemon (you will probably not need all of it)
food colors of choice
gummy bears
smarties
sprinkles
other sweets of choice
Ingredients for the batter:
200 g/ 7 oz butter, soft
200 g/ 1 cup granulated sugar
1 tablespoon vanilla sugar
4 eggs
200 g/ 1 2/3 cups all-purpose flour
2 level teaspoons baking powder
1 ½ tablespoons lemon juice
Ingredients for the filling:
2 packets vanilla pudding powder (each 40 g/1,4 oz)
1 liter/ 4.2 cups milk
6 tablespoons sugar
450 g/ 16 oz peach yogurt
200 g/ 7 oz sour cream
200 g / 7 oz heavy cream
sugar to taste, about 100 g/ 3.5 oz
2 packets instant gelatine equivalent of 6 leaves of gelatine
1 big can of peaches or apricots, chopped
Instructions
Mix the icing sugar with enough lemon juice to give it a nice runny but not overly runny consistency. Try if the consistency is right by covering a biscuit with it, if the icing flows away from the biscuit, add more sugar little by little until you get it right. Divide the sugar into several small bowls and mix a few drops of food color in each bowl.
Cover the biscuits with the colored icing, not more than 2 or 3 at a time. Decorate with the sweets, than continue covering with icing sugar and decorating. Place all of them on a baking tray and leave them until completely dry. I would decorate a few more than 36 biscuits, just in case some will break or get eaten before the cake is finished.
Preheat the convection oven to 150 degrees Celsius/ 300 degrees Fahrenheit.
Mix together the soft butter, sugar and vanilla sugar until white and frothy. Add the eggs one by one mixing well in between.
In another small bowl mix together the flour and the baking powder and add to the butter-sugar mixture one tablespoon at a time, while stirring at a low speed. Pour in the lemon juice and stir gently to incorporate.
Pour the batter into a baking tray lined with baking paper and bake for about 20 minutes until golden brown. Remove from the oven and leave to cool completely.
To make the pudding pour the milk into a pot. Remove about 12 tablespoons off it and place them in a small bowl. Bring the rest of the milk to a boil. In the meantime whisk the 12 tablespoons milk with the sugar and the pudding powder. When the milk is boiling whisk in the pudding powder and continue stirring continuously for about 1 minute. The mixture should start boiling again. When it does remove it from heat and let it cool down for about 10 minutes. Pour the pudding on the cake and leave it until completely set.
To make the yogurt filling, mix the fruit yogurt and sour cream in a larger bowl. Whisk the heavy cream until stiff and fold in the yogurt mixture. Mix in the instant gelatine, than add the sugar. I did this following the packet's instructions. If the packet's instructions of your instant gelatine differ from these ones, than please follow your own instructions.
If you use gelatine leaves, the procedure will be different. Let the leaves soak in cold water for about 10 minutes. In the meantime mix the yogurt, sour cream and sugar together. Whisk the heavy cream until stiff and set aside. Squeeze the gelatine gently, place it in a pan (big enough to hold the yogurt mixture as well) and dissolve it on a very small flame, stirring continuously. Do not let it boil or get too hot, it will only take seconds until the gelatine is dissolved so don't leave it unattended. Remove from heat, add one tablespoon from the yogurt mixture and stir until fully incorporated. Add another tablespoon of the mixture and incorporate completely again. Repeat until all the mixture is incorporated.
Stir in the chopped peaches. Leave aside for a while and when the mixtures STARTS to thicken, carefully fold in the whipped cream.
Pour this mixture over the pudding and place the cake in the fridge. Leave to set, ideally overnight. About 3-4 hours before serving the cake, place the biscuits on top and put the cake in the fridge again.
Nutrition Information:
Yield:

30
Serving Size:

1 square
Amount Per Serving:
Calories:

416
Total Fat:

18g
Saturated Fat:

10g
Trans Fat:

0g
Unsaturated Fat:

6g
Cholesterol:

96mg
Sodium:

227mg
Carbohydrates:

59g
Fiber:

1g
Sugar:

33g
Protein:

6g
Nutritional information is not always accurate.