Baked cabbage steaks with Camembert. Flavorful cabbage au gratin, topped with cheese and walnuts, these slices make a great side dish or a light meal on their own.
CABBAGE STEAK RECIPE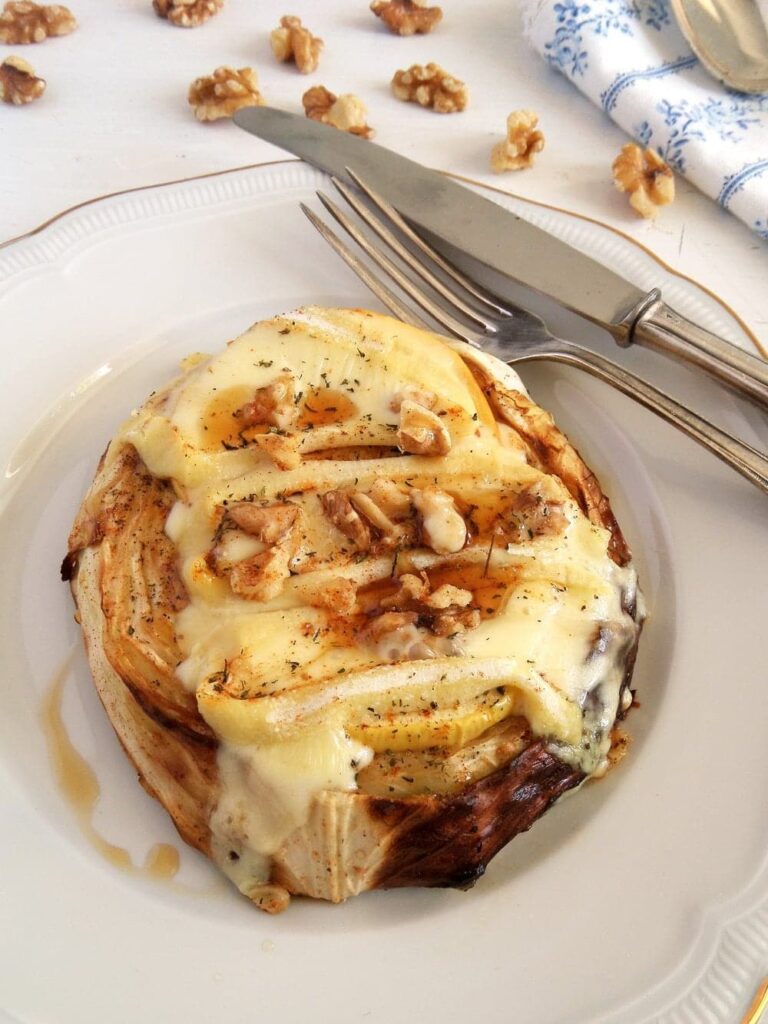 Have you ever had baked cabbage steaks? Probably not, I know very people who did, but you should definitely change that! You will love this cabbage steak recipe, the flavorful, soft cabbage slices, topped with melting cheese and crunchy walnuts.
I don't know about you but for me, cabbage is really something special: comfort food, childhood memories, winter, a warm kitchen, grandma…
And I know that this might sound weird for most people, but I love the smell of cooking cabbage filling the house. 🙂 It just reminds me of home, cold winter days and my grandmother cooking some of her best cabbage dishes: the world's best sarmale, Romanian cabbage rolls or varza calita, which is a simple stewed cabbage dish, mostly vegetarian.
I make these dishes myself from time to time but it wouldn't be me if I didn't play around with food and try to make new things with "old" ingredients.
These cabbage slices are such a new thing. The recipe combines the very well-known, common vegetable with more exciting things like walnuts and Camembert.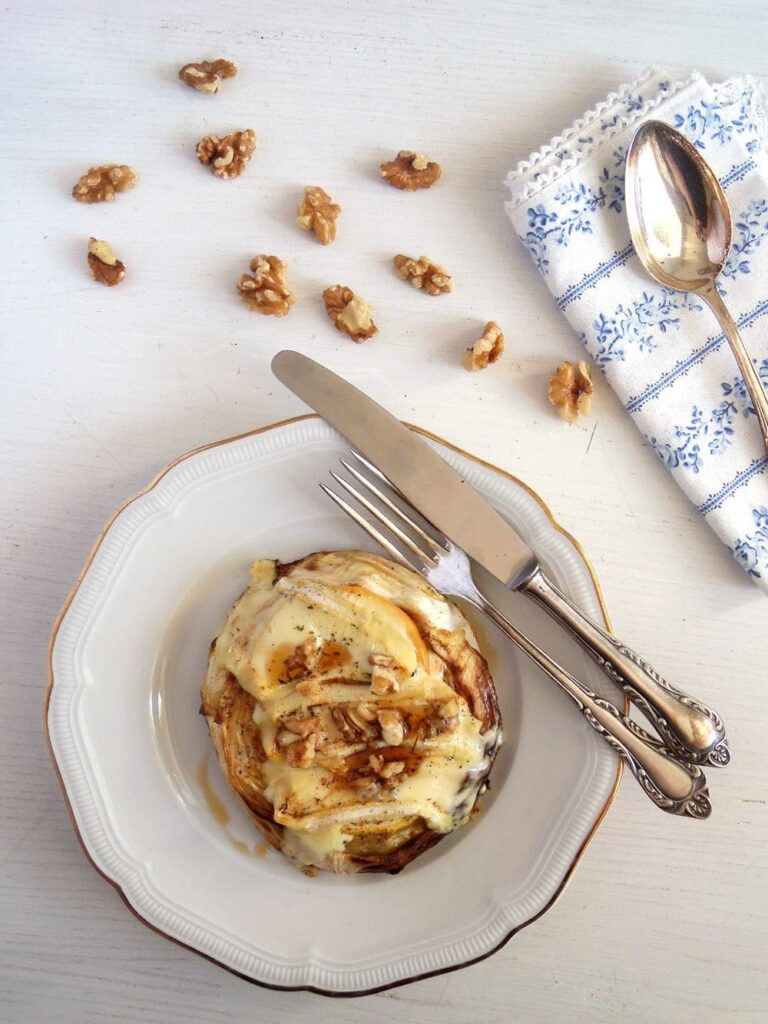 INGREDIENTS
Cabbage:
You will need four slices cut from the middle of a round white or green cabbage. Keep the rest in the fridge and use to make a vegetable soup for instance.
Camembert:
Full-fat Camembert, which melts nicely.
Other ingredients:
Walnuts
Apple
Dried herbs like summer savory or thyme
Smoked sweet paprika
Maple syrup to serve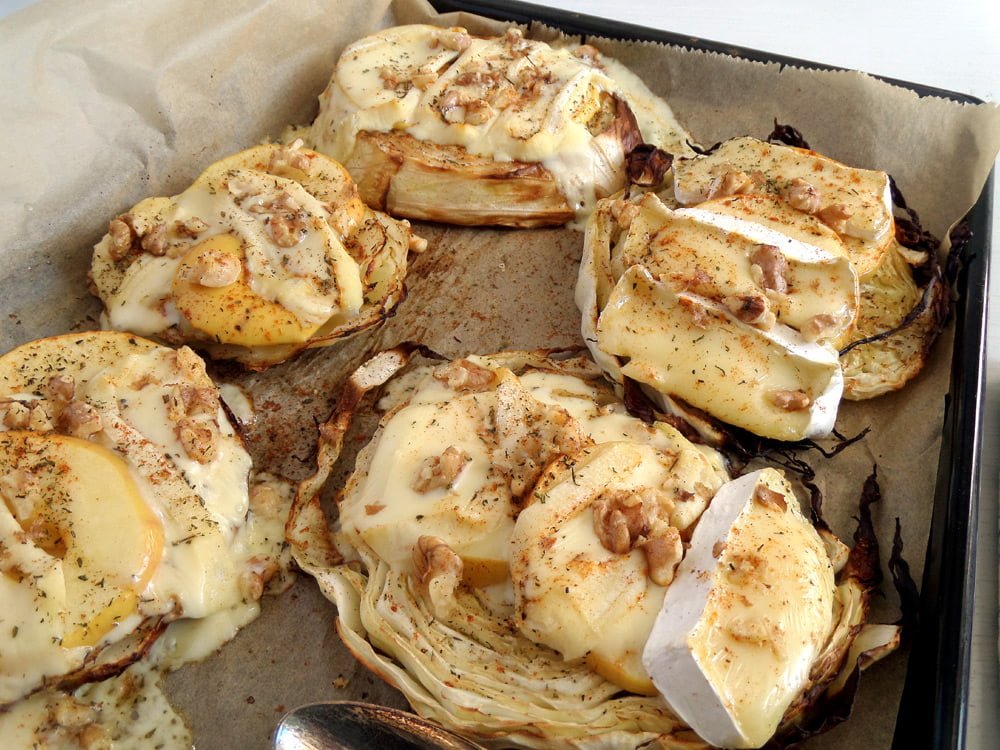 HOW TO MAKE CABBAGE STEAKS AU GRATIN?
Cut 4 slices from the middle of the cabbage (about 2 cm/ 0.8-inch thick).
Don't remove the stem, it will help keep the cabbage slices together.
Use the leftover cabbage to make soup or cabbage salad.
Brush the cabbage slices with oil and season generously with salt and pepper on both sides.
Bake for about 20-30 minutes or longer. The cabbage steaks should be golden brown and begin to get soft. Bake them to your liking, but make sure that the leaves don't turn too dark.
Top with apple slices and bake for further 5 minutes.
Add the Camembert slices, walnuts and herbs on top and bake until the cheese starts to melt, about another 5 minutes.
HOW TO SERVE THE CABBAGE STEAKS?
Serve immediately topped with 1 teaspoon maple syrup per slice.
You can have the cabbage au gratin as a festive side dish for roast beef, for instance.
But most of the time, I serve the cabbage steaks as a main dish with mache (lamb's lettuce) salad with balsamic dressing and crusty bread.
MORE GRATINS?
SWEET POTATO GRATIN – A very easy to make sweet potato gratin with Parmesan and lots of spices, a comforting side dish or light main meal for any time of the year.
ONE-PAN CHICKEN AND POTATOES – Incredibly creamy one-pan chicken and potato gratin using only three main ingredients: chicken quarters, potatoes and cream.
SKINNY BROCCOLI POTATO CASSEROLE – So good, so hearty, so low in calories.
VEGAN PUMPKIN POTATO CASSEROLE – A perfect vegetarian/vegan recipe: soft potato and pumpkin cubes in a deliciously spicy coconut milk sauce.
Last updated: 03/04/2020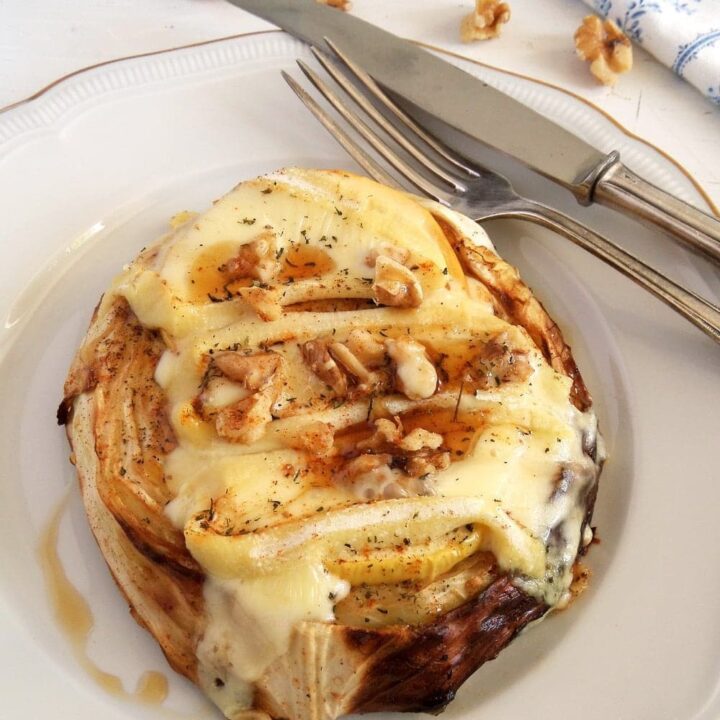 Baked Cabbage Steaks (with Camembert)
Total Time:
1 hour
10 minutes
Baked cabbage steaks with Camembert. Flavorful cabbage au gratin, topped with cheese and walnuts, these slices make a great side dish or a light meal on their own.
Ingredients
1 white or green head of cabbage
2 tablespoons olive oil
1 crisp apple
1 teaspoon apple vinegar
250 g/ about 9 oz Camembert
1 handful walnuts
dried savory
some smoked paprika
4 teaspoons maple syrup to serve
Instructions
Preheat the oven to 200 degrees Celsius/ 390 degrees Fahrenheit. Cut 4 thick slices (about 2 cm/ 0.8 inch thick) from the middle of the cabbage without removing the stem, which will help to keep the cabbage slices in one piece.
Pour the 2 tablespoons oil into a small bowl. Brush the cabbage slices with some of the olive oil and sprinkle them generously with salt and pepper on both sides. Place on a baking tray lined with baking paper and bake for about 20 or 30 minutes, turning once with a spatula, or until golden brown and beginning to soften. If the cabbage is not soft enough for you, you can bake it a bit longer, but keep an eye on it, the outer leaves should not get too dark.
In the meantime remove the apple core and slice the apple thinly. Add the vinegar to the bowl with the remaining oil, mix well and brush the apple slices with this mixture on both sides. Place the apples on the cabbage slices and bake for further 5 minutes.
In the meantime slice the Camembert into thick slices and roughly chop the walnuts. Divide the Camembert and the walnuts between the cabbage slices, sprinkle everything with savory or thyme and smoked paprika. Place in the oven for another 5 minutes or until the Camembert starts to melt.
Pour about 1 teaspoon of maple syrup on top of each cabbage slice and serve immediately.
Nutrition Information:
Yield:

4
Serving Size:

1 steak
Amount Per Serving:
Calories:

390
Total Fat:

31g
Saturated Fat:

11g
Trans Fat:

0g
Unsaturated Fat:

18g
Cholesterol:

45mg
Sodium:

531mg
Carbohydrates:

15g
Fiber:

3g
Sugar:

10g
Protein:

15g
Nutrition information isn't always accurate.