Easy recipe for a vegetarian cauliflower feta casserole with sour cream, olives, and peppers. A delicious light main meal served with baguette.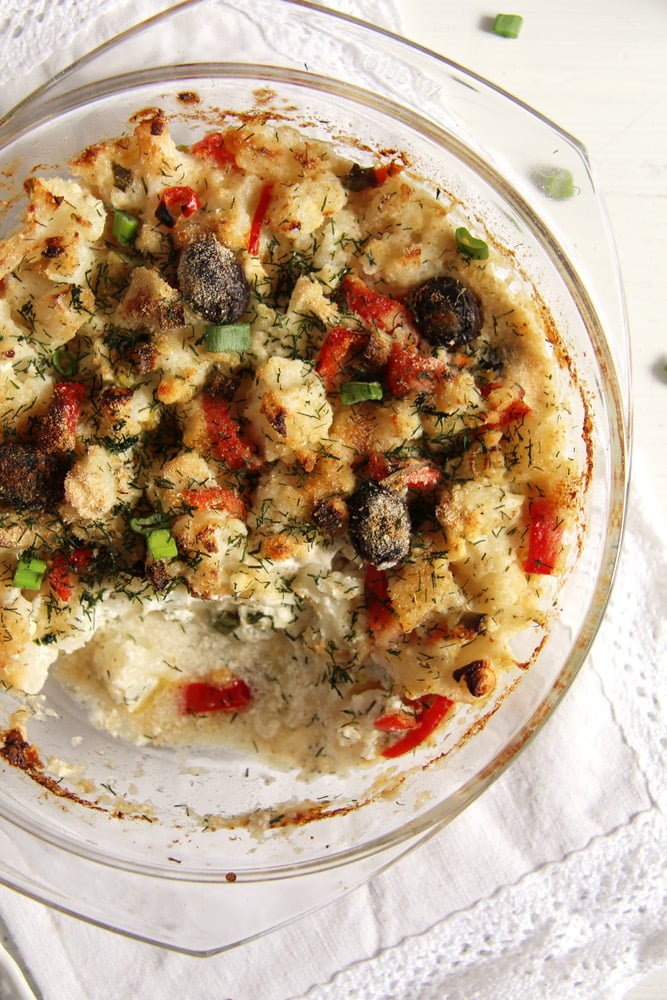 A cauliflower feta casserole today. After the Turkey Meatballs and Cauliflower Casserole from Tuesday, I felt I should give you the recipe for a casserole more suitable for the spring almost summer weather we have been enjoying for the past days.
Cauliflower plays the main role again, but this time it is accompanied not by meat but by peppers, scallions, and olives, all baked in a salty and delicious feta cheese sauce.
This vegetarian cauliflower feta casserole is an easy and quite quick recipe, perfect for a late summer night. I can imagine eating this in the garden with just a piece of baguette on the side and a nice glass of red wine.
Simplicity at its best, I would say, a sentence that often describes the way Romanian people cook.
Fresh, seasonal produce combined with other typical Romanian produce like telemea, a Romanian white cheese made of sheep's or cow's milk, very similar to feta cheese.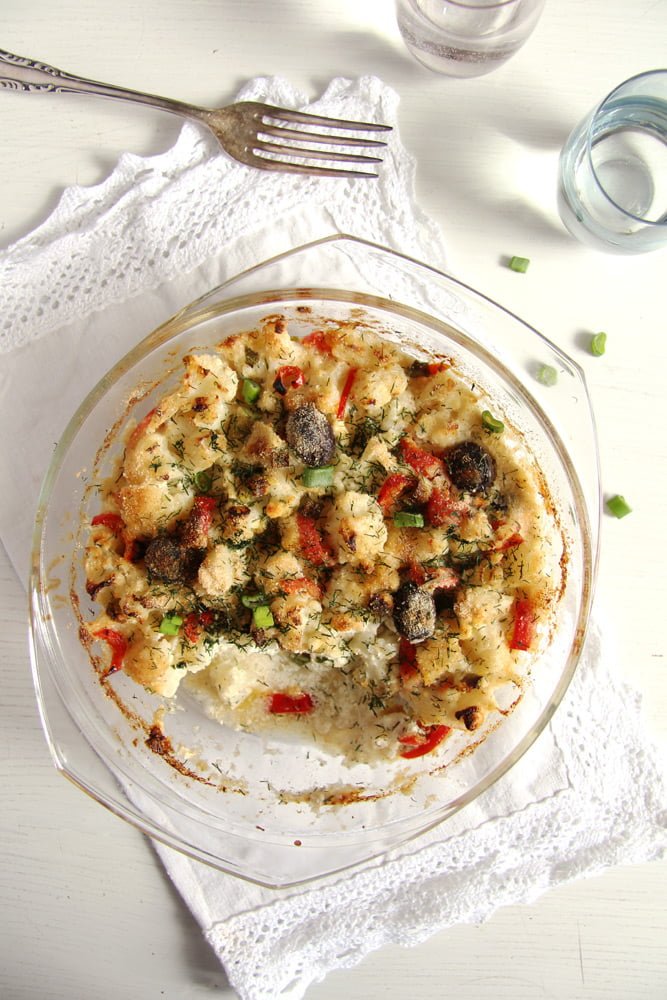 What do you need?
As this is a Romanian casserole recipe, I tried to find the typical Romanian products, like telemea cheese and smetana. If you can have those is great, if not, don't worry about it!
Feta cheese, either sheep's or cow's feta cheese, is a perfect substitute for telemea, and creme fraiche is great instead of the typical Eastern European smetana.
You will also need some olives. My favorites are always black olives that still have their pits inside. Alternatively, you can choose those without a pit, but they just don't taste as good, when olives are brined without their pit they lose most of their flavor.
If you decide to use the olives with their pit inside, warn the people at the table about it.
Other ingredients: cauliflower, small red bell pepper, scallions/green onions, milk, butter, breadcrumbs, and dill (fresh or frozen, but never dried).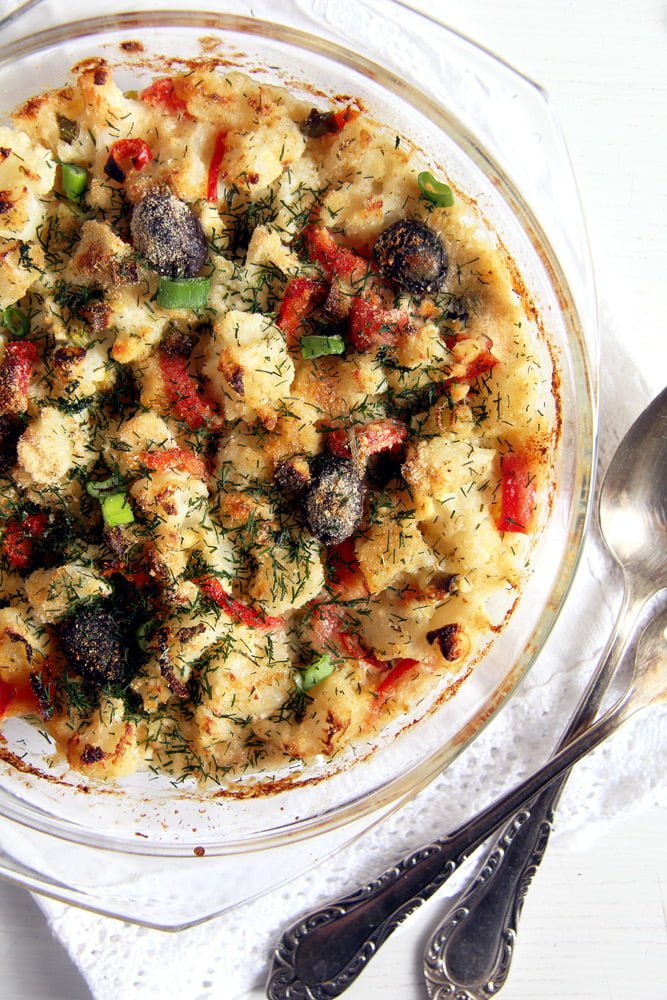 Steps for making the casserole
Preheat the oven and prepare the baking dish.
Cook the cauliflower florets al dente, they should not become too soft. Drain very well.
Prepare the rest of the vegetables and mix with the cauliflower and olives. Mix with the cauliflower, you can use the pot where you cooked the cauliflower to mix the veggies with the sauce.
Crumble the feta in a bowl, add milk, creme fraiche, dill, salt, and pepper. Pour over the vegetable mixture and mix well.
Transfer this mixture to the prepared baking dish.
Sprinkle with the remaining breadcrumbs and dot with butter.
Bake for 25-30 minutes until golden.
Serve immediately.
More cheesy casseroles:
Hungarian Noodle Cheese Pie – Vargabeles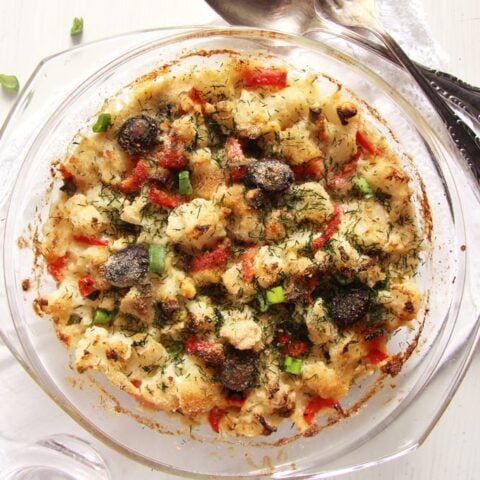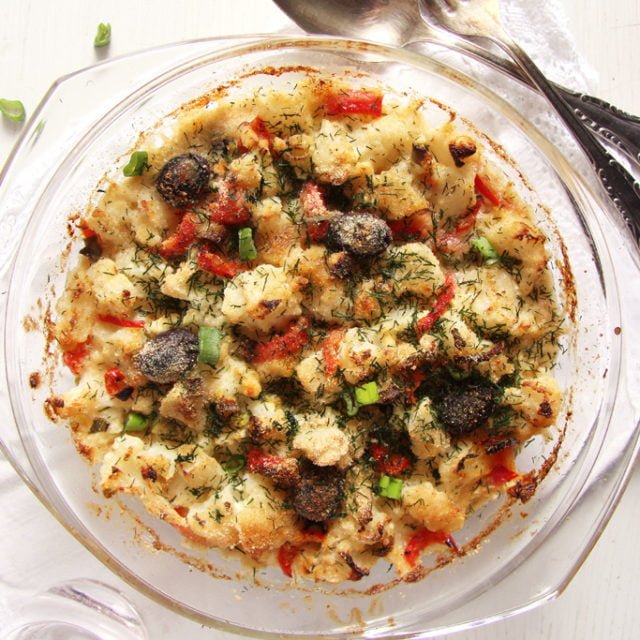 Cauliflower Feta Casserole
Easy recipe for a vegetarian cauliflower feta casserole with sour cream, olives, and peppers. A delicious light main meal served with baguette.
Ingredients
450 g/ 1 lb cauliflower
1 tablespoon butter, divided
1½ tablespoon dry breadcrumbs, divided
1 small red bell pepper
2 scallions
10 olives
60 g/ 2.1 oz feta cheese (Note)
150 g/ 5.3 oz/ 2/3 cup smetana or crème fraiche
80 ml/ 3 fl.oz/ 1/3 cup milk
2 teaspoons chopped dill, fresh or frozen
fine sea salt and pepper
Instructions
Preheat the oven to 180 degrees Celsius/ 350 degrees Fahrenheit. Butter a small casserole dish with about a third of the butter and sprinkle it evenly with 1 tablespoon of the breadcrumbs.
Divide the cauliflower into small florets and chop the stem into small cubes. Bring a pot of water to a boil, add some salt and the cauliflower. Bring to a boil again and let cook for about 5 minutes or until al dente. Drain well.
In the meantime quarter the bell pepper and slice the quarters thinly. Slice the scallions into thin rings.
Return the drained cauliflower to the empty cooking pot. Add the vegetables and the olives to the drained cauliflower.
Crumble the feta cheese in a small bowl. Add the smetana, milk, dill, and salt and pepper to taste. Mix well and pour over the vegetables. Mix gently.
Transfer everything to the prepared casserole dish. Sprinkle with the remaining ½ tablespoon dry breadcrumbs. Dot with the remaining butter and bake for about 25-30 minutes or until heated through and golden.
Serve with baguette and red wine.

Notes
Don't use already crumbled feta, but feta from a block of cheese.
Nutrition Information:
Yield:

3
Serving Size:

1/3 of the dish
Amount Per Serving:
Calories:

378
Total Fat:

33g
Saturated Fat:

20g
Trans Fat:

1g
Unsaturated Fat:

10g
Cholesterol:

94mg
Sodium:

647mg
Carbohydrates:

16g
Fiber:

5g
Sugar:

7g
Protein:

9g
Nutritional information is not always accurate.