Chicken breasts filled with herbs and garlic and wrapped in bacon, baked over a potato bed. An easy to make yet impressive looking dish fit for a casual family meal or a fancier evening with guests.
My family loves chicken in all variations actually, but every time I wrap chicken breasts in bacon I actually think I should do this more often. The bacon really makes the sensitive breast pieces which, if not treated carefully, do tend to become a bit dry, juicier and heartier in taste. I love the saltiness of the bacon and the combination with the aromatic herbs and the tangy lime make this dish really something special. And don't forget the garlic (I know I never do). You will love every bite of this.
Cooking the potatoes on the same baking tray makes things even easier. A one-pot meal in the oven, one could say. Just make one nice green salad to serve alongside and your done.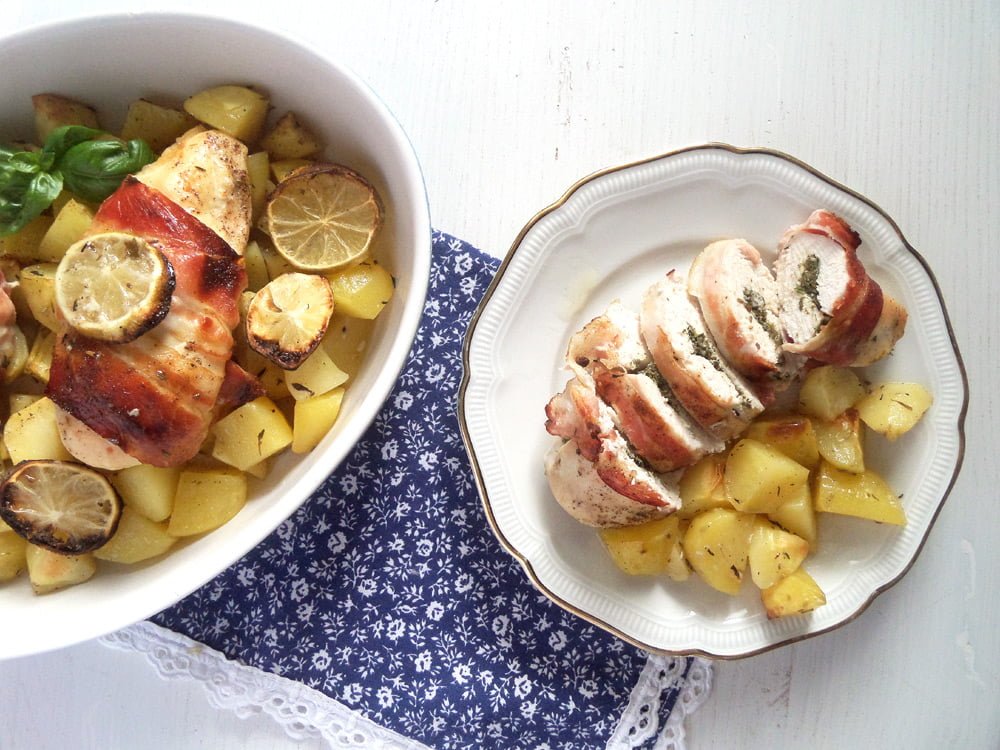 Rating 5.0 from 2 reviews
Prep time:
Cook time:
Total time:
Ingredients
1 kg/ 2.2 pounds potatoes
2 tablespoons olive oil
2 sprigs of thyme or ½ teaspoon dry
2 sprigs of rosemary or ½ teaspoon dry
1 teaspoon sweet paprika
1 bunch parsley
1 bunch basil
2 garlic cloves
1 organic lime
4 chicken breasts without skin and bones
4 to 8 thin bacon slices, depending on their size (I used 8)
salt and pepper
Instructions
Preheat the oven to 200 degrees Celsius/ 400 degrees Fahrenheit.
Peel the potatoes and cut them into bite sized cubes. Place on the baking tray, add the chopped thyme and rosemary (or the dried herbs), paprika, salt, pepper and olive oil. Mix very well to coat the potatoes with oil and spices. Bake for about 15 minutes.
In the meantime, pick the parsley and basil leaves and chop them finely. Grate the garlic cloves and mix them with the herbs. Carefully grate the peel of the lime and add it to the herb mixture.
Wash and dry the chicken breasts and cut a pocket into each piece taking care not to cut the whole way through. Sprinkle the chicken with salt and pepper.
Fill the pockets with the herb mixture and wrap each breast portion in 1 or 2 slices bacon, depending on how wide the bacon slices are. Tuck the end of the bacon slice under the breast.
Cut the lime into slices.
Take the potatoes out of the oven, they should be half cooked at this point. Push the potatoes around to make some space for the chicken. Place the chicken breasts on the tray and arrange the lime slices in between. Continue baking for further 20-25 minutes. Pierce the chicken breast with a skewer to see if it's cooked through, the juices should run clear. Do not overcook the chicken, you do not want it to get dry.