Chocolate pear casserole: an easy to make dessert that everybody will love.
Pears and Chocolate
This was a kind of emergency dessert I have made a few weeks ago. We had some friends for dinner and in the last moment, I realized that I hadn't planned any dessert. And my best friend loves dessert. If there isn't any to have, she starts searching for the Nutella glass.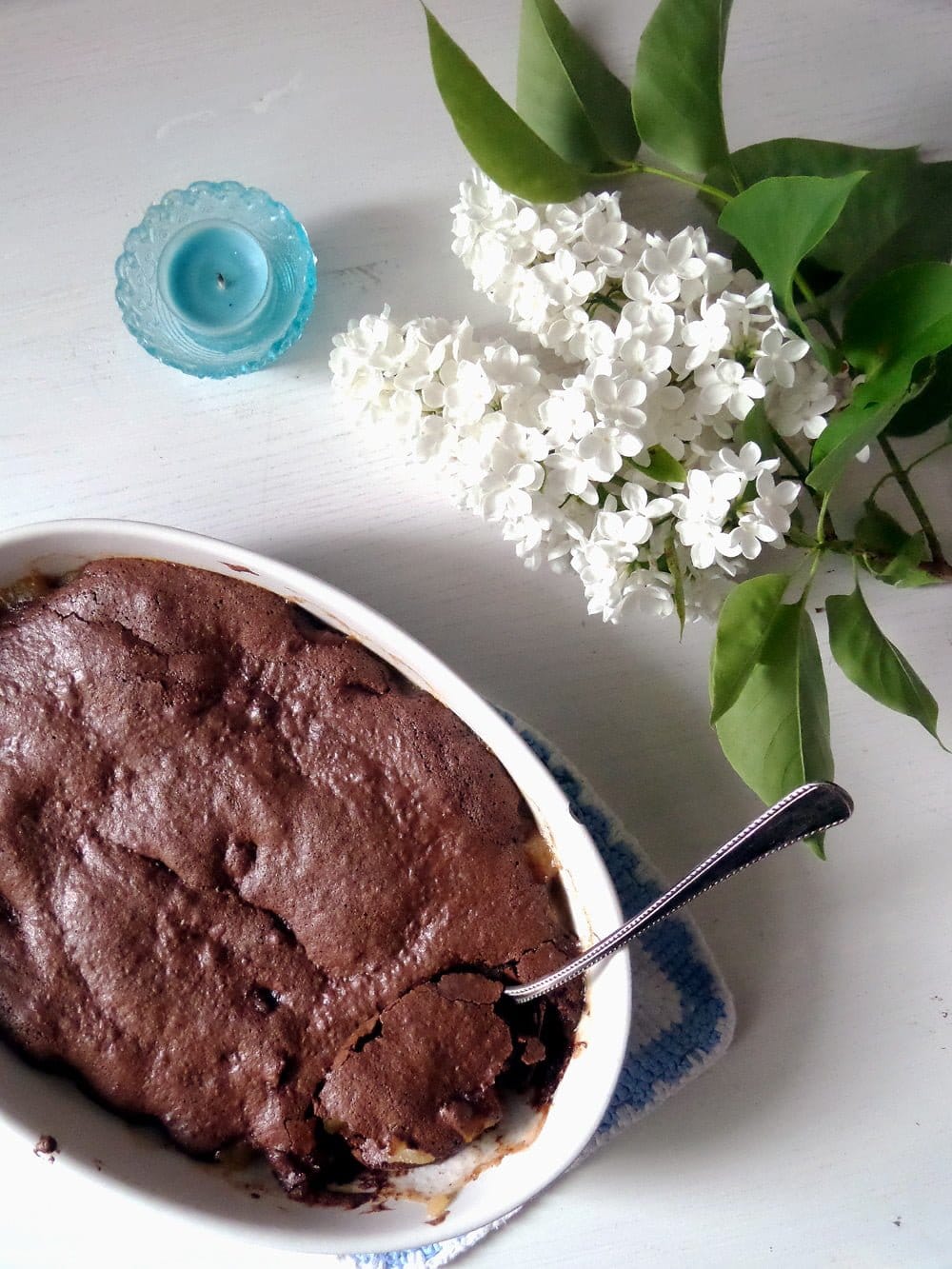 As I didn't have any Nutella in the house and nothing else that would qualify as dessert for grown-ups (there are always gummy bears and kinder chocolate there but I'd find it weird to offer that as dessert to any grown-up except my husband), I looked for something to do with ingredients I already had in the house.
And I found this casserole in a small dessert leaflet from Good Food, a recipe that would never have caught my attention otherwise. I just picked it out because I had pears in the house.
And I am so happy that I did make it, it was a complete hit. Not only my chocolate-Nutella loving friend loved this, but also the three men present, which I find super, because history thought me repeatedly, that men, when they have a bottle of beer in the hand, really don't care much about anything sweet. This time it was different, all three of them had seconds and I was glad that the children preferred the gummy bears, otherwise there would not have been enough dessert for all of us there.
You can eat this warm or cold, with or without the creme fraiche. But I do recommend the creme fraiche, it tastes really good in this combination. Whipped cream would be fine too.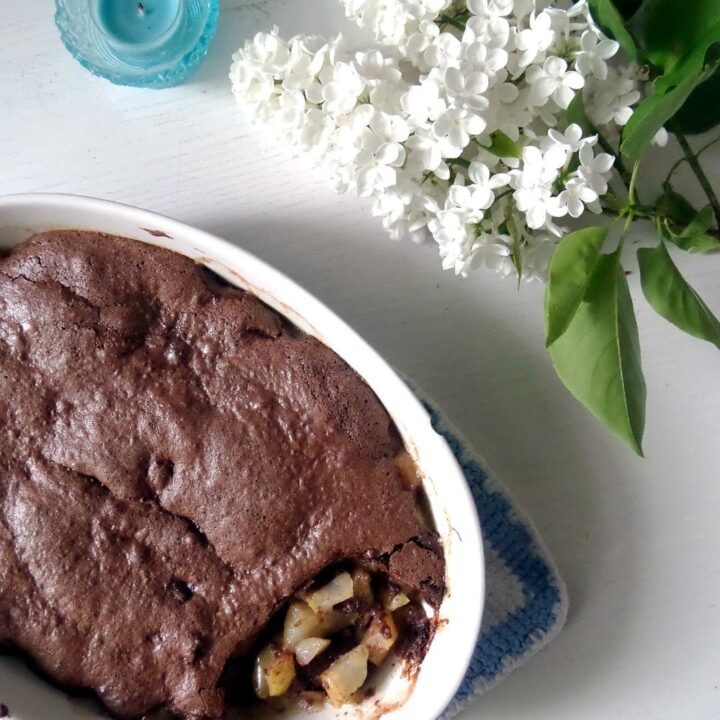 Chocolate and Pear Casserole
Chocolate pear casserole: an easy to make dessert that everybody will love.
Ingredients
4 ripe pears (I had 3 pears and 1 apple)
juice of ½ lemon
1 tablespoon brown sugar
4 teaspoons Cognac (optional)
50 g/ 2 oz icing sugar
1 tablespoon cocoa powder
25 g/ 1 oz ground almonds
1 egg white
200 g/ 7 oz crème fraiche to serve (optional)
1 tablespoon brown sugar (optional)
Instructions
Preheat the oven to 160 degrees Celsius/ 320 degrees Fahrenheit.
Chop the pears into small pieces, place them in a small pan together with the brown sugar and the lemon juice and bring to a boil. Cook, covered, for 10 minutes. Remove the lid and cook for another 8 to 10 minutes until the juices thicken. Add the Cognac and place the pears into a medium casserole form.
Sift the icing sugar and cocoa into a small bowl. Add the almonds and mix them together.
Whisk the egg white until stiff and fold into the dry ingredients carefully. Spoon this mixture over the pears, level and bake for about 25 minutes until the topping is firm to the touch.
Place the crème fraiche in a small serving bowl, sprinkle the brown sugar on top and let it be until ready to serve. Give it a very brief stir, the sugar should not be completely incorporated, and serve with the warm or cold casserole.
Nutrition Information:
Yield:

4
Serving Size:

1/4 of the dish
Amount Per Serving:
Calories:

469
Total Fat:

25g
Saturated Fat:

14g
Trans Fat:

1g
Unsaturated Fat:

10g
Cholesterol:

62mg
Sodium:

167mg
Carbohydrates:

59g
Fiber:

7g
Sugar:

46g
Protein:

5g
Nutrition information isn't always accurate.