No-bake peanut butter pie with cream and cream cheese and topped with chocolate ganache, the best possible pie for peanut butter lovers. And so easy and quick to make!
Peanut Butter Chocolate Pie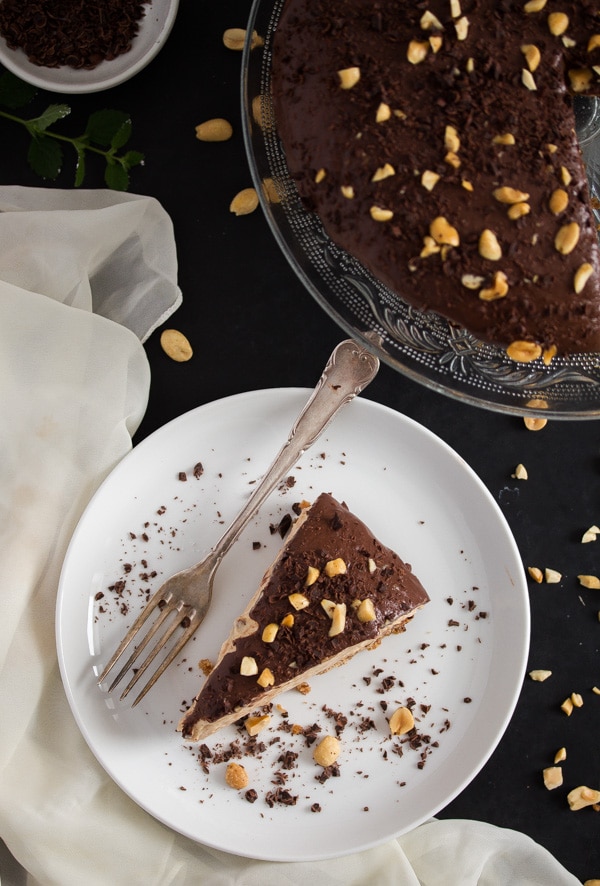 A chocolate cookie crust, a thick creamy layer of mousse-like peanut butter and cream cheese filling and a luscious chocolate ganache filling. Some more grated chocolate and some crunchy lightly salted peanuts on top…
This no-bake peanut butter pie is one of the most decadent pies I have ever made!
And I have been making lots and lots of pies over the years: fruit pies, berry pies, meringue or cream pies… and so on.
And if you like peanut butter as much as I do, this no-bake pie is a MUST! And if you are a chocolate lover, then this cake is a must too.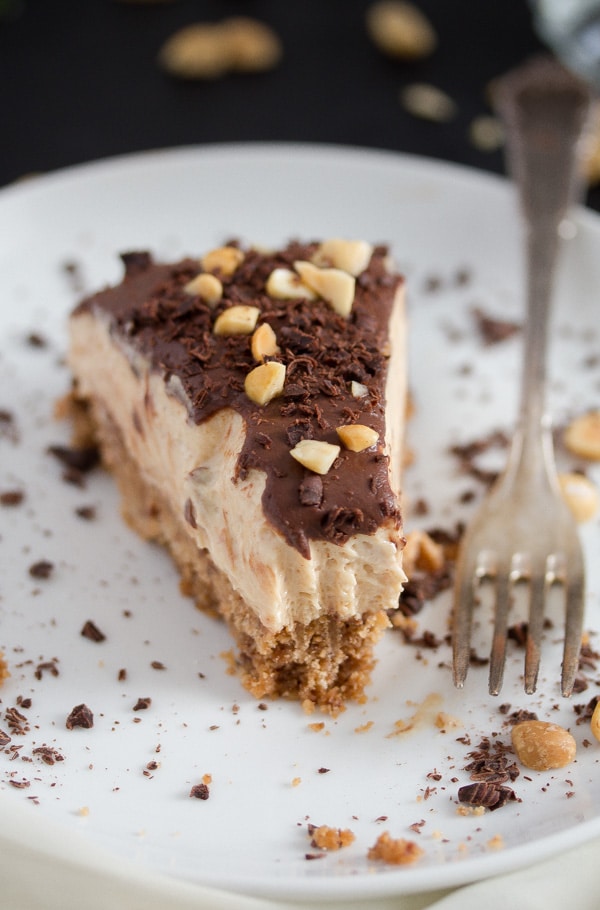 Ingredients
Wafer chocolate cookies:
You can see them in the pictures, they are what I can buy here in Germany, but I am not sure what you will find if you live somewhere else.
Not to worry though, you can use any kind of chocolate wafer cookies, chocolate cookies, or plain cookies you like.
Or even graham crackers.
Peanut butter:
Definitely unsweetened peanut butter, preferably a chunky sort.
Don't use sweetened peanut butter or the pie will be sickeningly sweet.
If you don't have chunky peanut butter, use regular peanut butter and add a small handful of rather finely chopped peanuts to the filling.
If you add chopped peanuts, it is fine if they are lightly salted. But in this case, don't sprinkle the pie filling with salt anymore.
Chocolate:
I used dark chocolate with 80% cocoa to make the ganache.
Semisweet chocolate is fine as well, but the ganache will be sweeter.
It is a matter of taste, chose whatever you like best. I like the contrast between the sweet peanut butter pie filling and the slightly bitter chocolate.
I use the same dark chocolate to decorate the cheesecake.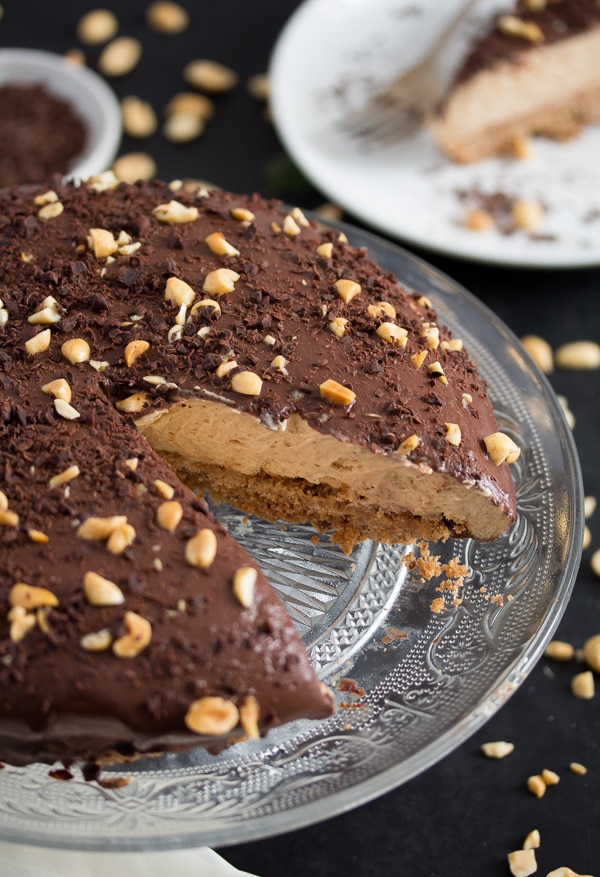 How to make?
Making this no-bake peanut butter pie with chocolate is super easy, only 3 steps and they are all super quick and easy.
The only thing you have to consider is that it needs to be made in advance, preferably the day before you want to serve it. It needs plenty of time to set in the fridge.
Make the crust:
5 minutes.
Use the food processor to crush the cookies for the crust, it is quick. If you use the food processor, you don't have to melt the butter, but the butter must be very soft.
If you don't have a food processor, place the cookies in a robust freezer bag and crush them with the help of a rolling pin. Mix with the melted butter and press the mixture on the bottom of a springform of about 20 cm/ 8 inches.
Place in the fridge.

Filling:
About 6-7 minutes.
Mix together the cream cheese, peanut butter, sugar and vanilla extract.
Carefully fold in the whipped heavy cream.
Pour everything into the baked pie shell, sprinkle lightly with salt and refrigerate until set.
The pie should have plenty of time to set in the fridge, at least 6 hours but preferably overnight.


Topping:
About 7 minutes + about 15 minutes to set on the pie.
Finely chop the chocolate, I prefer to do it in the food processor, this way the chocolate is very finely and very regularly chopped. This makes the melting in the hot cream process easier.
Bring the heavy cream to a boil, remove from the heat immediately.
Add the chocolate and let sit for 2 minutes.
Stir very well until the chocolate is melted.
Pour over the set peanut butter pie immediately, place in the fridge and let set, it will not take too long.

Decorate:
About 3 minutes.
Decorate the peanut butter chocolate pie with grated dark chocolate and chopped peanuts.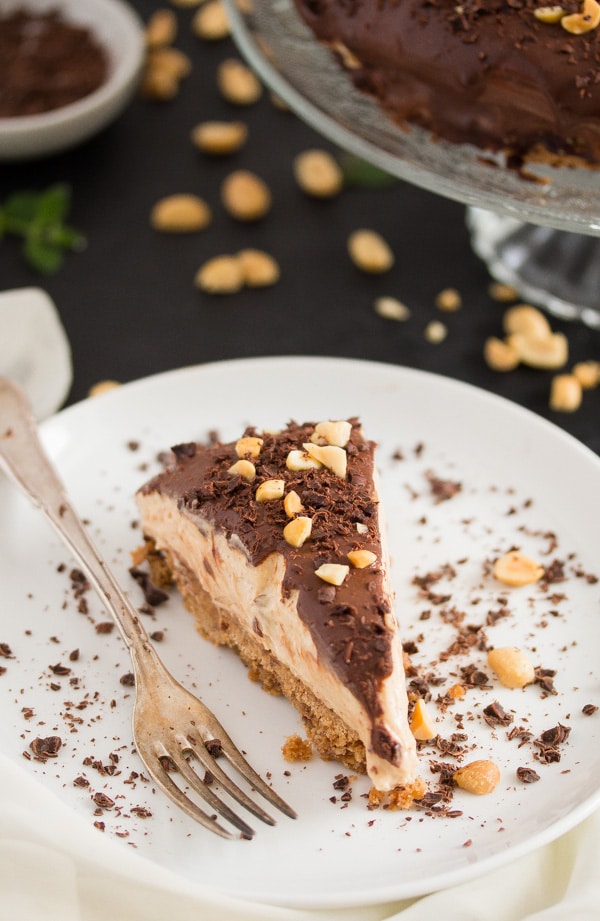 Store
Keep the no-bake peanut butter pie refrigerated and only remove from the fridge when ready to serve.
The filling is very soft and creamy, it keeps its shape best when refrigerated.
The pie keeps well in the fridge for 3-4 days.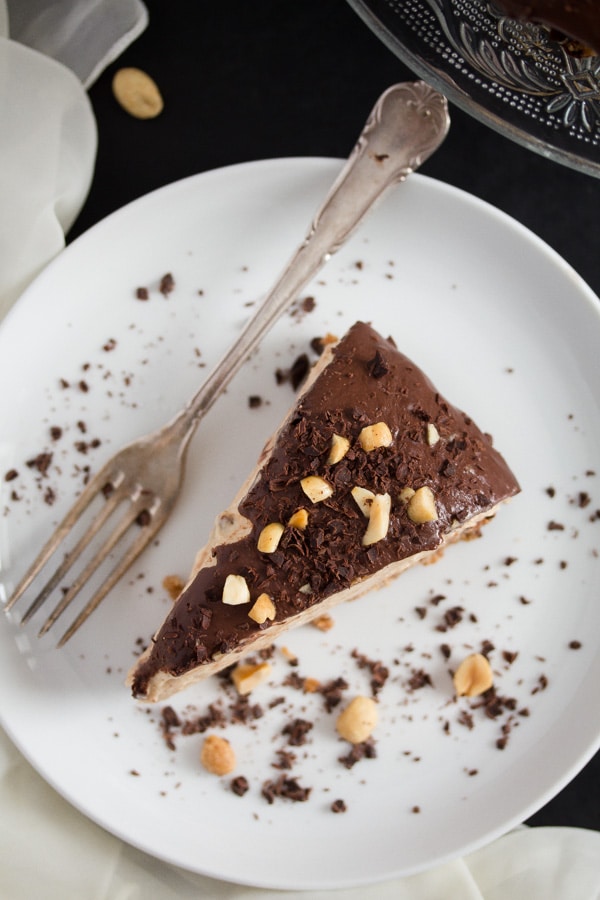 More pies?
NO-BAKE BANANA CARAMEL CREAM PIE – My favorite banana caramel cream pie, a no-bake pie with bananas, easy candied walnuts and delicious cream cheese, yogurt and heavy cream filling.
BEST LEMON MERINGUE PIE – This is the best lemon meringue pie recipe ever! Ever!!!!
SWISS SWEET CHERRY PIE – A typical Swiss Wähe or sweet cherry pie, a thin crust covered with fresh cherries, the perfect pie for the short sweet cherry season.
STRAWBERRY RHUBARB PIE – Strawberry rhubarb pie with a crunchy and delicious almond streusel or crumble.
HUNGARIAN NOODLE PIE – A sweet cheese pie with noodles, quark, and raisins baked between layers of filo or yufka pastry.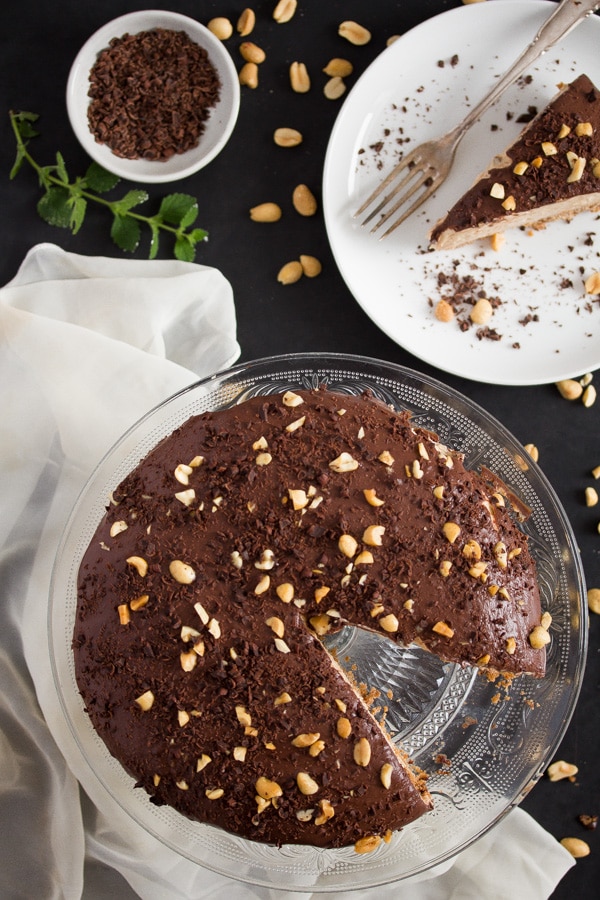 PIN IT FOR LATER!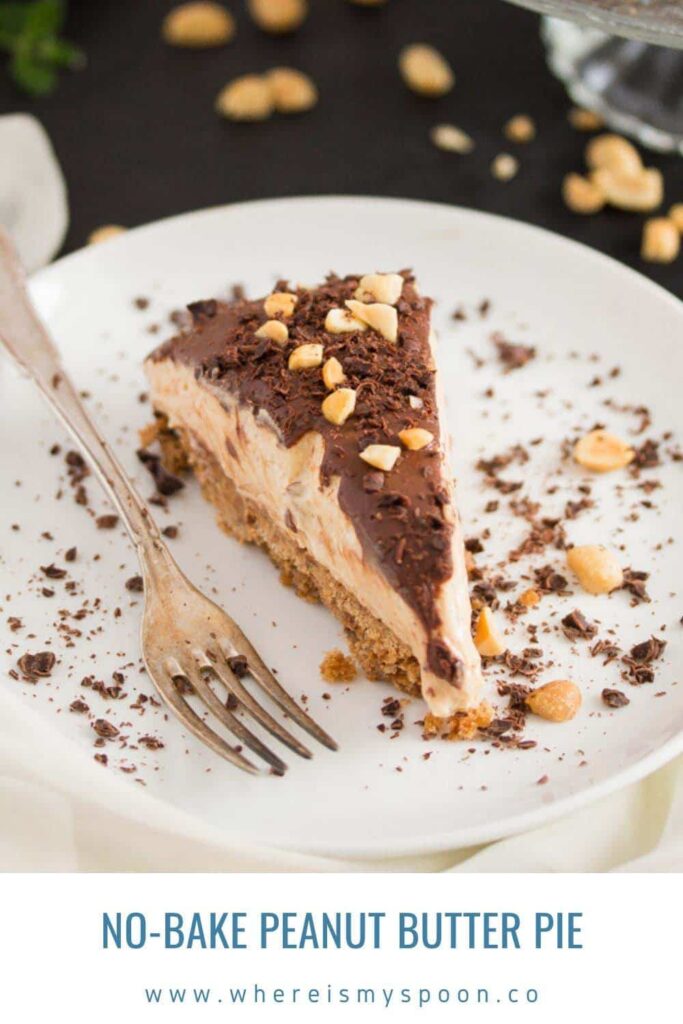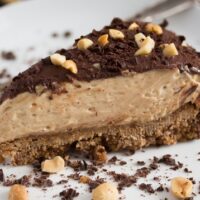 No-Bake Peanut Butter Pie
Creamy no-bake peanut butter pie with cream and cream cheese and chocolate ganache. So easy and quick to make!
Print
Pin
Rate
Ingredients
Crust:

240

g/ 8 oz wafer chocolate cookies

100

g/ 3.5 oz/ 1/3 cup + 1 tablespoon unsalted butter

Filling:

200

ml/ 6.7 fl.oz/ scant 1 cup heavy cream

250

g/ 8.8 oz/ 1 cup + 2 tablespoons cream cheese

250

g/ 8.8 oz/ 1 cup peanut butter

chunky

100

g/ 3.5 oz/ ½ cup granulated sugar

2

teaspoon

vanilla extract

a small sprinkle of fine sea salt

Topping:

100

g/ 3.5 oz dark chocolate

Note 2

125

ml/ 4.2 fl.oz/ ½ cup heavy cream

1

tablespoon

chopped lightly salted peanuts

1

tablespoon

grated dark or semisweet chocolate
Instructions
Crust:
Place the soft butter and the wafer chocolate cookies in the food processor and process until everything comes together. Alternatively, crush the cookies, then mix with the melted butter. Press everything in a 20 cm/8 inches springform and place it in the fridge.
Filling:
Beat the heavy cream and set it aside. Mix the cream cheese, peanut butter, sugar, and vanilla extract. Then, carefully, fold in the whipped cream.

Pour the mixture into the springform, sprinkle lightly with salt, and refrigerate until set, for at least 6 hours, but preferably overnight.
Topping:
Chop the chocolate and place it into a small bowl. Bring the heavy cream to a soft boil and pour immediately over the chocolate. Let sit for 2 minutes, then stir thoroughly until the chocolate is completely melted.

Place the pie on a wire rack and the rack on a baking tray or cake platter lined with a large piece of parchment paper. Pour the ganache over the cake and refrigerate until just firm, about 10 -15 minutes.

Sprinkle with the chopped peanuts and the grated chocolate.

Refrigerate again until ready to serve.
Notes
Always use a digital kitchen scale in baking; it yields the best results.
I use dark chocolate with 80 % cocoa. But you can use semisweet chocolate instead, about 60% cocoa.
Nutrition
Serving:
1
slice
|
Calories:
464
kcal
|
Carbohydrates:
32
g
|
Protein:
7
g
|
Fat:
36
g
|
Saturated Fat:
17
g
|
Polyunsaturated Fat:
15
g
|
Cholesterol:
63
mg
|
Sodium:
230
mg
|
Fiber:
2
g
|
Sugar:
20
g