Last Updated on 15/03/2018 by Adina
Easy to make carrot cookies recipe with cinnamon and all spice and topped with orange icing and walnuts.
Who doesn't love a good carrot cake? I can hardly think of anyone. My kids would give me strange looks each time I tell them that I am making something sweet with carrots. No idea why, because I have been making carrot cakes like The Best Carrot Coconut Cake with Lemon Frosting regularly for about 10 years now, not to mention these wonderfully spicy Carrot Cupcakes or Muffins with Blueberry Frosting or Nigella Lawson's Best Carrot Cupcakes with Cream Cheese Frosting.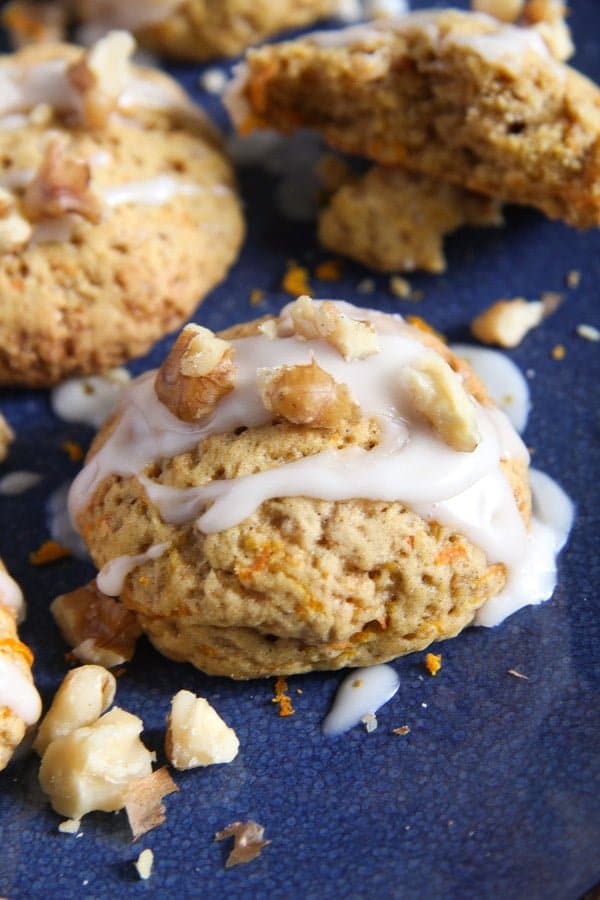 But despite their initial looks of disbelief, they end up eating every morsel of carrot cake/ carrot cupcake or carrot cookie I make. My daughter especially. I've made these Easy and Spicy Carrot Cookies with Orange Icing a couple of weeks ago on a Sunday together with another cake. We had some friends visiting, but even so, I thought there will be way too many cookies for us to finish, so I had already told my husband that he could take the leftovers to work the next day.
But when the guests were gone and I had started cleaning up the table, I noticed that there was not one carrot cookie left… I was really surprised and I expressed my surprise in words and my daughter just looked at me with sheepish eyes and told me she had just eaten the last four cookies… In addition to those she had already eaten during the afternoon.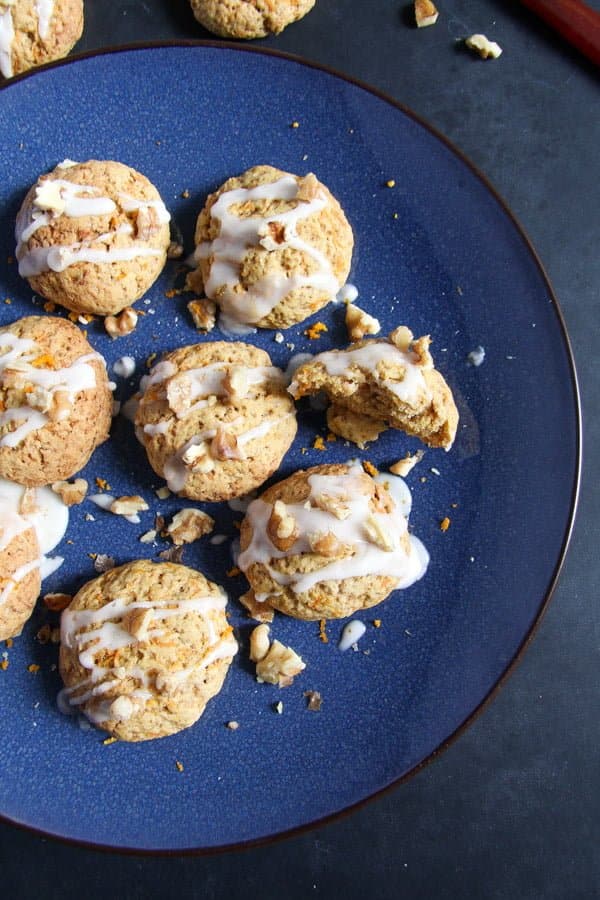 How to make carrot cookies?
Well, the procedure couldn't be simpler.
Weigh your carrots after you peel them, I like to keep things precise when baking and the peel will make a difference if you weigh the carrots before you peel them. Grate the carrots on the fine grater. Cuisinart CTG-00-BG Boxed Grater
Kitchen scales versus cup measuring
I didn't give a cup amount for the grated carrots, because I feel that to be so inaccurate when it comes to grated carrots. It really doesn't matter when you make a salad, but I feel it does matter when you bake cookies.
If you press the carrots just a little bit in the cup you will end up having more than needed, if you don't press enough you will have not enough, so better just weigh them, it is quicker (no need to transfer the grated carrots from the chopping board to the cup and that several times), cleaner (you only need to place one bowl on the kitchen scales), less messy (amazing how much stuff ends up on the working surface, floor and basically all over the place when you use cups for measuring the ingredients – my kitchen and my clothes are a disaster after each one of these adventures).
I especially hate to measure flour in cups. Just think about it, if you use a scale you place the bowl on the scale, turn on the scale and just tip the flour into the bowl in one go, directly from the packet. You stop when you have the desired amount. It takes about 5 seconds. Only one bowl to wash and absolutely no dirt on the working surface or on the floor.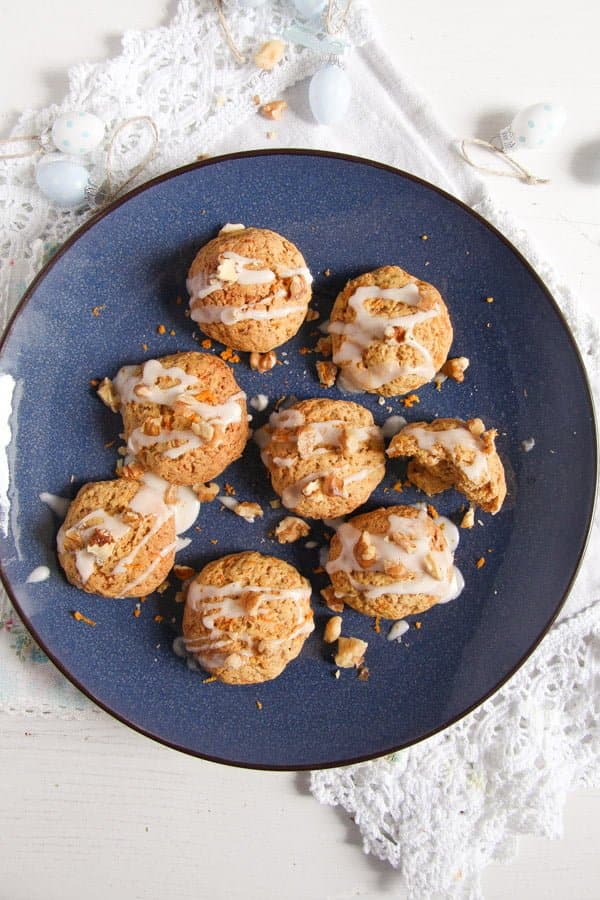 But when you use the cups, let's say 3 cups like in the case of this recipe for Easy and Spicy Carrot Cookies with Orange Icing, you need to take a spoon and fill the cup spoon by spoon until it is full. And that 3 times in a row. And still you cannot be entirely sure that you have exactly the needed amount of flour each time. If you shake the cup too much or if you level the top too thoroughly, you might end up with more or less flour than actually needed.
This whole procedure takes me about 5 minutes, there is ALWAYS flour on the working surface around the cup, on the floor and on my clothes.
Or butter, that is the biggest nightmare there is when it comes to ingredient measuring. If I try to measure one cup or one tablespoon of butter five times in a row, I can be 100% sure that I get a different result every time.
I can only recommend you finally take the step and get yourself kitchen scales Etekcity Digital Kitchen Scale Multifunction Food Scale, 11 lb 5 kg, Silver, Stainless Steel (Batteries Included)
. They are dead cheap considering that they are used for years, I have only bought one kitchen scale in my life, I have been using it for over 10 years now and I only have to change the batteries maybe once every year and a half. And it was really cheap, I paid about 10-12 Euros for it, that's about 12-15 US dollars. I know that changing habits can be difficult sometimes, but you will be amazed at how much such a small change can bring.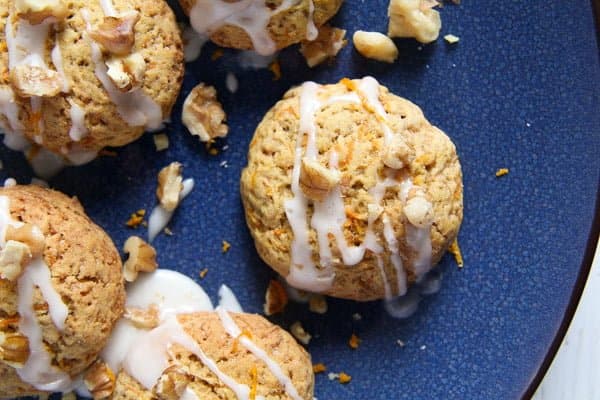 But let's get back to the recipe for the Easy and Spicy Carrot Cookies with Orange Icing. Although I realize there is really not much I still have to say about it. The butter should definitely be soft in order to be able to beat it to a creamy consistency together with the sugar, so make sure you take it out of the fridge in time.
Spices for carrot cookies, carrot cakes or carrot cupcakes or muffins:
I used cinnamon and all spice to spice the cookies, but you could experiment with other spices as well, if you like. Cardamom is always amazing in baked goods, and ground ginger as well. Or a tiny pinch of ground cloves or ground anise. In Germany we have the Lebkuchengewürz, that is gingerbread seasoning, you could definitely use that if you happen to have it.
I used the convection/fan oven to bake the cookies, this allows me to bake both trays together in the oven, thus saving time and energy. However, if you bake the cookies in a regular oven, preheat the oven to a temperature of 200 degrees Celsius/ 400 degrees Fahrenheit and bake only one tray of cookies at a time.
Keep the dough refrigerated while the first batch of cookies is baking and form the cookies while the first batch is cooling off on the baking tray.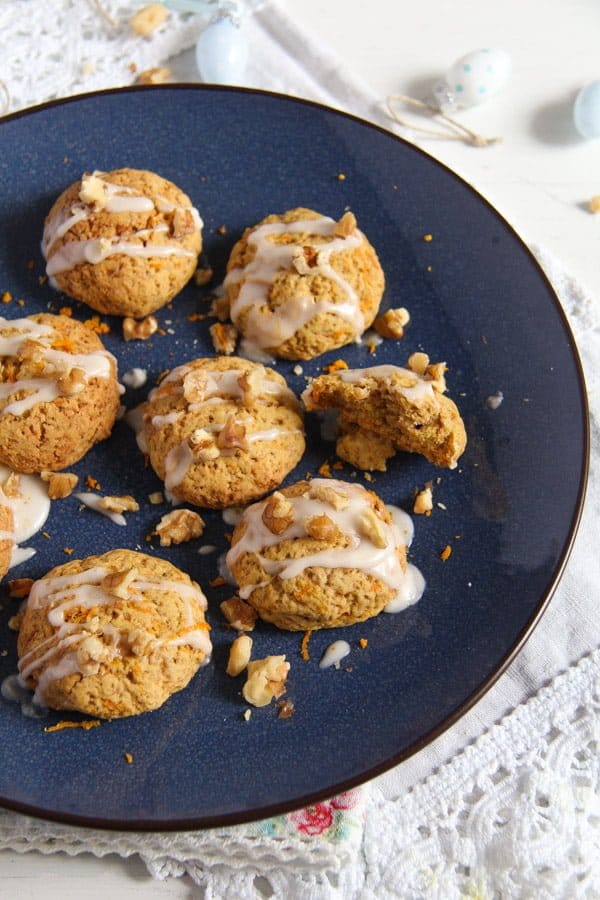 More cookies?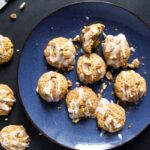 Ingredients
200 g/ 7 oz carrots, weighed after peeling

140 g/ 5 oz/ ½ cup + 1 ½ tablespoons butter (at room temperature)

140 g/ 5 oz/ scant ¾ cup light brown sugar

350 g/ 12 oz/ 3 cups all-purpose flour

½ teaspoon baking powder

1 teaspoon cinnamon

½ teaspoon all spice

1 egg

1 organic orange

140 g/ 5 oz/ 1 1/3 cups icing sugar

handful chopped walnuts
Instructions
Preheat the convection/fan oven to 180 degrees Celsius/ 360 degrees Fahrenheit. Line two baking trays with baking paper.
Peel and grate the carrots on a fine grater Cuisinart CTG-00-BG Boxed Grater
. Weigh the carrots after peeling on a kitchen scale Etekcity Digital Kitchen Scale Multifunction Food Scale, 11 lb 5 kg, Silver, Stainless Steel (Batteries Included)
. Set aside.
Beat the soft butter and the sugar together until creamy. Beat in the egg and then add the grated carrots.
In another bowl mix together the flour, baking powder, cinnamon and all spice. Give them to the butter mixture and mix with a spatula or spoon to form the dough.
With floured hands take small amounts of the dough, form balls about the size of a walnut, flatten them with your palms and place them on the prepared baking trays. If you use a convection/fan oven you will be able to bake both trays of cookies at the same time.
If using a regular oven which only allows you to bake one tray of cookies at a time, place the remaining cookie dough in the fridge while the first batch of cookies is in the oven. In this case the temperature should be of 200 degrees Celsius/ 400 degrees Fahrenheit.
Bake the cookies for about 12-15 minutes or until slightly crisp and golden. Leave to cool on the baking trays for about 10 minutes, then transfer to wire racks to cool completely.
Zest and juice the orange. Mix the orange juice with the icing sugar to obtain an icing which can be drizzled. Depending on how much juice your orange has released you might need to add a little more icing sugar or a little water to the mixture to give it the right consistency.
Drizzle the icing all over the cookies and sprinkle them with orange zest and chopped walnuts. Allow to set before serving.
This post contains affiliate links. The price you pay as a consumer does not change, but if you make a purchase we will receive a commission which helps support the blog.