A very easy to make, delicious and versatile cake with fresh blackberries (or any other berries), low-fat quark and whipping cream.
I have an extra recipe for you today. I am actually finished with the Dobrogea recipes series on Where Is My Spoon and I am planning to start with a new series concerning mushrooms on Tuesday.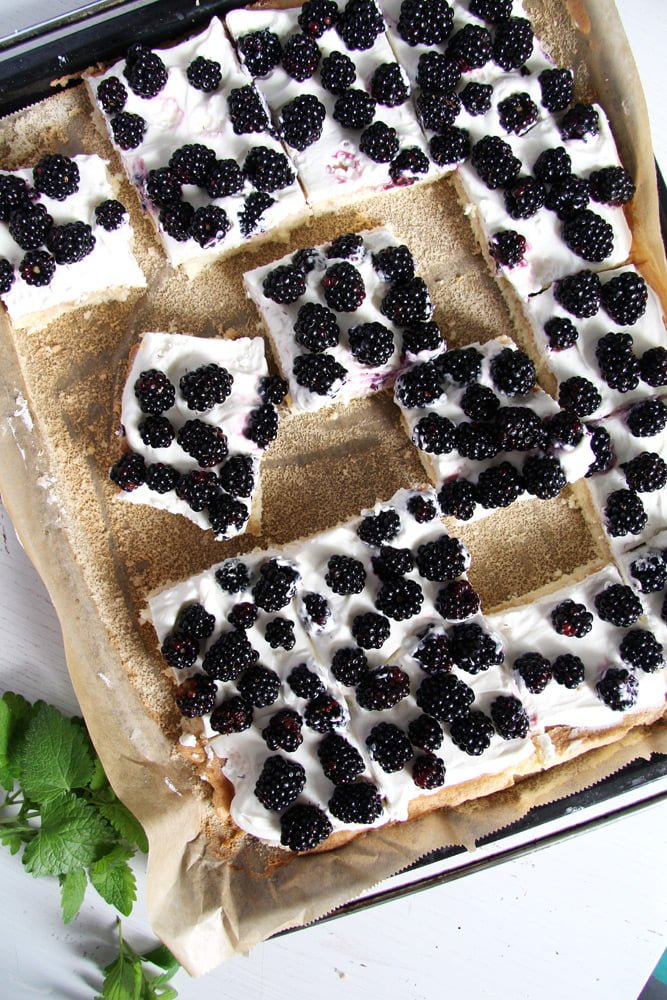 However, I could not keep this delicious cake recipe away from you. I have made last week with some fresh blackberries I picked in my friend's garden. There were not enough of them to make jam or jelly and I thought they were so nice, ripe and fresh it would be a shame to freeze them, so I decided to make a cake and top it with the fresh berries.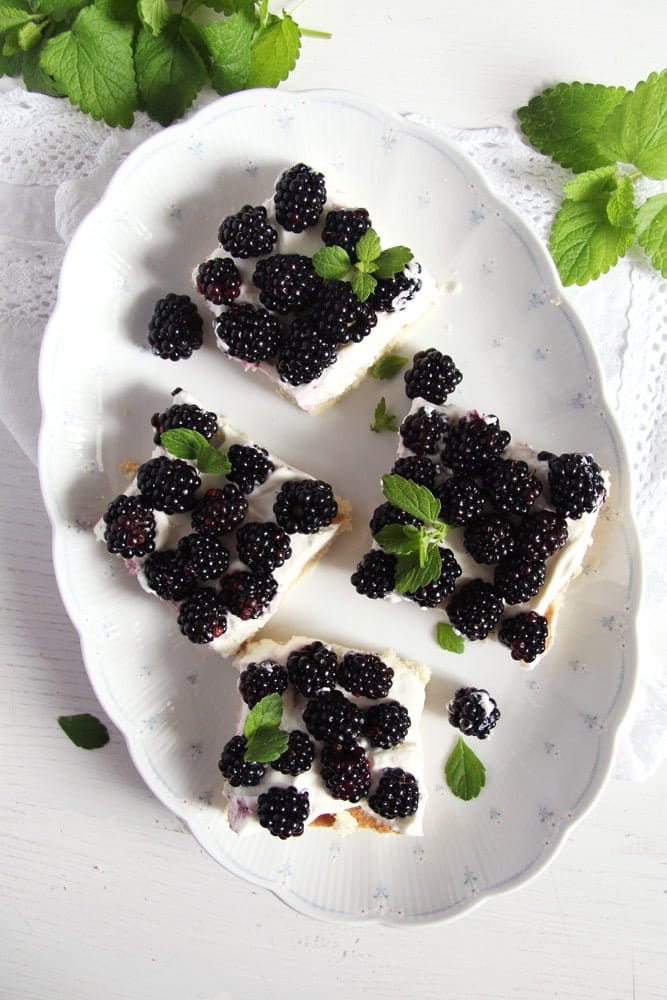 I made this wonderful little cake in no time at all and with things I already had in my pantry and fridge and we all loved it. Especially the kids, I think between the two of them they managed to eat half a cake in one go. Almost… 🙂 And they didn't mind the slight coffee taste at all. Nor did they have trouble falling asleep in the evening. But if you feel anxious about it, you could replace the coffee with a bit of apple juice or another juice you happen to have.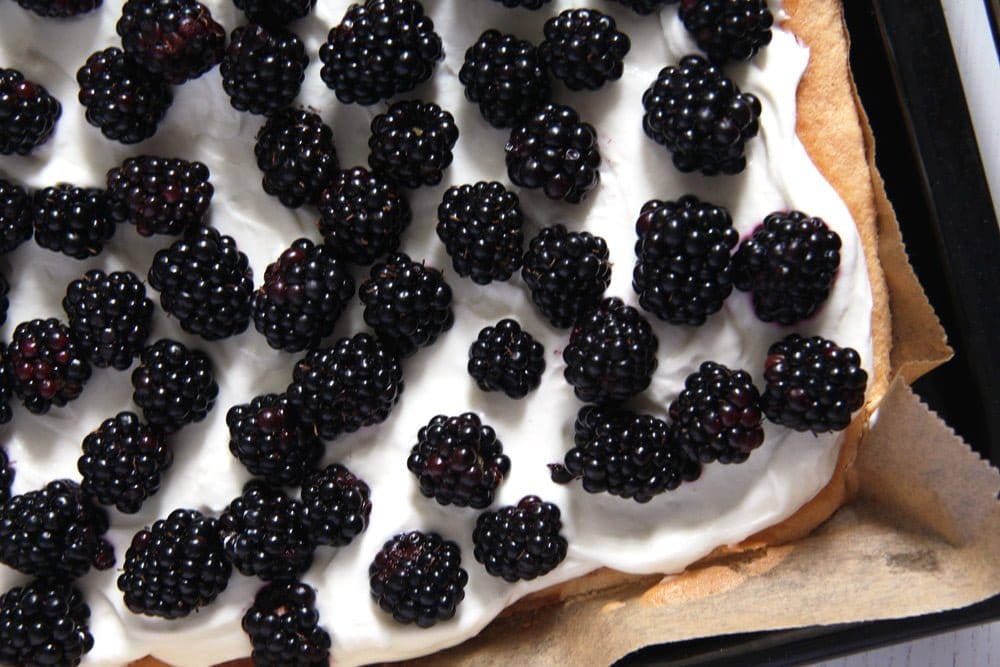 And in case you happen to have any other fresh berries, like raspberries, blueberries, strawberries or whatever, do feel free to replace the blackberries. Chopped nectarines, peaches, seedless grapes or even canned mandarins or pineapple would work as well.
So, in case you are looking for a quick and delicious cake to make this Sunday, this recipe might be the right one for you! Have a nice weekend!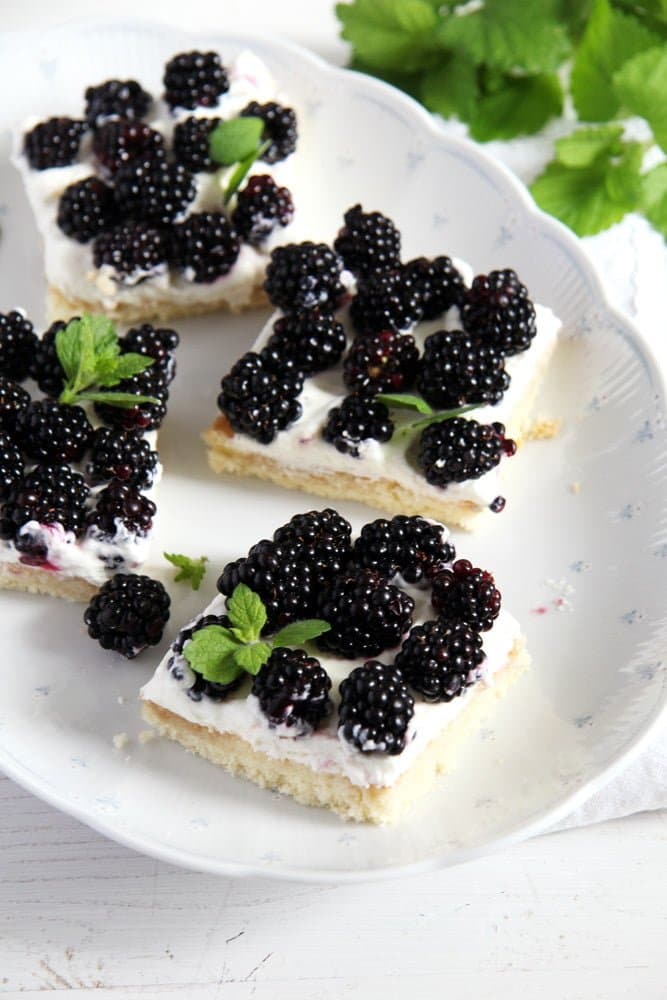 Ingredients
4 eggs

4 tablespoons warm water

150 g/ 5.3 oz/ ¾ cup sugar, divided

100 g/ 3.5 oz/ ¾ cup + 1 tablespoon all-purpose flour

50 g/ 1.8 oz/ 1/3 cup + 1 tablespoon cornstarch

1 teaspoon baking powder

150 ml/ 5 fl.oz/ 2/3 cups strong coffee

500 g/ 17.6 oz/ 2 ½ cups low-fat quark

juice of ½ lemon

250 ml/ 8.5 fl.oz/ 1 cup whipping cream

about 350 g/ 12.3 oz/ 3 ½ cups fresh blackberries
Instructions
Preheat the oven to 200 degrees Celsius/ 390 degrees Fahrenheit. Line a baking tray with baking paper.
Separate the eggs. Beat the egg whites until stiff.
In another bowl beat the egg yolks and the warm water with 100 g/ 3.5 oz/ ½ cup sugar until pale and fluffy, about 6-7 minutes.
Mix together the flour, cornstarch and baking powder. Mix them into the egg yolk mixture. Carefully incorporate the stiff egg whites as well.
Pour the batter into the prepared tray and bake in the preheated oven for about 15 minutes or until golden.
In the meantime brew the coffee. Using a tablespoon distribute the coffee evenly over the hot cake base and let the cake cool completely.
To make the topping mix together the quark, lemon juice and the remaining 50 g/ 1.8 oz/ ¼ cup sugar. You may add a bit more sugar if you find it necessary.
Beat the whipping cream until stiff and carefully fold it into the quark mixture. Spread the mixture over the cooled cake.
Top with the fresh blackberries.