Oven Baked Schnitzel and Schnitzel Burgers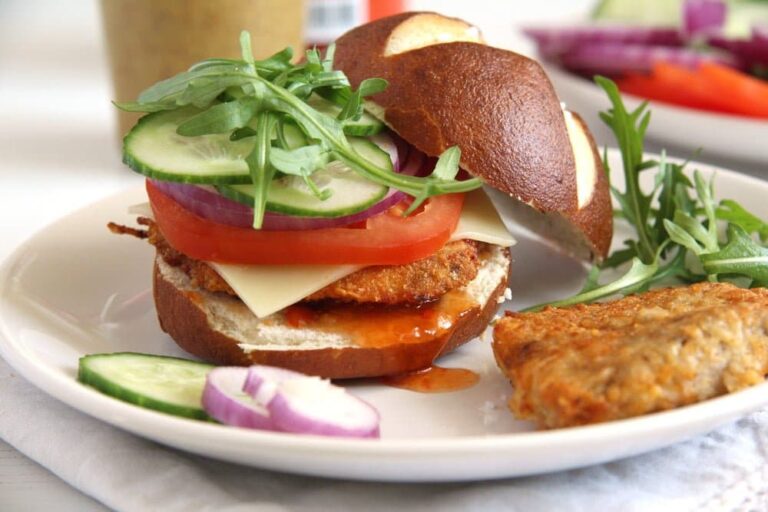 8 pork schnitzel/ boneless pork chops about 50 – 70 g/ 1.7 – 2.4 oz each
salt and pepper
2 eggs
60 g/ ⅔ cup dry breadcrumbs (or more if necessary)
30 g/ ⅓ cup Parmesan, freshly grated
30 ml/ a bit more than ⅓ cup olive oil
1 teaspoon sweet paprika
To serve as burger:
4 buns of choice, halved horizontally
1 large tomato, thickly sliced
1 large piece of cucumber, sliced
1 red onion, sliced
some arugula or other salad leaves
4 small cheese slices
some chili sauce or ketchup
Preheat the oven to 220 degrees Celsius/ 430 degrees Fahrenheit.
Wash and dry the schnitzel. Tenderize them slightly between two sheets of plastic foil. Sprinkle them with salt and pepper and set aside.
Lightly beat the eggs in a shallow bowl. Mix the breadcrumbs and the Parmesan in another large shallow bowl.
Mix the olive oil and the sweet paprika in a small bowl.
Line a baking tray with baking paper. Lightly brush the baking paper with some of the oil mixture.
Dip the schnitzel in the beaten eggs, then coat them with the breadcrumb-Parmesan mixture. Place them on the baking tray and brush them lightly with the oil mixture as well. Use only as much oil as to lightly coat the schnitzel, don't use it all just because it's there.
Bake for about 10 minutes, turn the schnitzel and bake for another 10 minutes. You could already check after a total time of 18 minutes if the schnitzel are done, the cooking time greatly depends on your oven.
If your schnitzel are larger (about 100 – 150 g/ 3.5 – 5.3 oz) increase the cooking time to about 23-25 minutes.
Halve the buns horizontally, smear some chili sauce or ketchup on the lower half and top with schnitzel , vegetables, cheese and salad. Place the second bun half on top.