Israeli Couscous with Zucchini and Chicken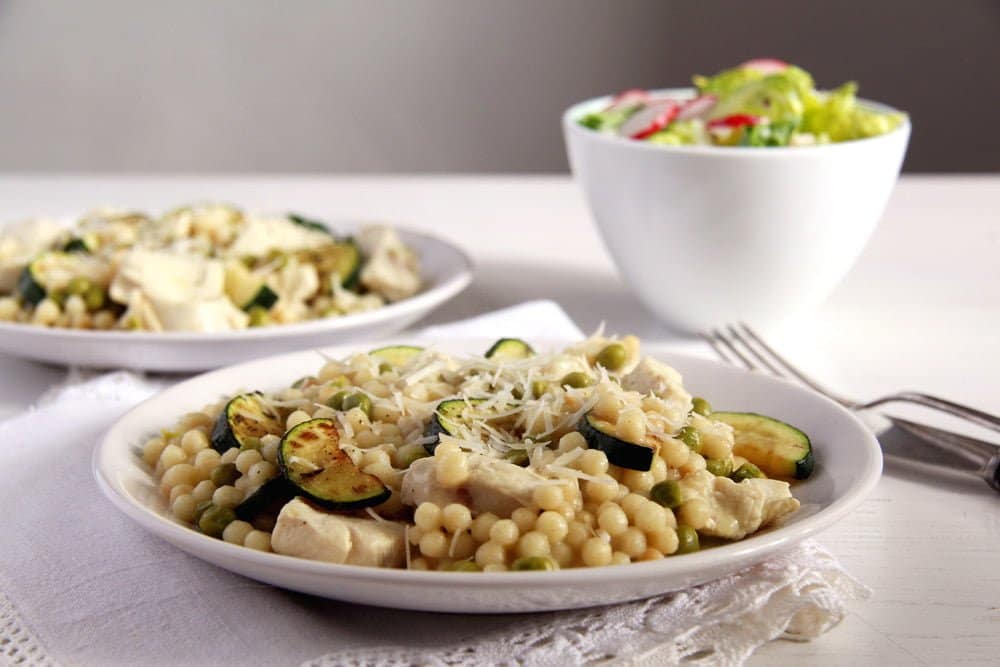 2 tablespoons olive oil, divided
1 medium zucchini
280 g/ 2 cups Israeli couscous
1 liter/ 4 cups chicken stock
500 g/ chicken breast, boneless and skinless
1 organic lemon
150 g/ 1 cup frozen peas
50 g/ ½ cup Parmesan, freshly grated + some extra to serve
salt and pepper
Heat 1 tablespoon olive oil in a large skillet. Half the zucchini lengthwise and chop the halves into pieces. Fry the zucchini until golden but still crunchy, take out of the skillet and set aside.
While the zucchini cooks, chop the chicken into bite-sized pieces.
Heat the second tablespoon of olive oil in the same skillet. Add the Israeli couscous and toast the grains, stirring, for one or two minutes, until lightly browned.
Add the chicken stock, chicken pieces, lemon zest and juice and frozen peas. Bring to a simmer and cook on a medium-low heat for about 10 – 13 minutes, until the couscous and the chicken are cooked through. Carefully stir in the zucchini and heat everything for another 2-3 minutes. Adjust the taste with salt and pepper and stir in the Parmesan.
Serve immediately with more grated Parmesan and a green, crunchy salad with radishes.