Cheese Cake Brownies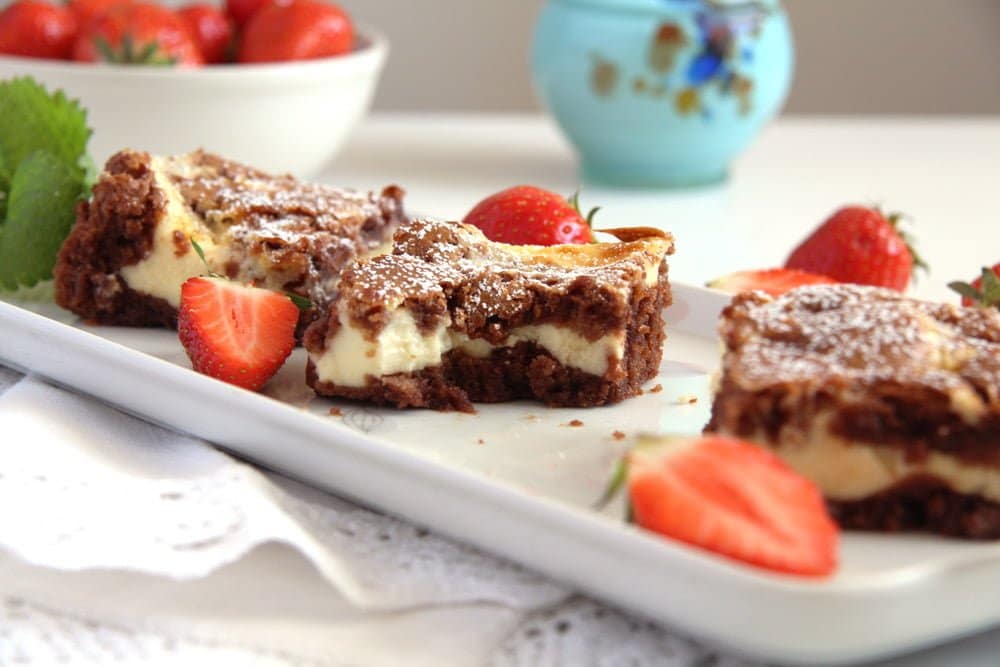 Recipe type:
Cake, Dessert
400 g/ 14 oz cream cheese (something like Philadelphia)
125 g/ 4.4 oz + 225 g/ 8 oz granulated sugar
1 teaspoon vanilla extract
2 + 3 eggs
200 g/ 7 oz plain chocolate
200 g/ 7 oz unsalted butter
125 g/ 4.4 oz all-purpose flour
Preheat the oven to 180 degrees Celsius/ 360 degrees Fahrenheit. Butter and line a 20x30 cm/ 8x12 inch tin with parchment paper.
To make the cheese cake mixture beat together the cream cheese, 125 g/4.4 oz sugar and the vanilla extract until well mixed. Add 2 eggs, one at a time, and beat until smooth and creamy. Set aside.
To make the brownie mix start by chopping the chocolate finely. Place it in a small metal bowl, place the bowl over a pan with water. Make sure the water doesn't touch the bowl with the chocolate. Heat the water, but don't let it come to a boil. Melt the chocolate while stirring very frequently. Set aside.
In another bowl whisk together the remaining 225 g/ 8 oz sugar with the remaining 3 eggs until creamy. Slowly add the melted chocolate and whisk well. Sieve the flour and fold it in carefully. Pour about ¾ of this mixture in the prepared pan and level.
Spoon the cream cheese mixture over the brownie mixture carefully. Add the remaining brownie mix in dollops all over the place, level and marble the cake with help of a skewer.
Bake for about 35 to 40 minutes until just set in the middle.