Mushrooms with Herb Butter Filling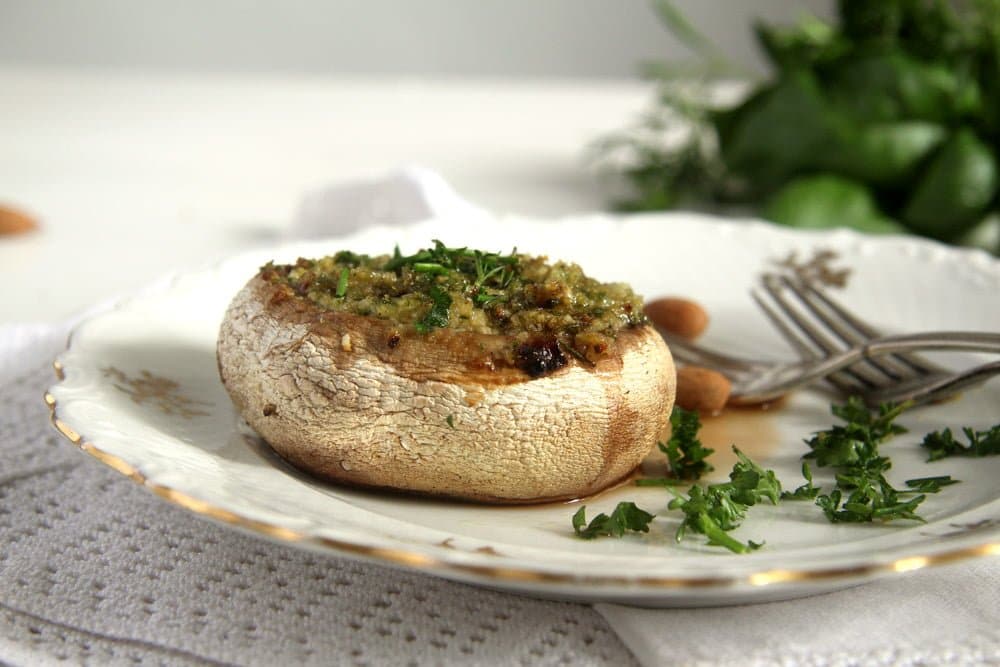 6-8 medium brown mushrooms, depending on their size
1 tablespoon olive oil
1 shallot
40 g/ 1.4 oz blanched almonds
2 garlic cloves
3 tablespoons chopped parsley
1 tablespoon chopped thyme
1 tablespoon chopped rosemary
1 tablespoon chopped chives
60 g/ 2.1 oz butter, room temperature
a little lemon juice
salt and pepper
Preheat the oven to 180 degrees Celsius/ 360 degrees Fahrenheit. Lightly brush a casserole form with some oil.
Remove the mushroom stems and chop them very finely. Chop the shallot very finely as well.
Heat the tablespoon olive oil in a pan and cook the shallot for about 2-3 minutes or until soft. Add the chopped mushroom stems and continue cooking for further 2 minutes or until the stems are soft as well.
Place the almonds, the roughly chopped garlic cloves, herbs and the cubed butter in a food processor. Process shortly to obtain a slightly rough paste. Add a little lemon juice and salt and pepper to taste.
Place the mushrooms in the prepared casserole dish and fill them with the almond filling. Bake for about 10 – 15 minutes until they are soft and the butter is melted.
Serve them immediately with baguette and green salad.