Sharing is caring!
Crunchy nut biscotti with lots of hazelnuts and dark chocolate, the perfect cookies to dip into your coffee.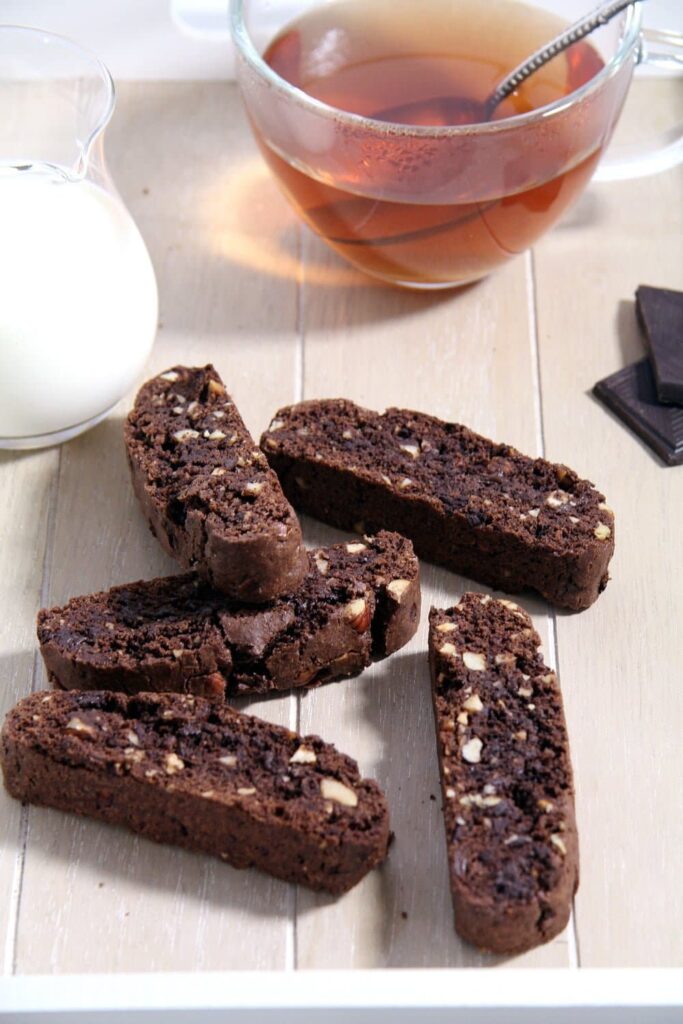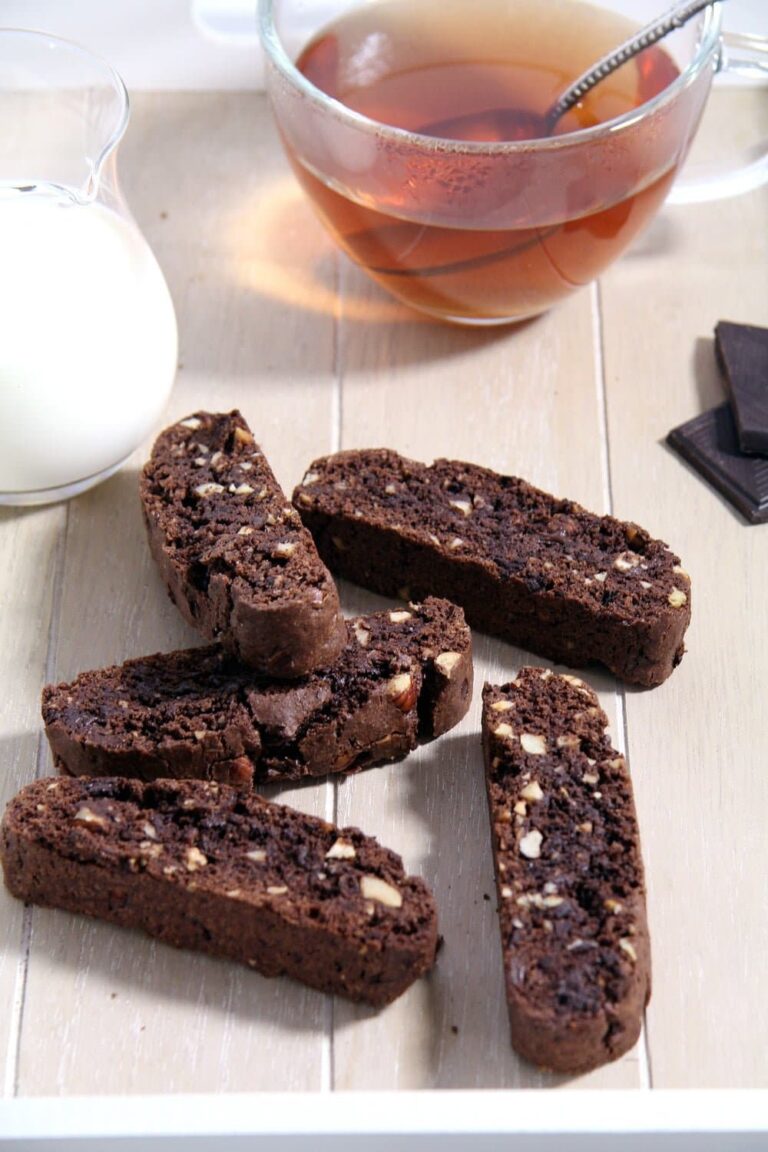 Nut biscotti are some of those things I've been meaning to bake for ages, but somehow never got to it until now. I am sure every one who likes to cook has such a list of things to be cooked soon, a list that gets longer and longer with the years…
My list will probably never be completely cooked through, there are just too many things on it, but what I would like to try to do, is to at least cook or bake some of those really well-known recipes, such as panna cotta or scones, puff pastry or zabaglione.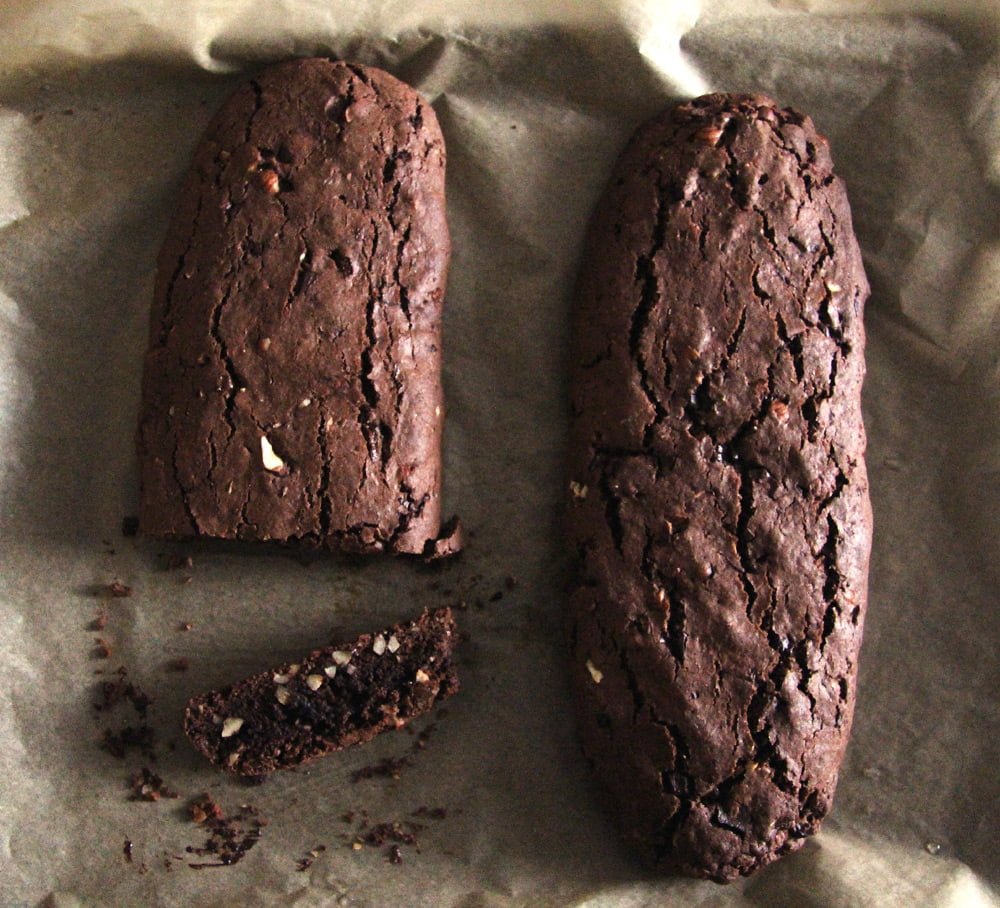 I chose to make these biscotti on a whim, I had the hazelnuts already and felt in the mood of eating something made with chocolate, so I thought I would give these nut biscotti with hazelnut and chocolate a try.
One reason that always stopped me from making biscotti was the main idea behind the biscotti, which is that the cookies have to be baked twice, I thought that to be extra work that I wasn't in the mood of doing, but really, making the biscotti is so easy and they are so delicious, especially dipped in coffee, that you will not care about having to slice them and bake them for 10 minutes more.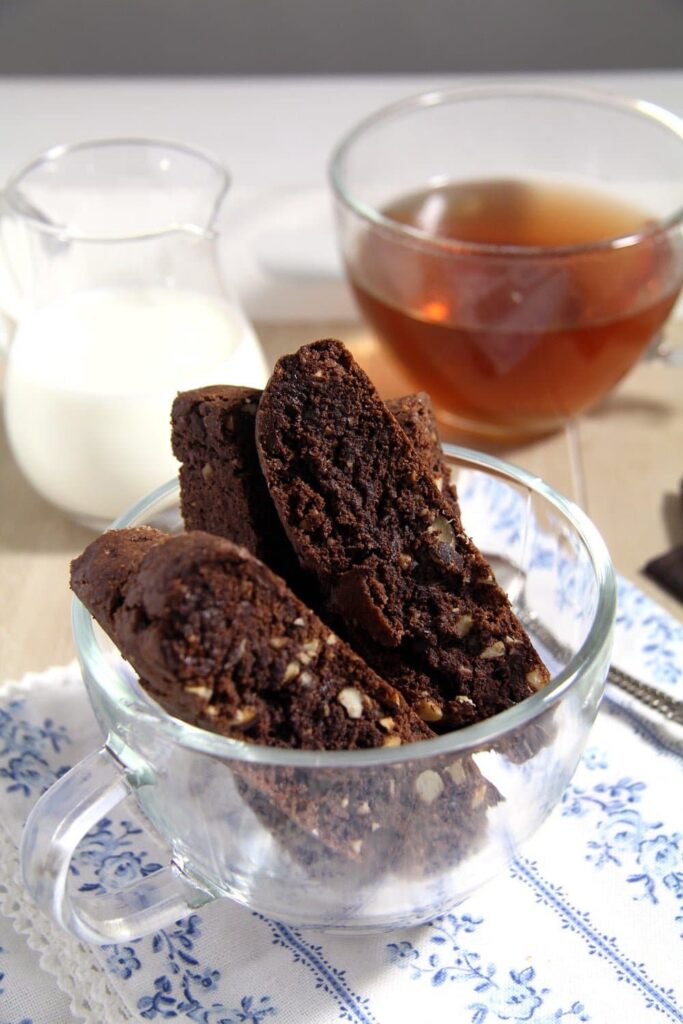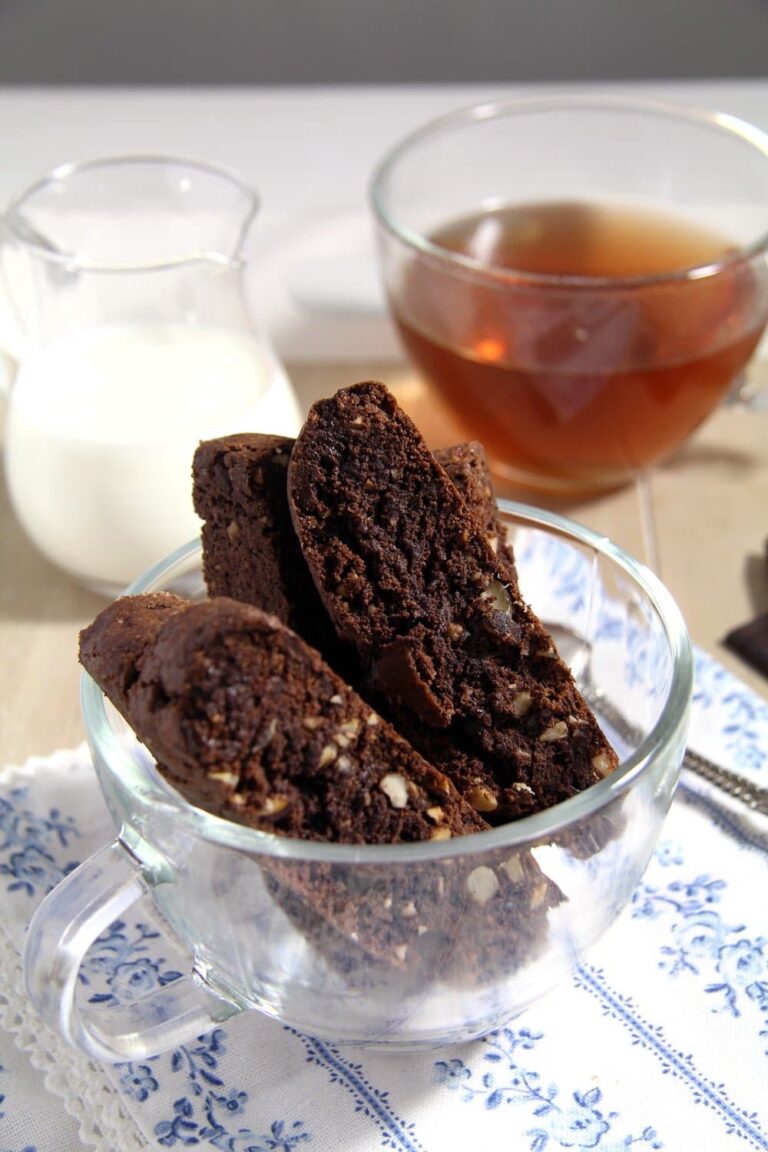 And another good thing about them is that they keep for a long time, as long as you keep them airtight. So you can have them ready to serve to those guests that keep coming around this time of the year. Just make a cup of fresh coffee and there you are, a perfect afternoon sweet snack.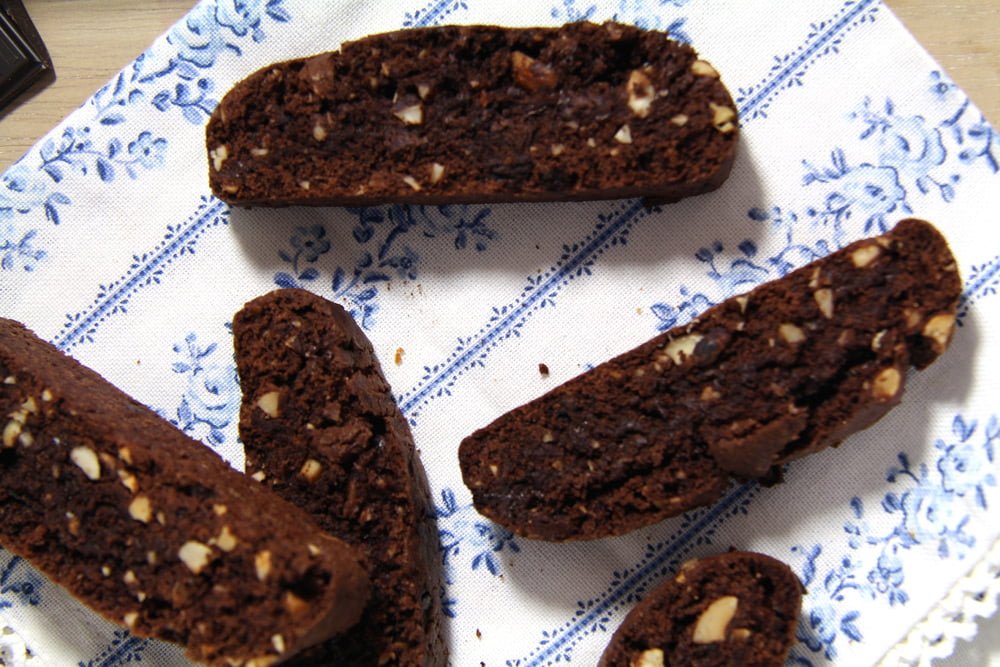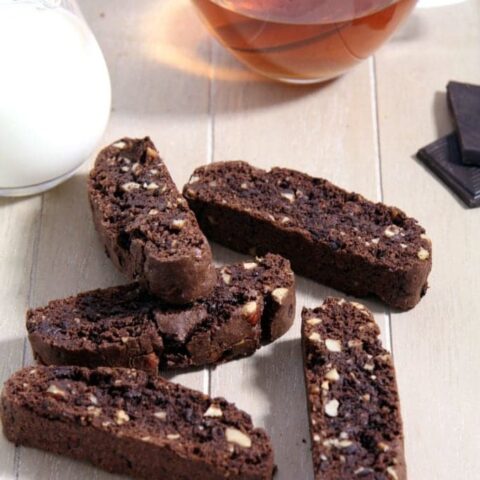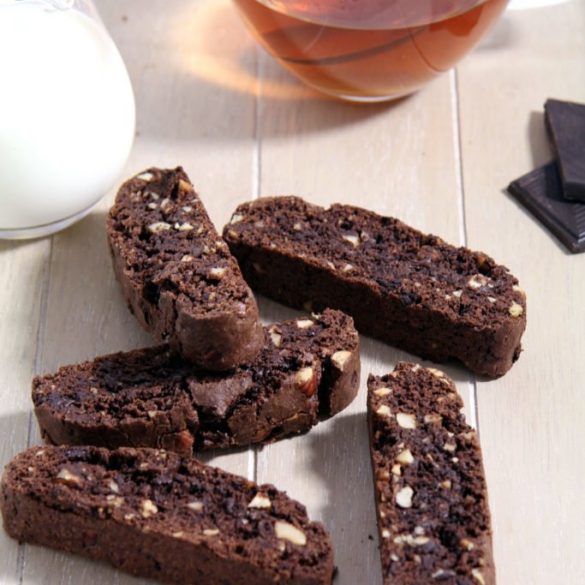 Nut Biscotti with Chocolate
Total Time:
1 hour
15 minutes
Crunchy nut biscotti with lots of hazelnuts and dark chocolate, the perfect cookies to dip into your coffee.
Ingredients
150 g/ 5.3 oz/ 1 cup whole hazelnuts
135 g/ 4.5 oz dark chocolate (about 50% cocoa)
315 g/ 11.1 oz/ 2 ½ cups + 2 tablespoons all-purpose flour
40 g/ 1.3 oz/ 3/8 cup unsweetened cocoa powder
1 teaspoon baking soda
½ teaspoon salt
85 g/ 3 oz/ ¾ stick butter, soft
200 g/ 7 oz/ 1 cup granulated sugar
2 large eggs
Instructions
Preheat the oven to 180 degrees Celsius/ 350 degrees Fahrenheit. Line a baking tray with baking paper.
Chop the hazelnuts and the chocolate finely. Set aside in a bowl.
In another bowl mix together the flour, cocoa powder, baking soda and salt.
In another bowl cream the soft butter and the sugar. Add the egg and mix well. Add the flour mixture and mix well. Add the nuts and the chocolate and knead shortly with the hands until everything is incorporated. Form two loaves about 23 cm/ 9 inches long and 8 cm/ 3 inches wide. Place them on the tray and bake them for about 35 minutes, until the loaves feel firm to the touch and they have cracks on top.
Let them cool on the tray for 10 minutes, then carefully cut the loaves into 2 cm/ 0.7 inches slices. Place them on the tray again and bake for further 10 minutes at the same temperature. Let cool for about 10 minutes again, then transfer to wire racks to cool completely.
Keep airtight in tins or jars.
Nutrition Information:
Yield:

12
Serving Size:

1 biscotto
Amount Per Serving:
Calories:

268
Total Fat:

17g
Saturated Fat:

6g
Trans Fat:

0g
Unsaturated Fat:

9g
Cholesterol:

47mg
Sodium:

253mg
Carbohydrates:

28g
Fiber:

2g
Sugar:

22g
Protein:

4g
Nutrition information isn't always accurate.
Others you might like: