Last Updated on
A light and healthy turkey or chicken soup with potatoes, napa cabbage and ginger garlic paste.
Another easy and delicious soup for you today. I had some leftover napa cabbage after making some amazing napa cabbage rolls with minced meat and prawns the other day and as I was in the mood for soup again, I thought I would use the last leaves to make a soup. That's the way many recipes are born in my kitchen, just me looking for ways of dealing with leftovers…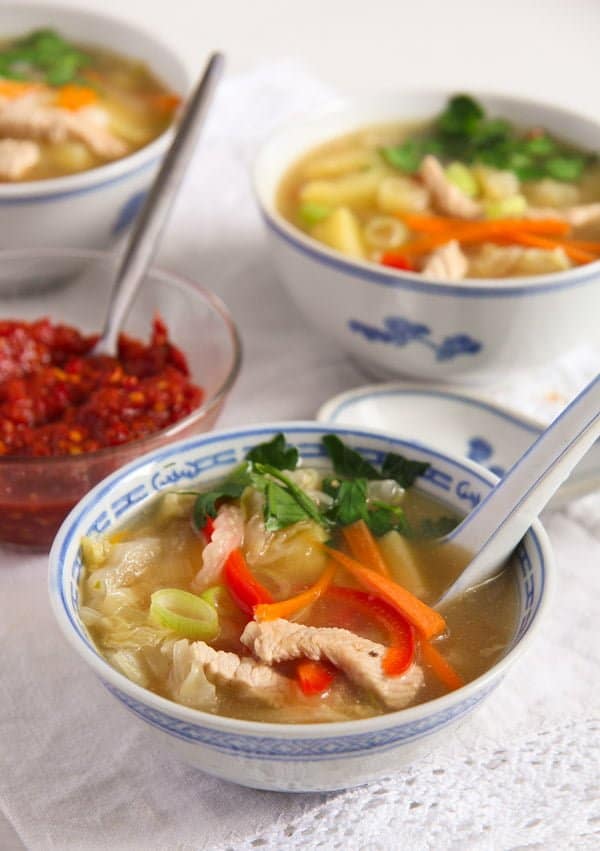 I had a look in the fridge and saw the jar of ginger garlic paste, which I used a while ago for making this Quick and Spicy Mushroom Egg Noodle Soup and thought about another Chinese style spiced soup. So, I gathered some other vegetables and started to make the soup. Potatoes might sound weird for a Chinese kind of soup, at least I don't ever really remember eating potatoes in a Chinese restaurant, but they were really perfect for this warming soup, potatoes are always soft and comforting and filling.
However, if you feel that potatoes are not exactly what you wish for in an Asian style soup, you could replace them with rice or noodles, which you will have to cook separately and give to the soup before serving.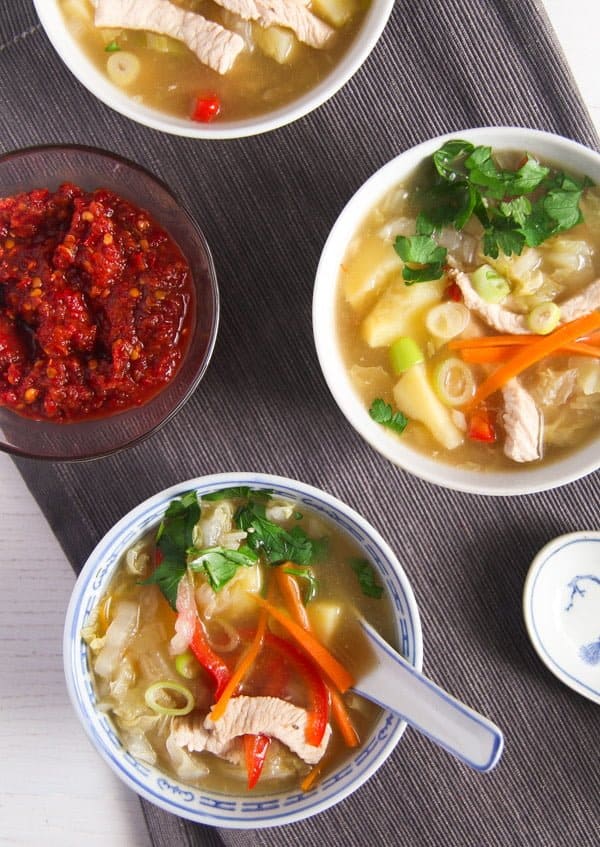 I used ginger garlic paste from a jar, which I happened to have in the house. However, as ginger garlic paste is not available around here (I bought that jar in an Asian shop in the UK), I found a recipe for making the paste at home. I haven't tried that yet, but I definitely plan to, as soon as my jar is empty. If you would like to give it a try before I do it, here is the recipe for the homemade ginger garlic paste.
I used turkey and turkey stock to make the soup because that is what I had at the moment. We buy a huge turkey every year from a farm in the village, so I always seem to have some bones and pieces of meat that can be turned into a nice soup. The same this time, I cooked the turkey stock, enough to make two soups out of it and scraped the meat from the bones to give to the soup.
But this soup would just as delicious when made with chicken stock and chicken breast, so do use that instead, if you don't have any turkey.
Enjoy!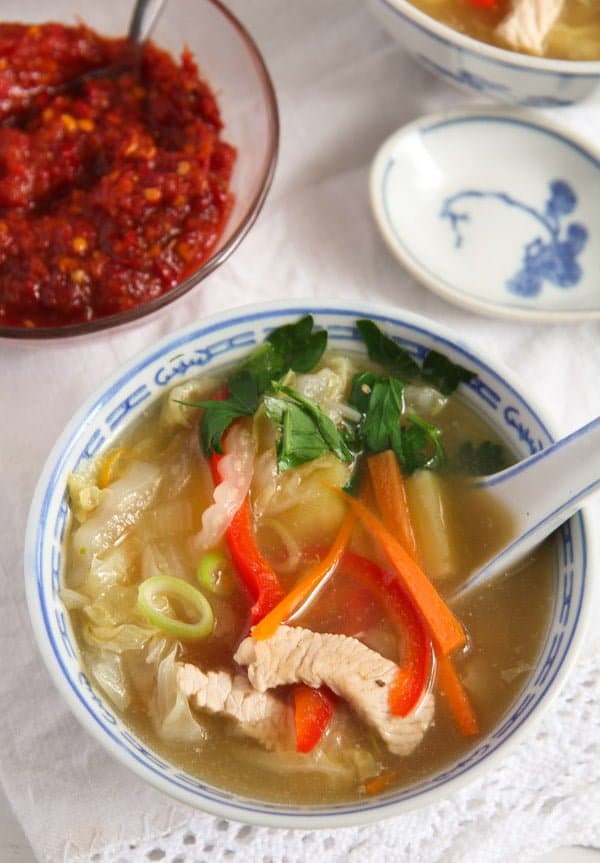 Other light soups you might enjoy: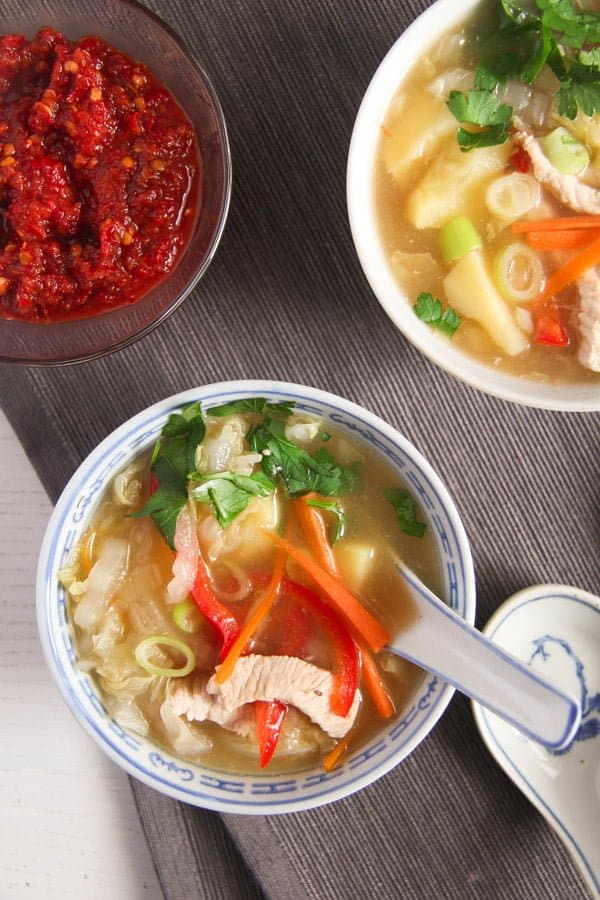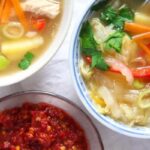 Ingredients
2 large potatoes, about 400 g/ 14 oz

1 liter/ 4 cups turkey stock (or chicken stock)

2 tablespoons rice vinegar, separated

2 tablespoons cornflour

200 g/ 7 oz turkey breast (or chicken breast)

2 ½ tablespoons soy sauce, separated

1 teaspoon sesame oil

1 carrot

2 teaspoon garlic ginger paste

1 red pepper

3 spring onions

3 large leaves napa cabbage

salt and pepper

coriander or parsley
Instructions
Peel and cut the potatoes into small cubes.
Give the stock and 1 tablespoon of the rice vinegar to a soup pot, add the potatoes and bring to a boil. Turn the heat down and let it come to a simmer.
In a small bowl mix the cornflour with 4 tablespoons cold water. Pour the mixture into the stock while whisking all the time. Bring the stock back to a boil and stir until thickened, about 4-5 minutes. Turn the heat down again and let it come to a simmer.
In the meantime cut the turkey/chicken breast into stripes. Mix with the remaining tablespoon rice vinegar, 1 tablespoon of the soy sauce and the sesame oil.
Cut the carrot into very thin strips. Keep separated from the rest of the vegetables.
Add the turkey/chicken, carrot and ginger garlic paste to the soup. Let simmer for about 5 minutes.
In the meantime cut the rest of the vegetables. Cut the red bell pepper and the green onions into thin slices. Cut the napa cabbage into strips as well. Stir the vegetables into the soup and cook for further 5 minutes or until the potatoes are soft.
Adjust the taste with the remaining soy sauce and salt and pepper. Sprinkle with chopped coriander or parsley before serving. Serve with some sambal oelek, if desired.
This post contains affiliate links. The price you pay as a consumer does not change, but if you make a purchase we will receive a commission which helps support the blog.