Peanut butter is a wonderful thing. For me it is quite a new discovery, I made it the first time only about a year and a half ago. But ever since, I almost always have a jar of homemade peanut butter in the fridge.
The first time I had peanut butter was about 15 years ago. I was a student still living in Romania and had only known peanut butter by name, from all the American movies and series in TV. I used to know an American girl working in Romania and she had some peanut butter which she had brought from home. I was curious and I tasted a teaspoon of it and found it absolutely disgusting. So bad that I refused to taste it again for more than 10 years. It was sickening sweet and weird and of a strange, unknown consistency.
Then as I started reading blogs, I kept finding recipes over recipes containing peanut butter, not only sweet recipes but also pasta, spreads, soups and so on. That raised my interest again and decided to give peanut butter another try, but this time pure peanut butter with no sugar involved. I had it once and I was hooked, now I cannot do without it. I am still not a fan of sweets containing peanut butter though, it must be the terrible memory of that disgusting stuff I ate 15 years ago. But I did try a few delicious cakes and cookies made with peanut butter, like this Chocolate Peanut Butter Pie for instance. Other nice sweet recipes that I made are these:
Chocolate and Peanut Butter Spread
Or savory recipes:
Vegan Spinach Peanut Butter Noodles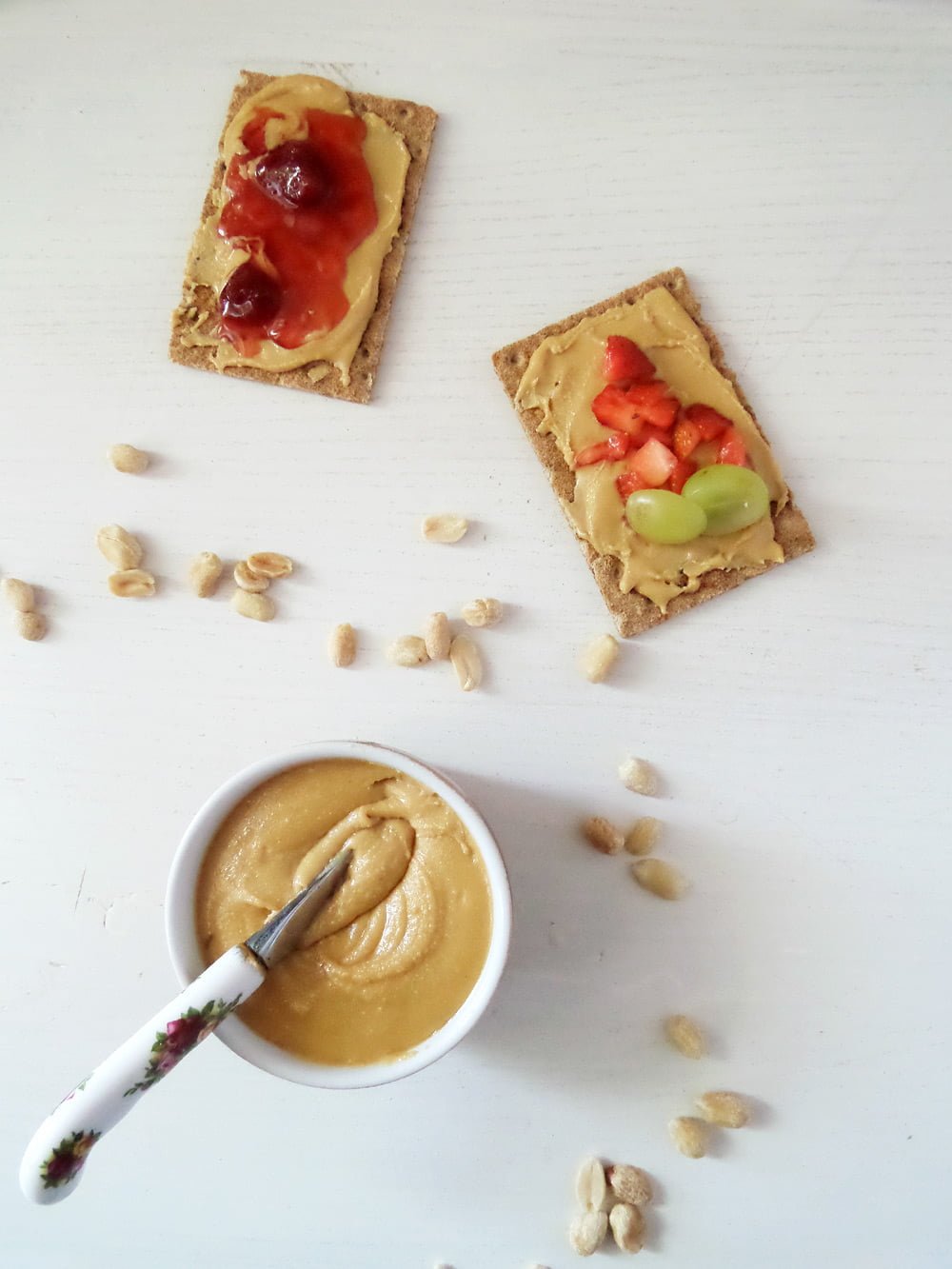 I make my peanut butter either using already roasted and slightly salted peanuts or using raw peanuts, which I roast myself. They have the advantage of containing no oil or salt or anything else and of being cheaper. Buying a 1 kg bag of unroasted peanuts definitely comes cheaper than buying several small bags of roasted peanuts.
I use my Thermomix to make the butter, you will need a very strong food processor to get the right consistency. I prefer to make a larger amount of butter in one go, about 2 jars, I find that my Thermomix manages that better than it does smaller amounts. I don't have to scrap the butter down the walls of the machine quite as often in this case.
The butter keeps very well in the fridge. I never had it longer than a month but I imagine it keeps even longer than that. If you don't use all your peanuts to make butter, you can refrigerate the rest for up to 6 months or freeze them. In this case they will keep for about 1 year.
Other peanut butter recipes that I would like to try:
Best Ever Big Peanut Butter Cookies from Sugar Spun Run
Killer Peanut Butter Cake from The Daring Gourmet
Thai Peanut Sauce from Gimme Some Oven
Skinny Thai Chicken Meatballs with Peanut Sauce from Jo Cooks
West African Chicken and Peanut Stew from Kalyn's Kitchen
Domoda from The Daring Gourmet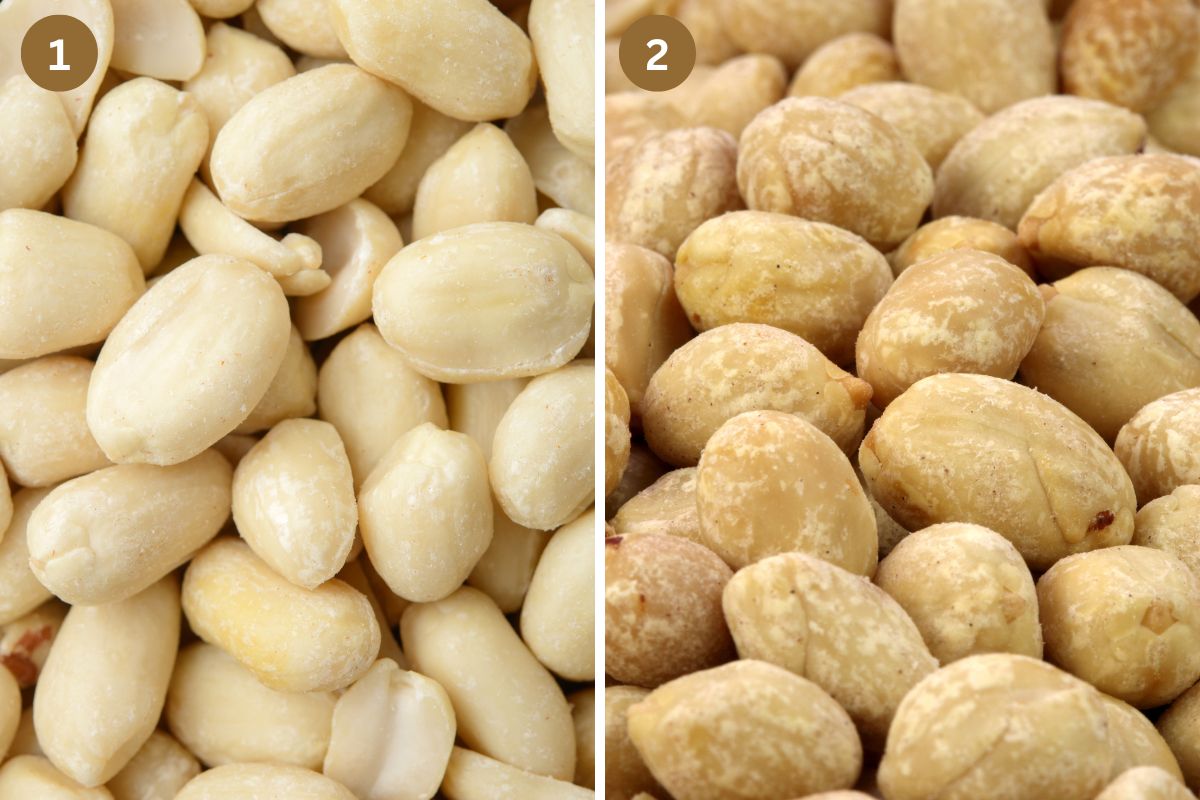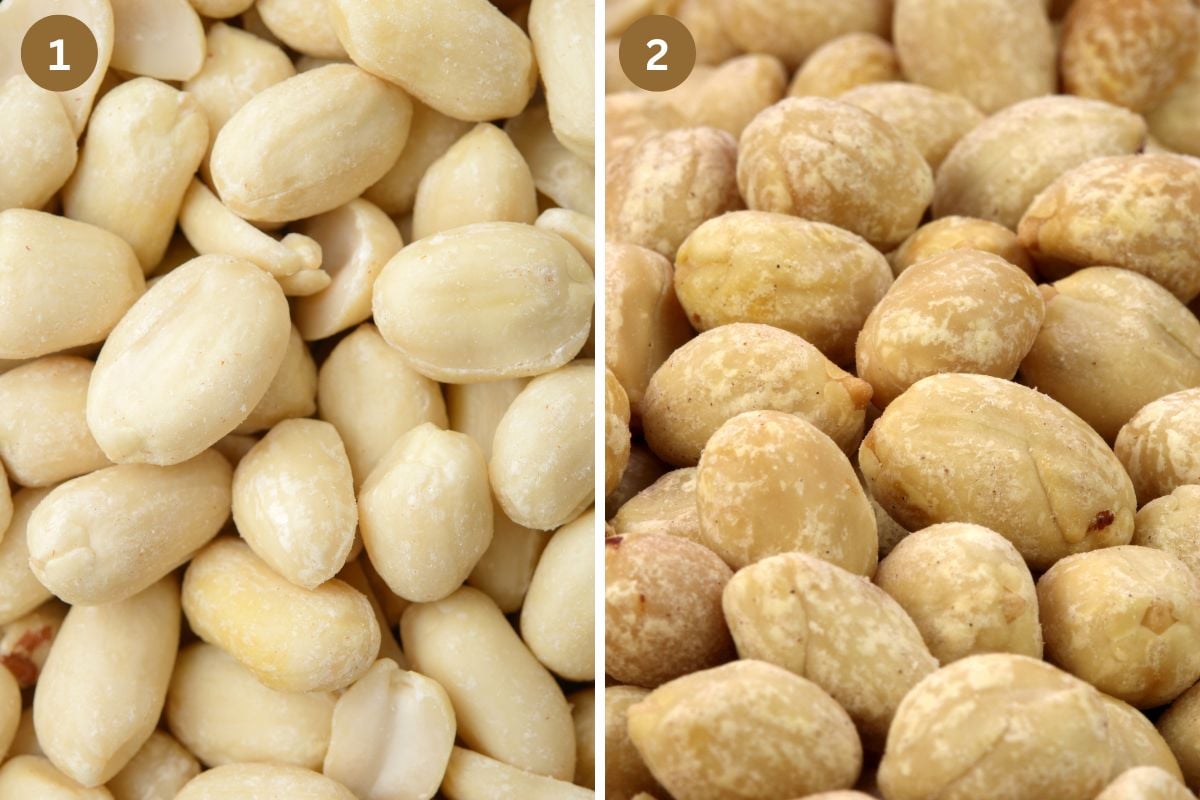 Prep time:
Cook time:
Total time:
Ingredients
500 g/ 17.5 oz shelled peanuts
some salt, optional
Instructions
Preheat the oven to 180 degrees Celsius/ 350 degrees Fahrenheit. Lay a baking sheet with baking paper and place the peanuts on it in a single layer. If not all of them fit on the tray than roast them in two batches.
Roast for 10 to 15 minutes until golden. Stir the peanuts at least twice in between and keep a close eye on them, you don't want them to get too dark, they will not taste good anymore. They should be slightly underdone as they will continue to cook when removed from the oven.
When golden immediately remove from the baking sheet and place into a large bowl. Let them get completely cold before starting with the peanut butter.
Place as many peanuts as your food processor can handle in the machine. Add some salt if desired. Process until smooth and creamy, scraping down the walls of the machine a few times in between. My Thermomix gets quite hot during this time, but that doesn't matter, it is normal and my machine can handle it.
Transfer the peanut butter into clean jars and refrigerate.