Black lentils, quinoa, carrots, sunflower seeds, kale, lemon juice, a little bit of olive oil and of maple syrup, I challenge you to find a healthier salad! 🙂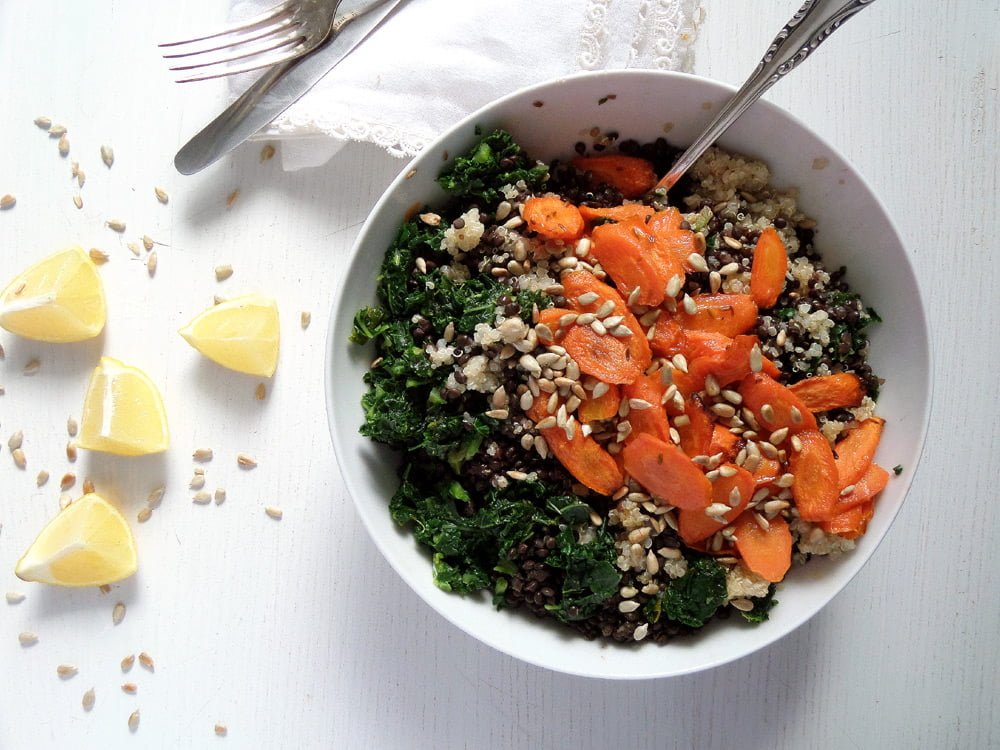 I made this a couple of months ago, sometimes in November, and I wanted to post it immediately, but then I thought this is not something people would want to see during the Thanksgiving or Christmas time, it would only make them feel uncomfortable thinking of all the sugar and fat they actually do want to eat during this period. So January seemed a much better choice to present you with some health on the plate.
So make a big bowl of it and enjoy it over the next few days, it will keep well in the fridge, you can take it to work or have it in the evening when you don't feel much like cooking.
But just a word of advice: cook something else for your kids!
And if you would like to learn more about kale's health benefits, have a look at this article: 26 Science-Backed Health Benefits of Kale from HealthyLine.com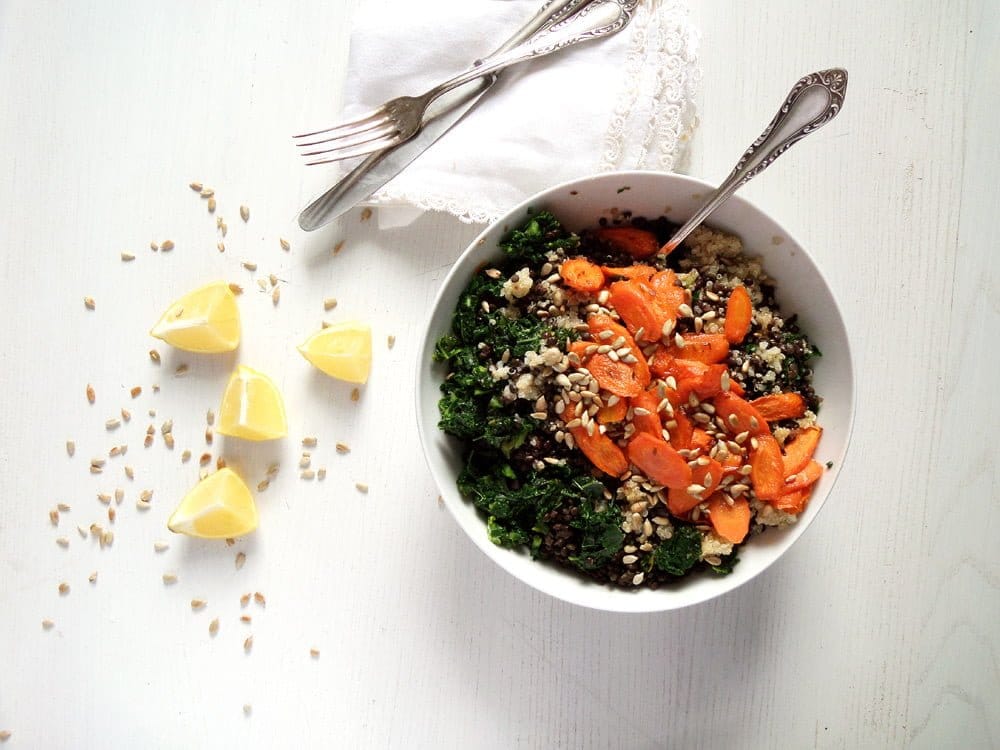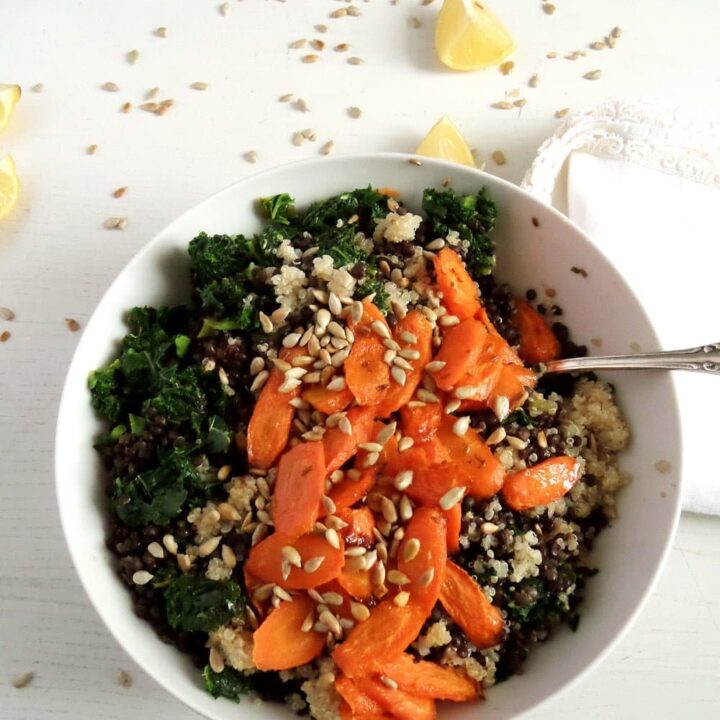 Lentil Quinoa Carrot Salad
Ingredients
200 g/ about 1cup black lentils (Beluga)
80 g/ ½ cup quinoa
500 g/ 17.6 oz carrots
1 large pinch cumin seeds
1 tablespoon olive oil
1 tablespoon maple syrup
2-3 tablespoons lemon juice or more to taste
2 tablespoons olive oil
1 tablespoon maple syrup
a pinch of smoked paprika
salt and pepper
2 large handful chopped kale
1 small handful sunflower seeds
Instructions
Cook the lentils according to the packet's instructions, I cooked 1 cup Beluga lentils in 3 cups water for
minutes.
Give the quinoa into a fine meshed sieve and wash it very very thoroughly under lukewarm running water. Cook it according the packet's instructions, I cooked mine for 20 minutes.
Drain both lentils and quinoa and give them to a large bowl. Let them cool.
Preheat the oven to 200 degrees Celsius/ 400 degrees Fahrenheit.
While the lentils and the quinoa are cooking, clean the carrots and slice them diagonally. Place them in a bowl and mix them with the cumin seeds, 1 tablespoon olive oil, 1 tablespoon maple syrup and some salt. Rub them well all over and place them on a baking tray lined with baking paper, in a single layer. Bake for about 15-20 minutes or until tender.
Blanch the chopped kale in boiling water for about 2 minutes, drain and refresh under cold water. Let drain well.
Roast the sunflower seeds in a pan without using any fat. Shake the pan very frequently and stay close, it will not take long and they will burn quickly if you leave them unattended. Remove to a plate and let cool.
To make the dressing mix together the lemon juice, olive oil, maple syrup, smoked paprika and salt to pepper to taste. Give the dressing to the bowl, mix carefully, them add the carrots and the kale. Mix again and adjust the taste again. Sprinkle with the sunflower seeds and serve.