Brown mushrooms filled with a melt in you mouth, aromatic herb butter and almond filling, this is my favorite way of serving stuffed mushrooms.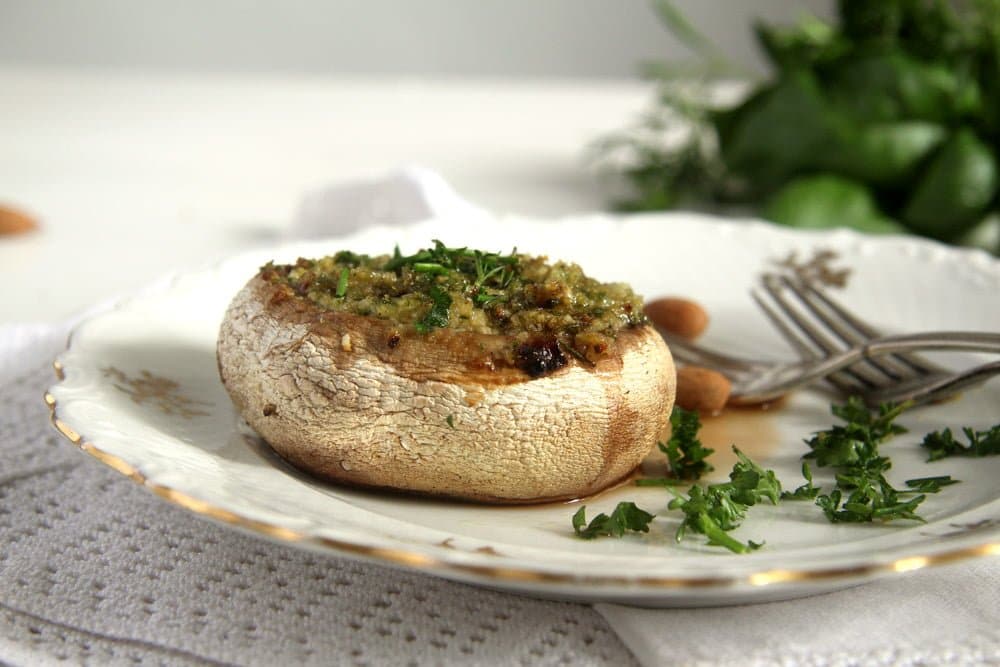 I cannot even remember how often I cooked this recipe since discovering it sometime this spring. I was looking for something herby, which would allow me to use some of the herbs that had just started growing in my garden and I came across this recipe in a German vegetarian book (Vegetarische Küche), which I bought several years ago and out of which I had never cooked anything before… Sad, but when you have about 130 cookbooks + dozens of scribbled notebooks + even more magazines + the internet it is hard to keep up to date and actually use every book you have.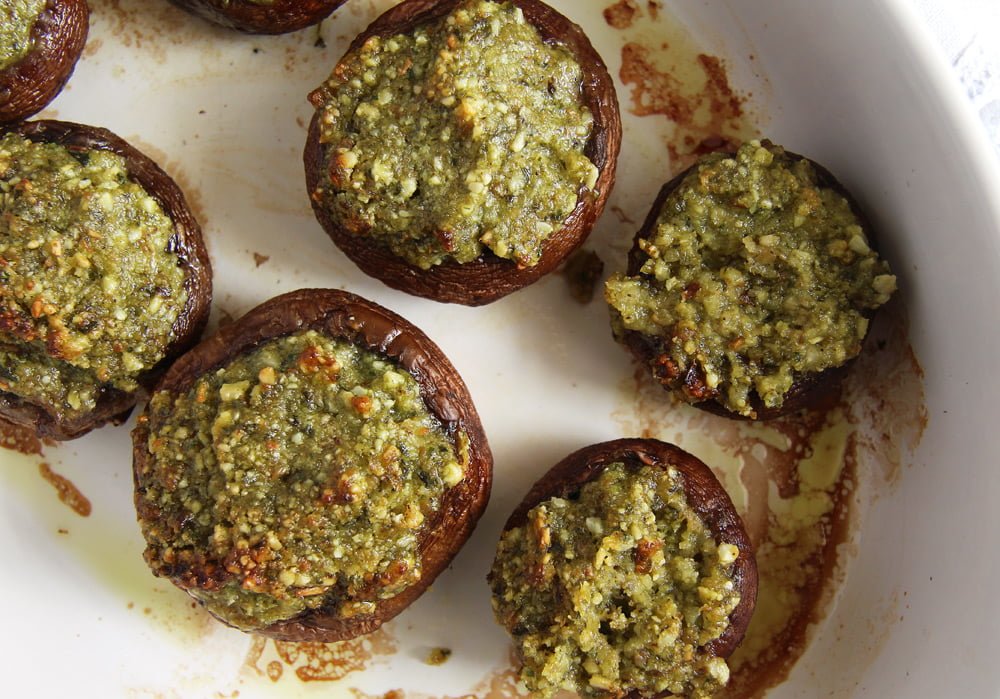 I actually started cooking one recipe from each cookbook I own 2 years ago on Christmas. I haven't reach the bottom shelve though… I will need at least another year. Sometimes I get so wrapped up in a new book or find so many great recipes on my favorite blogs or just don't feel like following any recipe at all… it is hard to be constant… 🙂
However this recipe is a total hit, one of those kind of rare recipes, which once developed to perfectly suit your own taste, becomes a staple in the kitchen. It is something my kids won't touch (mushrooms are stuff from the devil in their opinion – it just can't get any worse when it comes to vegetables and food generally), but my husband and I (and everyone else who got to taste these mushrooms) find that when it comes to mushrooms it can hardly get any better. And we do love our mushrooms and have many other delicious ways of enjoying them, but this recipe is certainly one of the best.
To make the filling I use whatever herbs I happen to have in the garden: parsley, thyme, rosemary, chives, sage, savory… you name it. I either use a mixture of many or maybe just a couple of them. You can definitely use frozen herbs as well, and for a quick version you could even take ready made herb butter. But in case you do that, I have to say it again, making your own herb butter is a matter of minutes and the end result is about a 1000 tastier than anything you could buy. You could use my recipe for herb butter if you like, make more of it so you have enough for this recipe and for enjoying with grilled meat or veggies, or to just smear on your bread.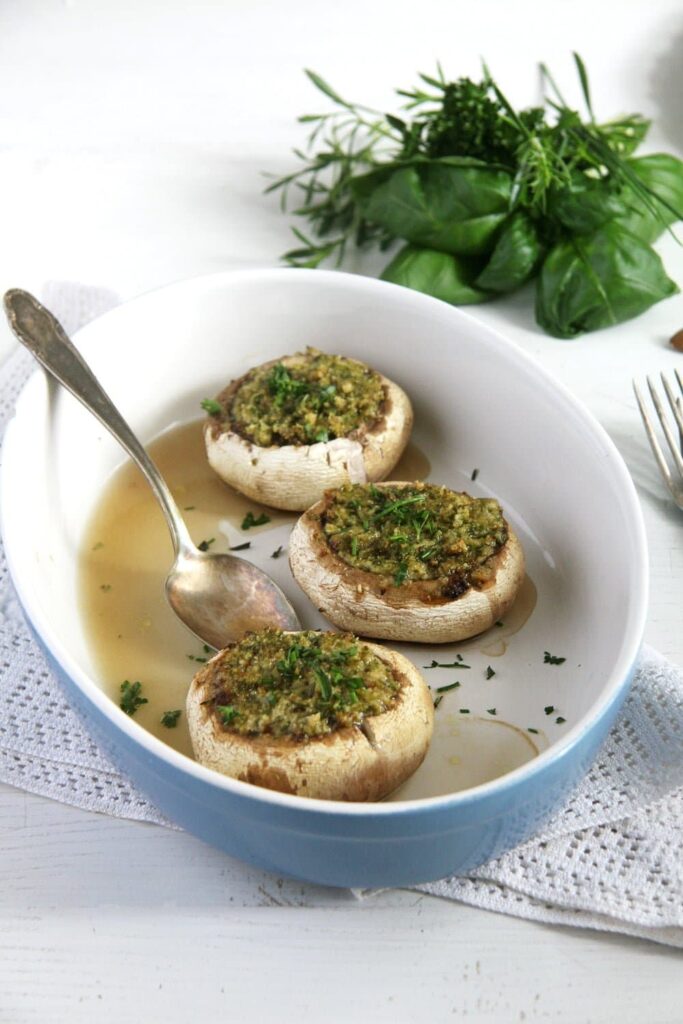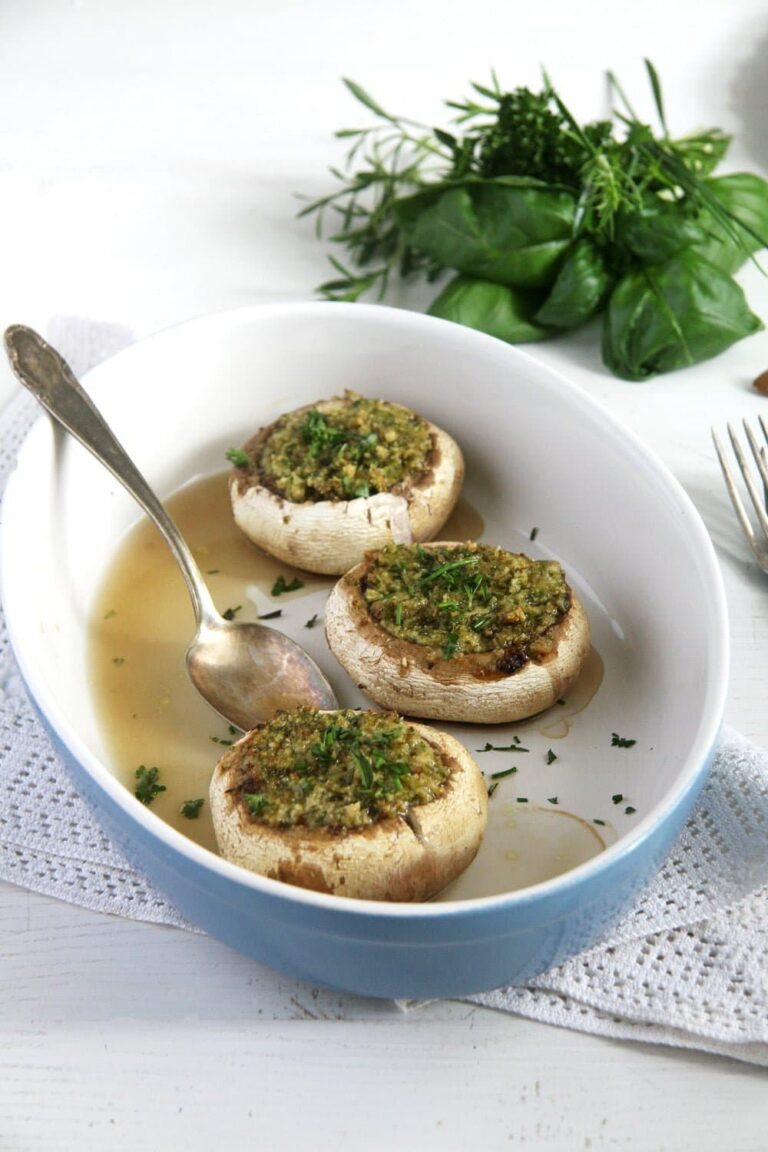 I recommend using brown mushrooms, I find that, when baked, they keep their form better than the white ones. I used medium sized ones, but I find that keeping the balance between the amount of filling and the number of mushrooms to be stuffed is a bit difficult, so called "medium" mushrooms come in such different sizes around here, sometimes their opening is wide, sometimes not… if you happen to have too much filling, don't worry, eat that on bread or stuff a tomato with it. And if you have too many mushrooms, you could chop the stems and mix them with pesto, cream cheese or grated cheese, for instance.
I use blanched almonds because they are white and that allows for a nicer green color of the filling. If you cannot find the blanched almonds and don't feel like removing the skin yourself, do use almonds with their skin on, the color of the filling is not so bright anymore, but the taste won't suffer.
Others you might like: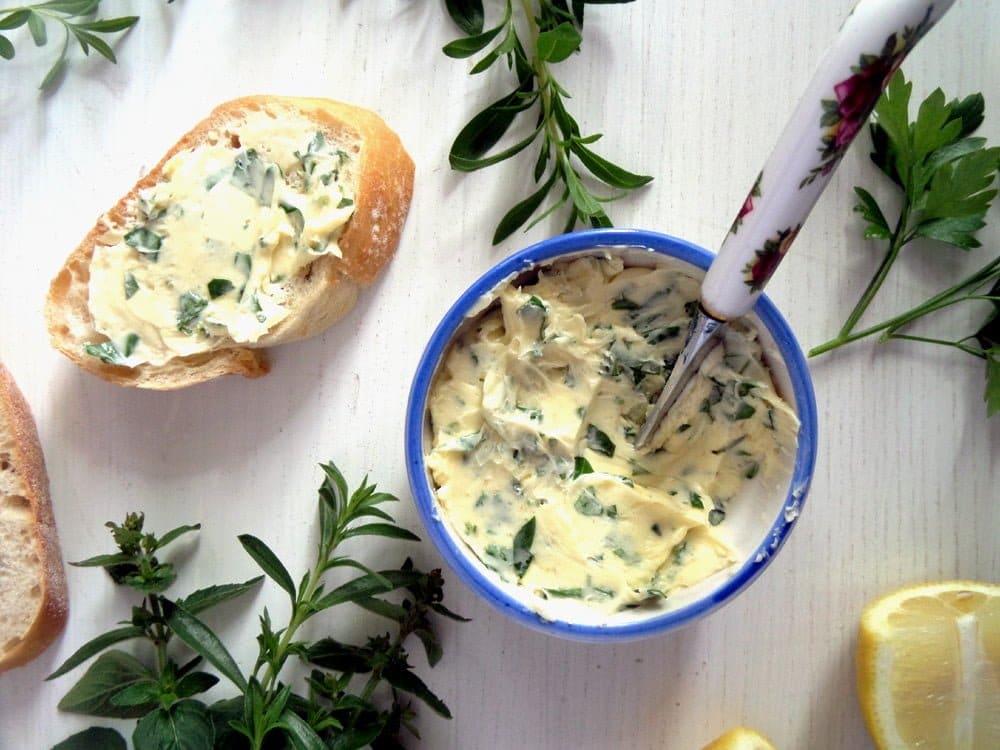 Herb Garlic Butter
Herb Garlic Baguette
Herbed Pork Tenderloin