This is the center piece on any serious Easter table in Romania: the roast leg of lamb. OK, I admit, there are people in almost every family who would crinkle their nose at the word lamb (I know – oh – so many of them) but still, an Easter lunch is not a real Easter lunch without the roast lamb.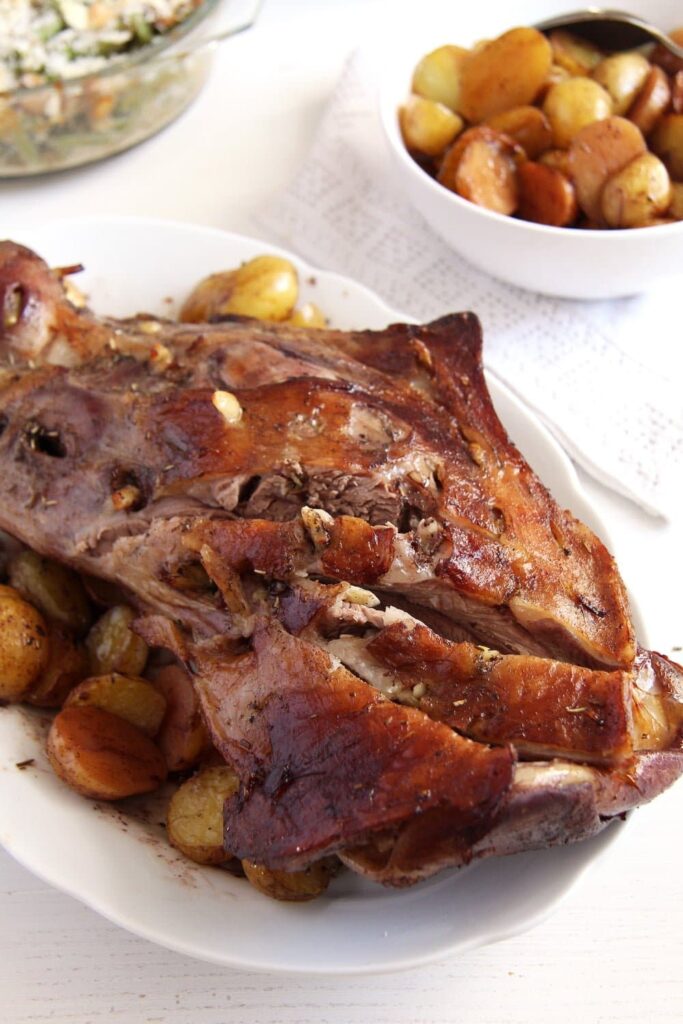 Unfortunately, due to all these "crinkle noses" (aka my mother-in-law and my brother-in-law) I haven't had roast leg of lamb for Easter lunch in 12 years, but if I cannot have it for Easter I try to make it for us either before or after Easter or better on the Romanian Easter, in those years when the Orthodox and the Evangelic/Catholic Easter don't fall on the same date. Like this year for instance: we have Easter in Germany this week but only in May in Romania.
Fun story about my mother-in-law not liking lamb. About 30 years ago, her husband ate roasted sheep in a restaurant and said it wasn't good. My mother-in-law, never ever tasted either sheep nor lamb, but she is convinced that it cannot taste good, so would never taste it in her life. And my brother-in-law won't eat it because he never had it in his life, so it's not worth trying. And it's lamb, something so unusual, I suppose. Luckily, my husband is more open minded about his food, so I don't have to worry about this kind of things. And surprise, surprise, both my kids eat lamb and like it. 🙂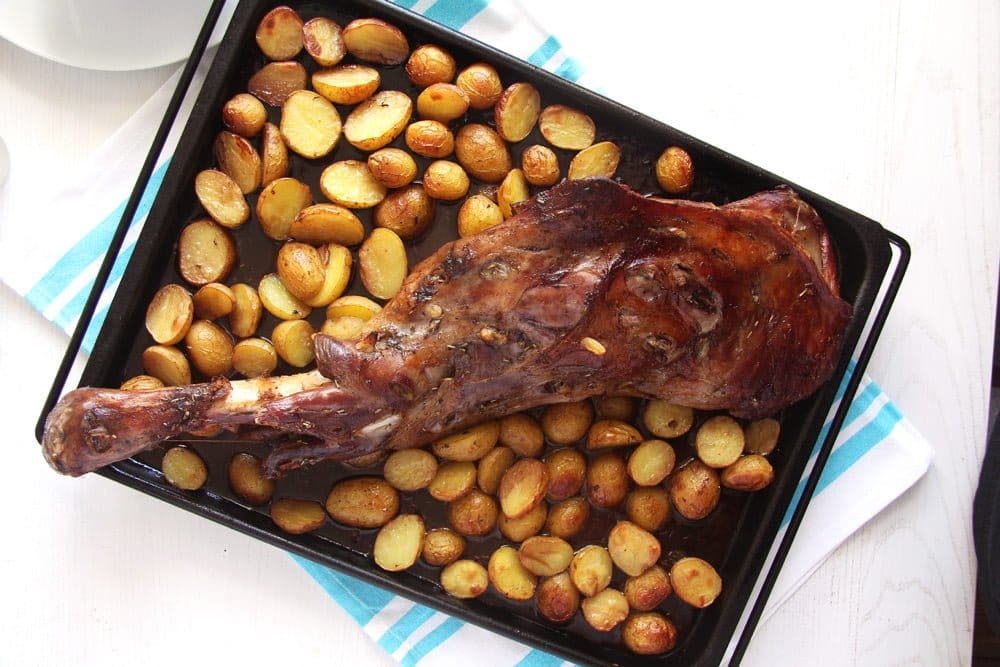 My grandmother was not a great lamb eater either but she would still make it every year for my grandfather and I, so I grew up eating lamb only once a year but still loving it. The best lamb though, didn't come from my grandmother, but strangely enough from my mother. I say "strangely" because as I didn't grow up with my mother, I barely have any memories regarding her cooking. But I can still remember the smell that filled her house on that Easter Sunday more than 20 years ago, when she made roast lamb in red wine. It was slow cooked for hours and my sister and I kept asking when we could finally eat and it was really hard waiting because of that unbelievable aroma everywhere.
I tried to recreate that recipe, it is not the same for sure, but at least something similar. We loved it all of us and I am sure I will make it again next year. I used white wine instead of red because I thought I still had red wine in the cellar, which I didn't. But the roast was delicious anyway.