I remember my grandmother podding peas when I was a child. For some reason I do not know, she used to do that in the living room, sitting in her red armchair, and not in the kitchen. I assume she preferred to sit for such a long time in a more comfortable armchair instead of the kitchen chair. I never asked and now it is too late for that. I also remember me helping her with podding when I was still a child. As I turned into a teenager my interest in anything domestic radically reduced, so I stopped helping but "mazare cu pui", pea and chicken stew remained one of my favorite meals.
Actually it didn't even have to have chicken inside. I remember my grandma sometimes saying that she couldn't cook this because she couldn't afford buying chicken. And I always said that that didn't matter, I liked the pea stew with or without the chicken.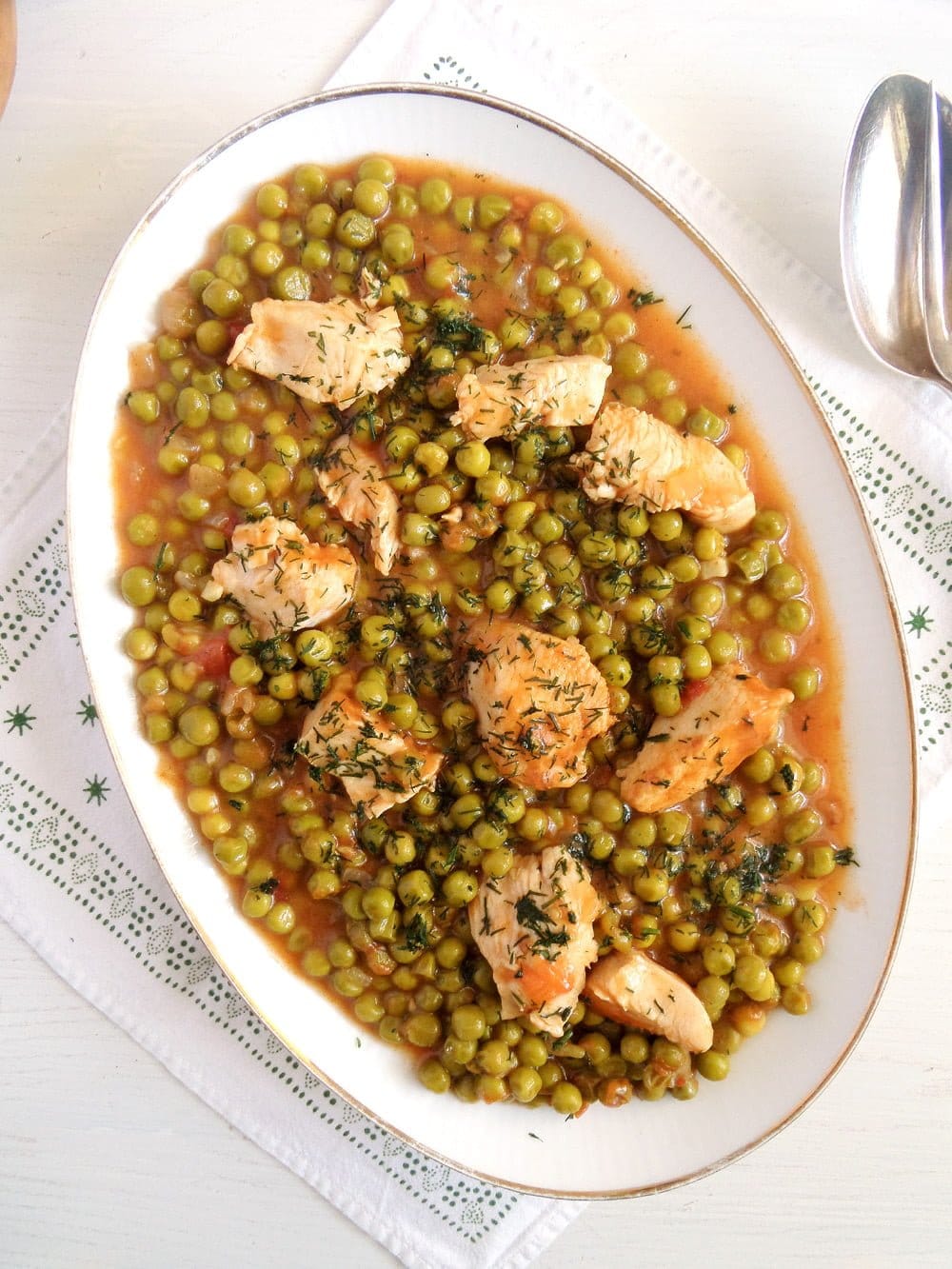 The pea podding times are long gone now. Not because I wouldn't like to do it sometimes, it is because I haven't seen any peas in the pods since I left Romania. In Germany they only seem to come frozen or in cans. Maybe in the big cities, at the market, I might be able to find some, but as the next somewhat larger town is 60 km away from us, you understand that I never think of driving there just in the hope of finding fresh peas.
But luckily I love the frozen peas. I always have a bag in the freezer and I use them a lot, not only to make this stew, but also for all kinds of soups, stews, stir-fries or side dishes, you name it, when I don't know what else to throw in a pot, I always end up with adding a handful of peas.
I never asked my grandmother for the recipe either, I have a lot of her recipes but not this one. But fortunately my aunt makes her peas apparently the same way, they taste just like they used to do. So I am using her recipe now. The only difference is that she prefers to fry her chicken legs separately. I use either chicken meat from a chicken used to make soup or chicken breast pieces which I cook briefly together with the peas.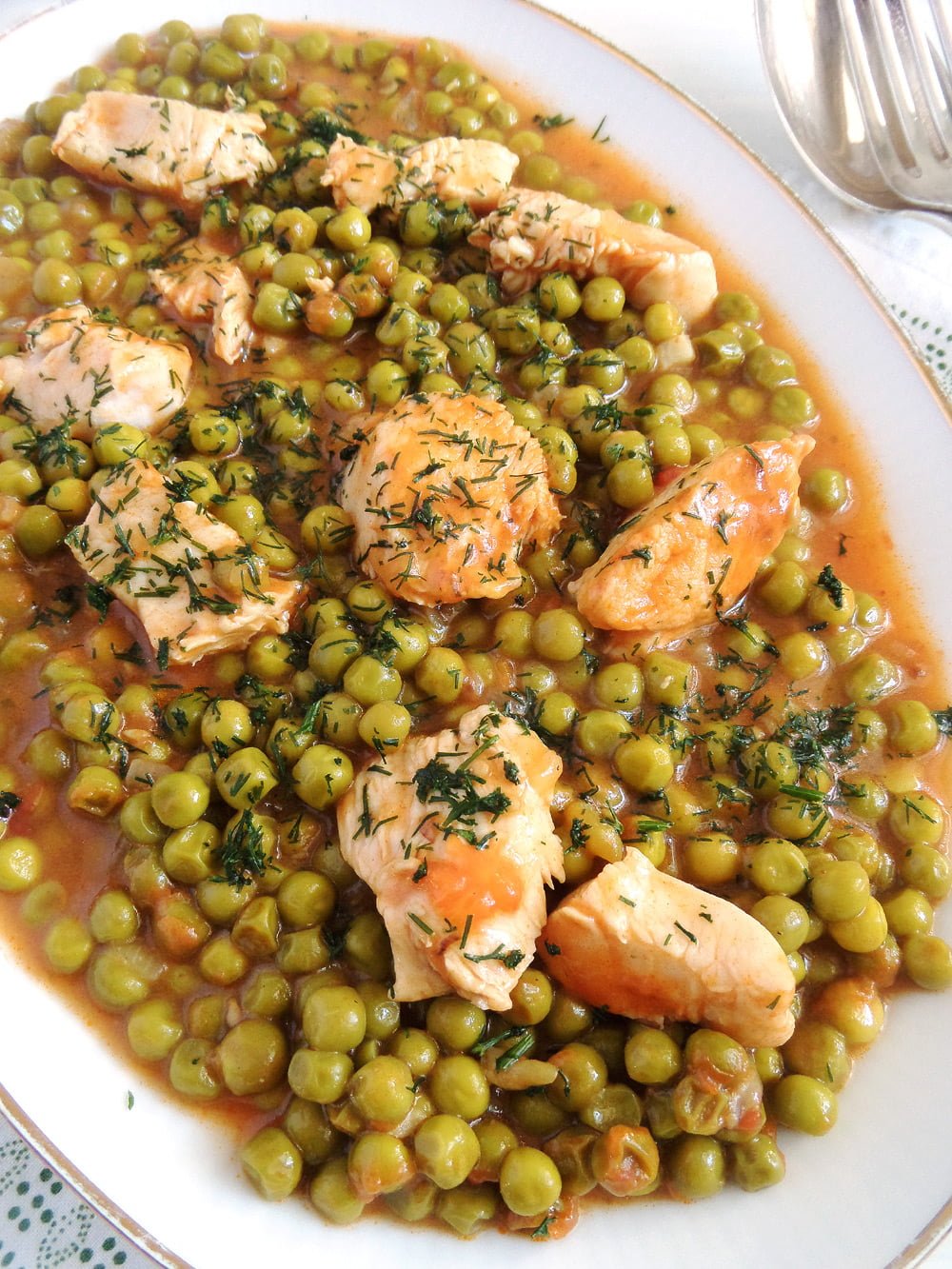 Rating 5.0 from 1 reviews
Prep time:
Cook time:
Total time: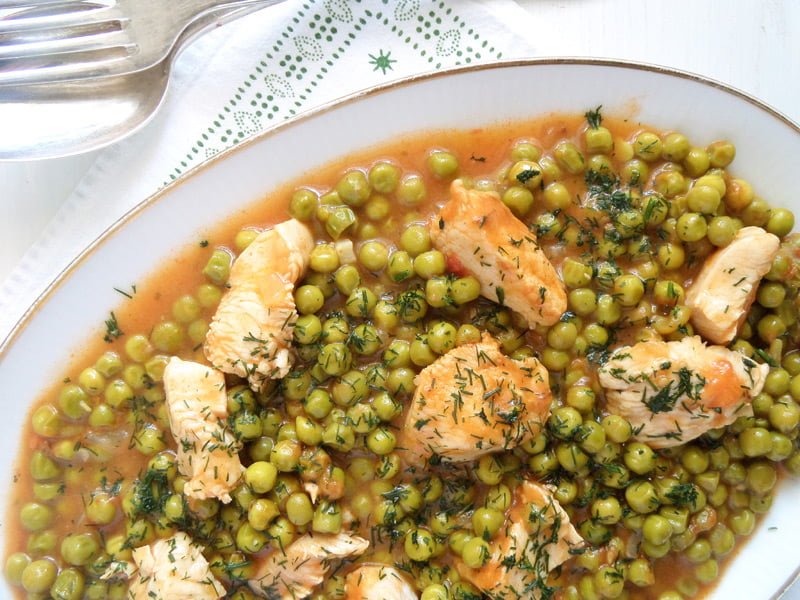 Ingredients
1 tablespoons vegetable oil
1 large onion
1 very heaped tablespoon tomato paste
1 kg/ 2.2 pounds frozen peas
vegetable or chicken broth to barely cover the peas in the pot
450 g/ 1 pound chicken breast (see note)
2 tablespoons corn starch
a bunch of fresh dill or chopped frozen dill
salt and pepper
1 teaspoon sugar, optional
Instructions
Heat the oil in a pot. Chop the onion finely and cook until translucent. Add the tomato paste and stir for 1 minute.
Add the frozen peas to the pot, cover

barely

with vegetable or chicken broth and bring to a boil. Cook for about 10 minutes.
In the meantime chop the chicken breasts into small cubes. Add them to the pan and cook everything for another 5 to 10 minutes, until the chicken is tender. Don't

overcook

the chicken.
Mix the corn starch with a few tablespoons of cold water to obtain a paste. Make a little place in the middle of the pan by pushing the peas away as much as possible and pour the corn starch paste in a thin stream while whisking all the time with a small whisk.
Stir everything very well and let bubble for 1 minute. Adjust the taste with salt and pepper and maybe some sugar. Add the finely chopped dill.
Serve with mashed potatoes.
Notes
You can use the meat from one chicken cooked to make broth. In this case, chop it into small cubes and add it during the last minutes of cooking, it just needs to be heated up.