Last Updated on
This is the first time I had Seitan In Red Wine Sauce and I must say I liked it. I've heard of it before and knew what it was but this is not something one could buy in the area where we live. I found it about 200 km away from home at Maria Laah. That is a wonderful monastery that we visited about a month ago. There is not only the monastery one can visit there, there are also some shops which sell mostly hand-made stuff made partially by the monks or people living in the area, really wonderful things that I personally cannot really afford, like an amazing cabinet costing about 16.000 euro or beautiful dishes and bowls costing around 100 euro and so on.
What I could afford was food stuff found in a small village shop selling also mostly local products. The seitan or the udon noodle that I bought were for sure no local products, but they were indeed something I otherwise could only buy online. And I am glad I did bought them because both were great.
Unfortunately I could not take pictures of the udon noodles with shrimps that I cooked because we ate them quite late in the evening and it was too dark (and we were too hungry) to take any pictures. But I did manage to photograph the seitan goulash.
A bit more info about seitan: it is a vegan substitute for meat made out of wheat gluten, a good source of protein for vegetarians and vegans. It is made by washing the wheat with water until all the starch has been removed. What's left is the gluten. It has a chewy texture which is somewhat similar to that of meat. I could never mistake it for meat but when I eat tofu or seitan or similar things I don't care about mimicking the taste or texture of meat, I just want to eat tofu or seitan and enjoy their taste and texture just as they are.
Prep time:
Cook time:
Total time: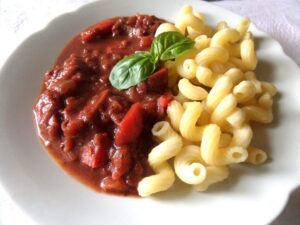 Ingredients
4 tablespoons olive oil
200 g/ 7 oz seitan
1 red bell pepper
2 onions
3 garlic cloves
4 bay leaves
1 teaspoon oregano
1 teaspoon rosemary
1 teaspoon herbs of Provence
1 teaspoon paprika
250 ml/ 1 cup dry red wine
2 cans tomatoes (total weigh about 800 g/ 28 oz)
salt and pepper
1-2 pinches of sugar
Instructions
Cut the seitan into small stripes, season well with salt, pepper and some paprika. Heat 2 tablespoons of the olive oil and brown the seitan all over. Take out of the pan and set aside.
Chop the bell pepper, the onions and the garlic.
Heat another 2 tablespoons oil and cook the bell pepper and the onions about 3 minutes. Add the garlic and cook for another 2 minutes. Add the herbs and paprika and cook shortly stirring often, than add the red wine. Let it bubble for about 1 minute than add the chopped tomatoes and their juices. Let cook on a small flame for about half an hour. Add the seitan, let it get hot again, then adjust the taste with salt, pepper and some sugar.
Serve with noodles or boiled potatoes.