Baked chicken thighs and drumsticks with a turmeric honey garlic glaze.
My second recipe in this Turmeric Series, I really hope you will find something you like during the next two weeks. Like I've told you in my last post, turmeric is such an amazing spice, "the spice of life" like the people of India call it, something I am striving to include in our diet as much as I can.
I have discovered this recipe only about 3 months ago but I think I must have made it 6 times since. Like I've mentioned several times before, my children, especially my daughter, love chicken legs. Sometimes at the beginning of the year I told my kids that each of them can wish me to cook something that they especially like every other week, so one week Bruno and the next week Perla. Bruno is being quite creative when wishing me to cook something he likes, but Perla's first choice is always chicken legs. When I say, please, we had that last week, then she would consider something else (most of the times pizza or semolina dumpling soup or zucchini pancakes), but her first choice is always chicken legs.
So I cook lots and lots of chicken legs, mostly baked, that is the way they both like them best, but I try to be creative with the seasoning at least, so as not to serve exactly the same thing over and over again. Since discovering these turmeric honey seasoning (here) and adapting it to suit us, I have been using it lots of time. Not only it tastes absolutely delicious and looks totally appealing due to that wonderful bright turmeric yellow, but it is also soooo easy and quick to make. And cheap on top of everything. Just the chicken, garlic, honey, turmeric, soy sauce and salt. I usually serve this with baked potato wedges and green salad.
This post contains affiliate links, so if you make a purchase we will receive a commission which helps support our family.
Others you might like: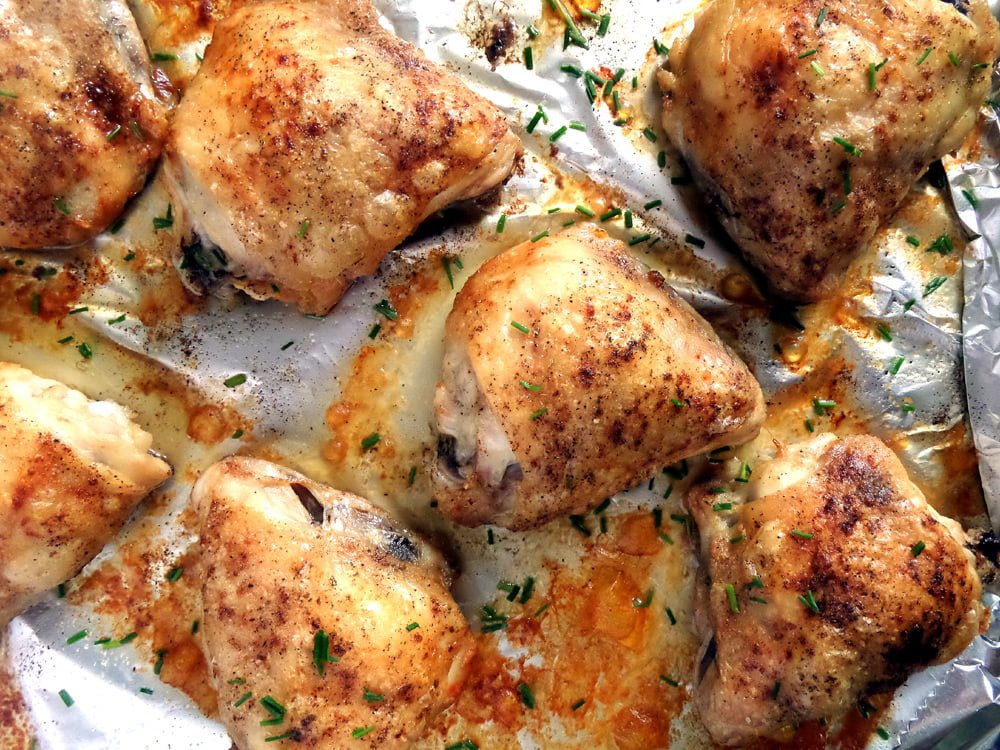 Baked Chicken Thighs, Basic Recipe