Vegetable strudel recipe made with leftover turkey and served with a simple tomato sauce. And information on working with yufka and filo pastry.
STRUDEL RECIPE WITH VEGETABLES
A nice and crispy vegetable strudel with lefover turkey or chicken, this makes a wonderful dish for serving any guests, you can be sure they will love it and will be impressed by its look and texture.
I love cooking with Turkish pastry leaves or filo pastry lately. I avoided it for a long time after a bad experience at the beginning of my "cooking career" many years ago and discovered it again only recently. And especially during the last year or so, I really have been baking with it quite a lot.
Sweet or savory, it doesn't matter, everything I used it for turned out great. Have a look at this wonderful Spinach Feta Pie with Yogurt, this Savory Cheese Pie with Quark, Feta and Yogurt or this Skinny Pumpkin Cinnamon Pie.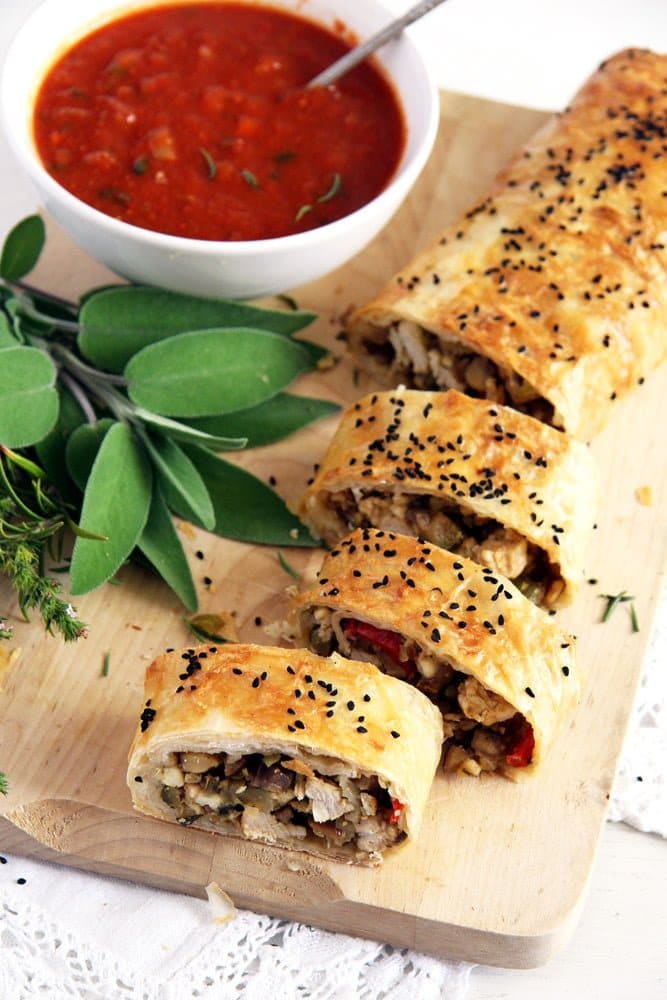 DIFFERENCE BETWEEN FILO/PHYLLO AND YUFKA PASTRY?
Well, they are both used in Mediterranean cooking, judging by the name I suppose that filo is more Greek, while yufka is definitely the Turkish version.
Filo pastry sheets are also thinner than the yufka pastry sheets, which can make them a tad more tricky to work with. Well, it is actually really not hard to work with it, you just have to layer a bit more sheets of it to get a sturdier baked good and to keep the sheets covered with a damp towel while you work to prevent them from drying out too fast. When working with filo I usually use about three pastry sheets for one layer.
Filo pastry sheets are usually to be found frozen and are used for making walnut and syrup pie – Baklava or Greek spinach feta pie – Spanakopita, for instance.
Yufka pastry sheets on the other hand are a bit sturdier/rougher, that making it a bit easier to work it. I have never really had to cover them with a damp towel, I am quite quick when brushing them with oil or melted butter and layering the sheets and I have never had an issue with dry pastry sheets.
They come either in very large sheets folded into the packets or precut into triangles for making cigarillo börek, for instance. I prefer to buy the large sheets, so that I can use them not only for rolled börek, but also for regular börek or any other kind of pies. You can normally find them fresh in the refrigerator section of the supermarket.
Unlike filo pastry, yufka pastry sheets can be used as single sheets when baking, but still I prefer to layer at least two sheets when making something.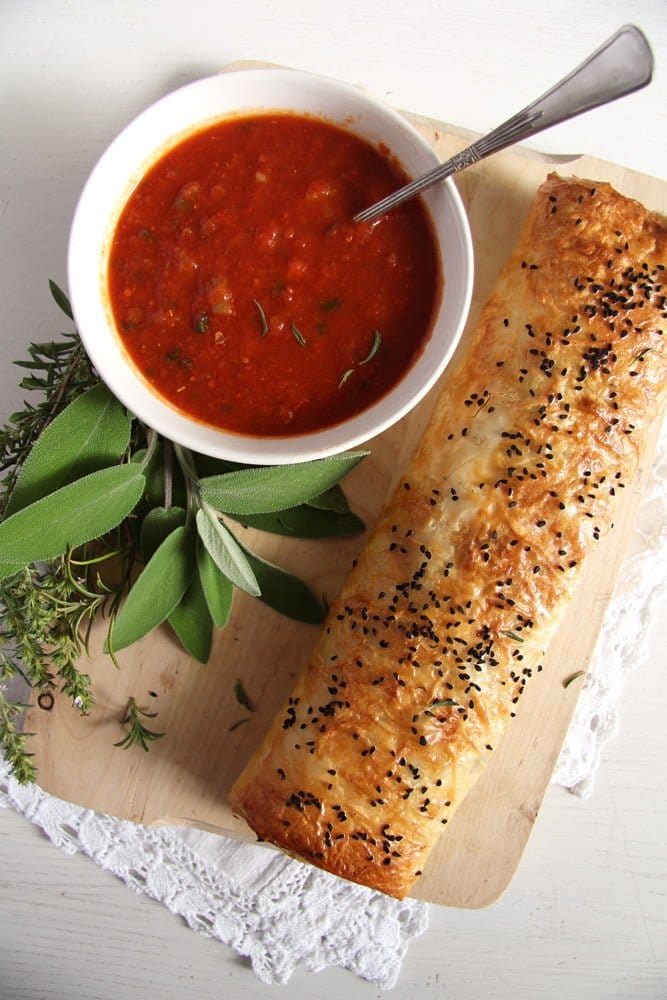 HOW TO USE YUFKA OR FILO PASTRY?
If the filo pastry is frozen, defrost it in the refrigerator preferably overnight. Yufka is usually sold fresh, so there will be no need to defrost it.
Prepare the filling before even opening the packet of filo or yufka pastry. If you keep it open the sheets of pastry will dry out.
Unroll only one sheet of pastry at a time and keep the other ones covered with a damp (but not wet) kitchen towel. Some of the sheets might break especially there where they have been folded. It doesn't matter, just place them together when brushing them with fat, you will not notice it at all in the end.
Work very quickly when brushing the sheets with oil or melted butter. I use a silicon pastry brush.
Roll or fold the pastry according to the recipe and don't forget to brush the upper layer with melted butter or oil as well.
Bake according to the recipe you are following or until the baked goods are golden and crispy.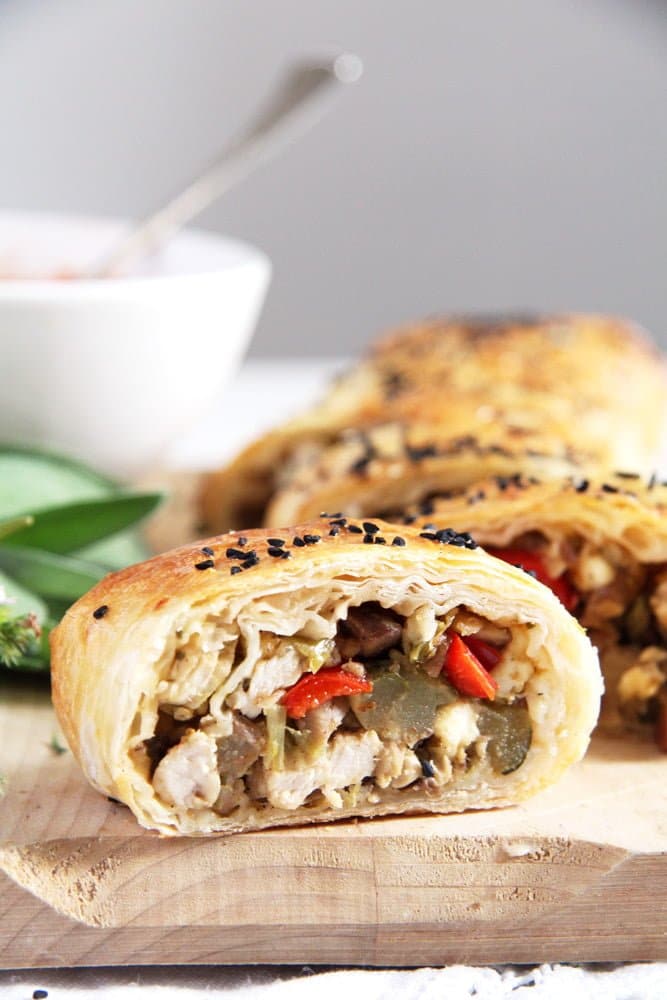 INGREDIENTS FOR VEGETABLE STRUDEL
Pastry:
I normally use yufka pastry sheets when making this vegetable strudel recipe or any savory or sweet pies. We have a large Turkish community living in Germany and luckily quite a few Turkish shops in our area as well. So yufka is very easily available.
The only trouble with yufka is that it normally comes in very large packets and trust me 400 g/ 14 oz of yufka pastry sheets can be quite a lot if you only need a few sheets (which are very large) for a recipe. And last time I bought it, I didn't really have a proper look and actually bought a 800 g/ 28 oz packet.
We had so many pies and rolls in a very short period of time. 🙂 I was a bit worried that the sheets would dry out or go bad so I took special care to repack the packet very carefully every time I used some of the sheets and it was OK, I think I needed about 2 weeks to finish the packet and the pastry was still perfectly OK.
Leftover turkey:
I made these rolls using leftover turkey from the Oven Roasted Turkey Drumsticks, so this would be a great way of using some of that leftover turkey from your Thanksgiving or Christmas dinner.
However, if you don't have any turkey leftovers, feel free to buy some fresh turkey cutlets, slice them and fry them in a bit of olive oil before giving them to the filling.
And if turkey is not available, you can make a perfectly delicious vegetable strudel using cooked chicken breast or thigh meat.
Brushing mixture:
I didn't use only oil to brush the layers of pastry, but a mixture of oil, egg and yogurt. If using yufka pastry brush each layer of dough with this mixture.
If using filo pastry layer two sheets of filo, brush with the mixture, top with two more sheets of filo, brush again and repeat one more time. Place a last single layer of filo on top and spread the filling on it. Roll the pastry.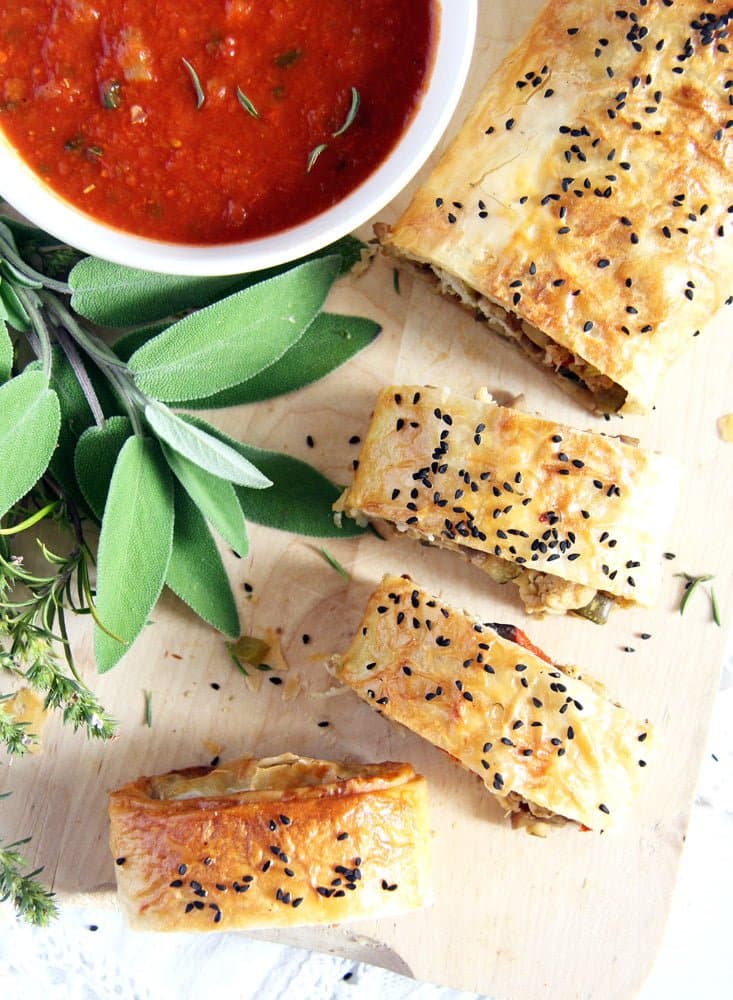 HOW TO SERVE VEGETABLE STRUDEL
The recipe makes two large rolls, about 30-35 cm/ 12-14 inch long.
The vegetable strudel with turkey or chicken can be served hot or warm with tomato sauce or even cold as a snack.
As a side dish you can have a nice salad with yogurt dressing or vinaigrette.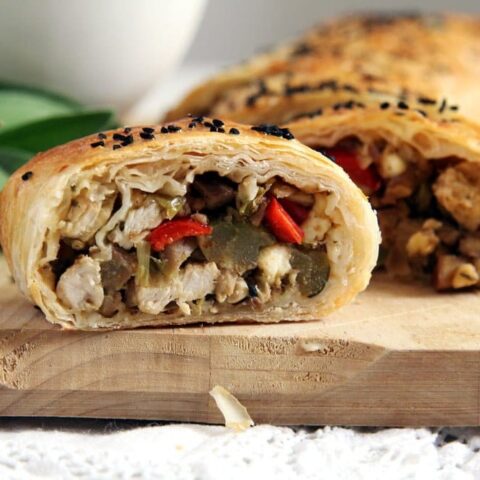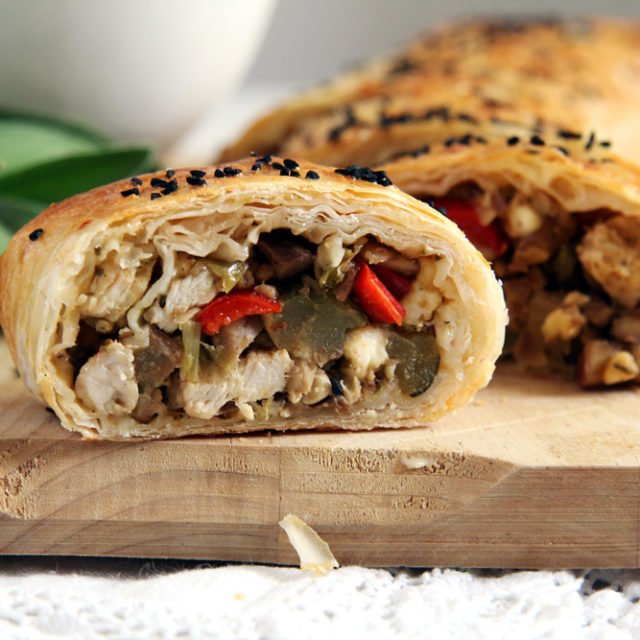 Vegetable Strudel with Leftover Turkey
Vegetable strudel recipe made with leftover turkey and served with a simple tomato sauce. And information on working with yufka and filo pastry.
Ingredients
10 filo sheets
1 egg
3 tablespoon olive oil
2 tablespoon plain yogurt
6 large yufka sheets, about 50 cm/ 20 inch long
OR 10 large filo sheets about the same size as above
nigella seeds to sprinkle on top
For the brushing mixture:
1 egg
1 tablespoon olive oil
1 tablespoon plain yogurt
For the filling:
350 g/ 12.3 oz cooked turkey pieces OR chicken (See note 1)
1 tablespoon olive oil
200 g/ 7 oz zucchini
1 red bell pepper
½ teaspoon dry oregano
3 garlic cloves
125 g/ 4.4 oz mushrooms
125 g/ 4.4 oz cooked, vacuum-packed chestnuts
4 spring onions
100 g/ 3.5 oz/ scant 1 cup (crumbled) feta cheese
1 tablespoon plain yogurt
3 large sage leaves
3-4 sprigs fresh thyme
2 sprigs fresh rosemary
fine sea salt and pepper
For the sauce:
1 small onion
1 garlic clove
1 tablespoon olive oil
2 tablespoons tomato paste
½ teaspoon ground coriander
½ teaspoon ground cumin
¾ teaspoon red chili flakes (more or less to taste)
350 g/ 12.3 oz/ 1 ½ cup passata di pomodoro/ tomato puree (not tomato paste)
175 ml/ 6 fl.oz/ ¾ cup water
1 pinch sugar
fine sea salt and pepper
Instructions
Pastry:
If using frozen filo pastry defrost overnight in the refrigerator. Yufka pastry is sold fresh or vacuum-packed, so there will be no need for defrosting.


Brushing mixture:

Make the brushing mixture by mixing the egg, olive oil, and yogurt in a small bowl. Set aside.

Filling:
If using leftover turkey or chicken, chop it into small pieces.
If using fresh turkey or chicken, slice the meat, sprinkle it with salt, pepper, and some sweet paprika, and fry in 1 teaspoon olive oil. Take out of the pan and leave to cool while you prepare the vegetables.
Chop the zucchini and the red bell pepper into small cubes. Set aside together.
Chop the mushrooms, chestnuts, spring onions into small cubes/rings, but keep them apart from the zucchini and pepper. Grate the garlic.
Heat 1 tablespoon olive oil in the pan you used before for frying the turkey or chicken slices. Add the zucchini and the bell pepper cubes and cook for about 3 minutes. Add the mushrooms, chestnuts, spring onions, garlic, and dry oregano and continue cooking for further 3 minutes. Take the pan off the heat and let cool slightly.
In the meantime finely chop the fresh herbs. Give the fresh herbs to the vegetables, crumble the feta cheese into the filling and add the yogurt. Mix well and generously adjust the taste with salt and pepper.

Bake the vegetable strudel:

Preheat the oven to 200 degrees Celsius/ 400 degrees Fahrenheit. Line a baking tray with baking paper.
If using yufka pastry place one sheet of the pastry on the working surface. Using a kitchen brush (silicon) lightly brush the pastry with the brushing mixture. Place the second sheet of pastry on top and brush again. Place the third sheet of pastry on top. Place ½ of the filling at the bottom narrow side of the pastry leaving some free place at the bottom and on the margins.
Fold the margins of the pastry over the filling. Then fold the lower part of the pastry over the folded margins and the filling. Roll the pastry to form a thick "sausage". Place it on the baking tray. Repeat with the other three yufka pastry sheets to make a second roll.
If using filo pastry place two sheets of pastry on top of each other on the working surface. Brush with some of the brushing mixture using a silicone kitchen brush. Place the following two filo pastry sheets on top and brush again. Place a single filo sheet on top of that. Add the filling and roll the "sausage" as described above and make a second roll using the remaining pastry sheets.
Brush both rolls with some of the remaining brushing mixture and sprinkle the rolls with some nigella seeds.
Bake for about 30 minutes or until deeply golden and crisp.


Tomato sauce:
Chop the onion and the garlic very finely.
Heat the oil in a medium saucepan and cook the onions and the garlic until translucent.
Add the tomato paste and the spices and stir well for about 1 minute.
Add passata di pomodoro or tomato puree and water. Stir well and let cook gently for about 20 minutes.
Adjust the taste with a pinch of sugar, salt, and pepper.
Slice the vegetable strudel and serve with tomato sauce and green salad.
Notes
If you don't have leftover turkey or chicken, you can cook the same amount of fresh turkey or chicken breast.
Nutrition Information:
Yield:

8
Serving Size:

1 slice
Amount Per Serving:
Calories:

242
Total Fat:

11g
Saturated Fat:

3g
Trans Fat:

0g
Unsaturated Fat:

7g
Cholesterol:

72mg
Sodium:

574mg
Carbohydrates:

19g
Fiber:

3g
Sugar:

7g
Protein:

19g
Nutrition information isn't always accurate.