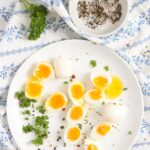 Print
How to Cook Quail Eggs
Learn how to cook quail eggs, the tiny version of a chicken egg. Use them as a garnish for salads, sandwiches, and canapes, or serve them on toast.
Boiled quail eggs (Note 2):
Bring a saucepan of water to a boil. Turn the heat down and wait a few seconds until the water boils only gently.

Get your timer ready.

Place the eggs on a slotted spoon and carefully lower them into the water. They all need to go into the water at the same time.

Start the timer immediately.

Soft-boiled: 2 minutes and 30 seconds; add about 10-15 for those eggs larger than the average.Medium-boiled: 3 minutes.Hard-boiled: 4 minutes.

Cool eggs: Carefully remove them from the water or pour the water out of the pot and run the eggs under cold water or place them in a bowl with ice water so that the cooking process will stop immediately.

Peel eggs: Tap and lightly roll each one on a hard surface to crack the shell all over. Remove the shell and the membrane around each one. I prefer to start removing the shell at the top side of the egg; I find it easier this way (Note 2).
Fried quail eggs
Crack each egg in a separate tiny bowl or container. Use a paring knife to make a small incision into the egg. Keeping your fingers safe, cut around the egg until the cut is large enough so that you can open and empty it into a small bowl (Note 3).

Heat a little oil in a small or medium frying pan (I use a nonstick pan).

Carefully slide each egg into the pan remembering the sequence.

Fry them shortly and to your liking or until the egg whites are opaque. It will not take long, about a minute.

Remove them from the pan, starting with the first one you placed into the pan.
To get all of them cooked perfectly, you might want to divide the eggs in a package into two different batches, one containing the smaller eggs and one containing the larger ones. Cook them separately or leave the larger ones a bit longer in the boiling water.
Work gently; if the eggs are soft-boiled, it is more likely that some of the egg white will come off with the peel if you are not careful. It's easier when the eggs are hard-boiled.
Place them in separate tiny bowls or small ramekins.
Serving:
1
egg
|
Calories:
14
kcal
|
Carbohydrates:
1
g
|
Protein:
1
g
|
Fat:
1
g
|
Saturated Fat:
1
g
|
Polyunsaturated Fat:
1
g
|
Monounsaturated Fat:
1
g
|
Cholesterol:
76
mg
|
Sodium:
13
mg
|
Potassium:
12
mg
|
Sugar:
1
g
|
Vitamin A:
49
IU
|
Calcium:
6
mg
|
Iron:
1
mg