The best cauliflower broccoli "meatballs" I have ever tasted, cheesy balls with lots of vegetables and ground almonds.
Cauliflower and broccoli "meatballs" made with almonds, Gouda cheese and Parmesan. I love these little things so much!! It was actually quite unexpected. I mean, I thought I would probably like them, otherwise I would not have chosen to make them, but I didn't expect I would like them sooooo much.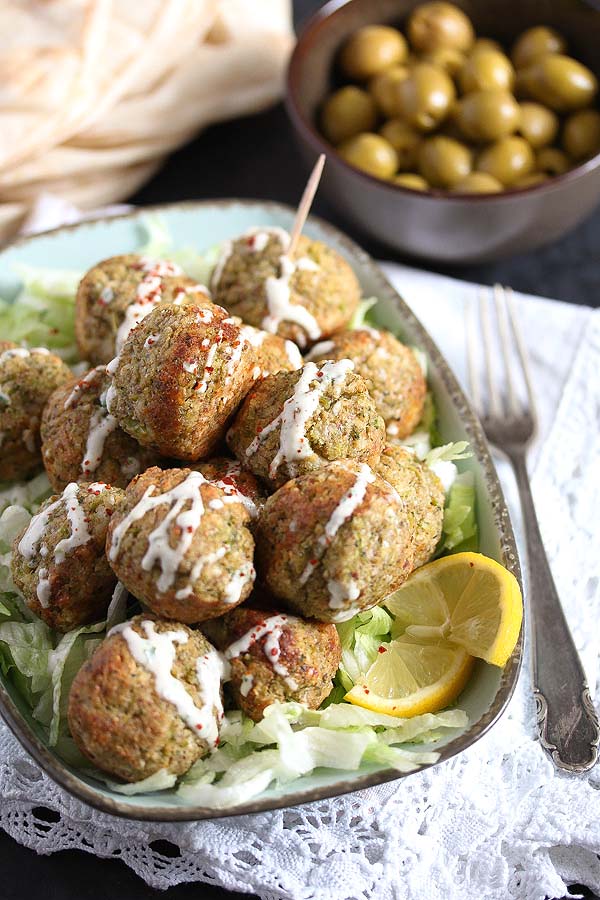 Cauliflower and Broccoli "Meatballs"
To make these broccoli cheese balls was more of a happy accident. I had leftover broccoli and cauliflower from making a vegetable curry the day before and while wasting some time on Pinterest I discovered a picture of these wonderful Broccoli Parmesan Meatballs.
I spontaneously decided to make the cauliflower balls, but changed the recipe a little. So, I cannot say how the original recipe actually tastes like, but I can definitely say that my version is delicious.
Actually I am thinking if I should go shopping right now and cook these broccoli "meatballs" for lunch today.
Ingredients for the broccoli and cauliflower cheese balls
First of all the vegetables. As mentioned above the first time I've made these broccoli cheese balls I just happened to have some leftover cooked broccoli and cauliflower.
And I have to mention it right at the beginning, this is a great recipe to use the stems of broccoli and cauliflower. I normally use everything when cooking something with these vegetables, but when making a salad, for instance, it just looks better when using only florets. So I save the stems to make this kind of vegetable balls or patties, to throw into creamed soups or vegetable curries.
The next times I have made this recipe for broccoli "meatballs" (and that happened many time during the past few years), I cooked the vegetable extra for this recipe.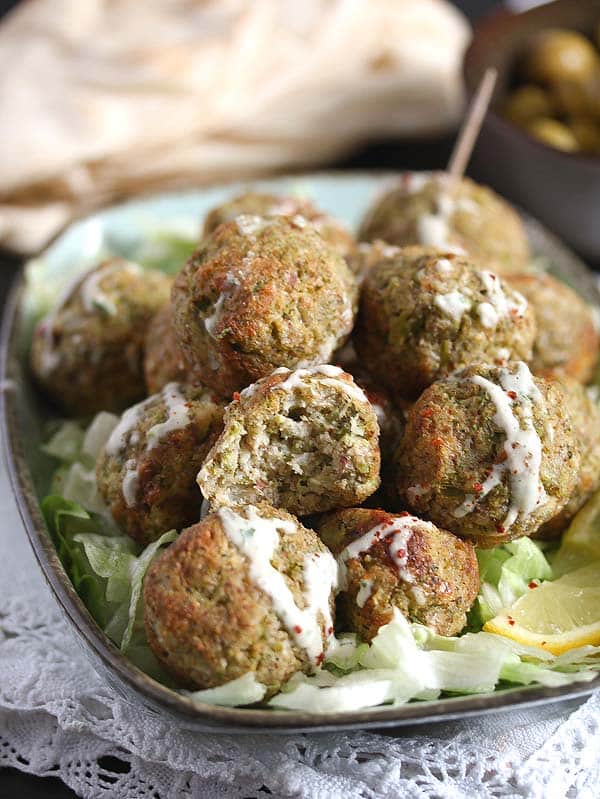 You will need about 4 cups steamed or cooked broccoli and cauliflower florets and stem pieces for the recipe, so that will be about ½ a medium head broccoli and ½ a medium head cauliflower.
With the broccoli amount I have it fairly easy, for some reason the supermarket broccoli heads in Germany always weigh 500 g/ 1.1 oz. How they manage that, no idea! I just prefer not to think of all the other broccoli plants that grow on the field...
They cannot possibly all weigh 500 g and I have seen it on TV what they do to all the potatoes and carrots that don't have the required standard size. They get thrown away!!!! While millions of people in the world don't get enough food!!!!
So, half a head of broccoli would weigh 250 g/ 8.8 oz. You will need the same amount of cauliflower. I cannot always go for half a head of cauliflower here, because, thank God, cauliflower comes in different sizes. But roughly 250 g/ 8.8 oz are what you need.
Then come the breadcrumbs. You will need dry breadcrumbs for this recipe. Usually, I make my own breadcrumbs using stale bread or rolls. However, if I don't have them I buy regular dry breadcrumbs at the bakery.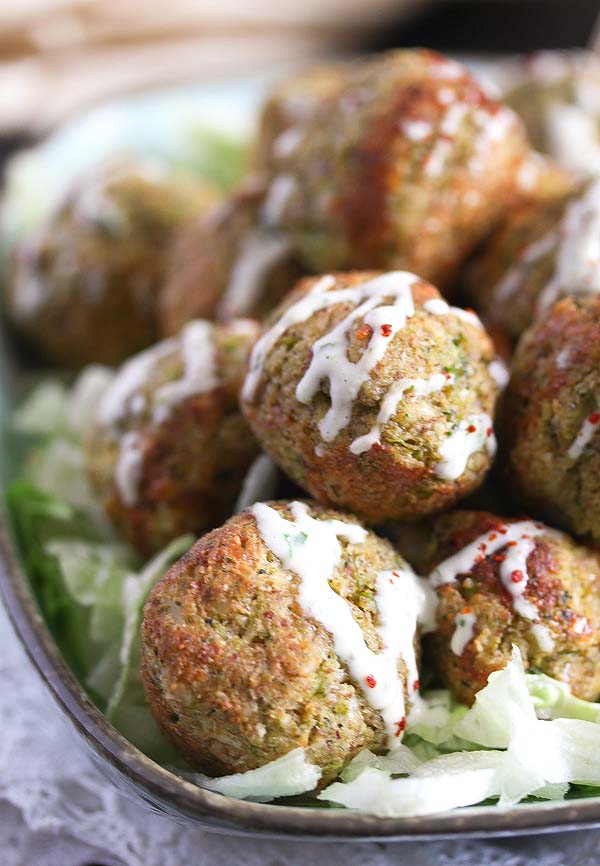 You will also need ground almonds, you can either buy them already ground or grind them yourself in the food processor. If you do that, keep an eye on them, do not over process them or the oils they contain will be released and you will obtain a paste (almond butter) instead of ground almonds.
When it comes to cheese, I use Parmesan. However, if you would like to make this recipe for cauliflower balls or broccoli "meatballs" vegetarian, do use vegetarian hard cheese.
I never buy already grated Parmesan. I have done once, for convenience, I needed a lot and thought about saving time. What a mistake! There is absolutely no comparison between real Parmesan and whatever it is that they sell under the name of grated Parmesan.
I also used half a cup of grated Gouda for these broccoli cheese balls. Again, I never buy grated cheese, it is just not worth it! The couple of minutes I spend with grating the cheese are repaid with much more flavor and less weird chemicals and stuff in your food.
If you don't happen to have any Gouda, you can replace that with other cheese you have. Cheddar is always a wonderful substitute.
How to make the broccoli "meatballs"
Start with steaming or cooking the vegetables. As mentioned above you will need roughly 250 g/ 8.8 oz broccoli and the same amount cauliflower to make these cauliflower and broccoli cheese balls.
Drain the vegetables very very well and let them cool. They don't have to be completely cold when you make the broccoli "meatballs", but they should not be as hot as to melt the cheese either.
Measure the required 4 cups (a little more or less is OK) and give the cooked broccoli and cauliflower to the food processor. You can also use a fork, the vegetables are pretty soft, so that the fork can manage it as well. You don't have to turn the veggies to a puree either, they should be rather finely chopped, but not completely pureed.
Give the vegetables to a bowl and add the almonds, breadcrumbs, grated cheese, grated garlic cloves, beaten eggs, chopped herbs, salt and pepper. Mix well with a spoon.
Form about 20 little broccoli "meatballs", squeezing them a little while you do that, so that they will better hold their shape.
Preheat the oven while you prepare the cauliflower balls. Lightly brush a mini-muffin tray with olive oil. Give the formed broccoli cheese balls to the tray and bake them for about 20 minutes until golden and heated through.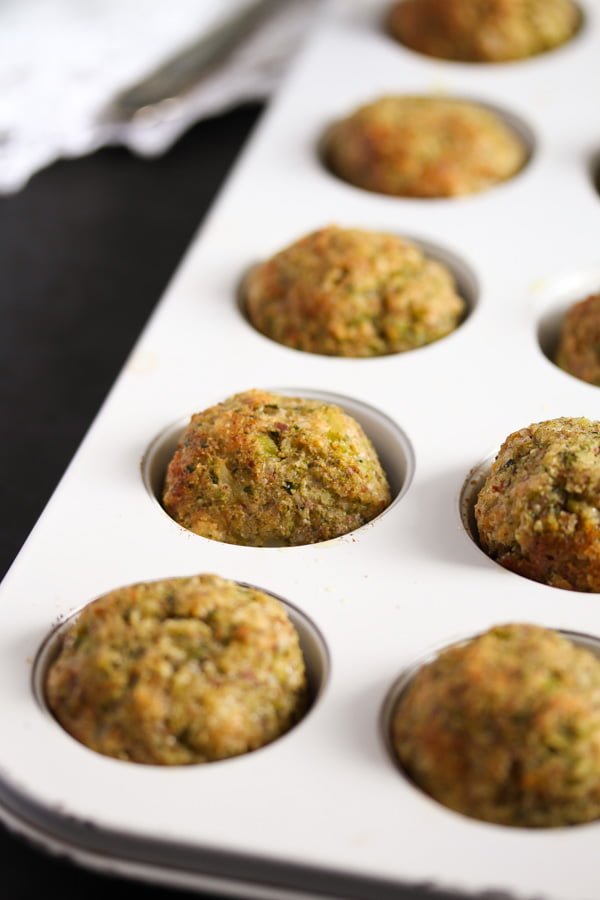 How to serve the broccoli and cauliflower balls with cheese
They are delicious either served warm or cold.
If served warm, you could have them with a salad, cooked or baked potatoes and some sauce – chili sauce, marinara, tahini sauce, whatever you like.
If served cold, you could chop them on top of a salad, you could have them with any kind of dip or sauce as well.
I love to slice the cauliflower balls in two or three slices and have them inside a wrap with some chopped salad leaves, red onions, chili dip and maybe some sour cream. The perfect lunch to take to work.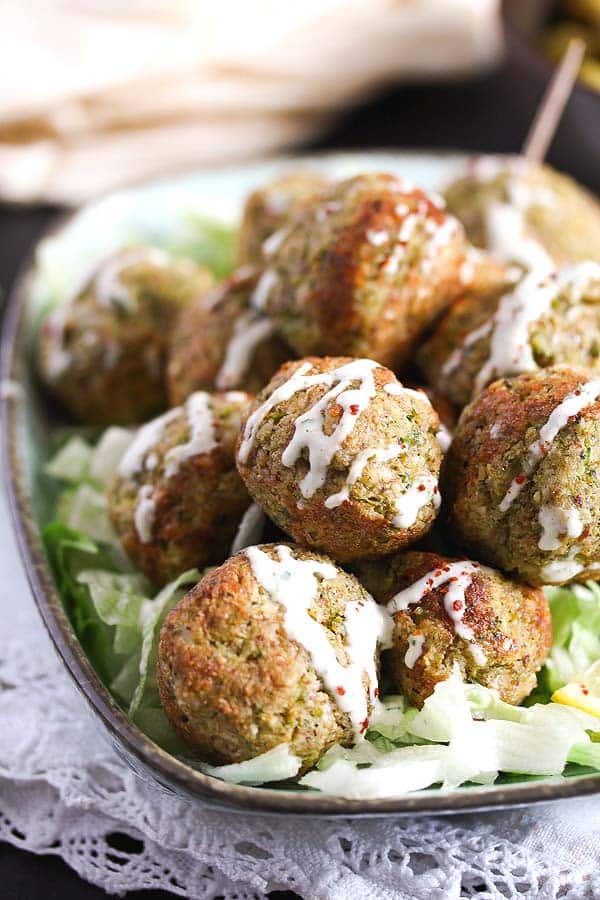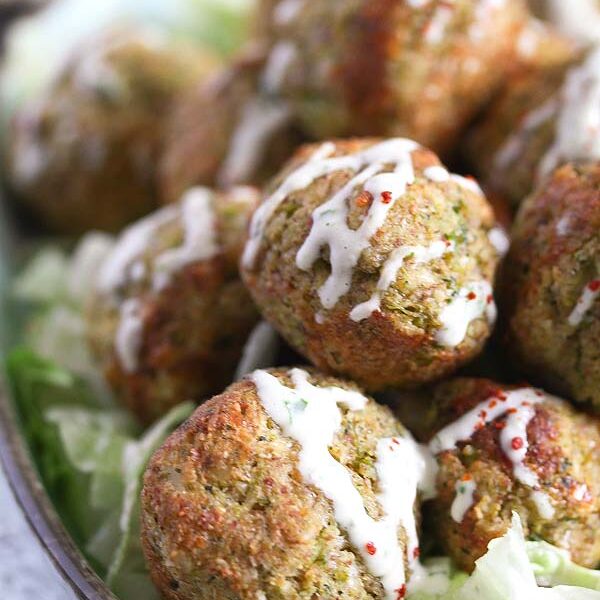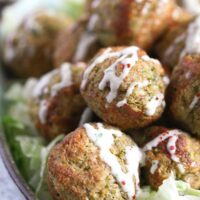 Baked Broccoli and Cauliflower Balls with Cheese
The best cauliflower broccoli "meatballs" I have ever tasted, cheesy balls with lots of vegetables and ground almonds.
Print
Pin
Share
Grow
Saved!
Rate
Ingredients
½

medium head broccoli

about 250 g/ 8.8 oz

½

small head cauliflower

about 250 g/ 8.8 oz (See note)

90

g/ 3.1 oz/ ¾ cup ground almonds

45

g/ 1.6 oz/ ½ cup breadcrumbs

50

g/ 1.8 oz/ ½ cup grated Parmesan

or vegetarian hard cheese

50

g/ 1.8 oz/ ½ cup Gouda or cheddar

grated

4

garlic cloves

grated

2

tablespoons

chopped parsley

2

eggs

1

teaspoon

fine sea salt

freshly ground black pepper
Instructions
Preheat the oven to 180 degrees Celsius/ 350 degrees Fahrenheit.

Divide the broccoli and the cauliflower into florets and chop their stems into small pieces. Steam the vegetables or cook them in a little water until soft. Drain very well and let cool down a little, the vegetables should not be as hot as to melt the cheese.

Measure about 4 cups of the mixed vegetables and place them in the food processor. Pulse until chopped and transfer to a medium bowl. You can also mash the vegetables with a fork. They should be finely chopped, but not turned into a puree.

Add the almonds, breadcrumbs, garlic, Parmesan, and Gouda or cheddar, the beaten eggs, chopped parsley, salt, and pepper. Mix well and form about 20 little balls. Squeeze them a little to make sure they hold their shape.

Brush a mini-muffin tray form with some olive oil and place the balls into the molds. Bake for about 20 minutes until golden and heated through. Loosen the edges with a knife if necessary and remove them from the pan.

Serve hot or cold as suggested above.
Notes
You should have 4 cups of steamed/cooked broccoli and cauliflower florets in the end.
Nutrition
Serving:
1
g
|
Calories:
353
kcal
|
Carbohydrates:
23
g
|
Protein:
19
g
|
Fat:
22
g
|
Saturated Fat:
6
g
|
Polyunsaturated Fat:
15
g
|
Cholesterol:
118
mg
|
Sodium:
1123
mg
|
Fiber:
7
g
|
Sugar:
4
g