As an Amazon Associate, I earn from qualifying purchases. There may be affiliate links within the post, see my
Privacy Policy
.
Last Updated on 16/11/2020 by Adina
Tender frozen chicken breast in the air fryer, these golden chicken pieces are easy to make and ready to serve in no time.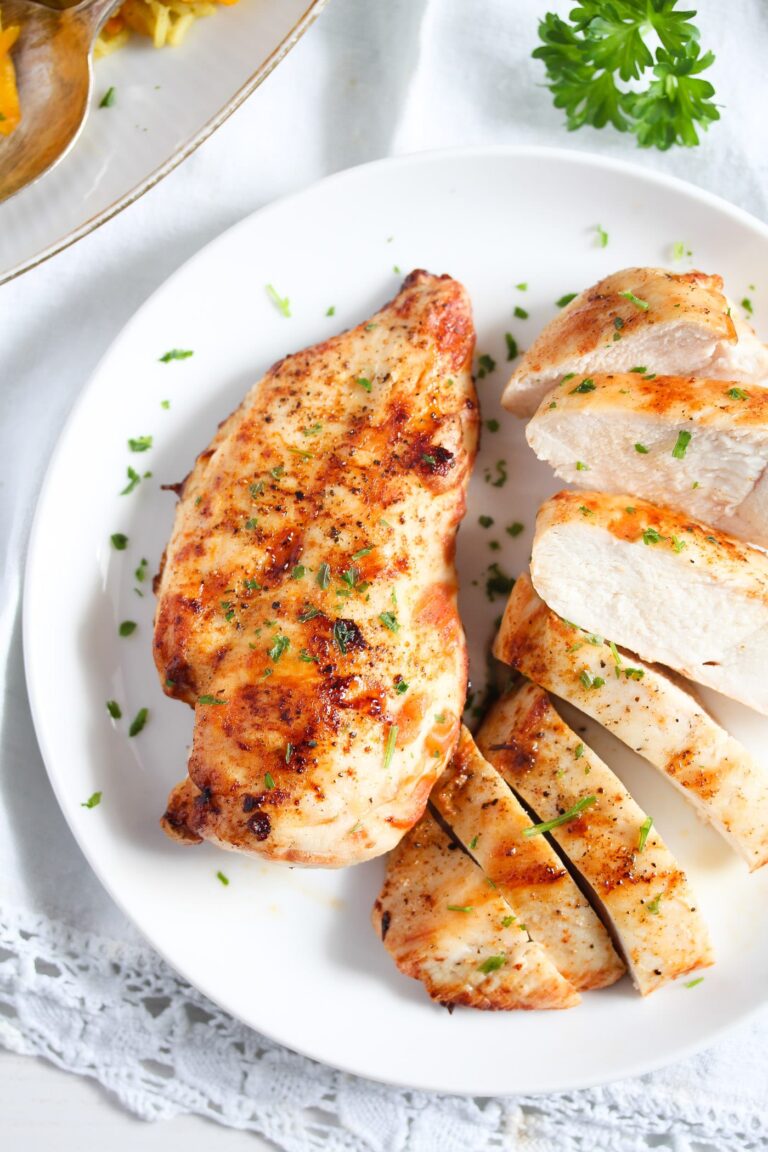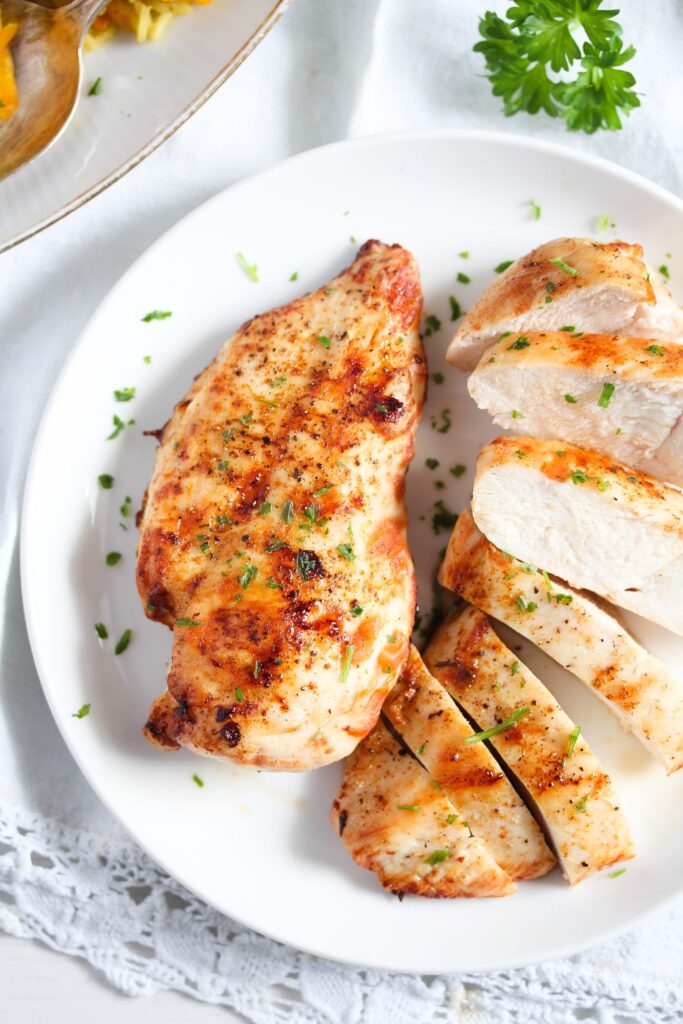 Forgot to take the chicken out of the freezer in time? No problem! This recipe for frozen chicken breast in the air fryer will save the day. Or at least dinner!
Really, all you have to do is to season the frozen parts, place them in the fryer, and flip once during the cooking time. The result: tender juicy breast, golden, nicely seasoned, healthy, and ready to be served in a million different ways.
And if you did remember to defrost it, try these Cast-Iron Chicken Breast, or this Baked Panko Chicken.
This must be my most-cooked air fryer recipe. I use it a lot for many different things, like quick French fries, other meats, side dishes like carrots or mushrooms, and so on but this recipe has turned into a regular.
The best thing about it – except its being delicious and quick – it's the fact that I can use it even if I forget to defrost the meat in time. And it just goes with anything. I often cook some spicy basmati rice on the side (because basmati also cooks quicker than other rice sorts), I slice it and serve it on salad, I use it for enchiladas or I slice it thinly and make sandwiches. The possibilities are endless…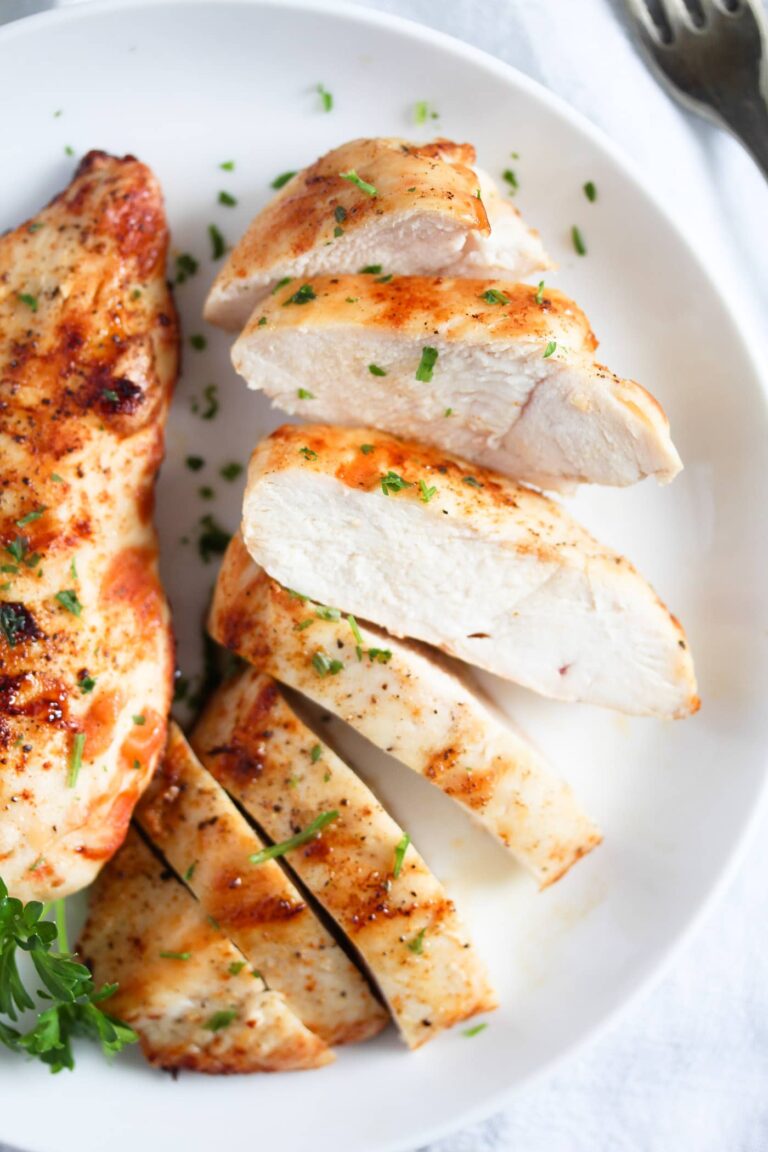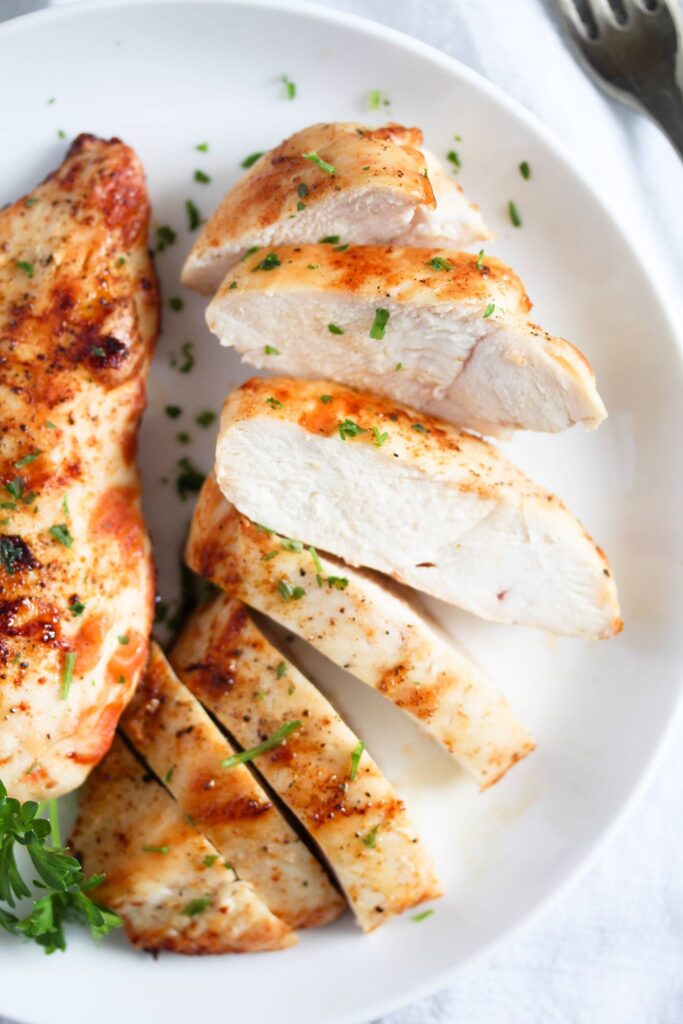 Tips
Use similar sized meat pieces, so that they are all ready at the same time. If some are too small, they might start to get dry by the time the largest pieces are done. Or you can just remember to remove the smaller pieces sooner.
I prefer to use chicken pieces that I buy already frozen, for some reason they are always flatter than the fresh breasts that I freeze myself. The flatter pieces cook more evenly and you will have less dry spots around the edges.
That might happen if the breasts are very thick in the middle compared to the edges. And as the meat is frozen you will not be able to flatten it with a mallet.
Don't staple the pieces in the basket, they should be arranged in a single layer.
Seasoning
Spray the meat with a little oil. If you don't have an oil spray, rub it with 1 teaspoon oil. Either vegetable or olive oil is fine.
Sprinkle with the seasoning of choice on both sides.
My basic seasoning is salt, pepper, and sweet paprika powder, but the possibilities are – again – endless.
Or spice mixtures like lemon pepper, ras el hanout or sumac for an oriental touch, any chicken seasoning of your liking, Cajun spices, and so on. Really, anything you like. (All Amazon affiliate links).
I've tried all the suggested spices or spice mixtures mentioned and I loved them all.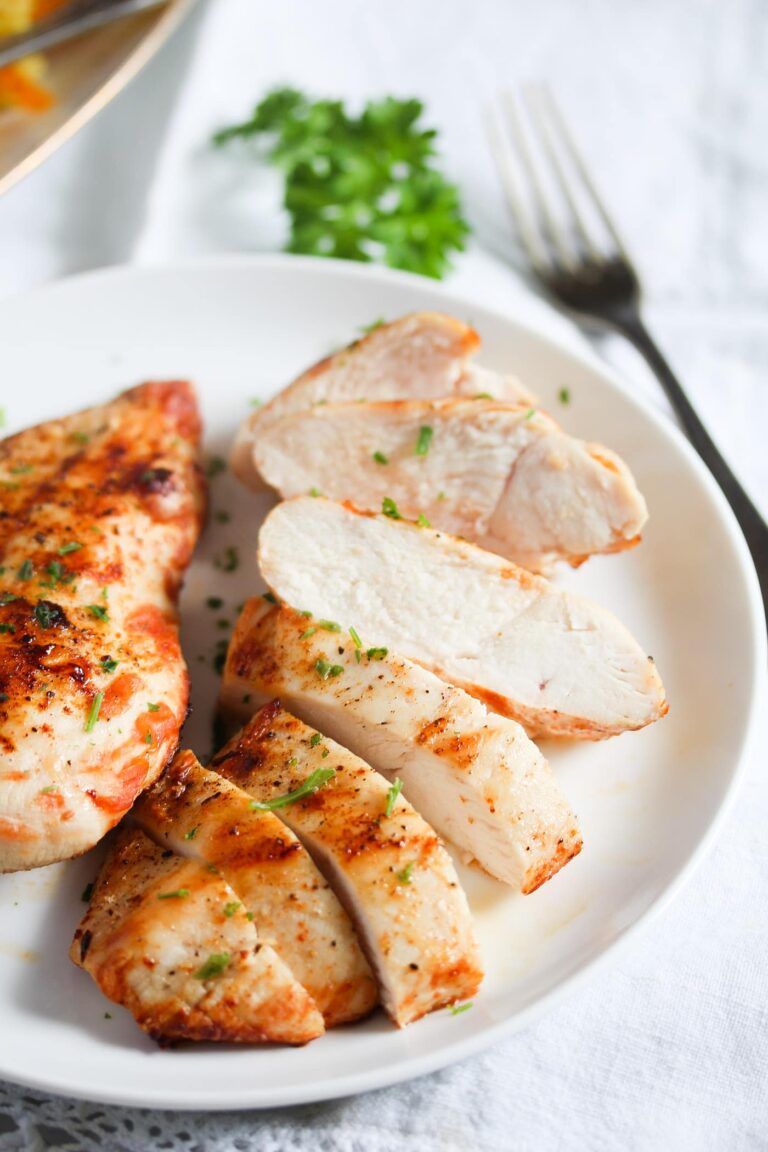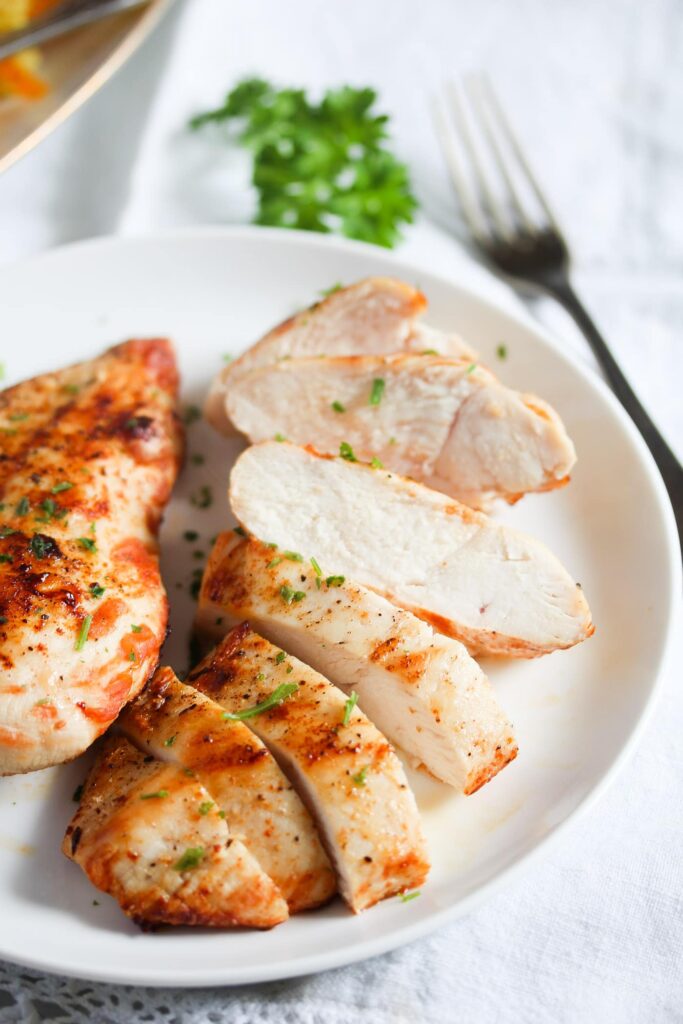 How long to cook frozen chicken breast?
Cooking the frozen chicken takes only a few minutes more than cooking fresh meat, about 5 minutes longer.
Roughly, you will need 15 minutes per 2,5 cm/ 1 inch, slightly more or less depending on the thickness of the breast piece. The cooking time depends more on the thickness of the pieces than on their weight.
The best way of checking is using a meat thermometer, the internal temperature measured by inserting the thermometer into the thickest part of the meat should be of 74 degrees Celsius/ 165 degrees Fahrenheit.
I had three pieces of chicken, a total of 500 g/ 1.1 lbs. Each piece weighed roughly 150-170 g/ 5.3-6 oz and was about 1 inch thick, so they needed 15 minutes.
If your pieces are smaller, check after 10-12 minutes already. If the pieces are thicker, just add more minutes to the cooking time and check again regularly, until the required internal temperature is achieved.
General cooking times:
1.2 cm/ ½ inch thick: 10 minutes
2.5 cm/ 1 inch thick: 15 minutes
4 cm / 1 ½ inches: 20-22 minutes
5 cm/ 2 inches: 28–30 minutes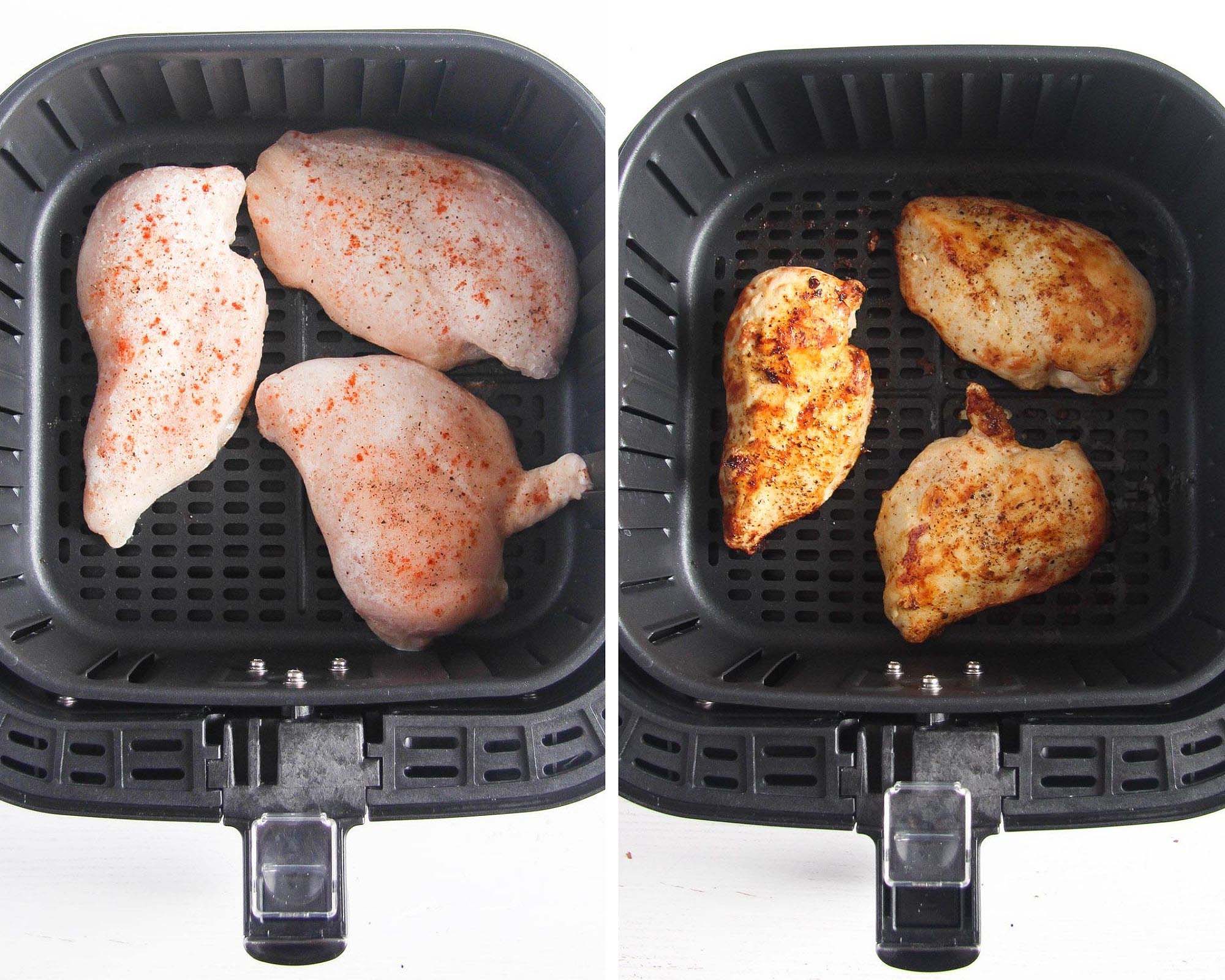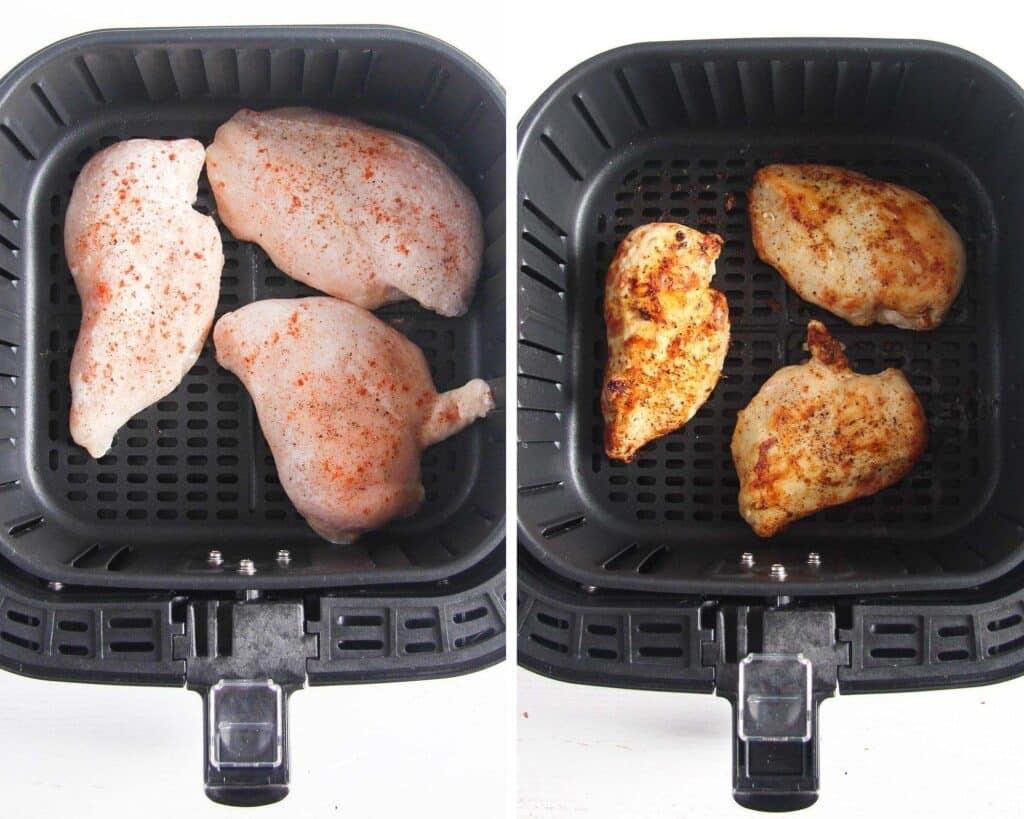 What to serve with it?
More air fryer recipes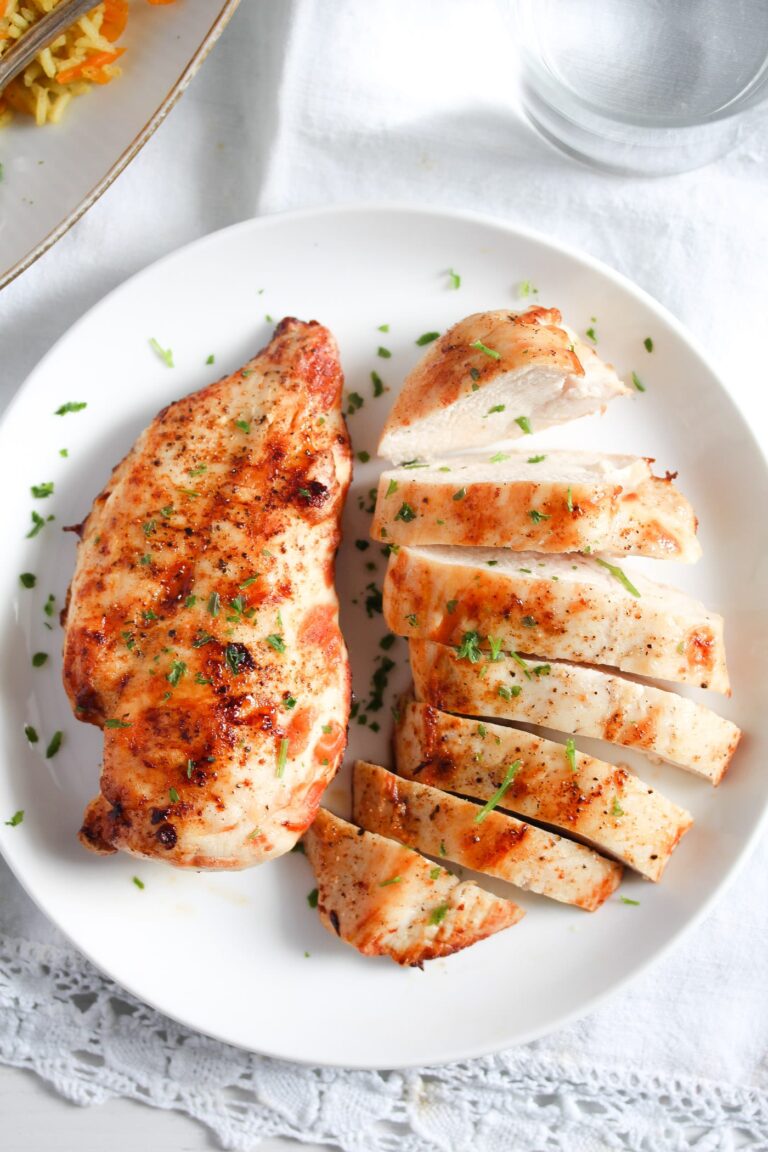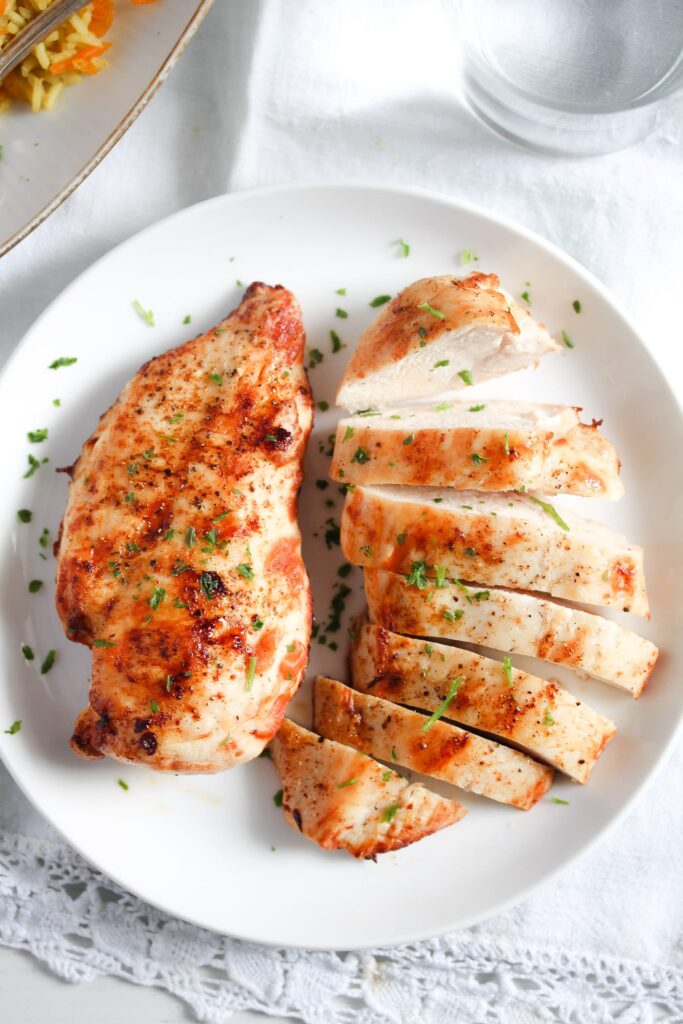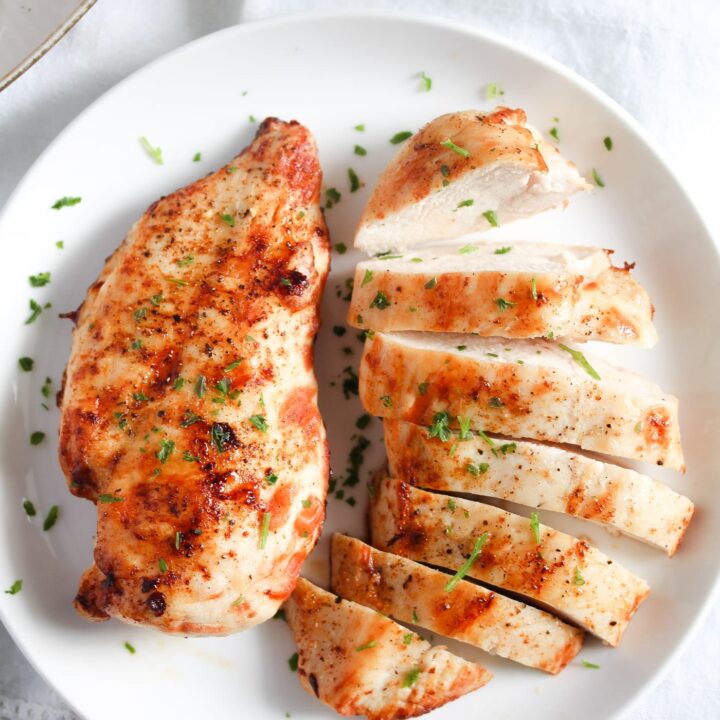 Frozen Chicken Breast in the Air Fryer
Tender frozen chicken breast in the air fryer, these golden chicken pieces are easy to make and ready to serve in no time.
Ingredients
3 chicken breasts (Note 1)
oil spray or 1 teaspoon vegetable or olive oil
sweet paprika powder (Note 2)
fine sea salt and black pepper
Instructions
Preheat the air fryer according to its instructions, mine needs 3 minutes to achieve the temperature of 180 degrees Celsius/ 360 degrees Fahrenheit.
Spray or rub the chicken with oil. Sprinkle with salt, pepper, and the spices of choice. Place in the basket.
Cook for 10 minutes. Flip and cook for a further 5 minutes. Check the internal temperature, it should be of 74 degrees Celsius/ 165 degrees Fahrenheit. If the chicken breast pieces are thinner or thicker, adjust the cooking time.

1.2 cm/ ½ inch thick: about 10 minutes
2.5 cm/ 1 inch thick: about 15 minutes
4 cm / 1 ½ inches: about 20-22 minutes
5 cm/ 2 inches: about 28–30 minutes
Notes
Total weight of about 500 g/ 1.1 lbs, each breast weighing about 150-170 g/ 5.3-6 oz and being about 2.5 cm/ 1 inch thick. If the thickness of the breasts is different, check the general cooking times above or in the blog post.
Use any kind of spices you like, this is just a basic seasoning. You can add garlic powder, use any other sort of paprika (smoked or hot), or any kind of spice mixture you like.

Nutrition Information:
Yield:

3
Serving Size:

1
Amount Per Serving:
Calories:

212
Total Fat:

6g
Saturated Fat:

1g
Trans Fat:

0g
Unsaturated Fat:

4g
Cholesterol:

102mg
Sodium:

187mg
Carbohydrates:

0g
Fiber:

0g
Sugar:

0g
Protein:

37g
Nutrition information isn't always accurate.