Make our super crispy fingerling smashed potatoes today – a super simple recipe using just a handful of simple ingredients. The potatoes are baked in the oven until they're perfectly crisp on the outside and soft and creamy on the inside.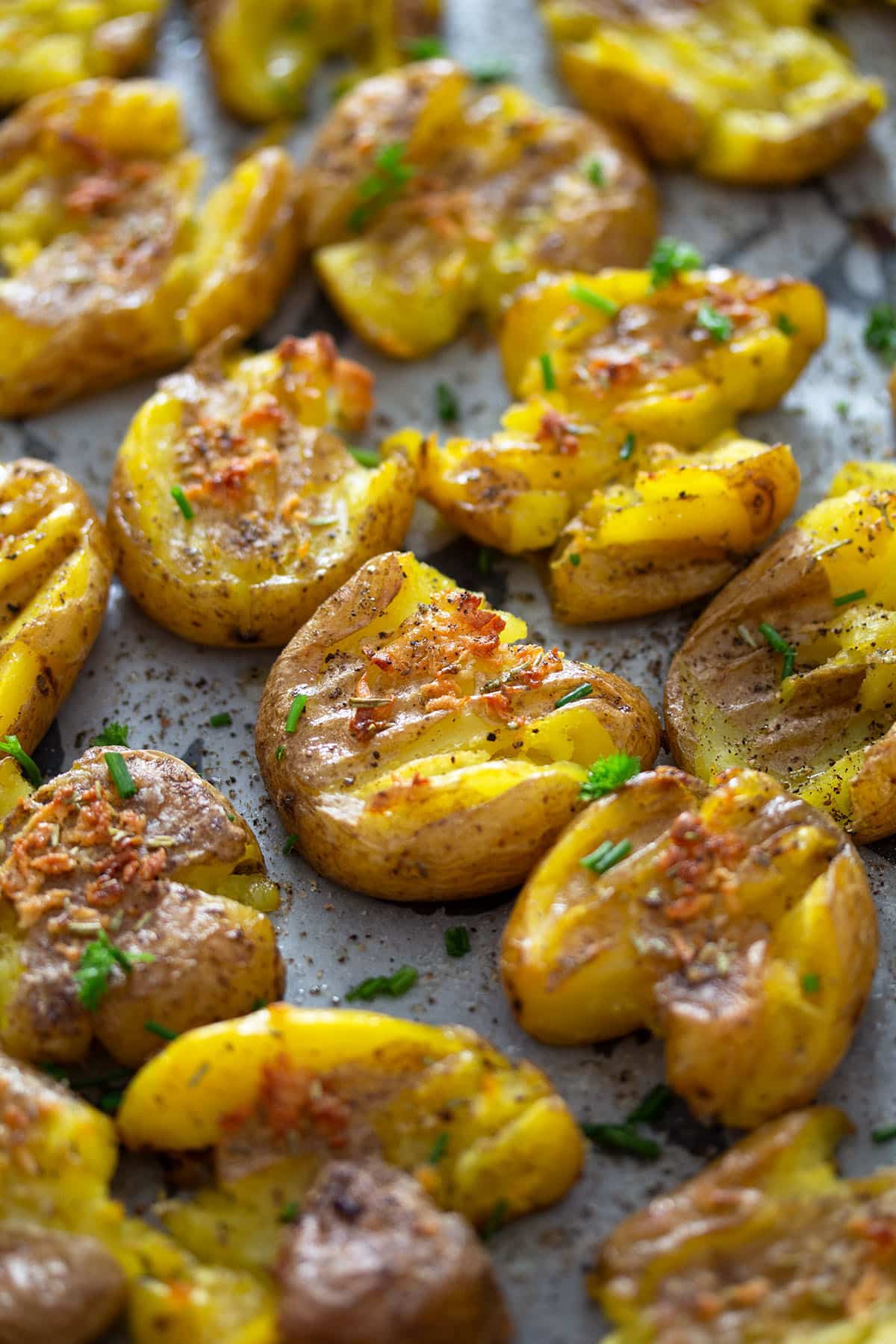 Enjoy these simple, flavorful fingerling smashed potatoes made with just a few ingredients: small potatoes, olive oil, garlic, and fresh rosemary. These golden potatoes have a fluffy inside flavored with garlic and rosemary. Simple to cook and very enjoyable, they turn ordinary potatoes into the perfect side dish, a delicious treat that goes well with any meal.
We love oven-baked potatoes as our go-to side dish. With a household that enjoys mashed, boiled, sautéed, and various potato-based main courses, we consume plenty of potatoes.
Check out other favorite side dishes: Icelandic Caramelized Potatoes, Cauliflower and Potato Mash, Baked Cornmeal Potatoes, or Potato Confit.
Jump to recipe
📋Recipe ingredients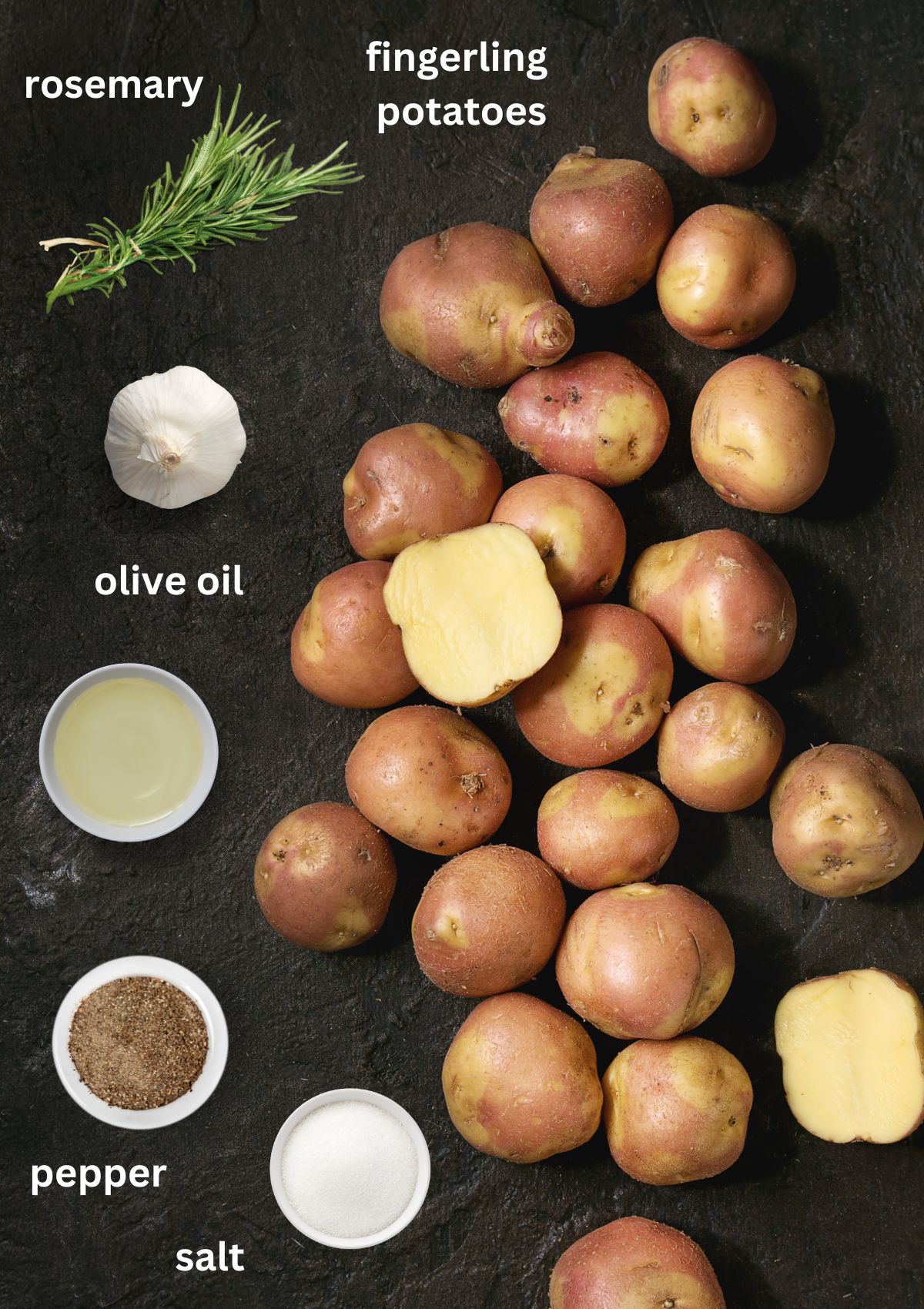 Fingerling potatoes are small, sometimes elongated, and flavorful potatoes with thin skin. They come in various colors, including yellow, red, and purple, and they are typically harvested when they are young and small. They are great for roasting, boiling, or using in salads due to their rich taste and creamy texture.

Those I used weighed about 0.7 oz/ 20 g a potato and were no bigger than 1½ -2 inches/ 3 - 5 cm in diameter.

Olive oil: I've prepared these fingerling smashed potatoes using butter, a blend of butter and extra virgin olive oil, and solely olive oil. While all versions were delicious, we loved the olive oil version best.

However, if you wish, simply swap the olive oil for 3-4 tablespoons of melted butter in the recipe steps.

Fresh garlic is a must for me – I'm a bit of a garlic enthusiast. I've prepared these crispy smashed potatoes without garlic, mainly for my brother-in-law, who can detect even the tiniest hint of garlic in a huge pot of soup and complain about it. While the garlic-free version was ok, I personally prefer the garlicky version.
Fresh rosemary is delightful, but you can easily swap it for dried or replace it with thyme, oregano, or other dried herb mixtures, such as Italian seasoning or Herbs de Provence.

The garlic smashed potatoes can also be sprinkled with sweet or hot paprika powder before baking; I do that often. Chili flakes would also be an option if you want the food to be spicier.

Salt and pepper: Choose good quality coarse sea salt or kosher salt and freshly ground black pepper. I firmly believe coarse salt and pepper work better than their finer counterparts.

I generously sprinkle the garlic smashed potatoes twice with salt and pepper: once before baking and once after. I enjoy the texture of those small salt and pepper pieces as I bite into the potatoes.
👩🏻‍🍳How to make crispy smashed fingerling potatoes?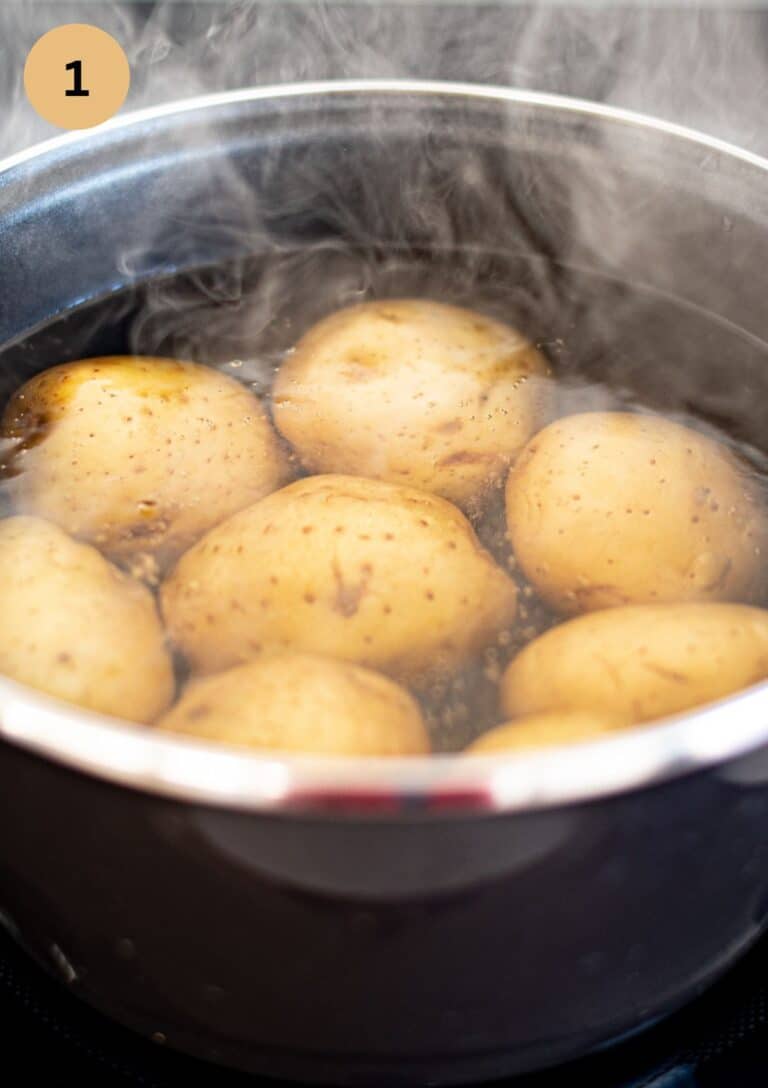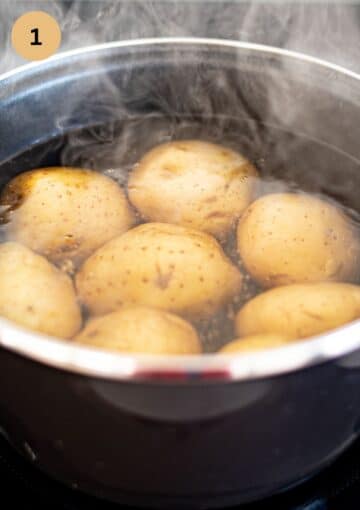 Boil the potatoes in salted water in a large pot until fork tender; it will take 10-15 minutes. Drain well.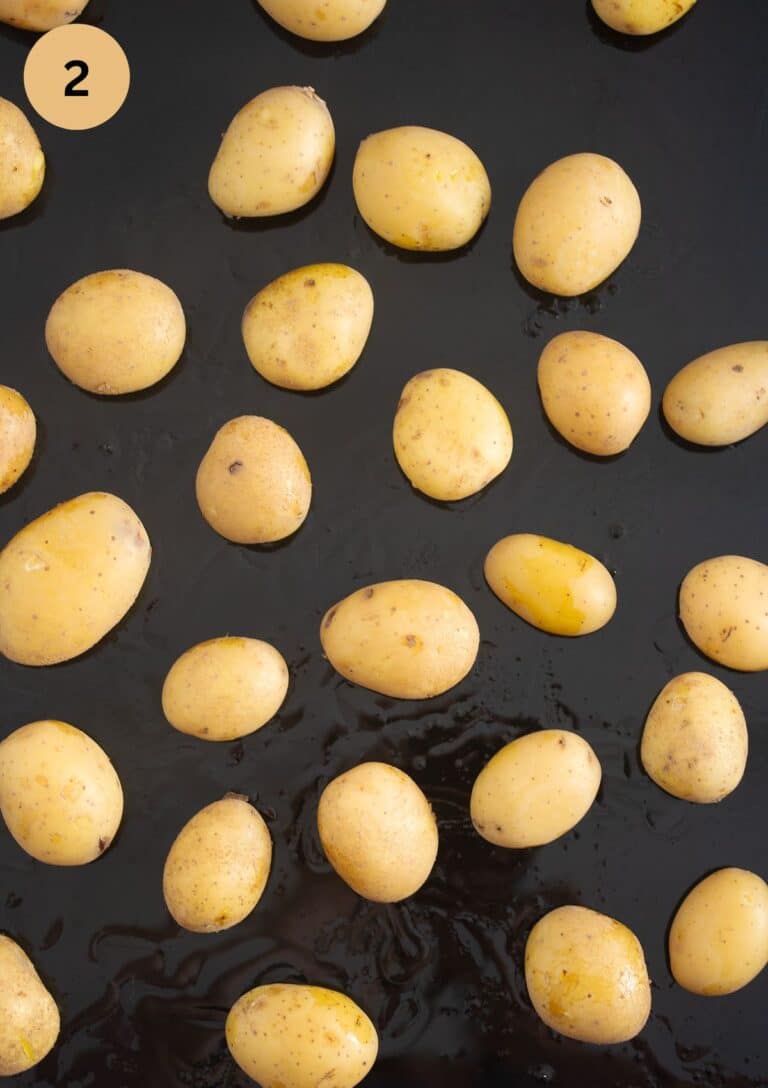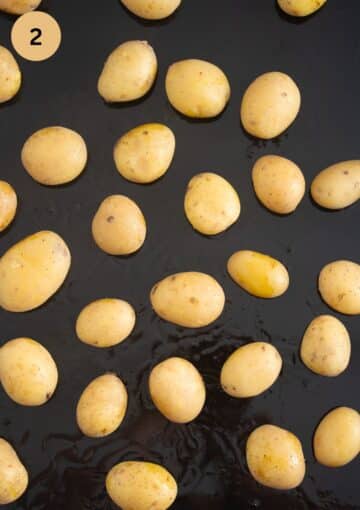 Coat a rimmed baking sheet with oil and place potatoes on it. Combine oil, garlic, and rosemary in a small bowl.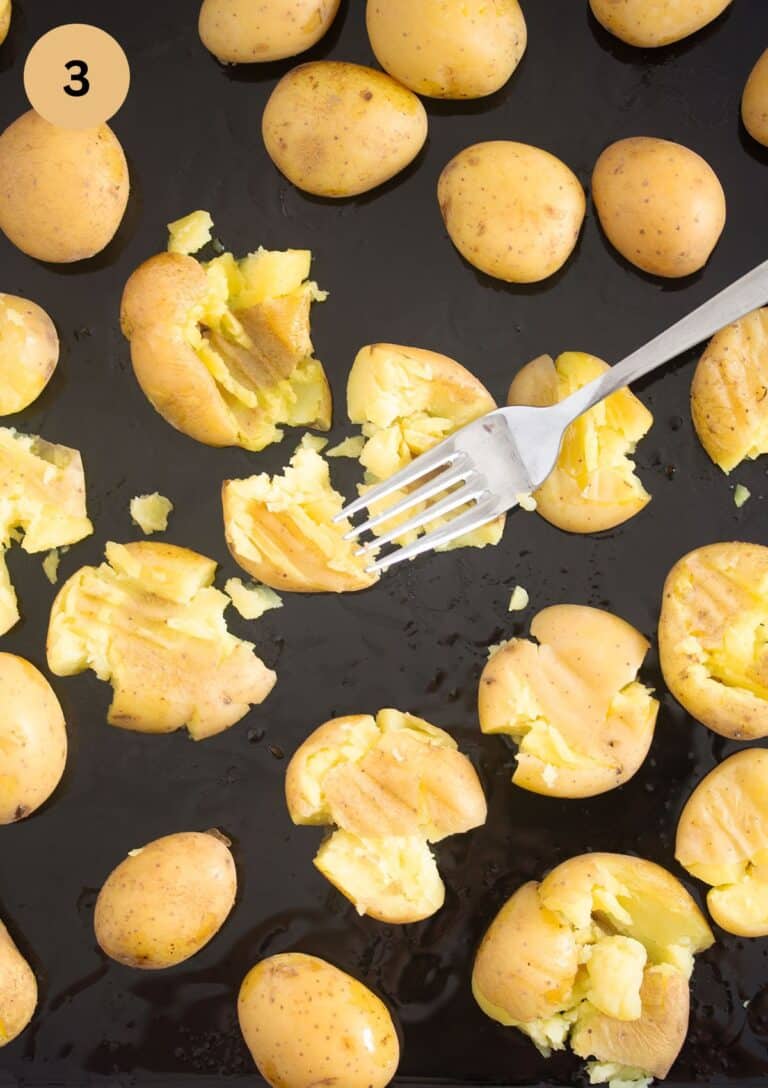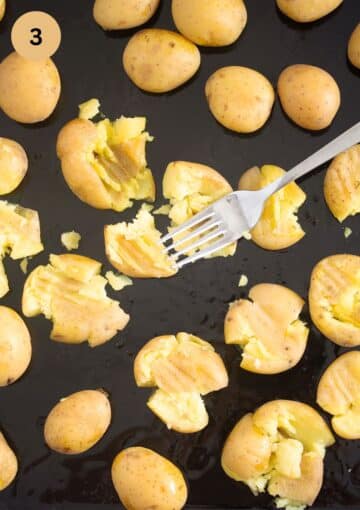 Smash potatoes carefully and lightly using a fork.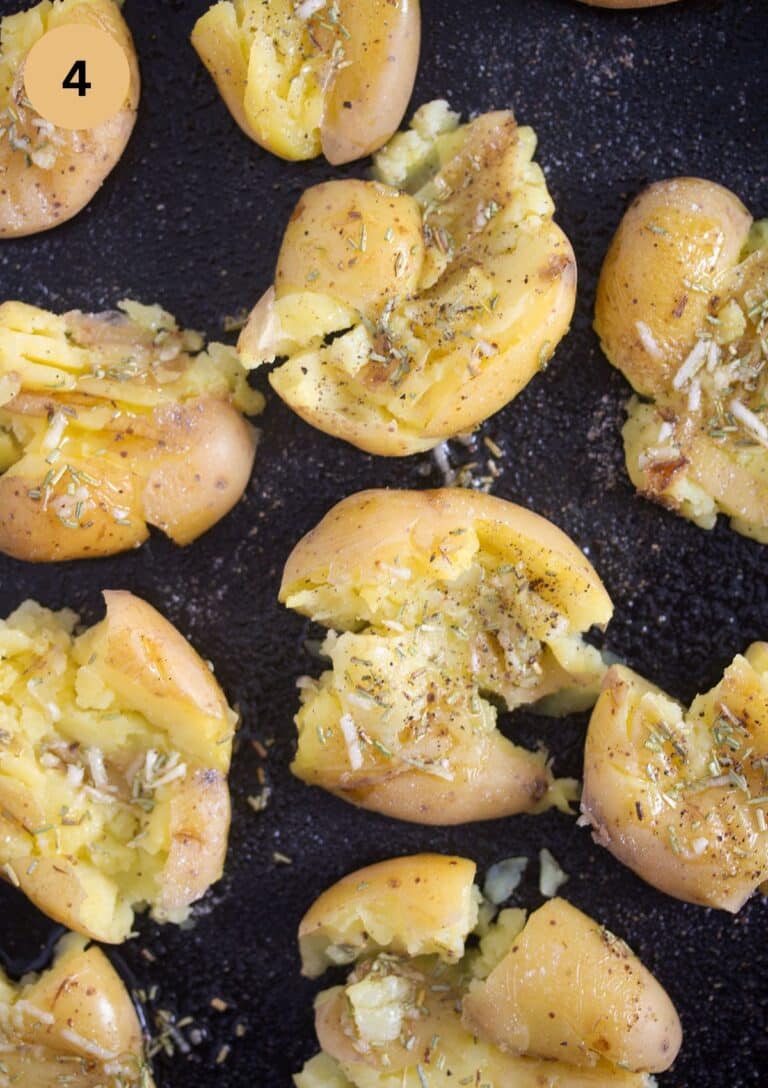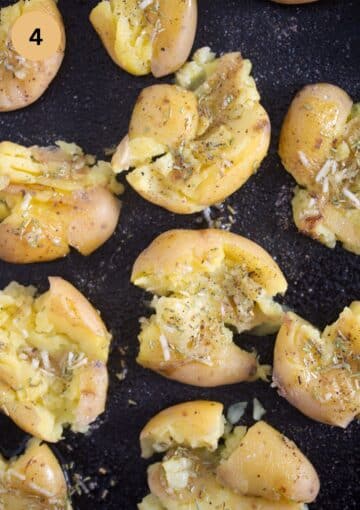 Drizzle about ½ teaspoon oil-garlic mixture on each potato. Sprinkle with salt and pepper.
Bake for 15-20 minutes or until they are golden and crispy. Sprinkle again with salt and pepper.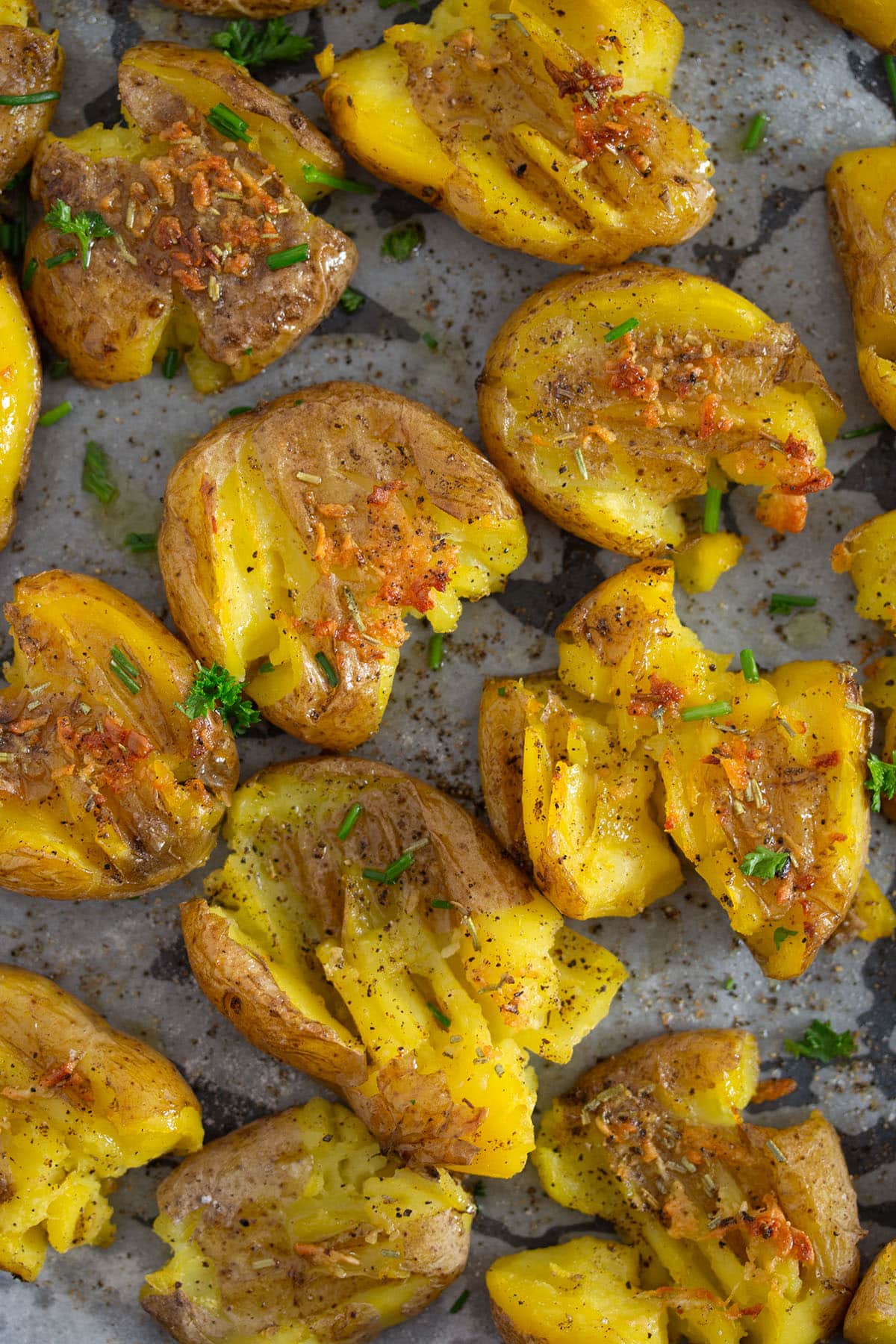 🍲Variations on the recipe
Cheesy: Bake the smashed potatoes for about 10-15 minutes, top them with shredded cheese (like cheddar or Parmesan), and return them to the oven until the cheese is melted and bubbly.
Garlic Parmesan: Mix grated parmesan cheese with minced garlic and olive oil. Brush this mixture onto the smashed potatoes before baking for an extra flavorful crust.
Spicy: Before baking, add a kick by seasoning with paprika, cayenne pepper, or chili flakes.
Herby: Try different fresh herbs like thyme, parsley, or chives along with or instead of rosemary.
Bacon and chives: Sprinkle cooked and crumbled bacon and chopped fresh chives on top of the smashed potatoes after baking for added savory goodness.
🔊Expert Tips
Potato Selection: Choose fingerling potatoes if possible. Their size and waxy texture contribute to a better result. If unavailable, choose similar small-sized potatoes. Petite Gold and small red potatoes are also suitable for this smashed potato recipe.
Boiling: Boil the tubers until they're tender but not falling apart; the cooking time depends on their size.
Draining: After boiling them, it's crucial to drain them thoroughly. Allow them to sit in a colander for approximately 5 minutes. This step helps ensure that excess moisture evaporates from their surface, aiding in achieving maximum crispiness when baked or smashed.
Smashing: I found that using a large fork works better than a potato masher for smashing the potatoes. The masher tends to crush them too finely, while a fork maintains a better texture. Alternatively, use the bottom of a glass.
Keep the potatoes slightly uneven while smashing; these ridges are key for achieving crispy edges. This contrast ensures a crispy outside while keeping the inside soft and comforting.
While smashing the boiled tubers, apply uniform pressure to keep them around ½ inch/ 1.3 cm thick, preventing them from breaking into smaller pieces.
❓Recipe FAQ
Can I use other types of potatoes for this recipe?
You can use different types, like Yukon Gold or red ones, but fingerlings are preferred for their size and texture. If choosing other sorts, make sure that they are small enough. 
How do I achieve a crispier texture?
Ensure the fingerling potatoes are well-drained after boiling, and apply enough oil before baking.
Can I make them ahead?
Sure. When managing multiple recipes for a big event, prep the smashed fingerlings earlier in the day. Boil and smash them, let them cool, and store them covered on a baking sheet in the fridge. Before baking, brush with oil and follow the oven-roasting instructions.
How to store and reheat?
Refrigerate leftovers in an airtight container for 2-3 days.
I don't recommend freezing the fingerling smashed potatoes; their texture will change upon thawing and reheating.
Reheat: Brush them with a little olive oil and reheat them in the preheated oven (350°F/180°C) until heated through and crisp again. You can also reheat them in a hot skillet, adding a bit of oil and flipping them frequently. 
🍽️How to serve smashed potatoes?
I recently served these fingerling smashed potatoes with an oven-roasted shoulder of lamb, although they've also accompanied roasted whole chicken, cast-iron chicken legs, and skillet chicken breasts. This versatile side complements nearly any dish—they're always delicious!
For a vegetarian meal, serve these garlicky potatoes alongside poached eggs or fried halloumi cheese, with salads, a dollop of sour cream, Greek yogurt, yogurt dips, a herbed sauce, and roasted or steamed vegetables. 
Leftovers: Turn leftover potatoes into a new dish by incorporating them into breakfast hash, mixing them into a frittata, or adding them to a casserole.
📖Recipe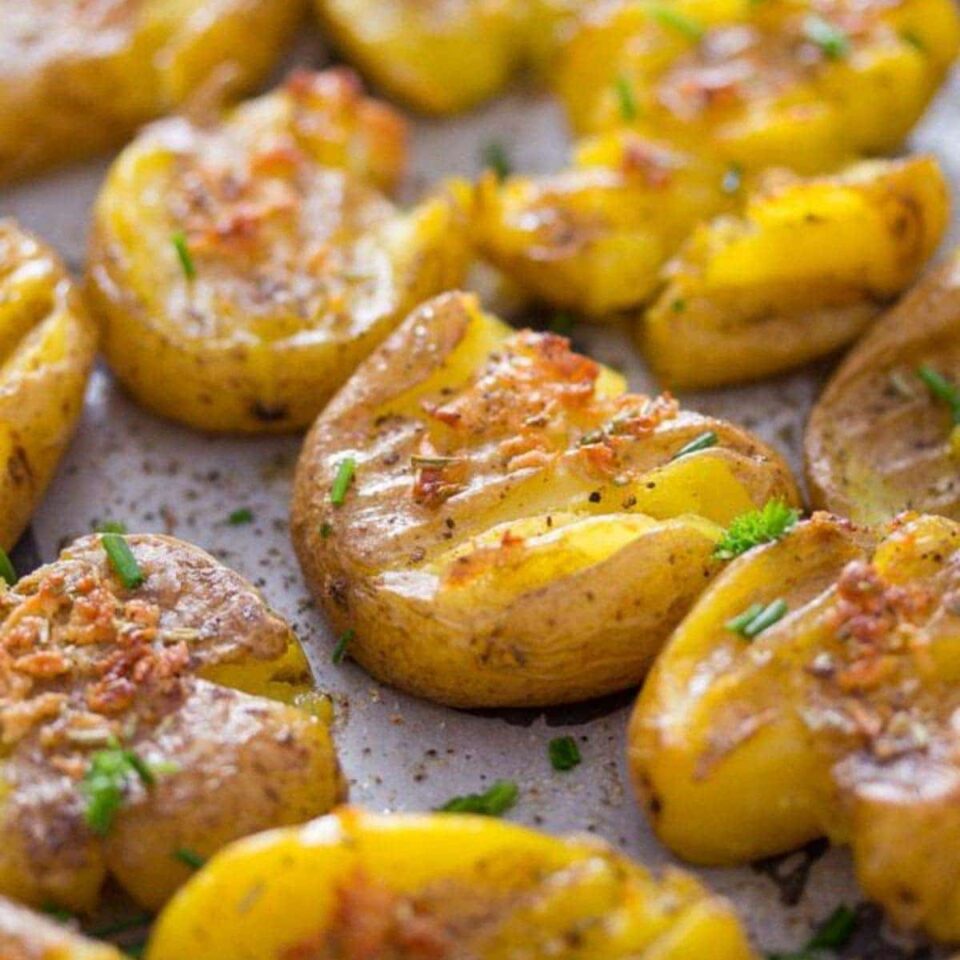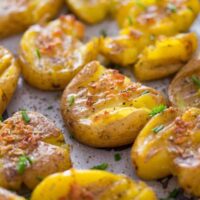 Fingerling Smashed Potatoes – So Crispy!
Try our crispy fingerling smashed potatoes today! This simple recipe needs just a few ingredients. Bake them until they're perfectly crisp outside and soft inside.
Print
Pin
Share
Grow
Saved!
Rate
Ingredients
2

lbs

fingerling potatoes

1 kg, Note 1

3

tablespoons

extra virgin olive oil

+ a little more to grease the pan, Note 2

4

garlic cloves

3

small sprigs

fresh rosemary

Note 3

coarse sea salt

ground black pepper
Instructions
Boil potatoes: Wash them well and place them into a pot. Cover them with cold water, bring to a boil, and cook them for 10-15 minutes or until fork tender. The exact cooking time depends on their size; check if they are cooked through before draining them.

In the meantime, preheat the oven to 400°F/200°C.

Drain the potatoes well and leave them to stand in the colander for about 5 minutes so that most of the water on their surface will evaporate.

Mixture: Mix olive oil, minced garlic, and finely chopped rosemary in a small bowl.

Smash fingerling potatoes: Grease the baking sheet with the extra olive oil. Place the potatoes on it and crush them carefully and only lightly with a fork; they should not be pressed flat but still have plenty of ridges after you've crushed them.

Drizzle the garlic mixture on each potato. Use about ½ teaspoon per potato, ensuring each one gets enough. If there's any leftover mixture, go over the potatoes again to evenly distribute it among them.

Bake: Sprinkle with salt and pepper and bake for 15-20 minutes or until golden and crispy. Increase the baking time slightly if the potatoes are not crisp enough after 20 minutes.

Remove them from the oven, sprinkle again with some coarse salt and pepper, and serve them immediately.
Notes
The potatoes I used weighed about 0.7 oz/ 20 g a potato and were no bigger than 1½ -2 inches/ 3 - 5 cm in diameter. They can be slightly larger, of course, but not too much. Petite Gold and small-sized red potatoes are also suitable.
Oil or butter: Use 3-4 tablespoons of melted butter instead of olive oil.
Herbs: Use about 1 teaspoon of dried rosemary instead of fresh - or other herbs.
Nutrition
Serving:
1
/4 of the dish
|
Calories:
274
kcal
|
Carbohydrates:
41
g
|
Protein:
5
g
|
Fat:
11
g
|
Saturated Fat:
2
g
|
Polyunsaturated Fat:
1
g
|
Monounsaturated Fat:
8
g
|
Sodium:
15
mg
|
Potassium:
972
mg
|
Fiber:
5
g
|
Sugar:
2
g
|
Vitamin A:
27
IU
|
Vitamin C:
46
mg
|
Calcium:
35
mg
|
Iron:
2
mg