Last Updated on
A simple and surprising Icelandic recipe: caramelized potatoes, a perfect side dish for roast lamb or other roasted pieces of meat.
This is something I have never eaten before, I have not even imagine one could eat a caramelized potato dish. But it definitely works!
OK, I know that these caramelized potatoes are a traditional Icelandic Christmas side dish, but then again, is not that we only eat potatoes at Christmas… I wanted so much to try these potatoes, I did not really care that Christmas is still four months away and that we are enjoying the hottest and longest summer in 15 years here in Germany.
And what are four months? Christmas will be here before we know it and then I will be glad to already have a published Christmas recipe on the blog. 🙂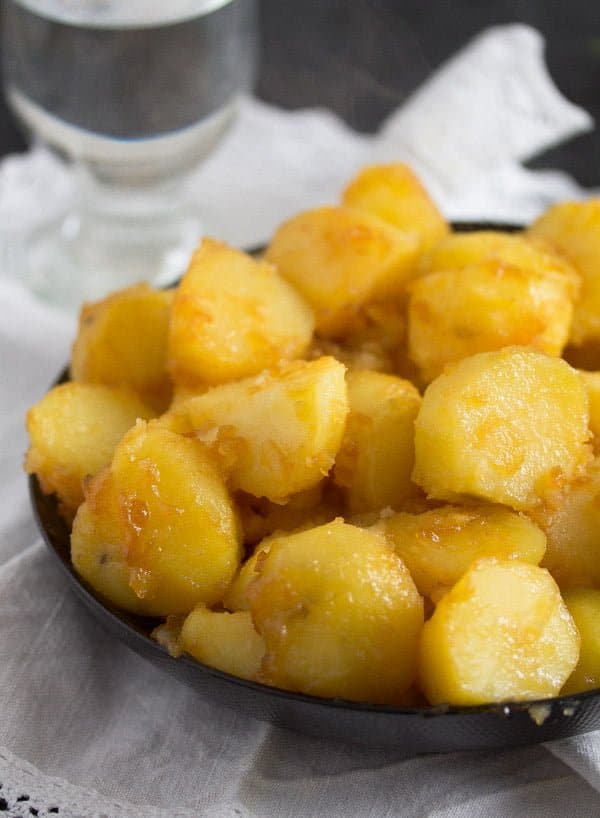 Caramelized Potatoes – Side Dish – Icelandic Recipes
I am afraid I've never known much about Iceland and Icelandic food. I know Iceland is cold and that it is the westernmost country in Europe, I know it has volcanoes, one of which erupted not many years ago – 2010 – causing disruption to air travel in Europe, I know its capital is Reykjavik.
Now I've also found out that Iceland has only about 338.000 inhabitants and is the most peaceful land on Earth, there is hardly any criminality and the police forces don't carry any weapons. How wonderful is that? And it has no McDonald's. 🙂 🙂
And last year I saw a German television cooking show where a famous cook had to cook something Icelandic. What did he cook? A whole sheep's head… He said it tasted fantastic, but to tell you the truth, I am pretty sure that I will never in my life try to cook that… I would eat it if I would get bits of it on the plate and not the whole head in front of me, but no… I would never start "playing" with a sheep's head.
Another famous Icelandic dish they were mentioning was rotten fish, I think it was shark. What I do remember is that they found it beyond disgusting, so I am very sure that I would not try that.
But I did want to try this side dish of Caramelized Potatoes the moment I saw the recipe. I love anything with potatoes and the idea of having them caramelized was so intriguing, I think I cooked the dish one or two days after I saw the recipe.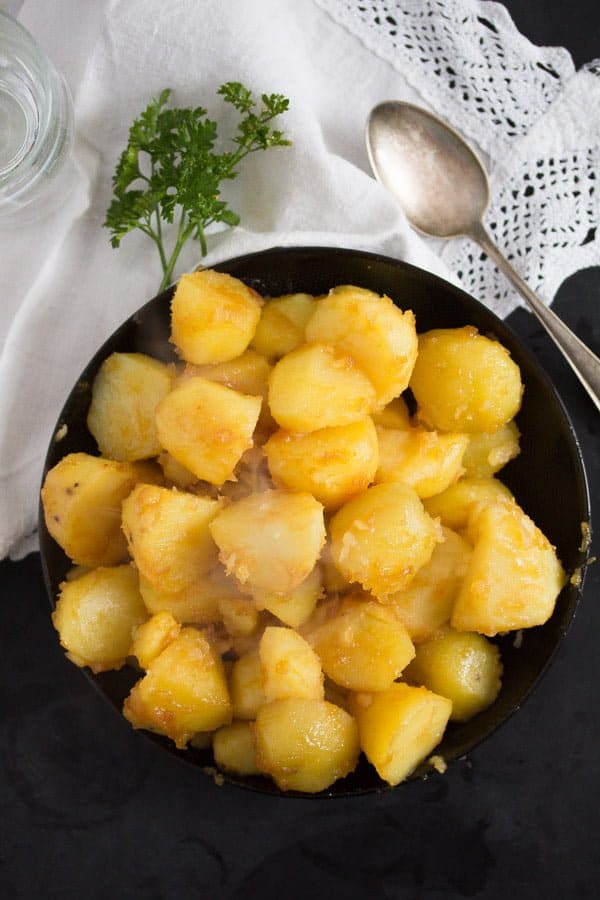 How to make Caramelized Potatoes – Side Dish – Icelandic Recipes
I cannot really name a source for the recipe, there are only three ingredients, so any recipe you will find online will sound pretty much the same.
Step 1: Boil the potato chunks until tender. Choose waxy potatoes, I've made the mistake of using only predominantly waxy potatoes, which are the most common type in Germany. I didn't think it would matter that much, but it did, not when it comes to taste, but more when it comes to looks, the edges of my caramelized potatoes were not as nice and smooth as they could have been…
Also, I had rather large potatoes, but you can choose small ones instead, the dish would look even prettier then.
Step 2: Caramelize the sugar in a preferably non stick pan. When the sugar starts to get a nice and rich golden color, add the butter, stir well and let it melt.
Step 3: Add the potatoes and stir very well to coat all over.
That's it!
How to serve the Caramelized Potatoes
Some sources recommend eating the caramelized potatoes warm, some say they are best served cold, so you have the choice, I suppose. We had them warm and we liked them like that.
The caramelized potatoes make a perfect side dish for a roast leg of lamb, together with some nice stewed red cabbage. That would make a perfect Christmas meal, so be sure you pin this recipe for caramelized potatoes and the two linked recipes for lamb and red cabbage. 🙂 And don't forget them until Christmas! 🙂
I did not start to cook a Christmas meal in July, so we had the caramelized potatoes with roasted chicken legs and a simple, slightly sour and refreshing white cabbage salad. I thought the vinegar in the salad was a great contrast to the sweet sugar potatoes. A beautiful meal, we all loved it.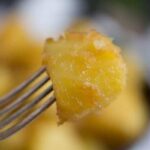 Ingredients
1 kg/ 2.2 lbs waxy potatoes (See note)
4 tablespoons granulated sugar
3 tablespoons butter
Instructions
Clean and peel the potatoes. Cut them into large chunks or leave them whole if using small potatoes.
Bring a pot of water to a boil. Add the potatoes and cook for about 15-20 minutes, the potatoes should be tender, but not become mushy.
Drain the potatoes very well and let stand in a colander for about 10 minutes, to make sure that they are dry.
Give the sugar to a non stick pan and let melt slowly, it should start to get slightly brown. At this point, add the butter and let melt slowly as well. Stir thoroughly.
Add the potatoes and stir carefully, taking care not to break the potatoes. Lower the heat to minimum and continue turning the potatoes into the caramel until they are coated all over and golden. Do not let the caramel turn too dark, if you think it might happen, immediately remove the pan from the heat.
Serve the caramelized potatoes as mentioned above.
[nutrition-label id=10238]
Notes
Use either larger potatoes cut into large chunks or small potatoes left whole.