Baked cornmeal potatoes, crunchy on the outside and soft on the inside, these baked potatoes with polenta crust make the perfect side dish.
Crunchy polenta potatoes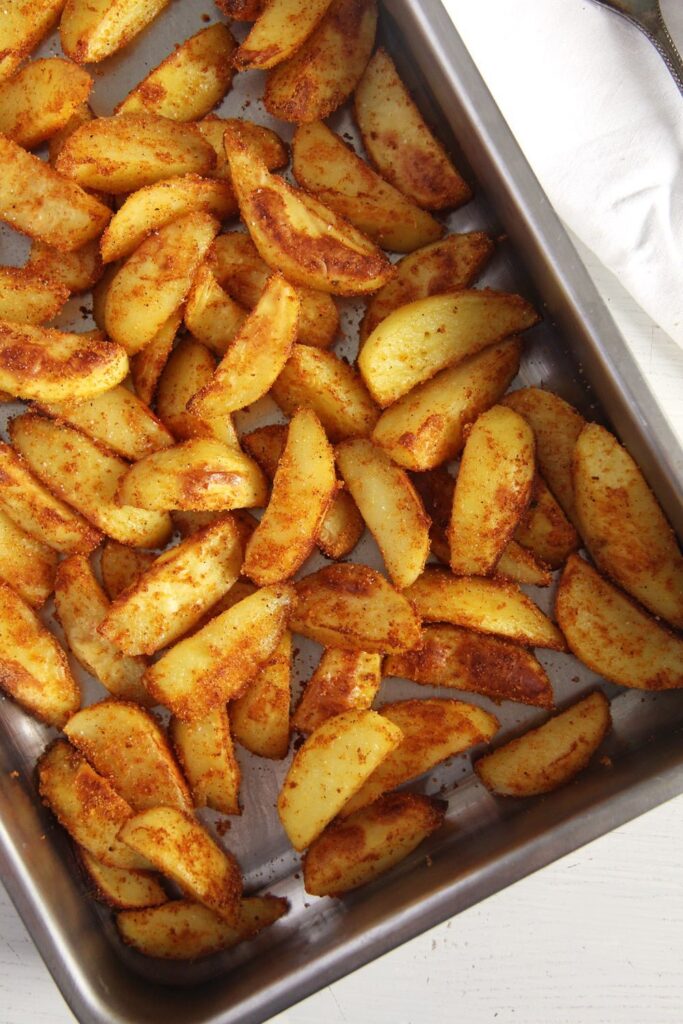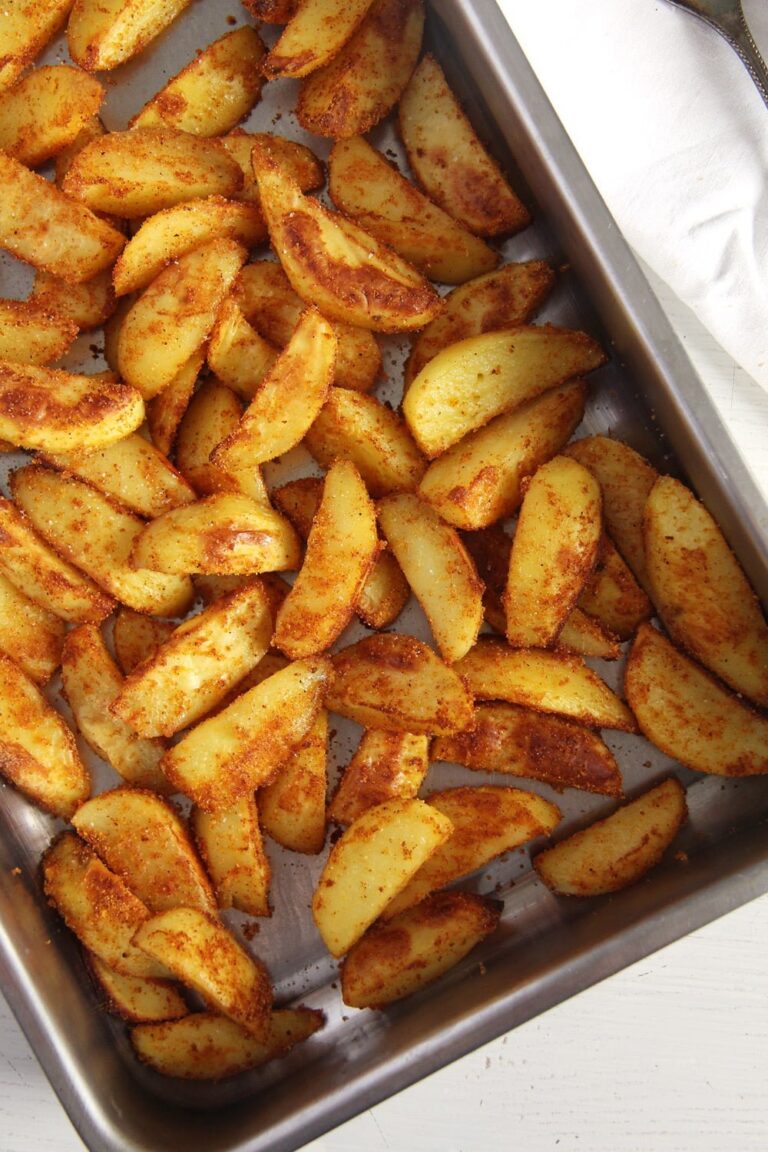 The last recipe in this Polenta Series on Where is My Spoon, I really hope you found a few things you liked. As a native Romanian I obviously enjoyed each of the posted recipes, but I do hope that I could offer something to those of you who are not familiar with polenta and its endless variations.
There are so many other delicious polenta or cornmeal recipes I could think of, quite a few that I have cooked and photographed but still not posted, because other ones seemed like a better choice. I really had a hard time choosing.
I am continuously using cornmeal or polenta in my cooking, so adding more recipes on the blog, should never be an issue. Have a look at the already posted cornmeal recipes.
Things to make with cornmeal or polenta?
I cannot really say what I liked most myself from all the recipes posted during this series. Today's baked cornmeal potatoes, which were the absolute hit for my little daughter?
Or the plain polenta with cheese, which is one of my son's favorite meals, somethings he wishes me to cook at least once a month?
Or the polenta chips, which were something so new and so delicious? Or the orange polenta cake, which my husband loved the most and which was such a revelation after so many failed attempts of making a really good cornmeal cake? I really can't decide…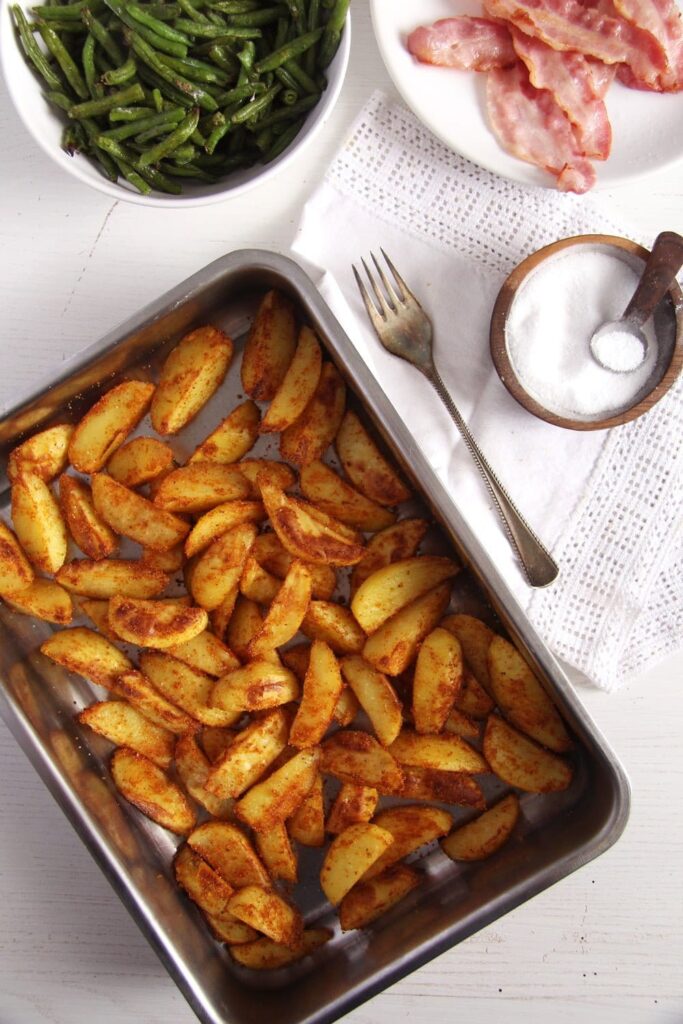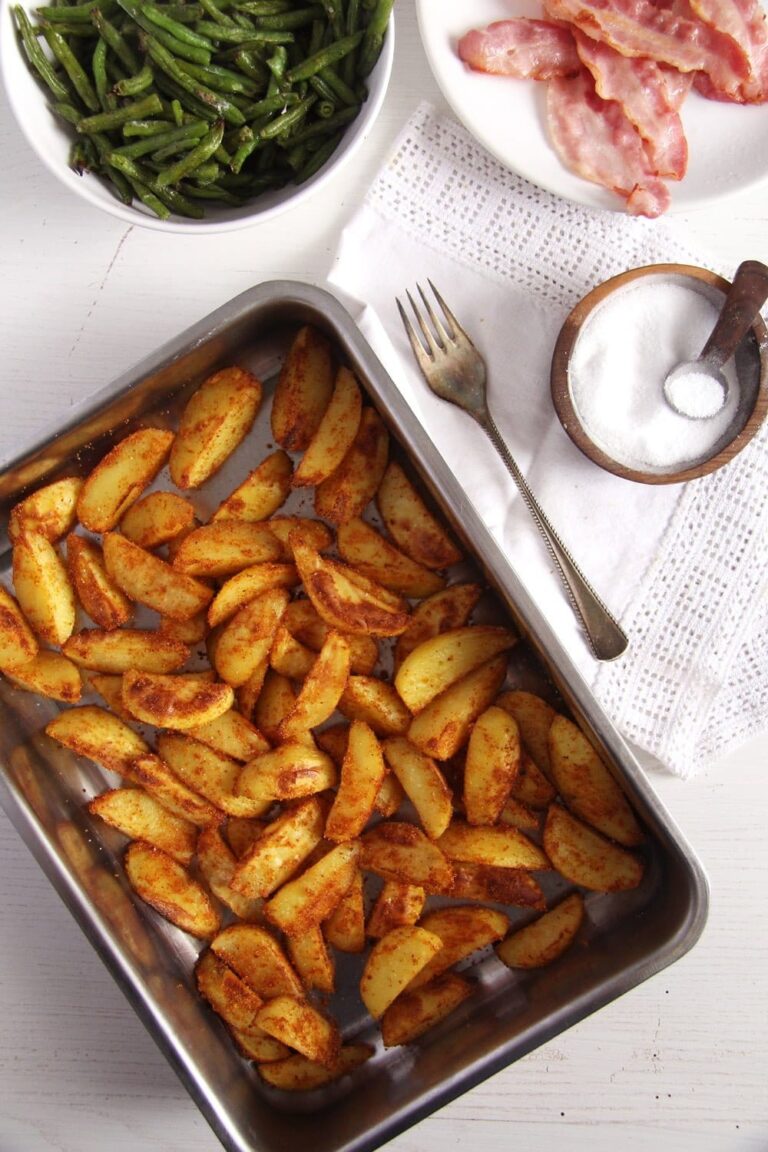 How to make cornmeal potatoes?
I made these baked potatoes for the first time sometimes before Christmas, when I was starting to plan the polenta series. I think it might have been the first recipe I photographed for this series.
I found the recipe in an old Romanian recipe magazine, which my aunt used to send me from Romania a few years ago. I was a bit skeptical about it at first, I thought the crust would be too gritty, but then I thought that trying them would be worth it.
And it was, we loved the polenta potatoes and it was great to have another version of roast potatoes for a change.
All you have to do is to wash and dry the potatoes very well or to peel them, the choice is yours.
Halve and cut each half into 3-4 thick slices or wedges.
Place them in a large bowl and rub them well with olive oil.
Mix the spices and cornmeal in a small bowl.
The use of spices is really up to you, using paprika and garlic makes them more Romanian I suppose, but you can change the spices to your liking.
Add to the potatoes in the bowl and shake and turn them well, so that all the wedges are covered with the cornmeal mixture.
Arrange the potatoes in a single layer on the baking tray.
Bake for about 35 – 45 minutes or until the potato flesh is very soft and the crust is crispy.
How to serve polenta potatoes?
These crunchy roasted potatoes with cornmeal make a perfect side dish for any kind of roast or steak, for chicken or fish.
We had them as a main meal as well, with salad or pickled vegetables, a yogurt or chili dip and once with some bacon on the side.
Basically, lately, whenever I don't have much time to cook before the kids get home after school, I either make a quick soup or these baked cornmeal potatoes with a dip and salad. And I never hear any complaints!
More baked potato recipes?
Potato Wedges with Sweet Chili Dip
Pin it for later!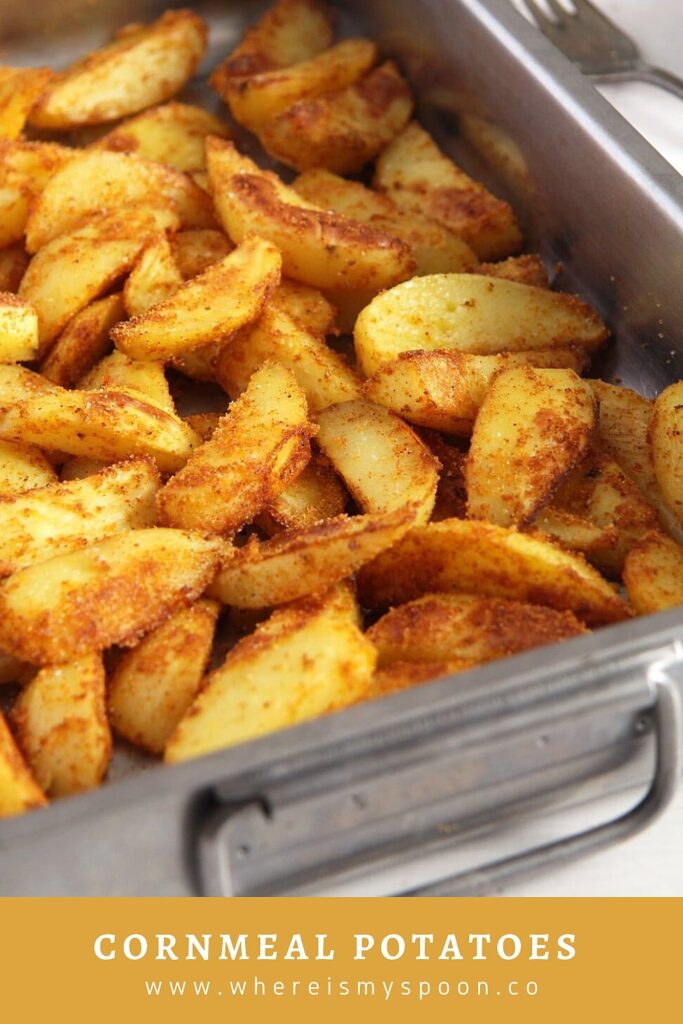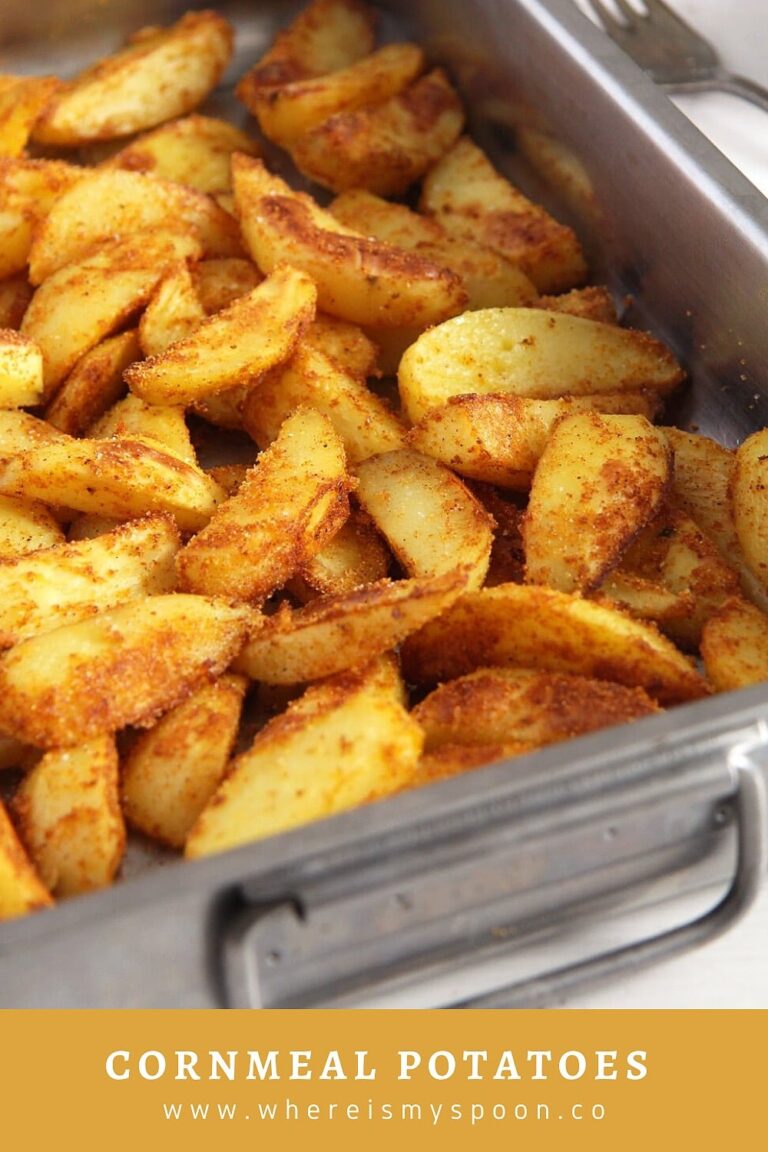 Baked Cornmeal Potatoes
Crunchy on the outside and soft on the inside, these vegan baked cornmeal potatoes with cornmeal crust make the perfect side dish.
Print
Pin
Share
Grow
Saved!
Rate
Ingredients
2.2

lbs

potatoes

2

tablespoons

olive oil

see note

3

tablespoons

cornmeal

1

teaspoon

fine sea salt

½

teaspoon

garlic powder

1

teaspoon

paprika powder

½

teaspoon

smoked paprika powder
Instructions
Preheat the oven to 250 degrees Celsius/ 480 degrees Fahrenheit. Line a baking tray with baking paper.

Prepare potatoes: If you use organic potatoes (and if you like them), you can leave them unpeeled. Just scrub them very thoroughly. Otherwise, peel the potatoes. Halve them and cut each half into 3 or 4 slices, depending on the size of the potatoes. Place the slices in a large bowl, add the olive oil and mix it with the potatoes using your hands. Make sure that all the potatoes are cover with a thin film of oil.

Coat potatoes: In a small bowl, mix the cornmeal and all the spices. Add them to the potatoes and shake the bowl thoroughly to ensure that all the potatoes are covered with the cornmeal mixture.

Bake: Arrange the potatoes in a single layer on the baking tray. Bake for about 35 – 45 minutes or until the potato flesh is very soft and the crust is crispy.

Serve immediately as a side dish or with salad and dip.
Nutrition
Serving:
1
/4 of the dish
|
Calories:
317
kcal
|
Carbohydrates:
58
g
|
Protein:
7
g
|
Fat:
7
g
|
Saturated Fat:
1
g
|
Polyunsaturated Fat:
6
g
|
Sodium:
557
mg
|
Fiber:
6
g
|
Sugar:
3
g