Romanian orange polenta cake or malai dulce soaked with syrup: so soft, so moist, so delicious! Definitely the best sweet polenta cake I have ever had!
Sweet Polenta Cake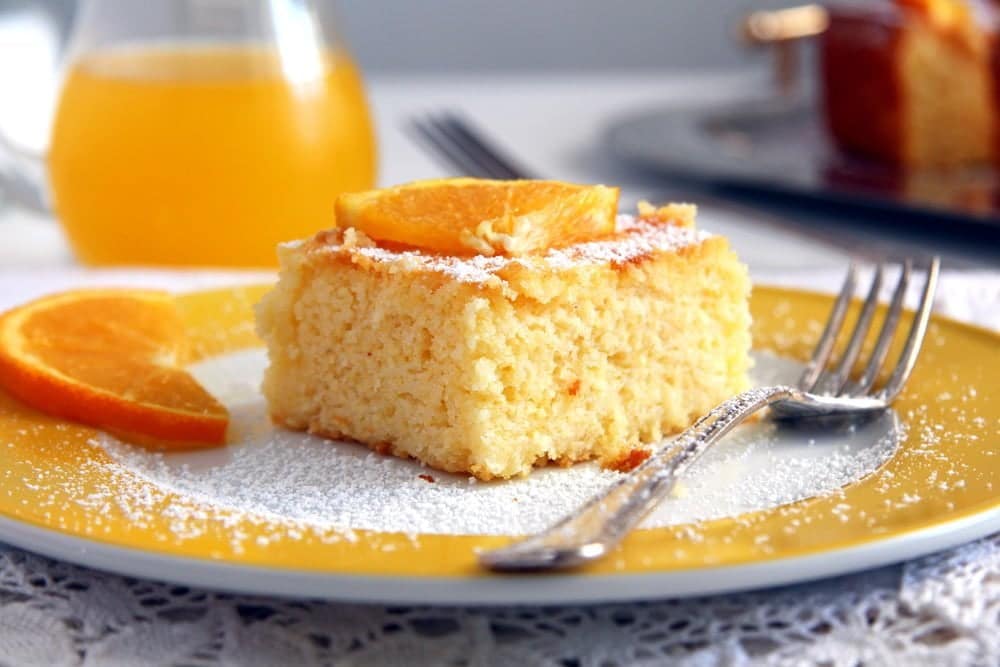 This orange polenta cake could be the end of a long quest – the quest after a cake made with cornmeal that I actually like. I've made many polenta cakes over the years, searching for the one, the one I would like, the one I imagined so many times when reading some recipes.
And every one of them was so disappointing! Like really really disappointing, so disappointing that they were all either unceremoniously thrown away after trying one slice or were fed to my friend's chickens.
So I had actually given up already. But then I found this sweet polenta cake recipe scribbled in my recipe notebook, something I wrote down quite a while ago under the name of malai dulce (sweet cornmeal).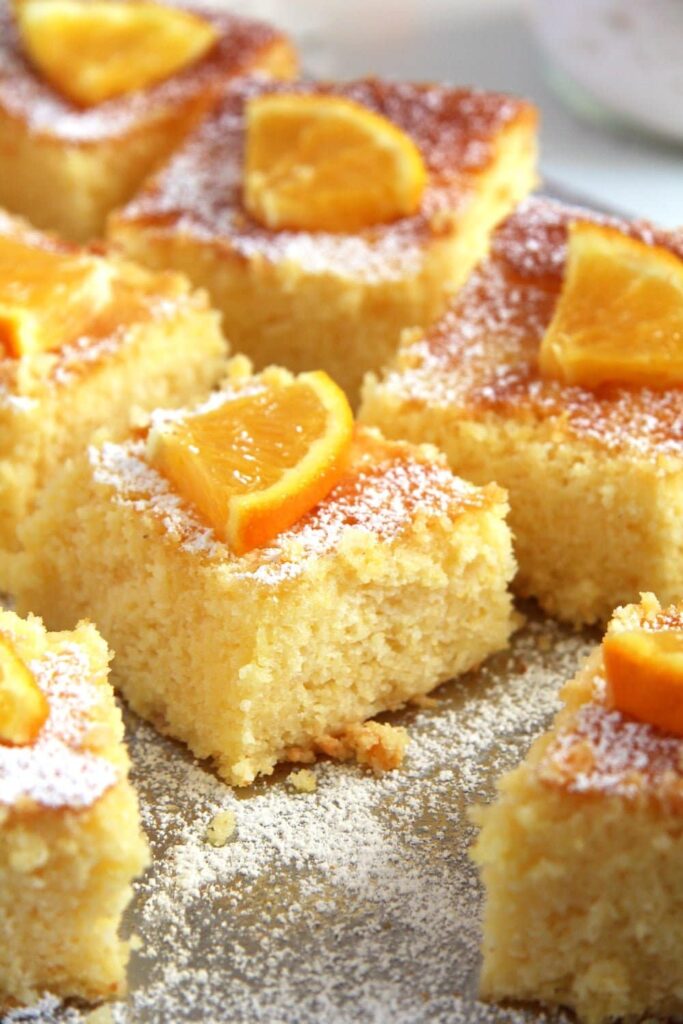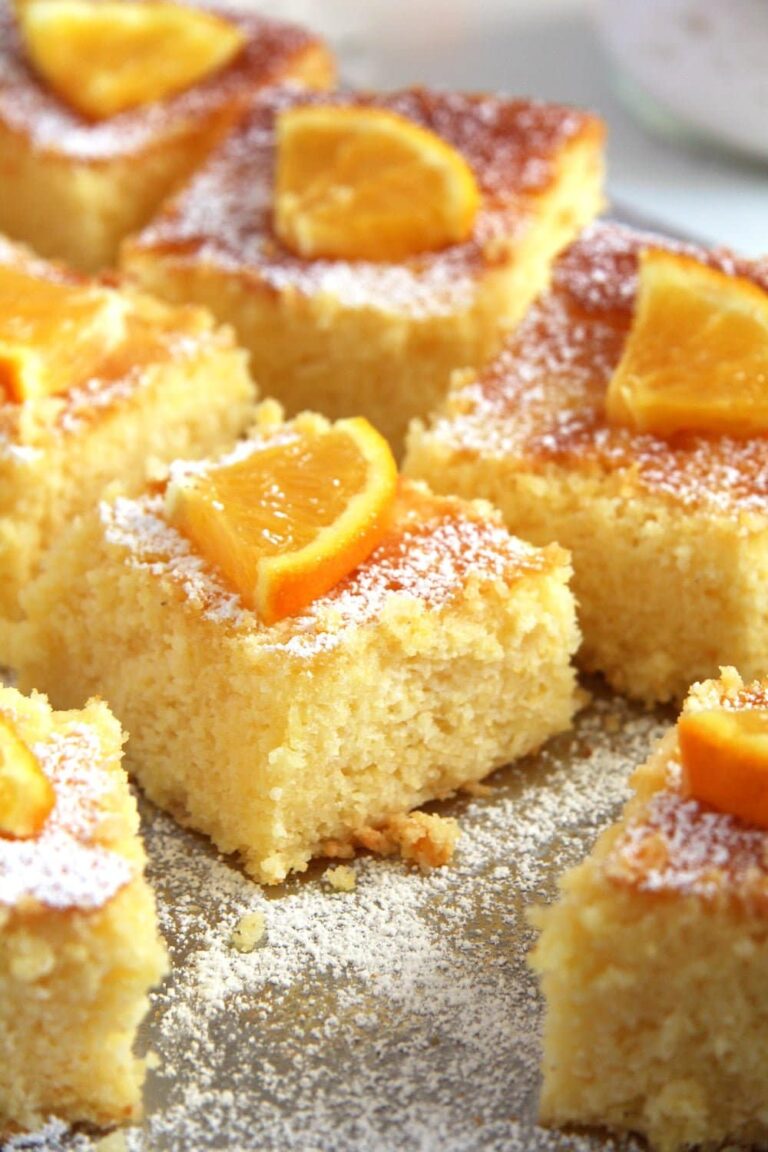 It seemed too simple, all the other recipes contained more exciting ingredients like fruits or dried fruits or whatever. This one was very plain in comparison. But then it was easy to make so I thought – one last try!
I feared the grittiness of the cake as I don't like biting on that half-cooked cornmeal, so I decided to take the recipe one step further and soak it with some leftover orange syrup I still had in the fridge after making my beloved Orange Tiramisu last weekend. And EUREKA!
I had found my sweet polenta cake at last! It was exactly the way it was supposed to be: soft – no trace of grittiness although the cornmeal was not cooked before, incredibly moist due to the syrup, tasting sweet and comforting, and of orange. So good! You really have to try it!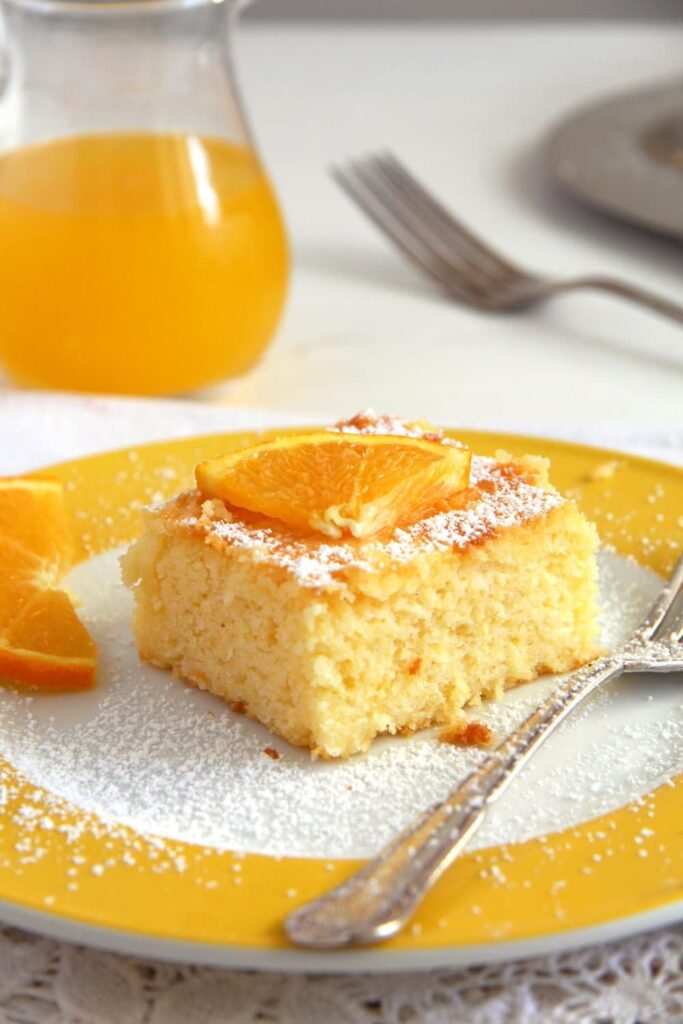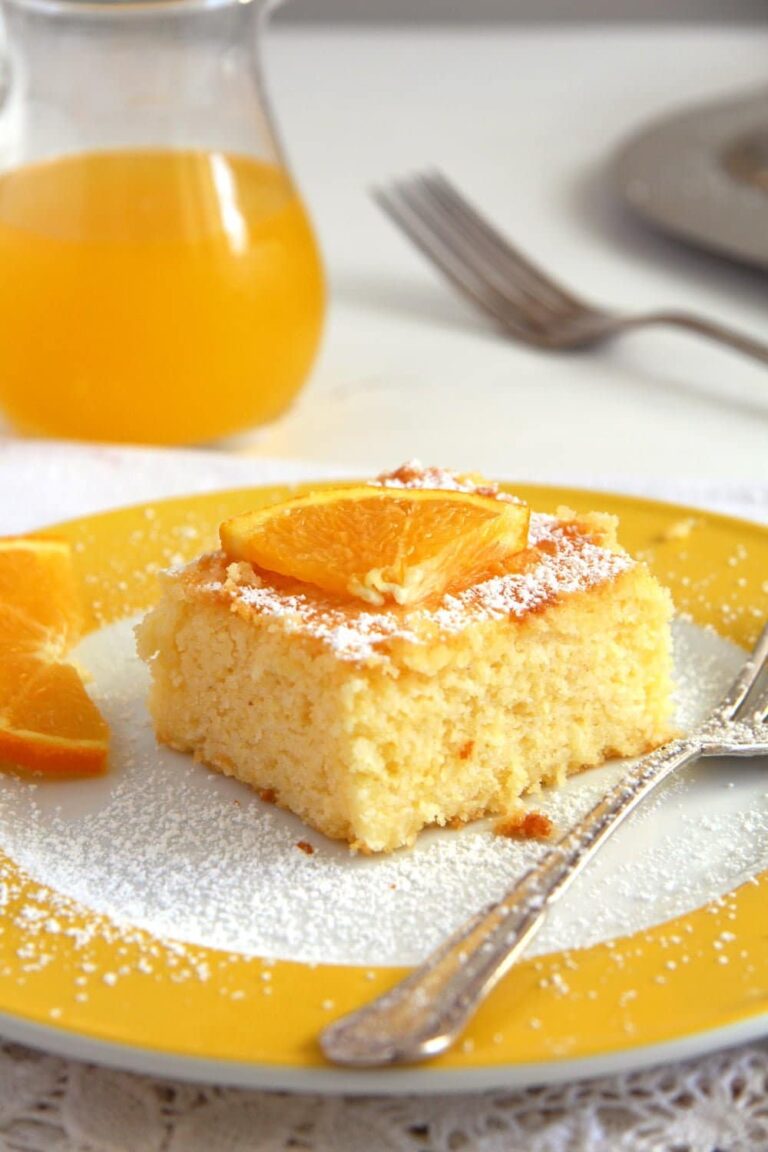 Tips to make sweet polenta cake
Cornmeal and semolina type:
I used medium cornmeal or polenta with short cooking time, the instructions on the package indicated 10 minutes of cooking time.
Choosing a cornmeal type that doesn't need to be cooked for a long time helps against that annoying grittiness you might otherwise experience.
For the same reason, I chose a fine/ soft semolina kind.
In Germany, there are two sorts of semolina: the coarse/hard one that I use for making dumplings for the soup and the fine/soft kind used for making semolina porridge or semolina desserts, for instance.
Orange peel:
The orange peel is optional, only use it if you like it.
I mention that because many people don't like it in anything, so you decide.
Syrup:
You might not need all the syrup to soak the cake, I used about ¾ of it about 75 ml/ 2.5 oz/ 1/3 cup.
Soak the cake with this amount first and only add more if necessary.
You might like to add a bit more around the edges, should they be drier than the rest of the polenta dessert.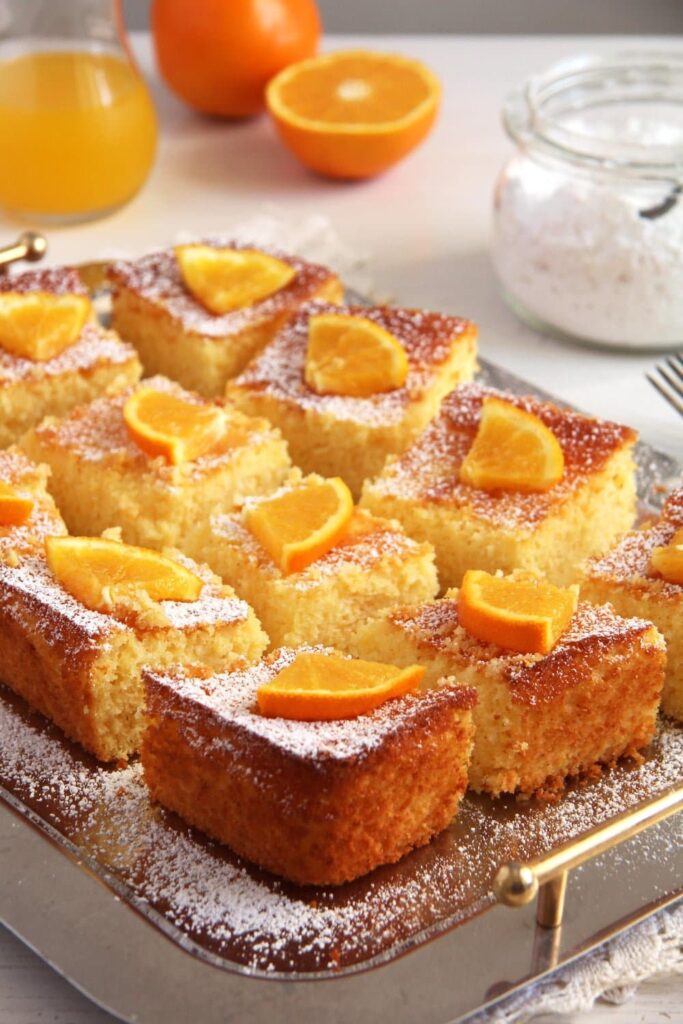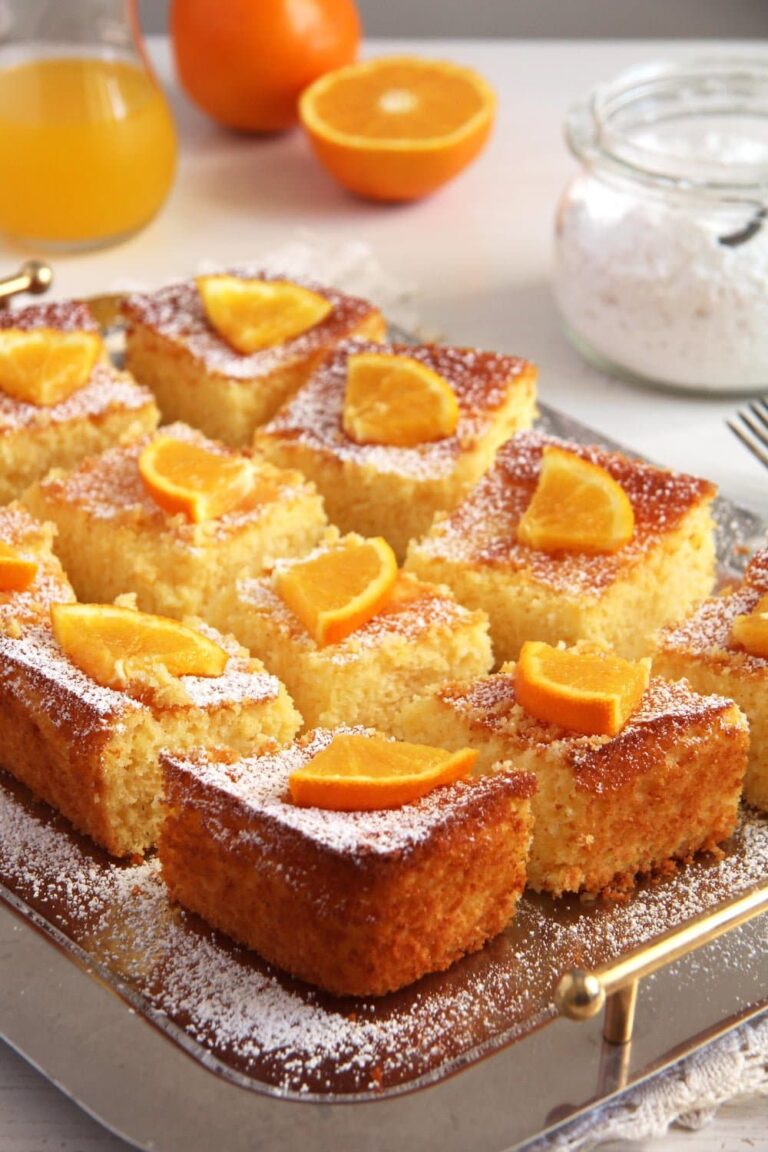 More Romanian malai (cornmeal) recipes?
How to Cook Basic Polenta or Mamaliga
Roasted Green Onions (Roasted Scallions) – Incredibly flavorsome roasted green onions or roasted scallions on a bed of creamy polenta with cheese and a drizzle of cream on top!
Polenta Chicken – A simple recipe for stewed chicken and polenta with garlic, a delicious polenta dish, full of comfort and flavor.
Romanian Polenta Souffle – Fluffy Romanian souffle served with a delicious garlic yogurt sauce.
Polenta Chips – Crispy, spicy, low-fat, gluten-free, and utterly delicious.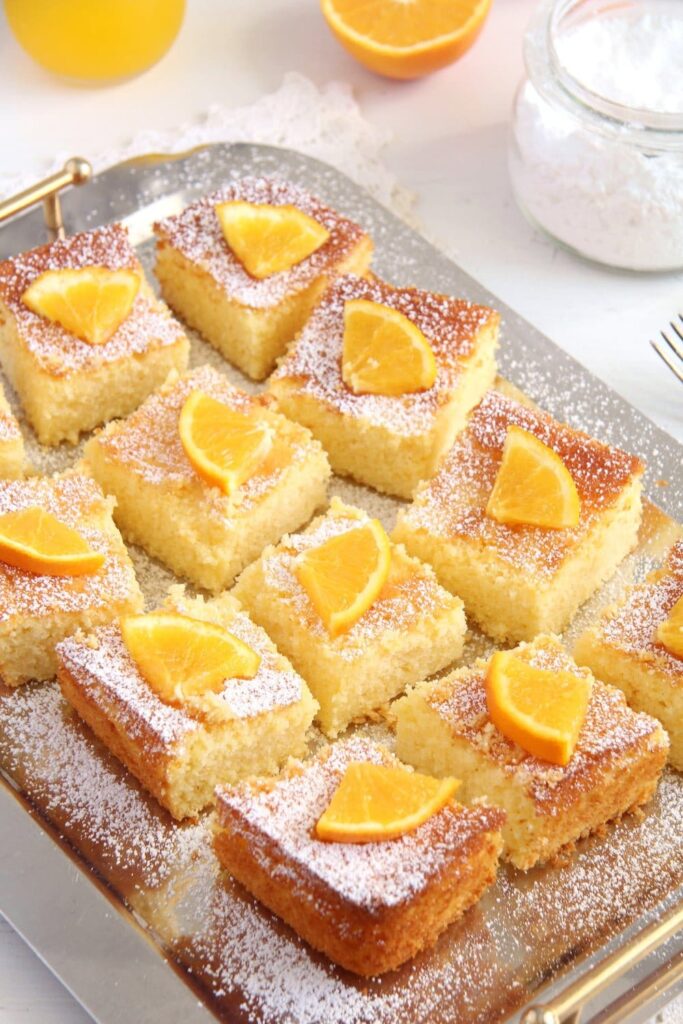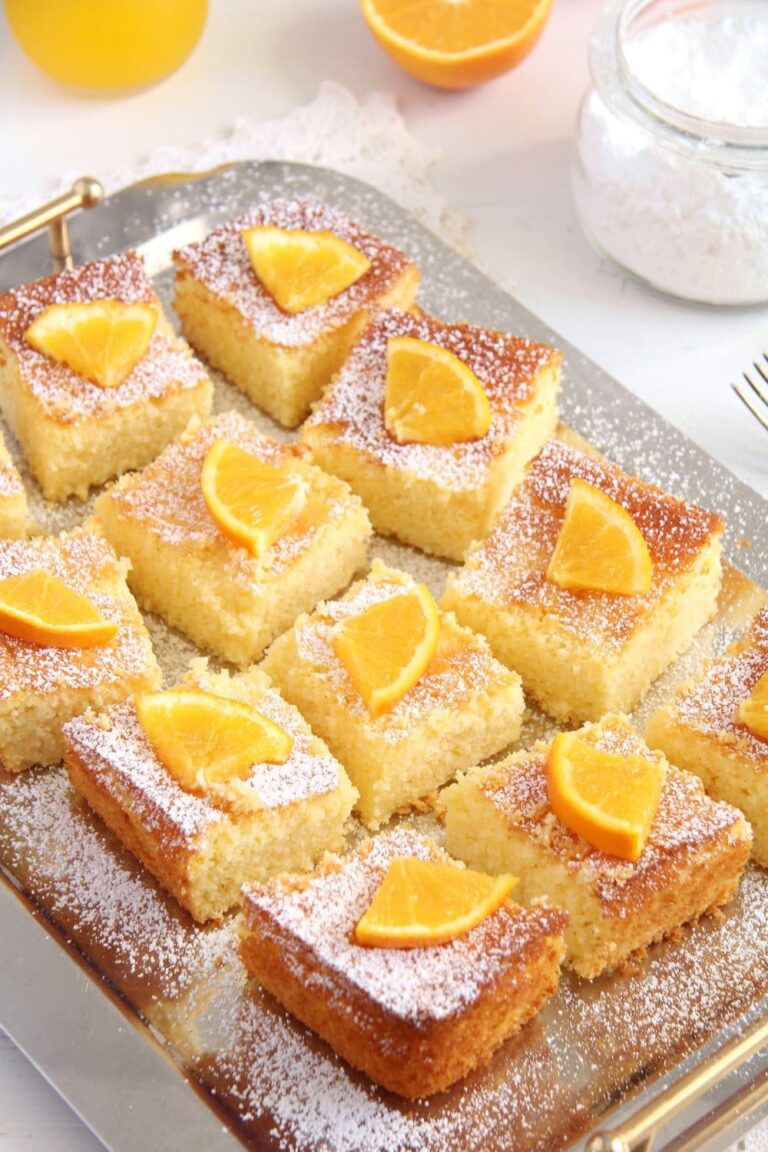 Pin it for later!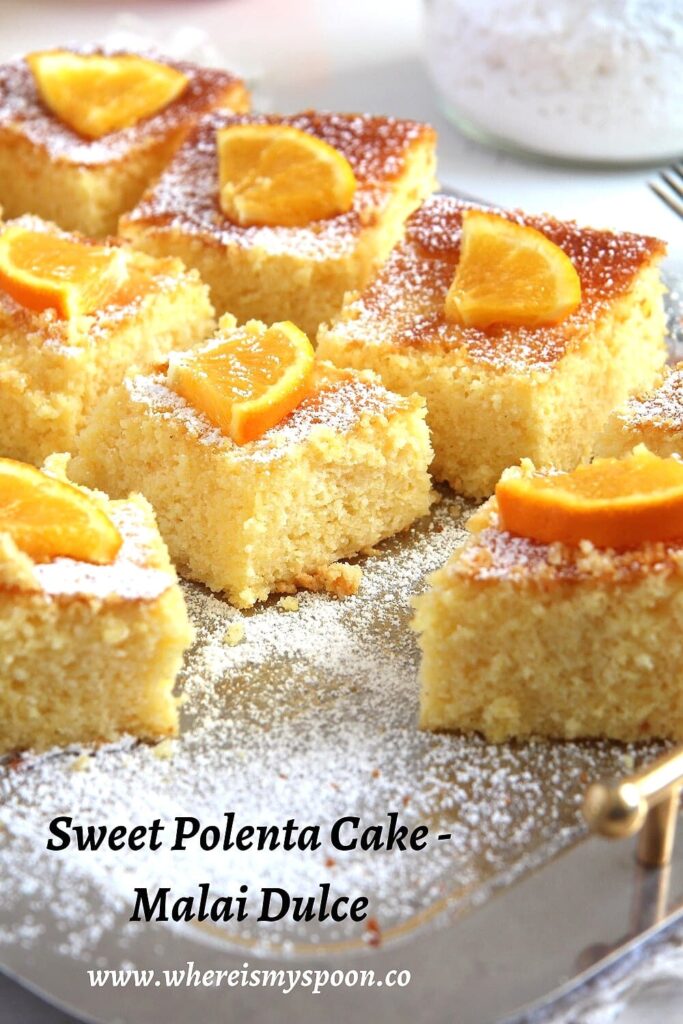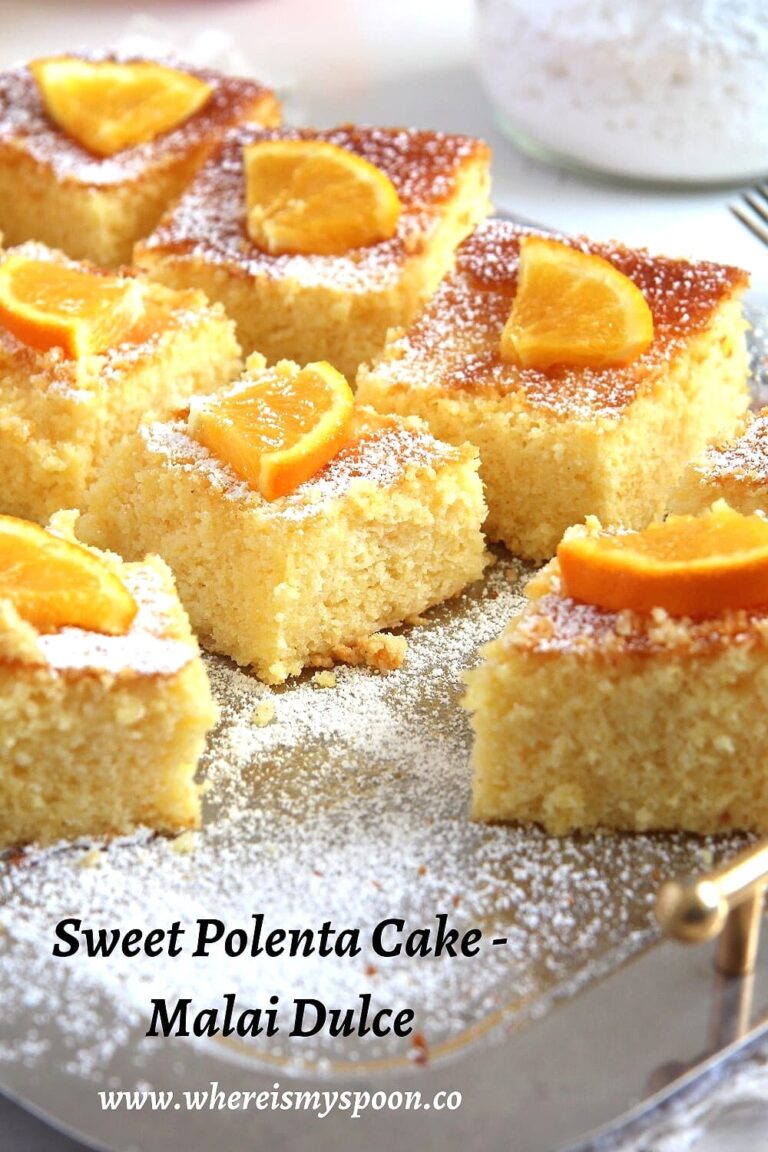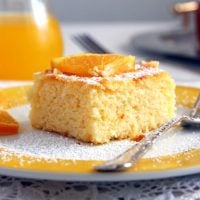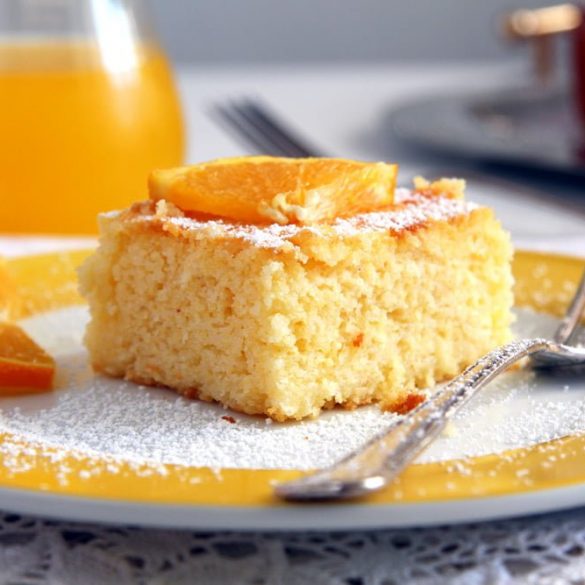 Orange Polenta Cake – Malai dulce
Romanian sweet polenta cake or malai dulce soaked with orange syrup: so soft, so moist, so delicious! Definitely the best polenta dessert I have ever had!
Print
Pin
Rate
Equipment
Casserole dish, 28x18 cm/ 11x7 inches
Ingredients
150

g

medium cornmeal/polenta

5.3 oz/ 1 cup, (Note 2)

50

g

fine soft semolina

1.8 oz/ ¼ cup

2

teaspoons

baking powder

1

tablespoon

grated orange peel

optional (Note 3)

3

eggs

125

g

granulated sugar

4.4 oz/ 2/3 cup

2

tablespoons

vanilla sugar or 1 teaspoon pure vanilla extract

450

g

Greek yogurt

1 lb/ 1 ¾ cup, divided

100

ml

vegetable oil

3.4 fl.oz/ scant ½ cup

50

ml

milk

1.7 fl.oz/ scant ¼ cup

icing sugar to dust

1

orange to decorate

optional

For the orange syrup:

the juice of 2-3 oranges

about 100 ml/ 3.4 fl.oz/ scant ½ cup juice

50

g

granulated sugar

1.7 oz/ ¼ cup

1

tablespoon

lemon juice
Instructions
Sweet polenta cake:
Preheat the oven to 180 degrees Celsius/ 350 degrees Fahrenheit. Butter a casserole dish, 28x18 cm/ 11x7 inches.

Mix the cornmeal, semolina, baking powder, and grated orange peel in a bowl. Set aside.

Separate the eggs. Beat the egg whites until stiff and set aside.

Mix wet ingredients: In a larger bowl, beat the egg yolks, sugar, vanilla sugar, or vanilla extract, and 50 g/ 1.7 oz/ scant ¼ cup of the yogurt until pale and thick. Add the vegetable oil in a slow stream while beating all the time. Add the rest of the yogurt and beat for about 1 minute. Add the milk and mix shortly.

Slowly add the cornmeal – semolina mixture mixing with a regular egg beater/whisk this time.

Fold in the egg whites carefully.

Bake: Pour the mixture into the prepared dish and bake for about 45 minutes or until the cake is golden and a skewer inserted in the middle of the cake comes out clean.
Orange syrup:
In the meantime, make the orange syrup.

Juice the oranges until you have about 100 ml/ ½ cup juice. Sieve the juice into a small pot, add the sugar and the lemon juice. When it starts to boil, remove it immediately, you should have a relatively thin syrup.

Prick cake: When baked, take the cake out of the oven and prick it all over with a toothpick.

Soak cake: Pour about ¾ of the syrup all over the cake and let the cake cool completely in the dish. I only needed about 75 ml/ 2.5 oz/ 1/3 cup to soak the cake. Tip: Measure this quantity first, use it and take more only if you find it necessary; you might like to add a bit more around the edges, should they be drier than the rest of the cake.

Cut cake: When cool, cut the cake into squares, remove carefully from the baking dish and sprinkle with icing sugar. Decorate with orange wedges if you wish.
Notes
Always use a

digital kitchen scale

in baking; it ensures the best results (Amazon affiliate link).

Look for a sort polenta with a short cooking time – mine needed only 10 minutes.
From an organic, unwaxed orange.
Nutrition
Serving:
1
square
|
Calories:
238
kcal
|
Carbohydrates:
32
g
|
Protein:
7
g
|
Fat:
10
g
|
Saturated Fat:
1
g
|
Polyunsaturated Fat:
8
g
|
Cholesterol:
49
mg
|
Sodium:
120
mg
|
Fiber:
1
g
|
Sugar:
18
g