Tender orange raisin bundt cake or Gugelhupf jeweled with candied orange peel, raisins, chocolate chips and almonds, an easy and quick cake for the weekend.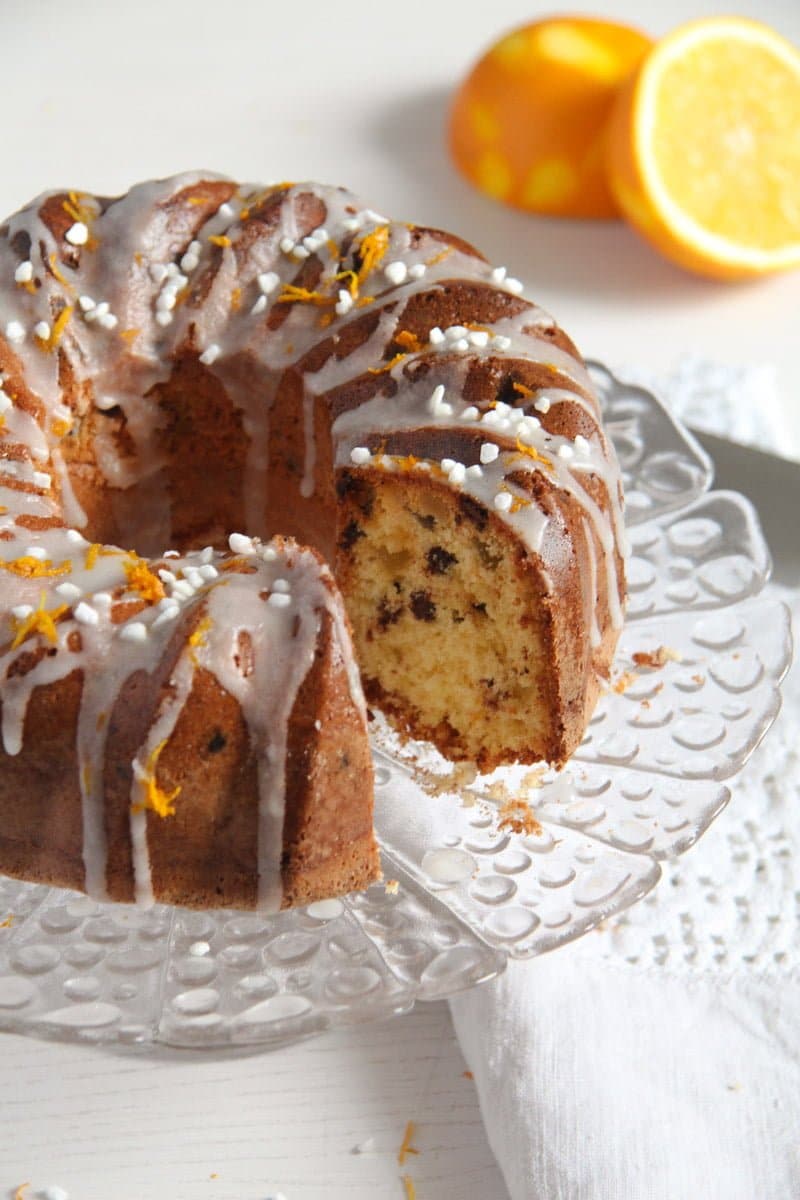 I love this orange raisin bundt cake. But who doesn't love a nice fluffy bundt cake? Well, I do like my cheesecakes and tortes, but I can never say no to a simple slice from a Gugelhupf or bundt cake, there are so much pleasure and comfort in that sweetness and softness.
And they are so versatile. Have a look at this other Orange Bundt Cake, also made with oranges yet still so different from today's orange raisin cake.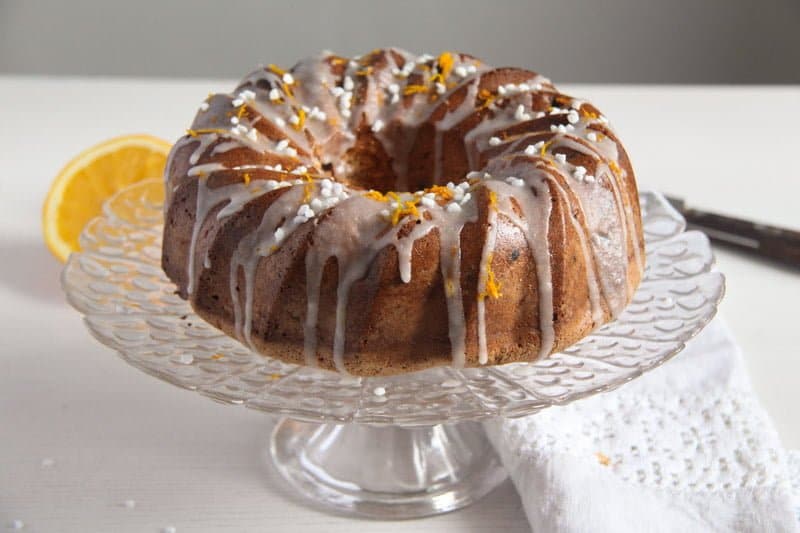 What is Bischofskuchen?
This is the so-called Bischofskuchen, a famous cake among the Transylvanian Saxons/Germans. You could probably find a version of it in just about any Saxon cookbook out there.
There are two main versions of the Bischofskuchen, one with and one without the egg yolks. The purely egg white version is also called Eiklarkuchen or Egg White Cake, but both cakes contain a mixture of candied orange or lemon peel and raisins. After that, the sky is the limit, so to say!
I've recently made both versions and I like them both. If I was to choose a personal favorite, I would go for today's whole egg version, but… you know what they say about the taste, it is really something very personal. Try both versions and decide for yourself.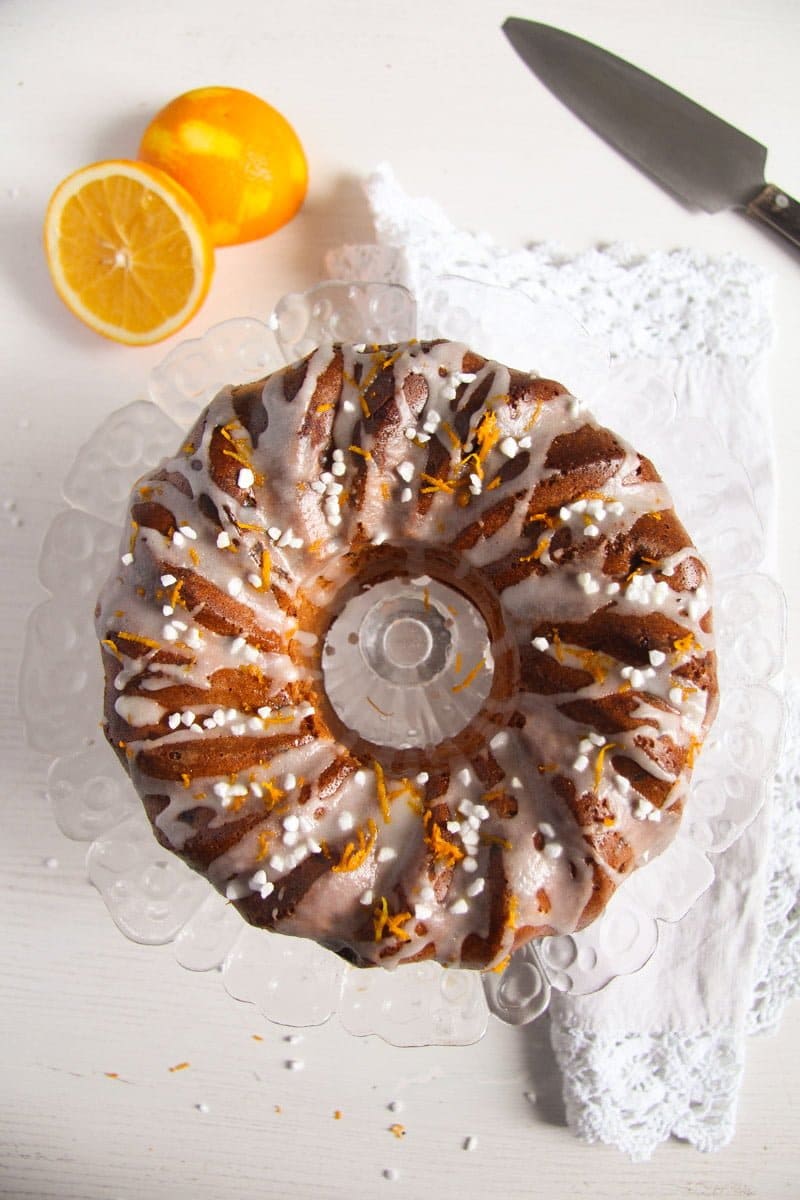 How to prepare a bundt pan for baking?
I often use a silicone baking mold (Amazon affiliate link), which requires no preparation at all. Pour the batter into the pan, bake, get it out of the pan in just about 3 seconds, everything perfect!
However, I have several traditional non-stick bundt pans in several sizes, which I use quite often as well. They are not that difficult to work with either but keep in mind that although they are called non-stick, if unprepared, everything will stick to them anyway. You will end up scraping the cake pieces out of it instead of having a nice looking, whole cake.
There is a simple method to avoid this kind of a mess.
Take some soft butter and use your hands to grease the pan including all the nooks and crannies. Make sure every inch of the pan is well greased. If the butter is very soft you could use a brush to grease the pan, but I prefer my hands.
After you have greased the pan, you have to coat it with flour.
Take about ¼ cup or so of flour, tip it into the pan. Start shaking and turning the pan to coat the insides, including all the nooks and crannies as well.
Do that over the kitchen sink, so that the flour will not get all over the working surface or floor.
When the pan is properly coated, flip it and start shaking and patting it on the bottom and sides to remove the excess flour. Again, do this over the kitchen sink, it is quicker to clean than the floor…
So, here you are, now you have a perfectly prepared bundt cake and you can start baking! 🙂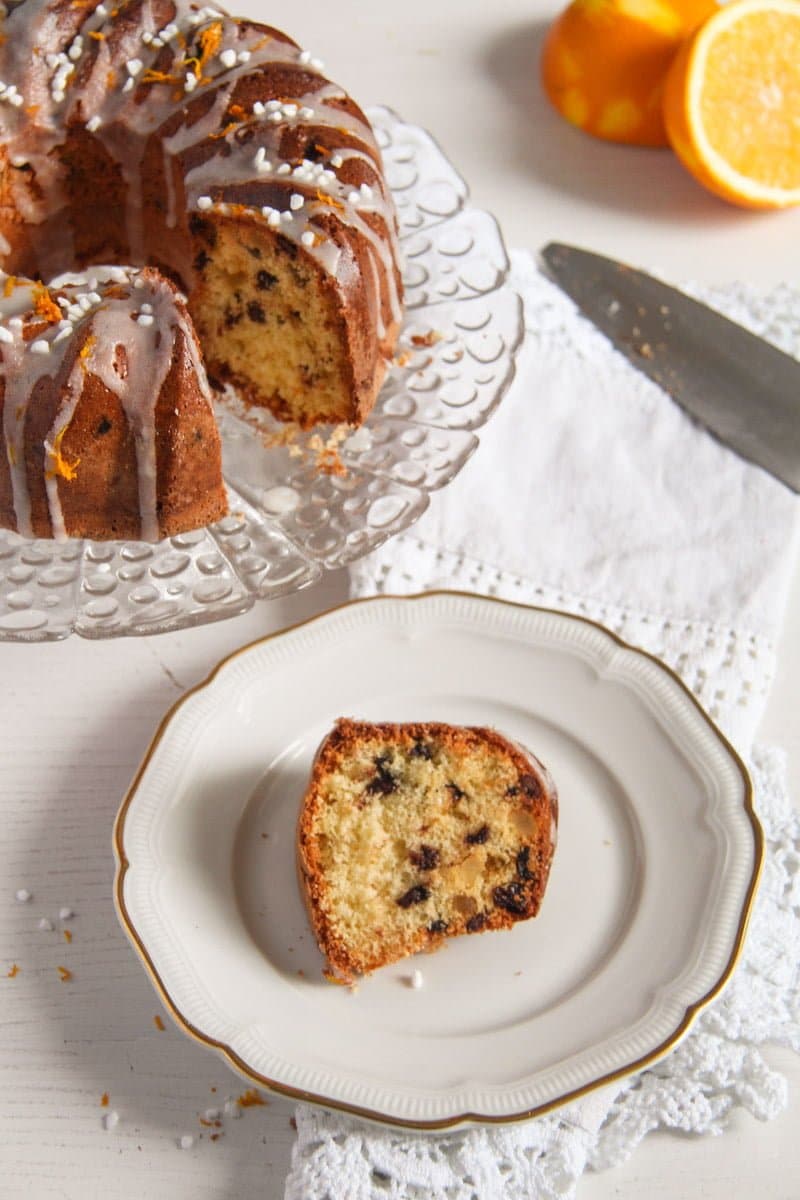 More bundt cakes:
Orange Raisin Bundt Cake
Tender orange raisin bundt cake or Gugelhupf with candied orange peel, raisins, chocolate chips, and almonds, an easy and quick cake for the weekend.
Print
Pin
Share
Grow
Saved!
Rate
Ingredients
4

eggs

150

g/ 5.3 oz/ 1 ½ cups icing sugar

1

organic orange

50

g/ 1.8 oz/ ¼ cup raisins

50

g/ 1.8 oz/ 1/3 cup chocolate chips

50

g/ 1.8 oz/ 2/3 cup chopped candied orange peel

50

g/ 1.8 oz/ 1/3 cup chopped almonds

160

g/ 5.6 oz/ 1 1/3 cups all-purpose flour

1

teaspoon

baking powder

For the glaze:

about 100 g/ 3.5 oz/ 1 cup icing sugar

about 2 tablespoons fresh orange juice

some grated orange zest

some decorating coarse sugar
Instructions
Cake:
Preheat the oven to 180 degrees Celsius/ 350 degrees Fahrenheit. Butter the bundt cake pan very well and sprinkle it with flour to coat it. Read above for detailed instructions.

Beat the eggs and the sugar until pale and fluffy.

Wash and dry the orange and grate the zest. Halve and juice the orange. Add about half of the orange zest and 2 tablespoons of the juice to the egg and sugar mixture. Stir well. Reserve the remaining orange zest and juice for the glaze.

Add the raisins, chocolate chips, chopped candied orange peel, and almonds to the batter and incorporate them with a spoon.

In another bowl mix together the flour and the baking powder. Gently fold the flour into the batter.

Pour the batter into the prepared bundt pan and bake in the preheated oven for about 1 hour or until golden brown and a skewer inserted in the middle comes out clean. Let the cake sit in the pan for about 5 to 10 minutes, then revert the cake on a wire rack. Let cool completely before glazing it.
Glaze:
Place the icing sugar into a small bowl. Add one tablespoon of the remaining orange juice to the sugar and stir well to form a paste. Add some more orange juice if necessary to get the nice thick yet runny consistency you need. If you find the glaze too runny, add a bit more sugar to make it thicker and so on.

Place the wire rack with the cake on a large plate or cake platter and carefully pour the glaze all over the cake. Immediately sprinkle it with some of the remaining orange zest and some decorating coarse sugar, if you wish.

When the glaze is dry and not dripping anymore, you can transfer the cake to a clean cake platter.

Nutrition
Serving:
1
slice
|
Calories:
234
kcal
|
Carbohydrates:
44
g
|
Protein:
5
g
|
Fat:
5
g
|
Saturated Fat:
1
g
|
Polyunsaturated Fat:
3
g
|
Cholesterol:
62
mg
|
Sodium:
87
mg
|
Fiber:
1
g
|
Sugar:
30
g