Tender orange bundt cake or orange Gugelhupf made with fresh orange juice and orange zest.
A very simple and quickly made orange bundt cake for times when you crave something sweet but don't have the time or the patience to be in the kitchen for a long time. Just squeeze some oranges, mix a few ingredients, and bake.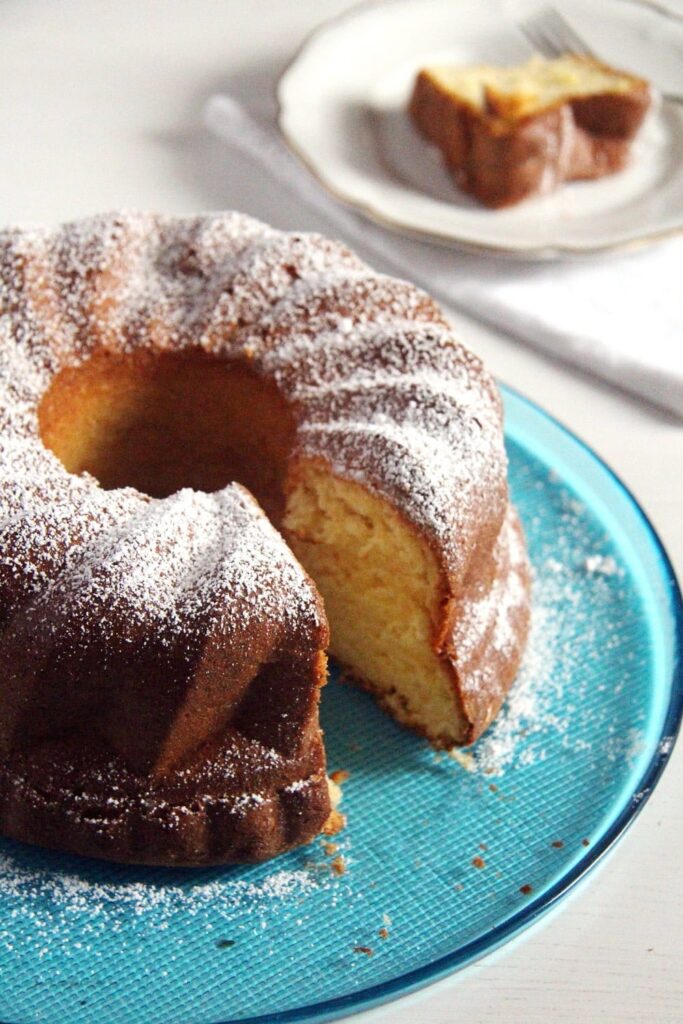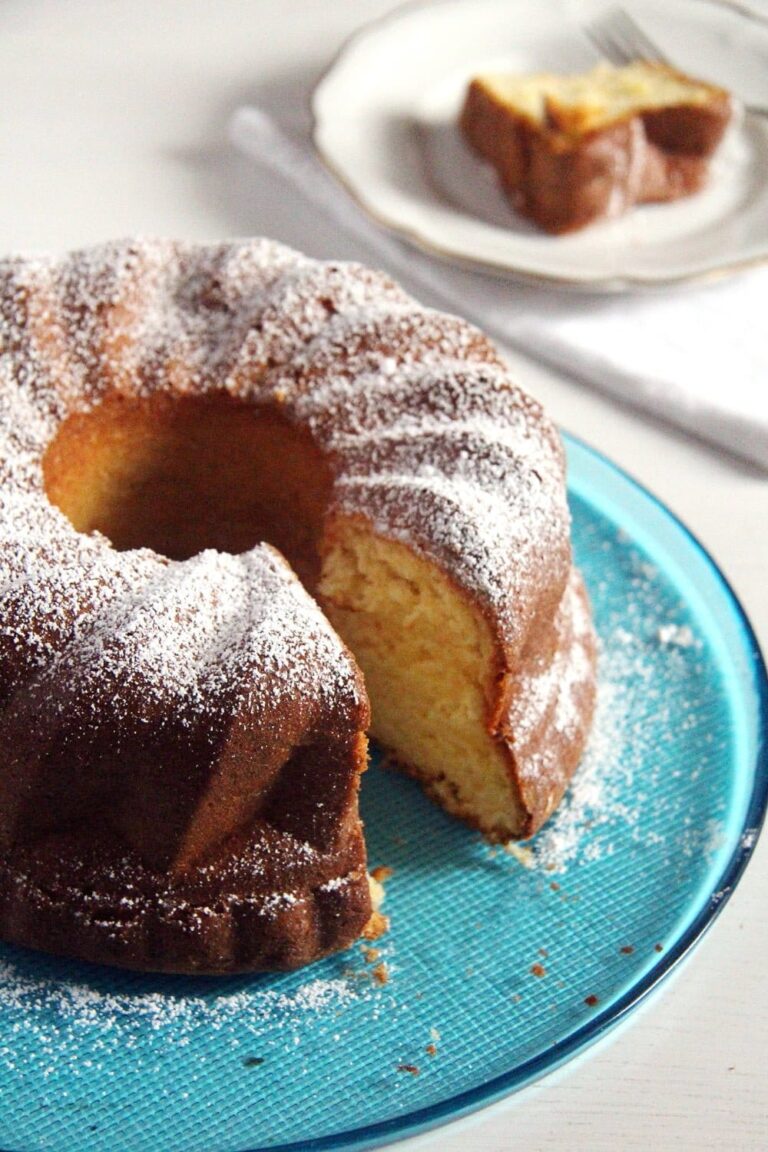 Moist orange cake from scratch
This Orange Bundt Cake is probably better than any cake mix you could ever buy and probably just as quick to stir together. I wouldn't really know about that because I have never even touched a mix box but I can imagine that you would still have to add some liquid to the mix and do some stirring.
So why put so many additives and chemicals in your and your child's body when you can have a much better product by just spending 5 or 10 minutes more in the kitchen. It's worth it! I love its fluffiness and softness and the taste is even better!
I've baked this recipe three times in a short period of time already and I loved it every time. Not to mention the kids, it is perfect for them: soft, moist, sweet and it can be eaten from the hand. They definitely like the layered desserts with fillings as well, but they are kind of messy to eat. A Gugelhupf is a so-called "clean" cake, which makes it very suitable for children's gatherings.
Otherwise the perfect recipe for a lazy Sunday afternoon. Stir it together and bake it in the morning, dust it with some icing sugar when cold, and enjoy it with your coffee in the afternoon.
You could even glaze it: mix some icing sugar with some orange juice to get a paste and pour over it. You can use the glaze I've made for this other orange bundt cake. It does make it sweeter but also enhances the orange taste.

Ingredients
Oranges:
I always buy fresh oranges. And because I use the zest as well, I try to buy organic oranges when possible.
Either organic or not, make sure you wash them with hot water and rub them dry before you zest them.
Baking powder:
There is a difference between the German and the American baking powder, the first being single-acting meaning that it is made of a mixture of heat-activated acid and baking soda.
The American version is a double-acting baking powder, meaning that it reacts both at room temperature to moisture and when heated. This double-acting quality makes the batter rise before it is baked and also in the oven.
So when baking with German baking powder one golden rule is to never let the batter lay around for too long, it is meant to go directly to the oven the minute you are finished with the stirring. Make sure the oven is preheated.
How to prepare a bundt cake for baking?
I usually bake this in a 26 cm/10-inch bundt cake mold made of silicone. That requires no preparation of the pan at all. Just pour the batter into it, bake, get it out of the pan in just about 3 seconds, that's it!
If all you have is a traditional form, no worries. That is not difficult to work with either, but keep in mind that although these pans are called non-stick, if you don't prepare them carefully, everything will stick to them anyway, and you can then scrape the pieces out of it instead of having a nice looking whole Gugelhupf.
There is a simple method to prepare the pan:
Butter it very thoroughly including all the nooks and crannies of the pan. Make sure every inch of the pan is well greased. If the butter is very very soft you could use a brush to grease the pan.
After you have greased it, coat it with flour.
Take about ¼ cup or so of flour, sprinkle it in the pan and start shaking and turning the bundt pan, so that the flour coats the insides of the pan, including all the nooks and crannies as well.
Do that over the kitchen sink, so that the flour will not get on the working surface or all over the floor.
When the pan is properly coated with flour, turn it around and start shaking and patting it gently on the bottom and on the sides to remove the excess flour. Again, do this over the kitchen sink, which is quicker to clean than the floor…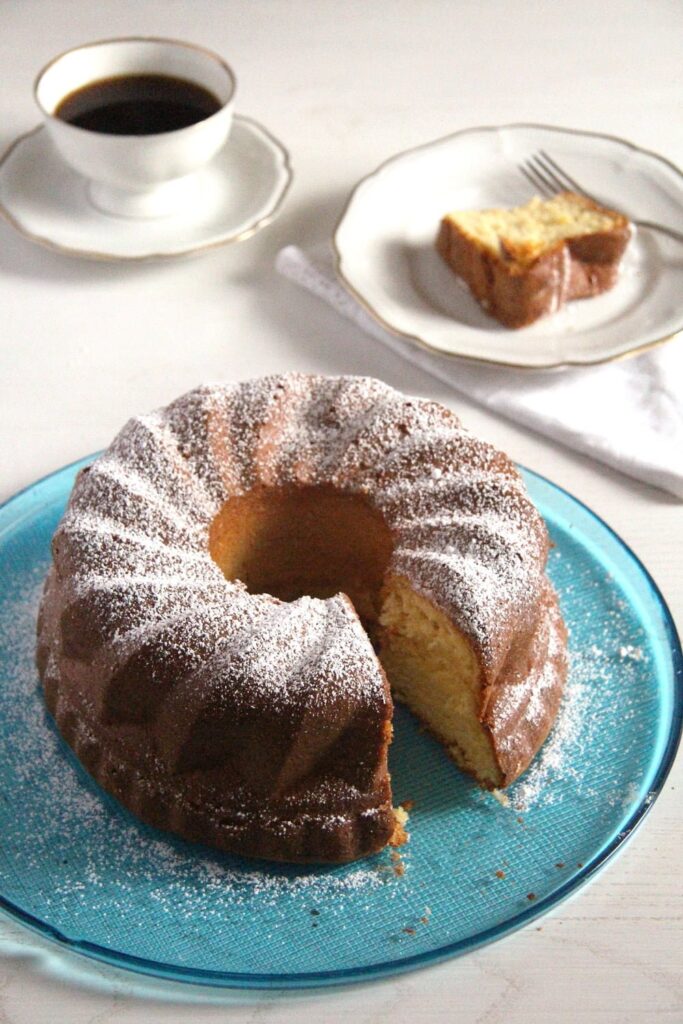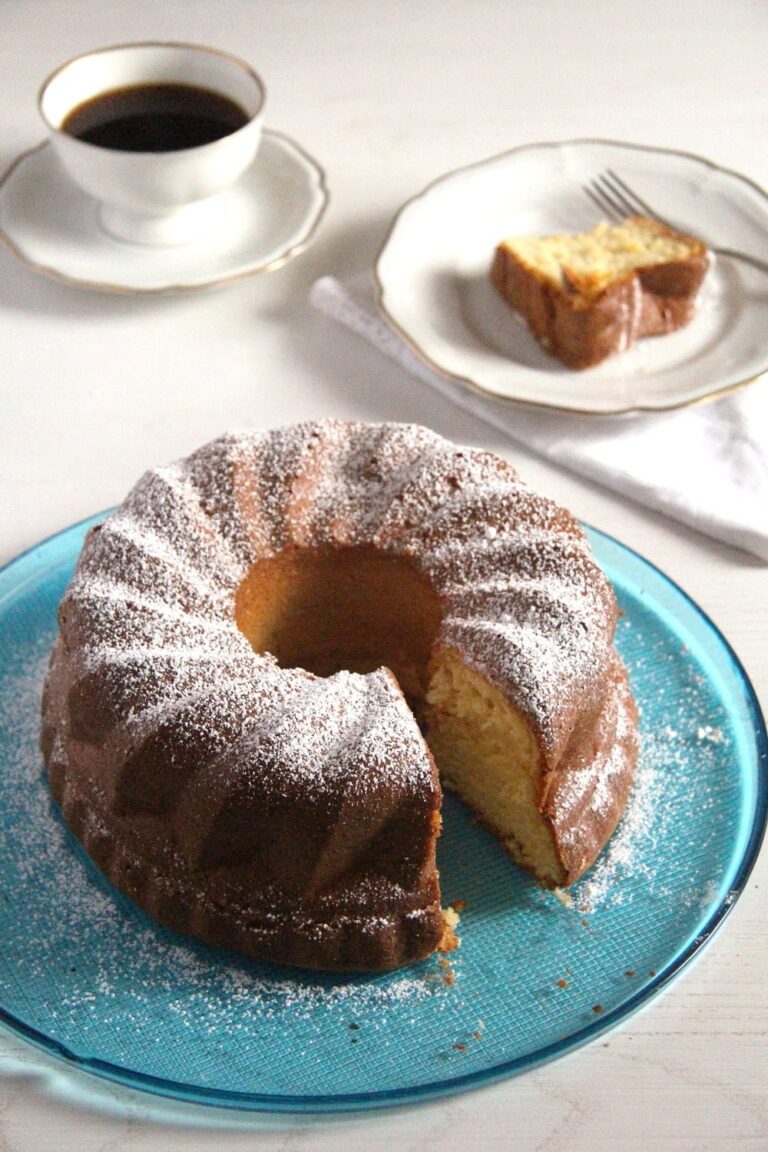 MORE BUNDT CAKES?
PIN IT FOR LATER!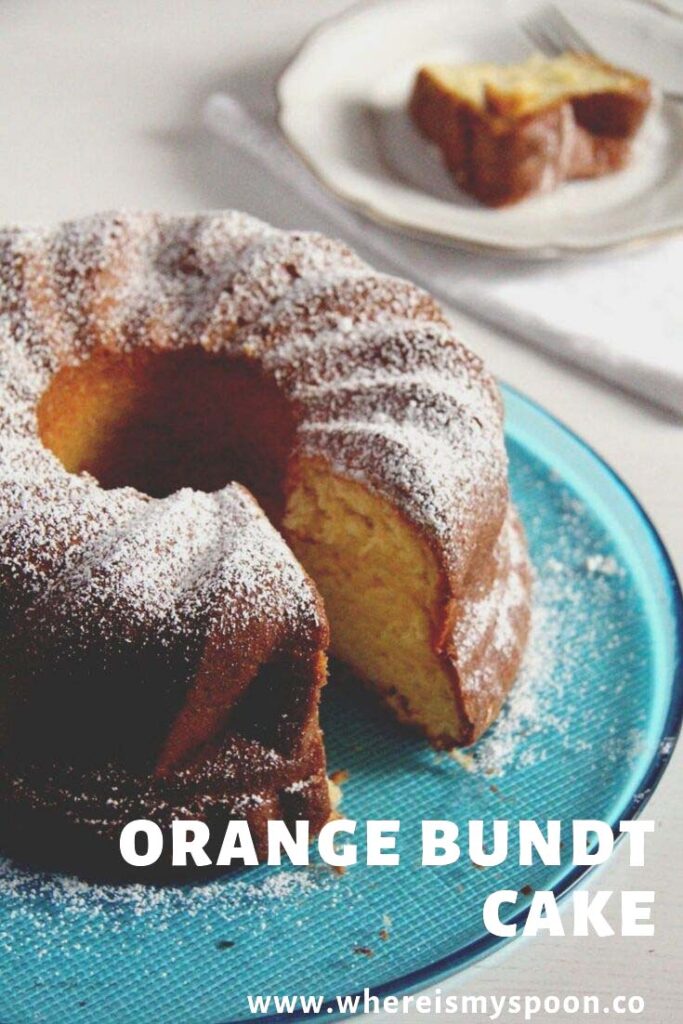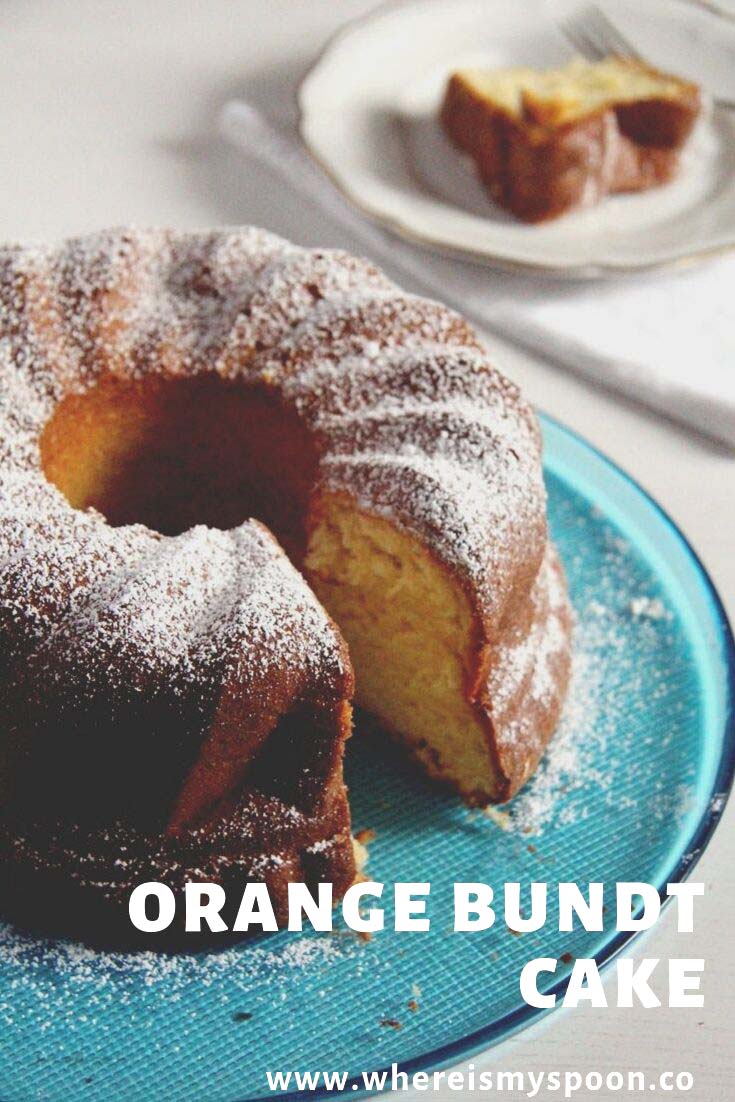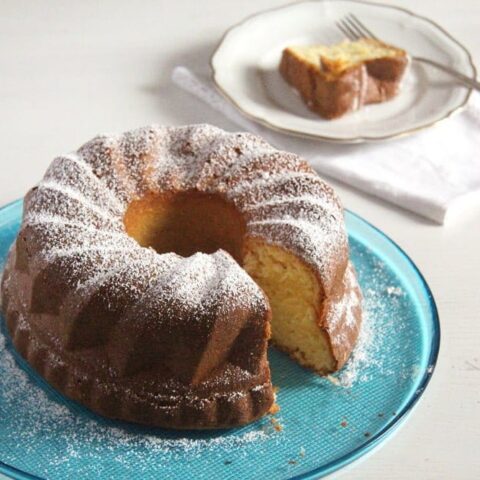 Moist Orange Bundt Cake
Tender orange bundt cake or orange Gugelhupf made with fresh orange juice and orange zest, a perfect Sunday cake, easy and quick to make.
Ingredients
4 eggs (medium Germany, large US)
200 g/ 1 cup/ 7 oz sugar
2 teaspoons vanilla sugar or 1 teaspoon pure vanilla extract
200 ml/ 3/4 cup + 2 tablespoons/ 6.7 fl.oz vegetable oil
200 ml/ 3/4 cup + 2 tablespoons/ 6.7 fl.oz freshly squeezed orange juice
2 teaspoons orange zest
300 g/ 2 ½ cups/ 10.6 oz all-purpose flour
3 teaspoons baking powder
icing sugar for dusting
Instructions
Preheat the oven to 180 degrees Celsius/ 360 degrees Fahrenheit. Butter and flour a Gugelhupf/bundt cake/ring form (24-26 cm/9.5 - 10-inch diameter). Read the blog post for more information on preparing a bundt cake pan.
Separate the eggs.
Beat the egg whites with an electric mixer until stiff.
Beat the egg yolks, sugar, and vanilla sugar or vanilla extract until pale and fluffy.
Slowly add the oil and continue beating until combined.
Add the orange juice and zest.
Mix and sieve the flour and baking powder over the egg mixture. Fold in carefully.
Add the egg whites and carefully fold in as well.
Pour the mixture into the prepared dish and bake for 45 minutes.
Make the skewer test: it should come clean out of the cake.
Let the cake in the pan for about 15 minutes, release it from the form by gently going around the edges with a small butter knife, and then turn it onto a plate.
Let the cake cool completely and dust with icing sugar or cover with some orange glaze just before serving.

Nutrition Information:
Yield:

14
Serving Size:

1 slice
Amount Per Serving:
Calories:

280
Total Fat:

15g
Saturated Fat:

1g
Trans Fat:

0g
Unsaturated Fat:

12g
Cholesterol:

53mg
Sodium:

126mg
Carbohydrates:

33g
Fiber:

1g
Sugar:

16g
Protein:

4g
Nutrition information isn't always accurate.