Last Updated on 26/06/2020 by Adina
Soft and sweet vegan cake made with carrots and coconut and topped with jam and more coconut.
One of my favorite cakes, one that I have already posted on this blog about 2 years ago already is the Carrot Coconut Cake with Lemon Frosting. I have been making it for years and actually not only that particular cake with carrots or coconut but many different ones. I really enjoy using carrots in baking, I like the flavor they give to the cake, the wonderful color but most of all that juicy, moist consistency, which is sometimes so tricky to achieve when making a simple cake without a filling.
So when I saw a recipe for a vegan carrot coconut cake for the fasting time of the year or for those occasions when we have guests who are eating vegan all the time, I knew I had to give it a try. I found this recipe in an old Romanian recipe magazine, but I've changed it quite a bit. I happened to have a last piece of fresh coconut in the house and I chose to use that in the cake instead of the desiccated one. I loved it, I find the flavor of fresh coconut to be more intense than that of dry one, so I am glad I had that fresh piece. However, that is not something I often have, so feel free to use the dry coconut instead. Unsweetened, of course.
Otherwise, there is really not much to say about making this vegan coconut carrot cake. It is so easy! You only have to stir a few ingredients and pour the batter into the pan. Your oven will do the rest of the work. It might be a cake you would enjoy baking with your children, I am sure they will love to grate the carrots, to mix the ingredients and to top the cake with jam and coconut. Not to mention how much they will enjoy eating this vegan carrot coconut cake! 🙂
Ingredients
175 g/ 6.2 oz carrots

75 g/ 2.6 oz fresh coconut (or desiccated unsweetened coconut)

150 g/ 5.3 oz/ ¾ cups granulated sugar

100 ml/ 3.3 fl.oz/ ½ cup minus 2 tablespoons vegetable oil

300 ml/ 10.1 f.oz/ 1 ¼ cups sparkling water

large pinch of cinnamon

350 g/ 12.3 oz/ 2 ½ cups all-purpose flour

1 sachet Dr. Oetker baking powder (15 g/ 0.5 oz)

4-5 tablespoons (preferably yellow/orange) jam of choice (apricots, peaches, pineapple)

35 g/ 6 tablespoons desiccated unsweetened coconut
Instructions
Preheat the oven to 180 degrees Celsius/ 360 degrees Fahrenheit. Line a baking tin 30x20 cm/ 12x8 inches approximately with baking paper.
Grate the carrots and the fresh coconut on the fine grater. Place in the mixing bowl of your kitchen machine (or a regular bowl). Add the sugar, oil, sparkling water and cinnamon and mix well for 3 or 4 minutes.
In another bowl mix the flour and the baking powder. Sift 1/3 of it on the batter and incorporate gently. Add the next two batches of sifted flour and incorporate gently as well. Pour the mixture into the prepared baking tin. Bake for about 25 minutes or until a skewer inserted in the middle of the cake comes out clean. Leave the cake to cool in the tin for about 15 minutes. Transfer to a wire rack and let cool completely.
In the meantime roast the shredded desiccated unsweetened coconut in a dry pan. Stay close and shake the pan very frequently, it will only take a few minutes. Roast the coconut until golden and fragrant. Immediately transfer to a plate and let cool.
When the cake is cold, spread the jam on top. Sprinkle evenly with the roasted coconut and cut into squares. The cake will keep airtight for at least 3 days.
This post contains affiliate links. The price you pay as a consumer does not change, but if you make a purchase we will receive a commission which helps support the blog.
Others you might like:
Carrot Coconut Cake with Lemon Frosting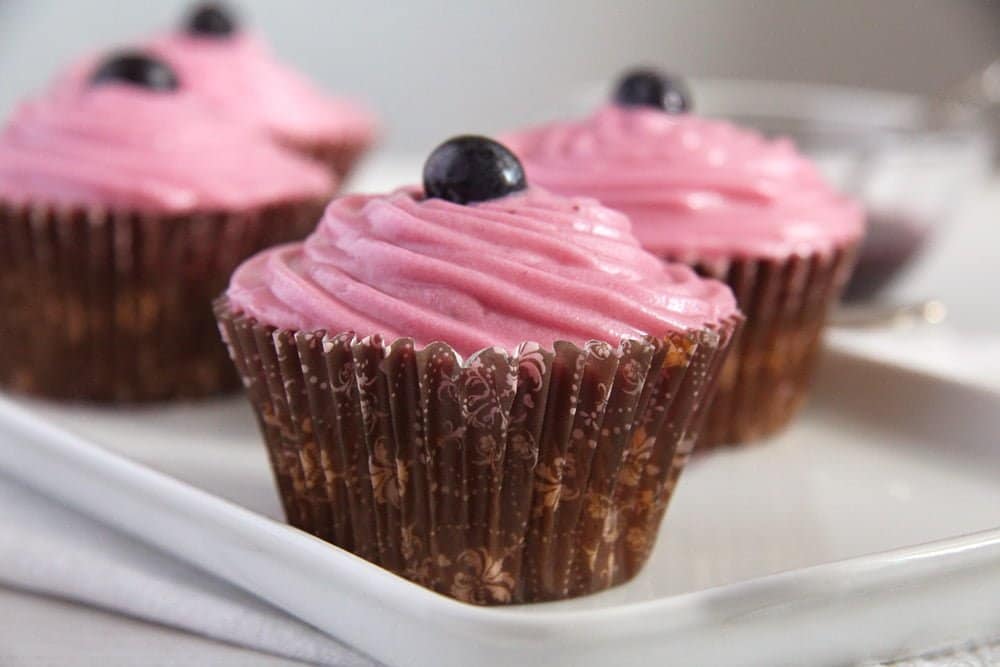 Carrot Cupcakes with Blueberry Frosting