How to make the easiest spelt bread (or whole wheat bread). A bread that you can mix in less than 5 minutes, place in the cold oven, and bake for one hour. No kneading and no rising involved.
This easy homemade spelt bread is absolutely amazing! I discovered this recipe about 10 years ago and I have been making it hundreds of times ever since.
It was while living in the UK, more than 10 years ago, that I have started baking this bread.
The problem was, that although I had only lived for 2 or 3 years in Germany before moving to London, I had already gotten used to the wonderful German bread, which is the best in the world, if you ask me.
And then I got to the UK and the bread was terrible. Supermarket bread was mostly white and packed in plastic, soft, and disgustingly sweet. Really good, artisan bread was expensive and not available in the area where we lived and nobody wants to regularly travel for one or two hours just to get some...
I was working full time and didn't have much time for baking, so finding the recipe for this no-rise, no-knead bread was life-changing!
And considering there are no-rising and no-kneading involved, this bread is still amazing. It has a good bite, it is crusty, it keeps well for several days and it tastes wonderful.
What is spelt?
Spelt is an ancient whole grain, its earliest recordings appear in the Bible. It is actually a type of wheat and it contains gluten.
Spelt is regaining popularity nowadays and it is sold as health food, mostly because it remains untainted by terms like "hybridization" and "genetically modified".
Spelt's nutritional profile is very similar to that of regular wheat, the differences are very subtle, so personally, I don't think there is much reason to consider spelt a lot healthier than wheat.
The healthy factor when it comes to this spelt bread is that it is wholemeal, free of sugar and of any artificial substances that are added to the supermarket products.
I like to use spelt when baking because I just love its nutty flavor and the sturdier consistency of the baked goods.
Spelt flour can be either wholemeal or white and it can replace wheat flour in almost any recipe, either bread, cake, pancakes and so on.
Ingredients
Flour:
You can use only wholemeal spelt flour, either store-bought flour or you can grind your own wheat berries.
And if you are not keen on spelt or you don't have it, you can use whole wheat flour, I have done it dozens and dozens of times.
You can mix spelt and wheat as well.
Sometimes I substitute a small amount of wholemeal flour with some white flour (about 100 g/ 3.5 oz/ ¾ cup + 1 tablespoon) – this makes the loaf a bit fluffier.
Sometimes I use a small amount of rye flour, that makes it even sturdier.
Really, you can be bold and experiment here, find your perfect combination of flours. My favourite would be the whole spelt mixed with a small amount of white spelt flour.
What kind of yeast to use?
Fresh yeast:
Usually I would use one cube of fresh yeast. Fresh yeast can be bought in any supermarket in Germany, is incredibly cheap (9 cents) and yields perfect results.
One cube of German fresh yeast weighs 42 g/ 1.5 oz.
Fresh yeast needs to be dissolved in lukewarm water before mixing it with the rest of the ingredients.
Dried yeast:
The bread pictured here is made with instant dry yeast.
If fresh yeast is not available (I remember that it never was in the UK) or it is too expensive (I have heard that the half amount of fresh yeast costs about 2 dollars in the US, which is crazy), you can always switch to active dry yeast or instant yeast, whichever you prefer.
If I use German dried yeast (which is instant), I use two small packs, each containing 7 g/ 0.24 oz. They don't have to be dissolved in water, you can mix the yeast with the flour directly.
If using active dry yeast, you will have to dissolve it into the water as well.
Seeds:
I use equal amounts of sunflower seeds, flaxseeds, and sesame seeds.
How to bake?
You can mix the ingredients in a matter of minutes, then bake it without letting it rise, you don't even have to preheat the oven. There is also no kneading involved either.
Take one bowl and place it on the scale (if using a scale, cup measuring works as well). Pour in the lukewarm water and crumble the fresh yeast into the water. Stir until dissolved.
Reset the scale. Add the flour, seeds, salt and vinegar.
Mix everything together with a tablespoon. The dough will be pretty wet and pourable, no way you could ever knead that mixture.
Butter a loaf tin and pour the dough inside. Level it with the spoon.
Place the tin in the cold oven. Set the oven to 200 degrees Celsius/ 400 degrees Fahrenheit. Set the time to 1 hour.
Done!
After one hour take it out of the oven and out of the tin.
How to check if the bread is done?
Tap it on the underside, it should sound hollow.
The bread should also have a deep golden brown color.
If the underside is too lightly colored, allow the bread (without the tin) 5 or 10 more minutes in the oven.
That is not always necessary, I used to do it in my old oven, but I never do it nowadays, apparently, my new oven is hotter. It really depends on your oven.
How to store?
The wholemeal spelt bread keeps well for several days at room temperature.
You don't have to wrap it or anything.
Once you cut a slice, you might want to cover only the cut side with a paper bag or clean kitchen towel to prevent it from getting dry.
You should definitely have a slice of this bread while still lukewarm with some salted butter, it is heavenly.
Otherwise, once cold, anything goes: jam, homemade bread spreads, any kind of cheese, meats.
What to serve it with?
Spreads:
Zacusca - Red Peppers Eggplant Spread
Sandwiches:
With soups: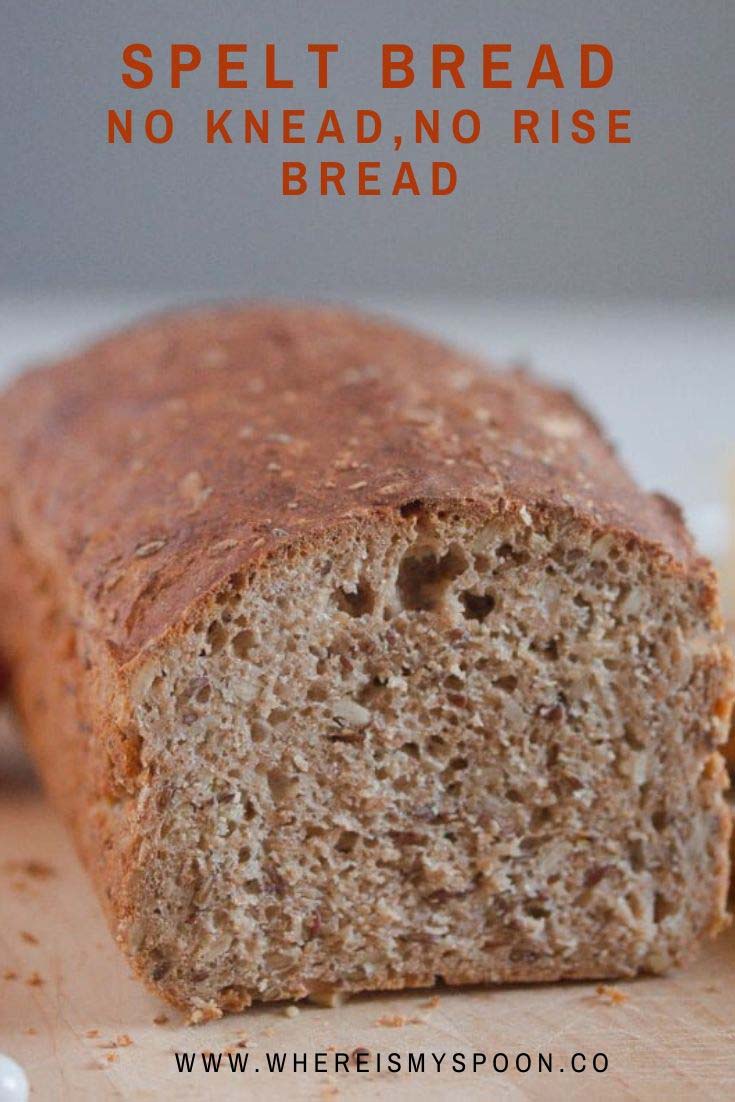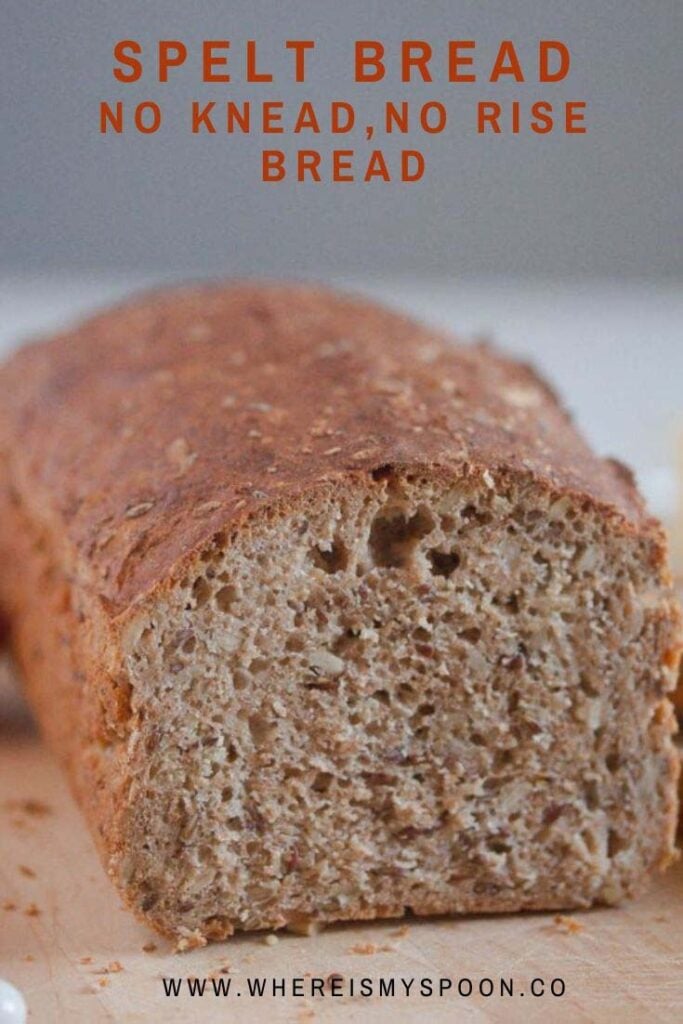 Spelt Bread – No-Rise, No-Knead Bread
How to make the easiest spelt bread (or whole wheat bread). A bread that you can mix in less than 5 minutes, place in the cold oven and bake for one hour. No kneading and no rising involved.
Print
Pin
Share
Grow
Saved!
Rate
Ingredients
500

ml/16.9 fl.oz/ 2 cups lukewarm water

42

g/1.5 oz fresh yeast or 4 ½ teaspoons dry yeast

See note 1

500

g/17.6 oz / 4 + ⅛ cups wholemeal spelt flour

See note 2

50

g/ 1.7 oz/ ⅓ cup sunflower seeds

50

g/ 1.7 oz/ ⅓ cup sesame seeds

50

g/ 1.7 oz/ ⅓ cup flax seeds

2

tablespoons

cider vinegar

1

tablespoon

fine sea salt
Instructions
Dissolve the fresh (or active dry) yeast in the lukewarm water. If using instant yeast, mix it with the flour.

Place your bowl on the digital scale. Weigh the rest of the ingredients directly into the bowl. Mix everything with a spoon. The dough will be pretty wet and runny, that is how it is supposed to be. You won't be able to knead it even if you wanted to.

Grease a loaf pan (circa 30 cm/ 12 inches long) with butter. Pour the dough inside, level it with the spoon.

Place the loaf pan in the COLD oven and set the temperature at 200 degrees Celsius/400 degrees Fahrenheit. Bake for 1 hour.

Remove the bread from the pan, check if it's ready by tapping it with your knuckles on the underside, it should sound hollow. The underside of the bread should be a deep golden brown. If the underside is too lightly colored, place the bread in the oven for another 5 to 10 minutes, directly on the rack, upside down and without the tin.

Take it out of the oven and let cool on a wire rack.
Notes
You can use instant yeast (to be mixed directly with the flour) or active dry yeast (to be dissolved in lukewarm water).
Whole wheat flour can be used instead.
Nutrition
Serving:
1
slice
|
Calories:
128
kcal
|
Carbohydrates:
20
g
|
Protein:
5
g
|
Fat:
4
g
|
Saturated Fat:
1
g
|
Polyunsaturated Fat:
3
g
|
Sodium:
472
mg
|
Fiber:
4
g
|
Sugar:
2
g