These Danish Smørrebrød or open faced sandwiches are probably the best sandwiches you will ever eat, easy to put together, yet impressive in appearance, so versatile and incredibly delicious.
What is sm
ø
rrebr
ø
d?
Basically bread with butter, smør meaning butter and brød bread in Danish. But it doesn't stop there, just a bread smeared with butter would be rather boring. I do love my buttered bread, but I do like to put something on top of it more.
And the things you can top your open faced Danish sandwich with… it really is a never-ending story.
So, the smørrebrød is a piece of thin and dark rye bread, buttered and garnished with an amazing array of delicious ingredients.
Smørrebrød are probably the best known food item when it comes to Danish food, for me at least, they are the first thing I think of when speaking about Danish food. There are, of course, the Havarti, Danablu or Esrom cheese, the pickled herring or the liver paté, but otherwise I cannot spontaneously think of many other Danish foods.
And that despite the fact that there is no other land I have visited more often than Denmark… One of my husband's best friends lives in Aarhus with his family and we have visited them countless times over the past 14 years. And yet, I have never eaten a smørrebrød in Denmark or any other traditional dish anyway.
But I have been making smørrebrød myself for the past 14 years very often. It was one of the first foods I have tried to make myself when starting to cook, I had discovered some smørrebrød recipes in an old German cookbook and because they are so easy to make, I did make them. And we loved them so much that they have become quite a regular breakfast or dinner in our house over the years.
And not only smørrebrød, we like quick bread meals like this Asparagus Soft Boiled Egg Toast with Parmesan and Capers  or these Roasted Tomatoes and Poached Eggs on Garlic Sourdough Toast.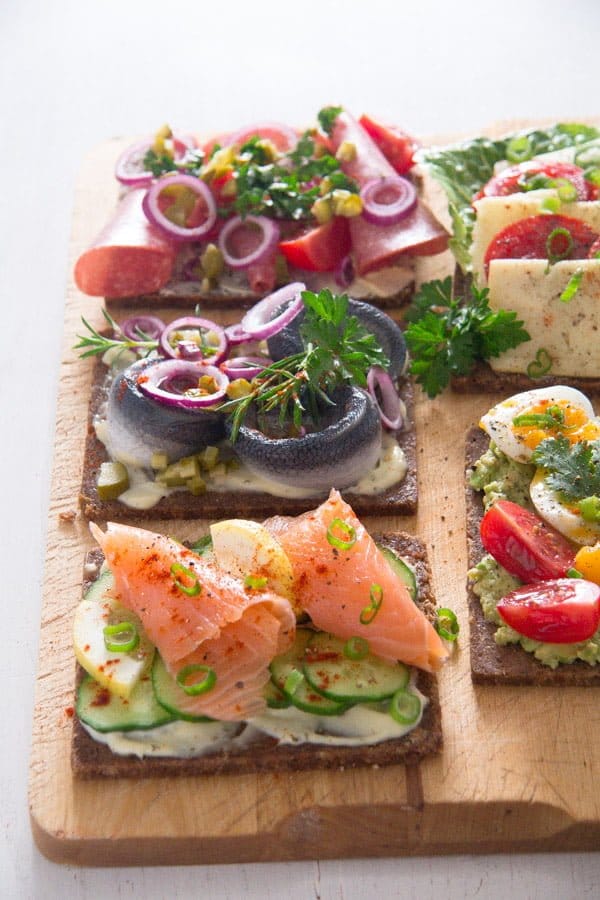 History of sm
ø
rrebr
ø
d
It seems that the story of the smørrebrød begins sometimes in the Middle Ages. Field workers would pack their lunch for the next working day already in the evening. The lunch consisted of leftovers from the previous meals, which would be piled on a so-called "trencher", which was a piece of stale bread.
The peasants would eat the topping and discard the trencher, but in time they discovered that the juices soaking the bread also made it taste better, so they began eating the trencher as well.
Then, during the 19th century, smørrebrød became a popular lunch among factory workers who were eating their lunch away from home. The idea was pretty much the same one, piling a bunch of leftovers on top of a slice of rye bread and thus creating a filling lunch that would keep them satisfied until the evening.
Rules of eating a sm
ø
rrebr
ø
d
Funnily enough there are rules regarding the proper way of eating smørrebrød. I mean, you would think it is just a sandwich, do I need someone telling me how to eat a sandwich? But the rules are not quite as unnecessary as it may seem.
First of all, you cannot eat a Danish open faced sandwich on the hand. There are just too many ingredients piled on top of the bread, so if you hold it in your hand and bite on it, half of the ingredients would land on the floor instead of landing in your mouth.
So first rule of eating a smørrebrød is: eat it using a fork and a knife.
Another important rule refers to the order of eating smørrebrød. If you have several Danish sandwiches in front of you, you cannot possibly start eating them at random. Start with the pickled herring, continue with other sorts of seafood, for instant salmon or shrimp.
Continue with the smørrebrød topped with meats and end with the cheese open faced sandwiches.
Some other rules refer to the way of topping the bread, start with the butter and thin toppings and add the bulkier toppings on top.
And also avoid mixing several proteins on the same slice of bread, ham and cheese, for instance, although a popular sandwich topping all over the world, are a no-go when it comes to smørrebrød. I might have made a ham and cheese smørrebrød at one point or another, but now I know better. 🙂
Open Faced Sandwiches – Smørrebrød – Danish Food
How to make sm
ø
rrebr
ø
d
Choose the right bread:
The bread used to make smørrebrød is the Danish rye bread – rugbrød. It is a sourdough whole grain rye bread, a very dense and dark bread, slightly sour and very filling. A very healthy bread as well, it is the kind of bread that Weight Watchers recommends eating when trying to lose weight, it will keep you satisfied for a much longer period of time than regular bread. 🙂
You will probably not find it easily outside Denmark, but there are very similar types of bread you can use instead.
The choice of the right bread for smørrebrød poses absolutely no difficulty in Germany, there is no land with more choice when it comes to bread than Germany, I suppose. The whole grain rye bread is to be found in any supermarket, in different variations: simple, with seeds, made with beet molasses or without, organic, large slices, small slices, made with other grains as well (spelt or wheat) and so on.
What you should NOT use is the soft sandwich bread, that is so common in the UK or US. I have had that while living in London and it is not only bah generally, but it is completely inappropriate for a smørrebrød. It is too soft and too sweet and nothing like the Danish whole grain rye bread.
If you live in the UK, I have definitely been able to buy German rye bread – the dark and dense slices – in most supermarkets, one that definitely comes to mind now is Lidl, I used to go to Lidl mainly for buying this kind of bread. Aldi should also have it, Aldi is a German supermarket as well.
Otherwise, you could replace this sort of bread with pumpernickel, as far as I know, pumpernickel is pretty well-known outside Germany as well, so it might be easier to find that.
And another thing about the bread, don't be tempted to make a regular two slices of bread smørrebrød. This sort of rye bread is not very pliable and it will break to pieces if you try to fit it over a smørrebrød and then try to take a bite.
You can make sandwiches with it, but only if you keep them simple: some butter or other spread, slices of cheese or cold meats, leaves of salad or thin slices of cucumber, for instance. No bulky ingredients. No smørrebrød anymore, but a perfect lunch for the office.
Choose the topping:
First of all: the butter. You should butter the rye bread generously, some say that you should be able to see the marks of your teeth in the butter when you bite into the bread. The butter is important as it will help slightly neutralize the sourness of the sourdough bread, making it milder and even more enjoyable.
The butter also prevents the bread of becoming soggy when you top it with slightly moister ingredients. It also helps the rest of the ingredients stick to the bread.
When choosing the topping for the smørrebrød stick to one protein per slice. Don't mix ham or salami with cheese or eggs and so on.
Match the sauces to fit the protein, for instance horseradish sauce or mayonnaise for salmon or mustard with roast beef.
Add some crunch: lettuce leaves, sliced or diced raw onions or radishes, gherkins or other pickled vegetables. Add fresh herbs on top.
Some sm
ø
rrebr
ø
d ideas:
Traditional pickled herring sm
ø
rrebr
ø
d:
I used some Danish remoulade instead of butter, but you can definitely leave that out and use butter. Add two or three small pickled herrings on top, some red onion rings, diced gherkins and some herbs. I used thyme, but I would have preferred to have some fresh dill. The dill I planted this year is non-existent, don't know where it went…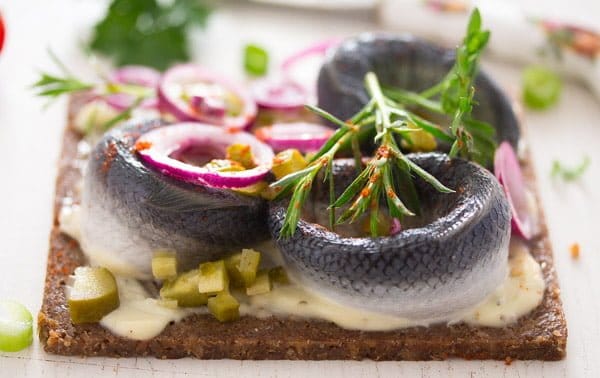 Smoked salmon and cucumber sm
ø
rrebr
ø
d:
A thin layer of mayonnaise topped with thinly sliced crunchy cucumber and a few slices smoked salmon. A few spring onion rings as well, cayenne pepper and a slice of lemon to sprinkle on top just before you serve the open faced sandwich. This smørrebrød variation was my husband's favorite.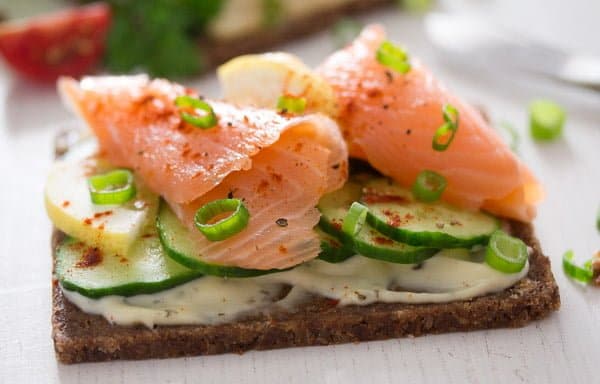 Salami sm
ø
rrebr
ø
d:
Thickly buttered rye bread topped with thin and rolled salami slices and cherry tomato wedges, garnished generously with fresh parsley, red onion rings and diced gherkins. My son's favorite combination.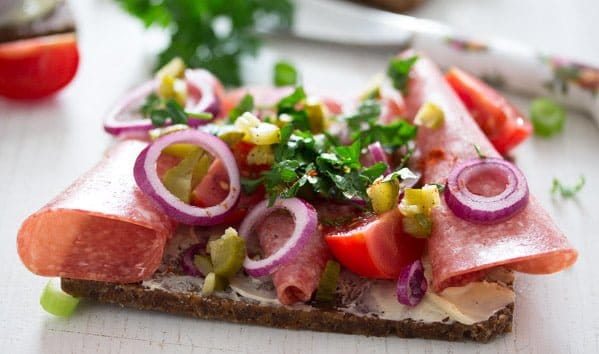 Avocado and egg sm
ø
rrebr
ø
d:
My favorite combination: mashed avocado topped with waxy boiled egg slices and garnished with fresh coriander or parsley leaves and some spring onion rings. A sprinkle of freshly ground smoked black pepper makes everything perfect.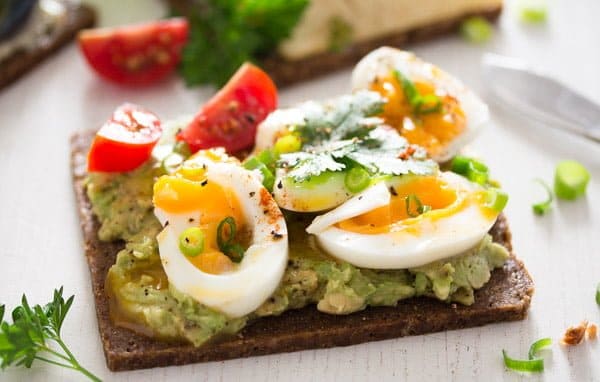 Havarti cheese and tomato sm
ø
rrebr
ø
d:
The simplest version of the smørrebrød and the one my daughter liked best, the kind of smørrebrød I make every day without even thinking of it as being a smørrebrød. Bread with butter, topped with Havarti cheese and tomato slices.
If you cannot find or don't like Havarti, you can use any kind of sliced cheese you like instead: Gouda, Cheddar, Esrom, whatever really. Some lettuce and some crunchy spring onion rings elevate this regular cheese sandwich, making it something more special.
I hope I can inspire you to make some Danish open faced sandwiches or smørrebrød to enjoy while watching a football/soccer game during this World Cup. And as I forgot to mention it before in this post, I am in the middle of a series featuring food from some of the countries taking part in the FIFA World Cup. Just to make things more interesting for me, while my husband watches the games. 🙂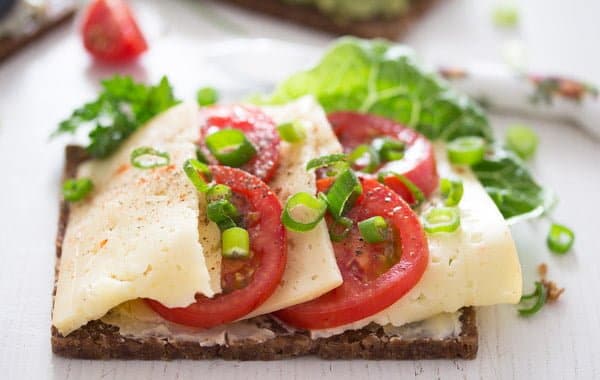 Ingredients
Traditional pickled herring smørrebrød:
1 slice rye bread or pumpernickel (See note)
2 teaspoons Danish remoulade (or butter)
2-3 pickled herrings, depending on size
a few red onion rings
1-2 small gherkins
fresh dill or thyme
a sprinkle of cayenne pepper or paprika, optional
Smoked salmon and cucumber smørrebrød:
1 slice rye bread or pumpernickel (See note)
1-2 teaspoons mayonnaise
2 slices smoked salmon
8 thin slices cucumber
1 slice lemon
some spring onion rings
a sprinkle of cayenne pepper, optional
Salami smørrebrød:
1 slice rye bread or pumpernickel (See note)
1 teaspoon butter
3 thin salami slices
1 small tomato
1-2 small gherkins
a few red onion rings
fresh parsley
a sprinkle of cayenne pepper, optional
Avocado and egg smørrebrød:
1 slice rye bread or pumpernickel (See note)
1 egg
½ avocado (or a very small whole one)
1-2 teaspoons fresh lemon juice
salt
some spring onion rings
2-3 tomato wedges
fresh coriander or parsley leaves
freshly ground black pepper, smoked would be great if you have it
Havarti cheese and tomato smørrebrød:
1 slice rye bread or pumpernickel (See note)
1 teaspoon butter
1-2 lettuce leaves
3 slices Havarti (or another sliced cheese you like)
1 small tomato
some spring onion rings
cayenne pepper
salt and freshly ground black pepper
Instructions
Traditional pickled herring smørrebrød:
Spread the Danish remoulade or the butter on the slice of bread. Arrange the pickled herrings, onion rings, diced gherkins on top. Garnish with fresh dill or thyme and sprinkle with a little cayenne pepper or paprika, if desired.
Smoked salmon and cucumber smørrebrød:
Spread the mayonnaise on the bread. Arrange the thinly cut cucumber and the smoked salmon slices on top. Add the lemon slice, garnish with spring onion rings and some cayenne pepper, if desired.
Salami smørrebrød:
Butter the bread. Arrange the salami, tomato wedges, red onion rings and diced gherkins on top. Sprinkle with fresh chopped parsley and a dash of cayenne pepper.
Avocado and egg smørrebrød:
Bring a small pot of water to a boil. Add the egg and cook it for 6 minutes. Immediately transfer the cooked egg to a bowl full of ice water.
Mash the avocado in a small bowl. Add some lemon juice, salt and pepper to taste.
Spread the avocado mash on the slice of rye bread. Peel and slice the egg directly over the bread. It is a bit messy, but this way no precious runny yolk will get lost. Sprinkle with spring onion rings, freshly ground smoked pepper (or regular pepper), coriander or parsley leaves. Add two or three wedges tomato.
Havarti cheese and tomato smørrebrød:
Butter the bread generously. Add the lettuce leaves, cheese slices and tomato slices. Salt and pepper the tomato slices. Sprinkle with spring onion rings and some cayenne pepper.
Notes
Choose dense whole grain rye bread. If you cannot find it use pumpernickel instead. Do not use regular soft sandwich bread.