Try our delicious smoked salmon sandwich recipe. Packed with flavors, it's a mouthwatering treat perfect for brunch, light lunch, or dinner.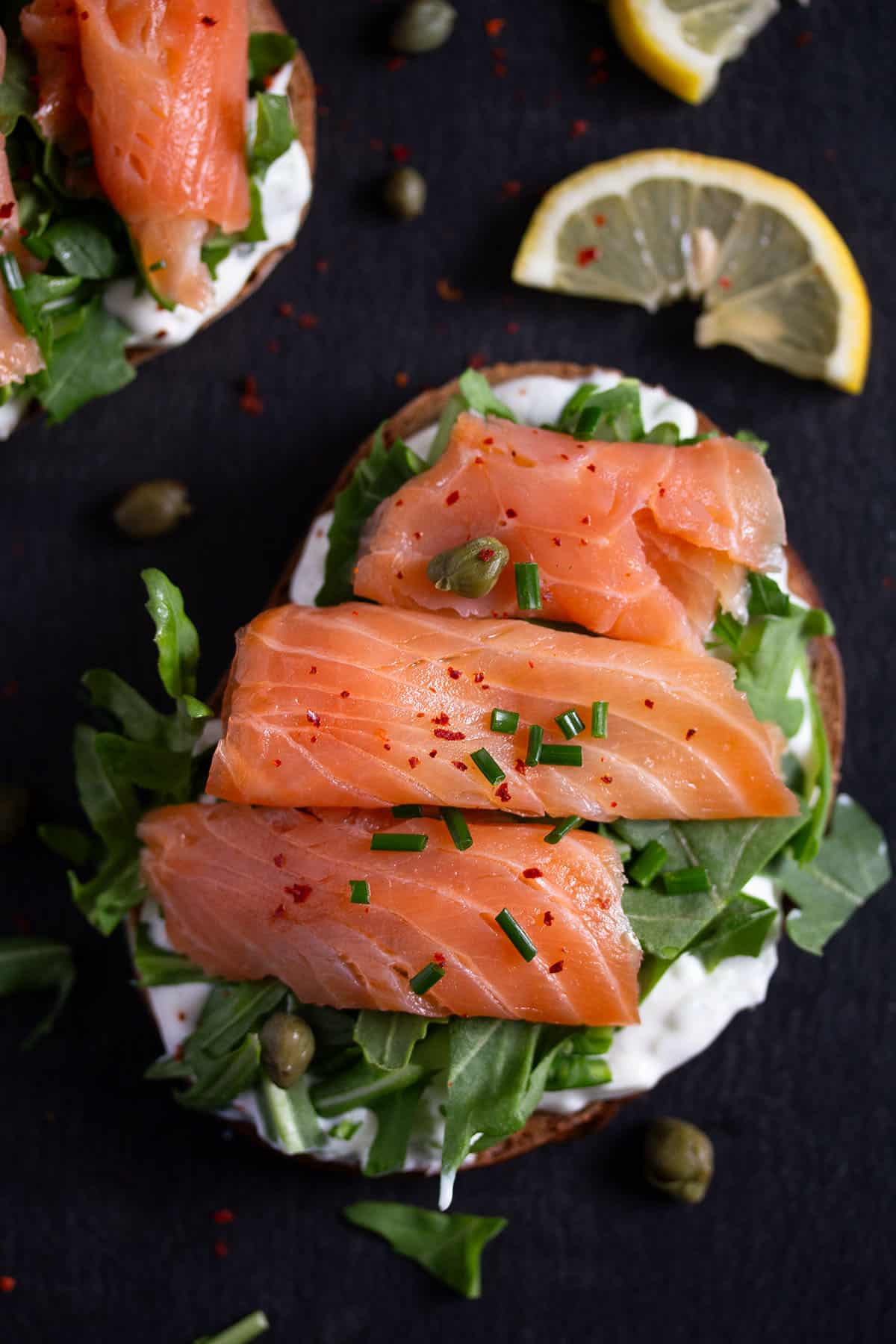 This smoked salmon sandwich is one of my favorite sandwiches. The delicate smoked salmon pairs perfectly with creamy cream cheese, and the peppery kick of arugula adds a fresh twist.
Don't forget the zesty capers that provide a tangy pop. This sandwich is a savory sensation, ideal for brunch or an easy lunch.
Check out more delicious sandwiches: Japanese Tonkatsu Sandwich, Polish Zapiekanka, Cottage Cheese Toasts, or Asparagus and Egg Toast.
Jump to recipe
Recipe ingredients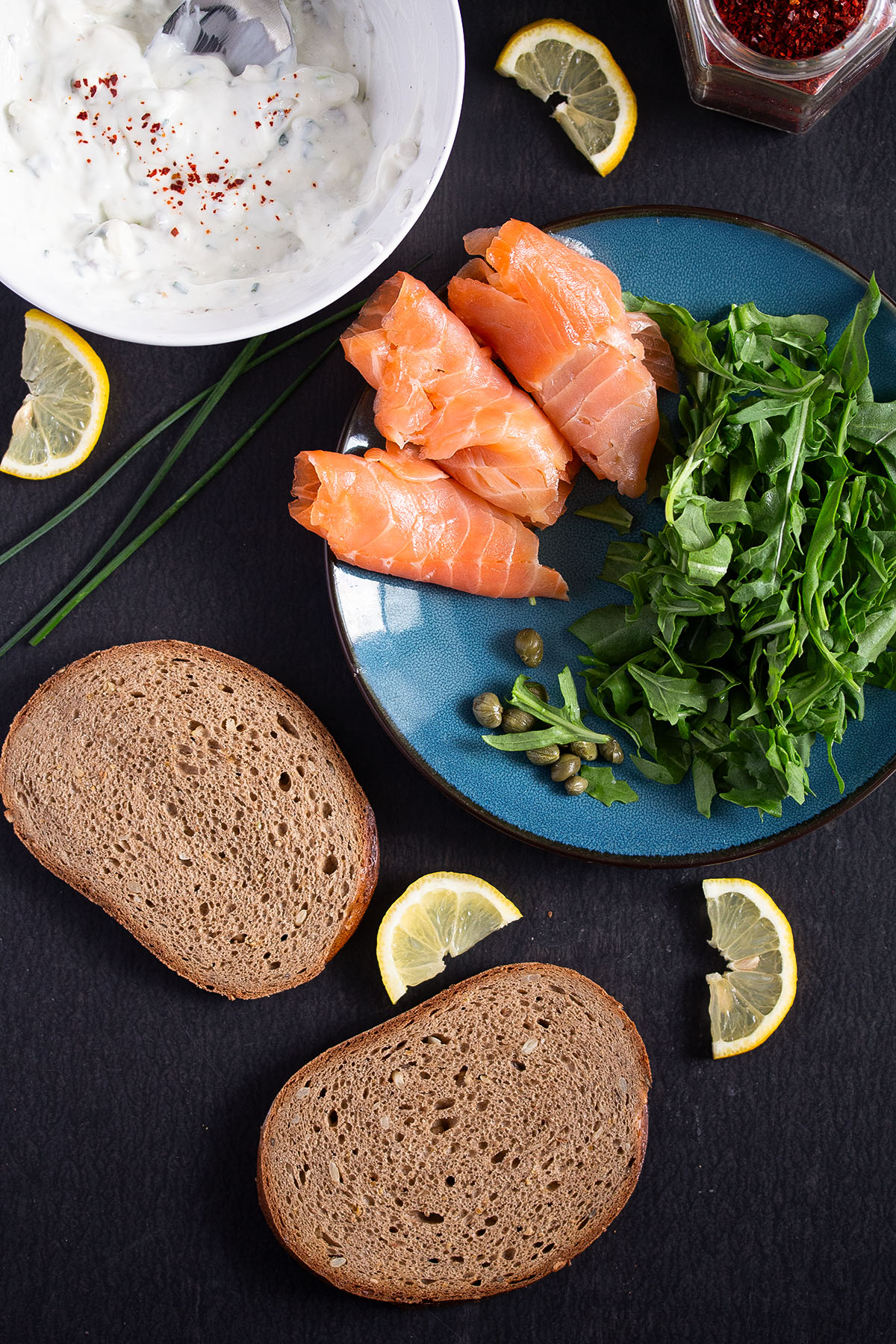 Smoked salmon: Good quality classic smoked salmon. Gravlax or Lox is also great.
Good bread: I always make smoked salmon sandwiches (or any other open sandwiches) with sourdough or rye bread. Otherwise, a good sturdy wholemeal bread (wheat or spelt) would also be perfect.

I don't recommend using packaged toast bread for these open-faced sandwiches with salmon or any other sandwiches. The sweet taste will ruin the flavor, and soft white bread will get soggy.

Arugula: A small handful of chopped peppery arugula will add flavor.
Capers: You can use the usual small capers in brine or the large caperberries. If you choose the latter, chop them roughly.
Cream cheese: Regular cream cheese (Philadelphia style) or reduced-fat cream cheese can be used. However, ensure the cheese has at least 16 % fat. Any less, and it only tastes like creamy chalk…

Alternatively, make the sandwich with whipped cottage cheese, but in this case, you can skip the yogurt because cottage cheese is softer than cream cheese.

Greek yogurt: You will need the yogurt to make the cream cheese spread softer and more spreadable. Again, full-fat or low-fat, it is up to you.

Alternatively, use sour cream.

Other ingredients: Fresh lemon juice (and a bit of lemon zest if you like it), fresh chives, red chili flakes or red pepper flakes or a bit of cayenne pepper for an extra kick, flaky sea salt or kosher salt, and ground black pepper.
How to make a smoked salmon sandwich?
Prepare the ingredients: Mix the softened cream cheese, yogurt, and red chili flakes to taste in a small bowl. Wash, dry, and chop arugula. Toast the thick slices of bread. Pat dry the capers.
Spread the cream cheese mixture on the slice of bread.
Assemble the sandwich: Cover with arugula. Arrange one large piece of salmon or two smaller ones and the capers on top. Squeeze a little lemon juice over the salmon and season lightly with a little salt and pepper. Sprinkle with chopped chives and a little more chili to taste.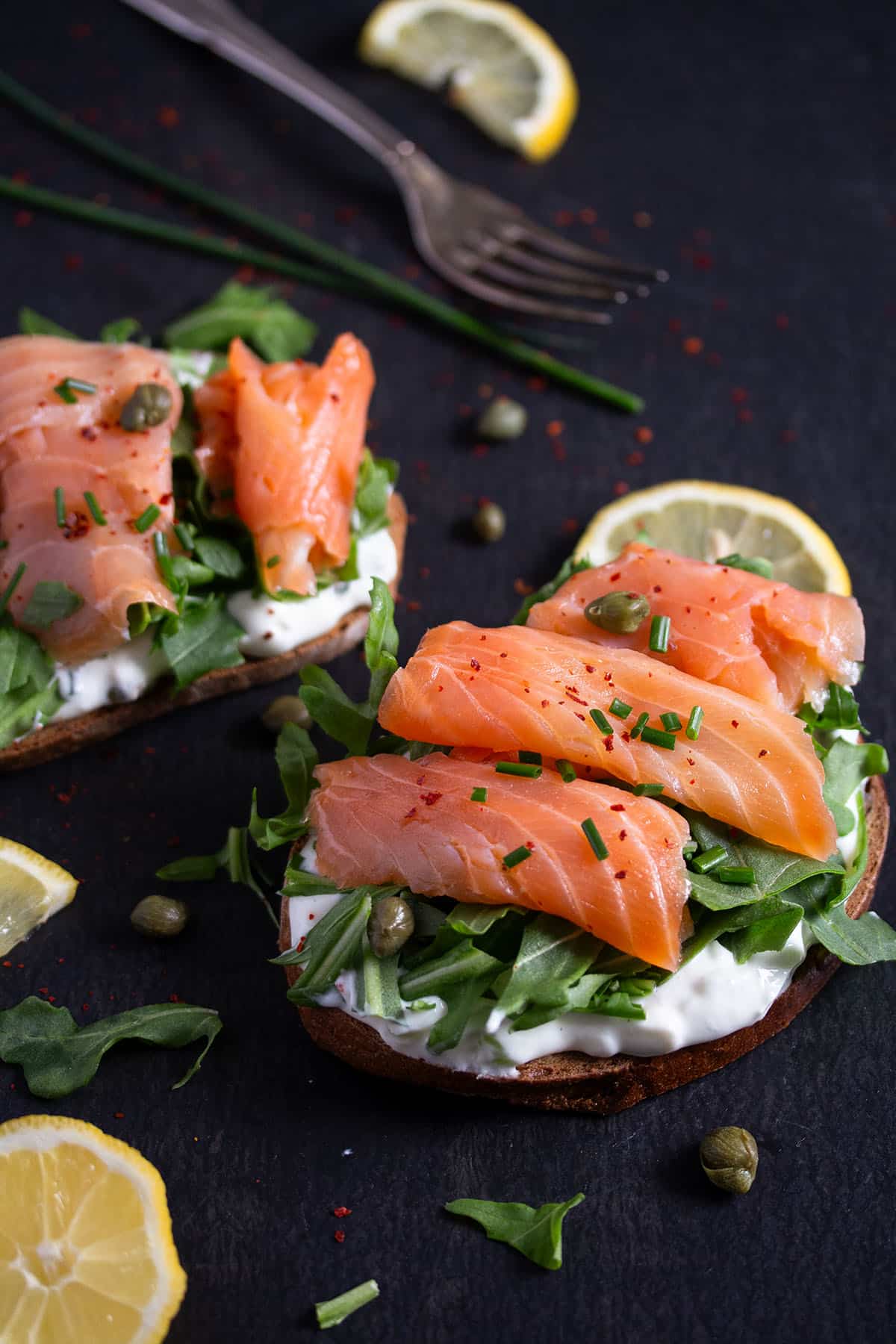 What is the best bread for the sandwich?
The ideal bread for a good sandwich should be robust and able to support the topping effectively. Sourdough bread stands out as an excellent option because of its texture and the way it toasts beautifully without becoming soggy too quickly.
Other options:
Rye bread
Whole wheat bread
French baguette or another white crusty bread
Pumpernickel
Do you want to make the bread yourself? Try some of our bread recipes:
What other ingredients can I add?
Avocado (mashed or sliced) adds creaminess.
Red onion slices or thinly sliced green onion for a crunchy contrast.
Tomato (sliced) adds juiciness (don't use it if making the sandwich ahead of time as it will make the bread soggy).
Fresh herbs: Fresh dill, chives, or parsley are all perfect.
Pickles: Pickles or pickled red onions for a tangy crunch.
Hard-boiled egg (sliced) to boost the protein content and because eggs are just great in sandwiches.
Feta cheese crumbled directly on the cream cheese.
Sprouts: Bean or alfalfa sprouts or any sprouts you like; they add flavor and extra crunch.
Cucumber slices add fresh flavor and fit the salmon perfectly.
Sliced radishes (thinly sliced): These crunchy veggies add a slight peppery bite and more color.
Recipe FAQ
Are salmon sandwiches healthy?
Salmon sandwiches can be healthy when made with whole-grain bread and topped with vegetables. Be mindful of high-calorie spreads and portion sizes for a balanced meal.
Can I use a different type of cheese?
Certainly! While cream cheese is traditional, you can experiment with other cheeses like goat cheese or brie for unique flavors. Make the sandwich with our Whipped Cottage Cheese; it's delicious.
Can I make these sandwiches ahead of time for a party or picnic?
While it's best to assemble the sandwiches shortly before serving to prevent sogginess, you can prepare the ingredients in advance and assemble them on-site.
If you would like to prepare them and then take them to a picnic, for instance, it's advisable to keep them in a cool bag or ice box.
How to store?
Smoked salmon sandwiches are best enjoyed fresh. If you need to store leftovers, refrigerate them in an airtight container for 1-2 days, but be aware that the texture may change.
More sandwiches and toasts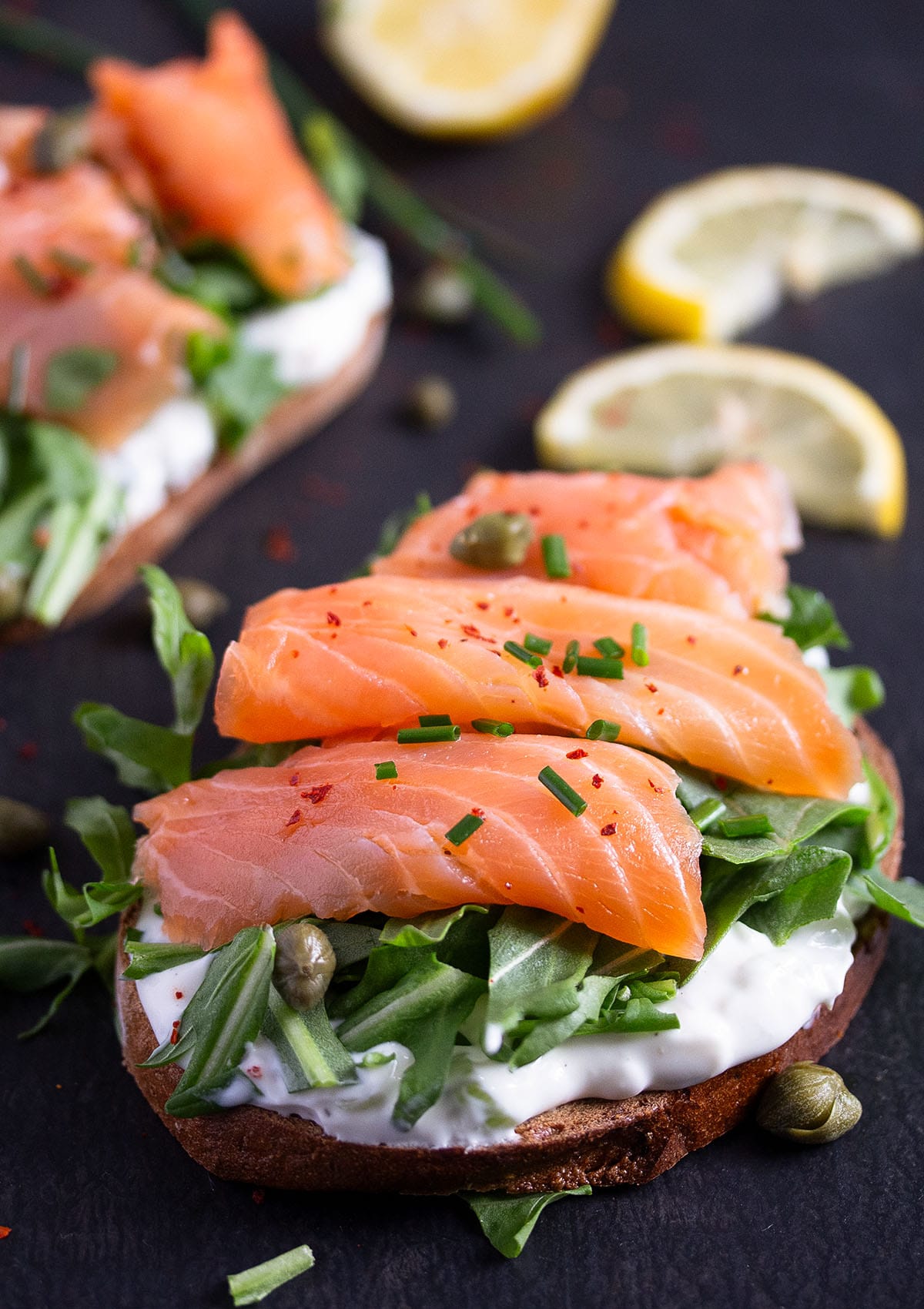 More salmon recipes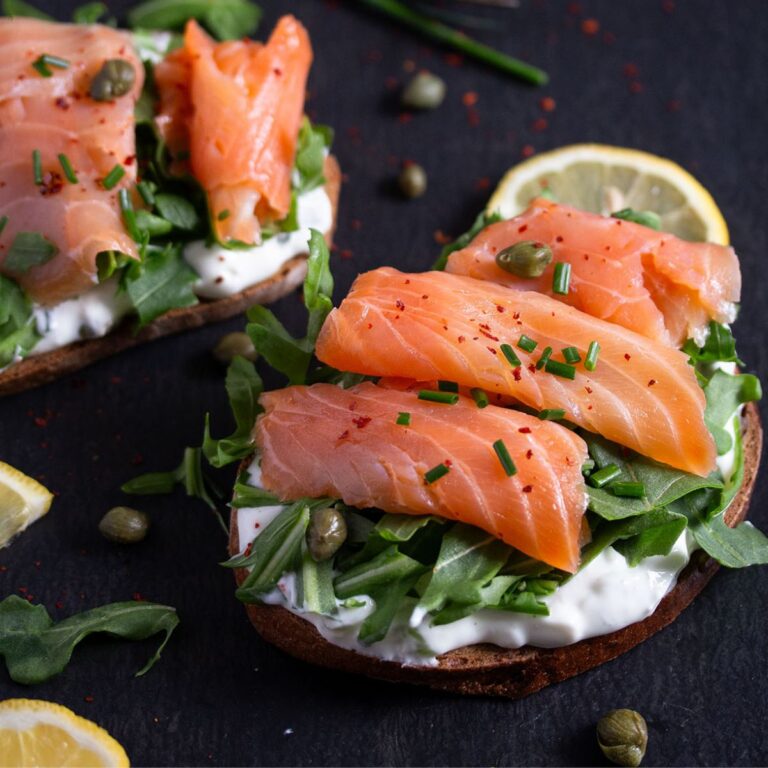 Smoked Salmon Sandwich
Try our favorite smoked salmon sandwich! Bursting with flavors, it's a mouthwatering delight fit for brunch, a light lunch, or dinner.
Print
Pin
Share
Grow
Saved!
Rate
Ingredients
⅓

cup

cream cheese

75 g, Note 1

1

heaped tablespoon

Greek yogurt

a pinch of

chili flakes

or cayenne pepper, to taste

small handful of

arugula

2

slices

sourdough bread

Note 2

2.5

oz

smoked salmon

75 g, Note 3

1

tablespoon

capers

a squeeze of fresh

lemon juice

1

tablespoon

chives

chopped

fine sea salt and freshly ground black pepper
Instructions
Cream cheese spread: Mix cream cheese and yogurt in a small bowl. Add a pinch of chili. ⅓ cup/ 75 g cream cheese + 1 heaped tablespoon Greek yogurt + 1 pinch of red chili flakes or cayenne pepper (to taste)

Prepare the ingredients: Wash, dry, and chop arugula. Toast the bread slices. Pat the capers dry with a paper towel. small handful arugula + 2 bread slices + 2.5 oz/ 75 g smoked salmon + 1 tablespoon capers

Assemble the sandwich: Spread the cream cheese mixture on the bread slices. Cover with the rocket. Arrange the salmon slices and the capers on top. Squeeze a little lemon juice over the salmon and sprinkle it with chives and a bit of salt and pepper.
Notes
Regular cream cheese (Philadelphia style) or reduced-fat cream cheese. However, ensure the cheese has at least 16 % fat.
Bread: Alternatively, use other sturdy bread like whole grain, multigrain, pumpernickel, or rye. A crusty French baguette is also great.
Salmon: About 4-6 slices of smoked salmon, depending on size.
Nutrition
Serving:
1
sandwich
|
Calories:
352
kcal
|
Carbohydrates:
36
g
|
Protein:
16
g
|
Fat:
16
g
|
Saturated Fat:
8
g
|
Polyunsaturated Fat:
1
g
|
Monounsaturated Fat:
4
g
|
Cholesterol:
47
mg
|
Sodium:
896
mg
|
Potassium:
194
mg
|
Fiber:
2
g
|
Sugar:
4
g
|
Vitamin A:
618
IU
|
Vitamin C:
1
mg
|
Calcium:
78
mg
|
Iron:
3
mg