A deliciously runny poached egg on top of garlic sourdough toast and roasted cherry tomatoes.
This is one of my favorite quick, solitary lunches. I usually have it on Tuesdays, the only day in the week when the children have lunch in kindergarten. As I don't have to cook anything, I often have a salad or a poached egg or two on toast, either with this wonderful roasted tomatoes or sometimes with fried mushrooms.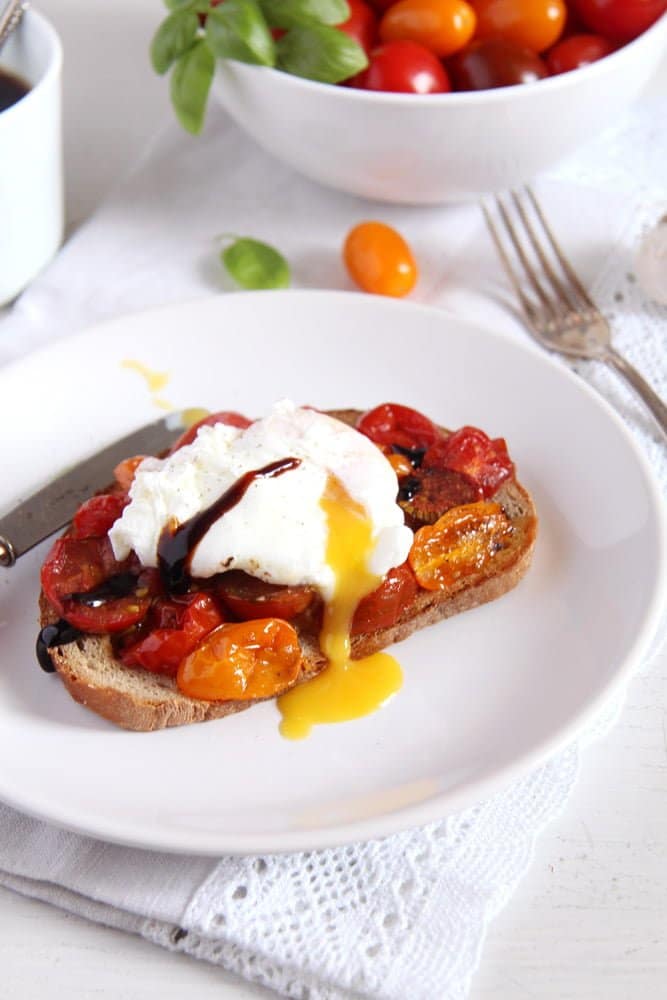 It is a very very quick lunch, but so amazingly delicious, one could actually eat it  every week. And not only a good idea for lunch, it will also make a wonderful breakfast or brunch. It takes no time to make it and it will leave you completely satisfied.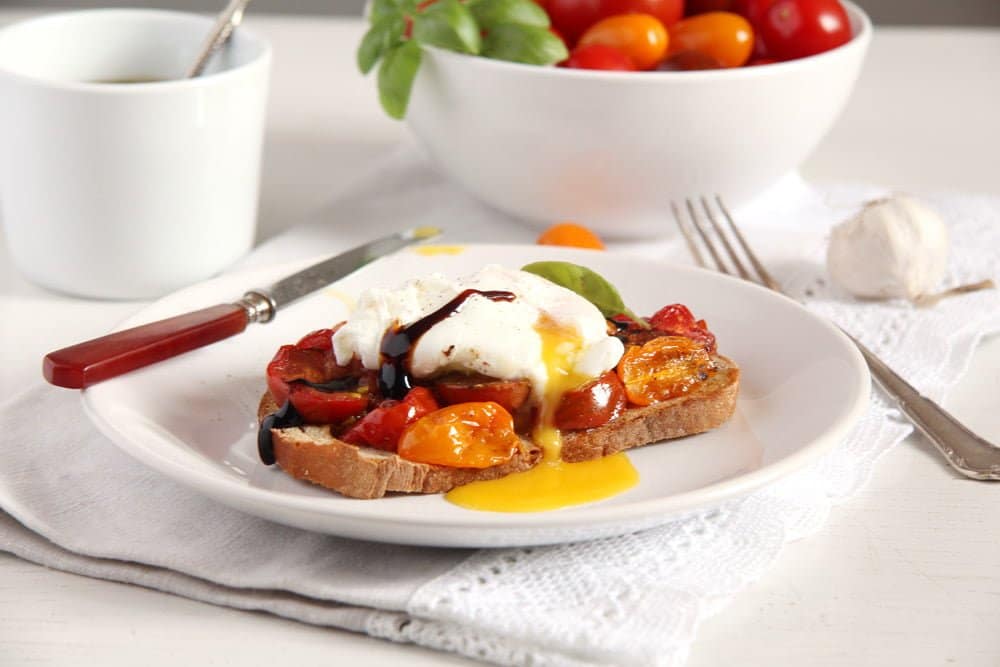 Do give it a try, I am sure you will not be dissapointed!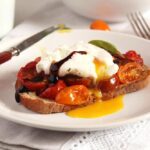 Ingredients
10 to 15 cherry tomatoes, depending on size

1 teaspoon olive oil

2 fresh eggs

2 slices of sourdough bread

1 garlic clove

1 teaspoons balsamic vinegar or a drizzle of balsamic cream

2 small sprigs basil

salt and pepper
Instructions
Preheat the oven: 200 degrees Celsius/ 390 degrees Fahrenheit.
Half or quarter the cherry tomatoes, place them on a baking tray laid with parchment paper, drizzle them with olive oil, sprinkle with salt and pepper and bake for about 15 minutes until hot and a bit wrinkly.
In the meantime fill a pan with water and bring it to a boil. Add a good splash of vinegar and some salt. Break the eggs into two separate small cups. Turn the heat to very low and carefully add the eggs to the water. Simmer (without allowing the water to boil again) for 3 to 4 minutes, depending on the size of the eggs and the way you like to eat them. I prefer to let my eggs for 4 minutes in the water and if they are bigger than usual about 4 1/2 minutes. Take out the eggs with the help of a slotted spoon and place them on some kitchen paper. Let drain for a moment.
While the eggs are cooking, toast the bread. Rub the bread slices with the garlic clove and divide the roasted tomatoes between the two bread slices.
Drizzle the tomatoes with the balsamic vinegar, place one egg on top of each and sprinkle with salt and freshly ground black pepper. Garnish with some basil or even parsley.
Serve immediately.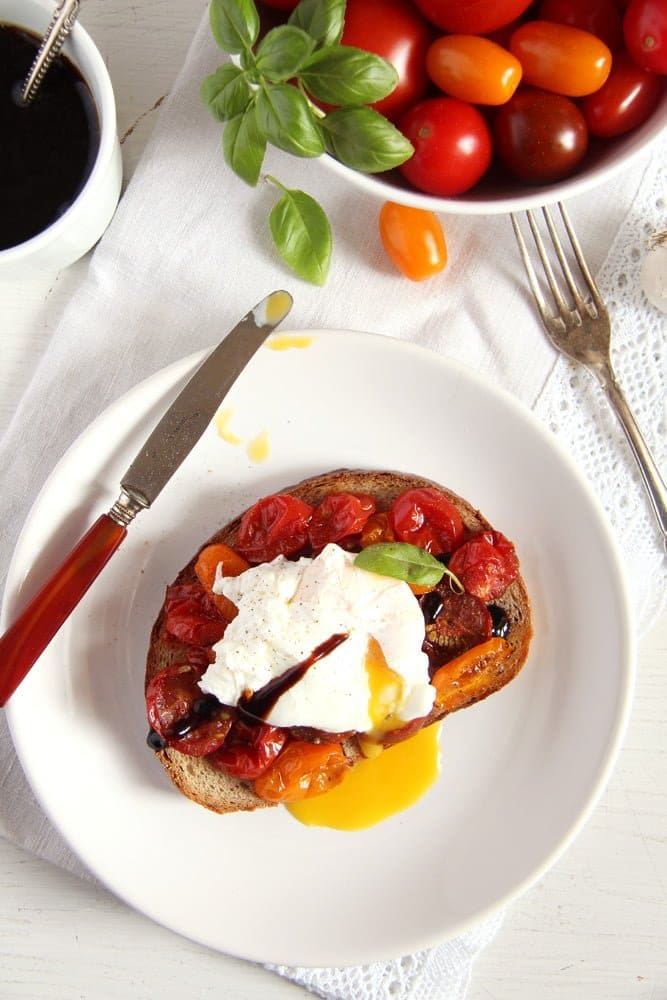 Others you might like:
Asparagus Soft Boiled Egg Toast with Parmesan and Capers
Frankfurter Sauce – German Dairy Sauce with Herbs
Leek And Pea Frittata with Parmesan and Herbs