Last Updated on
Something you will want to eat on a regular basis: garlicky sourdough bread topped with fried mushrooms and a poached egg.
Just like in the case of this delicious Roasted Tomatoes and Poached Eggs on Garlic Sourdough Toast, the Mushroom Garlic Sourdough Toast is something that I really do eat on a regular basis. It is something quick I can make myself in a matter of minutes, especially when I am home alone at lunch. Not that my husband doesn't like it, he did have both kind of toasts several times and loved them, but a recipe so quick and simple is really something I make mostly for myself, when the kids are outside the house and I don't want to spend so much time with cooking.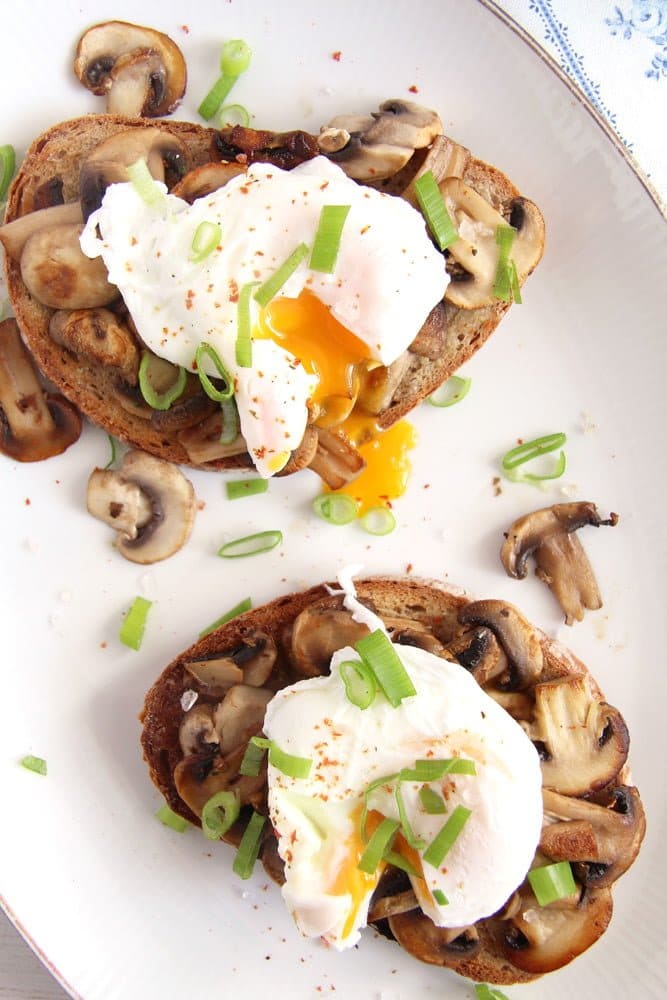 And this is so much tastier and healthier than ready-meals or anything like that. Not that I ever eat anything frozen or canned meals. I never knew stuff like that existed before I left Romania and when I got to live alone for the first time, it never occurred to me to buy anything of the sort, I just ate a lot of cornflakes with milk and bread with butter and cheese. And after a few months on this diet, I decided it was time to start learning how to cook.
I don't want to sound like a preacher, I know that many people think they don't have the time to cook every day and probably some of them really don't, but there are so many alternatives to frozen or canned meals. Things like this kind of toast, a quick soup like the Creamy Mushroom Soup with Cream Cheese from Thursday, millions of other soups or super quick noodle or rice recipes. Or cooking when the time allows it and then freezing your own food to have it ready when needed, so many alternatives… Anything is tastier and healthier than supermarket frozen stuff, if you ask me.
Making this toast really is a matter of minutes, cleaning the mushrooms with a paper towel and slicing them is probably the longest part of the whole deal and that still won't cost you more than five minutes. Set the water for the eggs while you clean the mushrooms, fry the mushrooms (about 3-4 minutes), toast the bread and rub it with the garlic while the egg is poaching. 10 or 15 minutes tops and you will be able to enjoy a thoroughly delicious, filling and healthy meal. And if you still have 5 extra minutes, make a salad. If not, slice a tomato and some cucumber and you're done.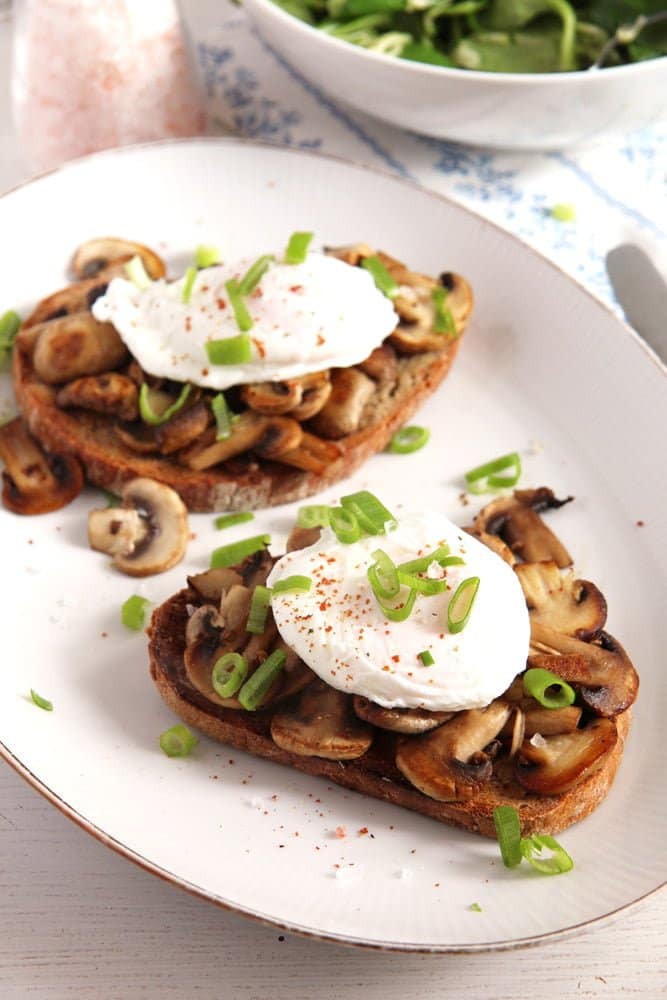 How to poach an egg:
It couldn't be easier, actually. I think the most important thing about it is to make sure you use fresh eggs. First of all, because they are so runny and only half-cooked, it is safer for you to use really fresh eggs. Secondly, if the eggs are not very fresh, the poached egg will just not be so perfect as you want it to be, the fresher the egg the better it will poach, the egg whites of older eggs tend to spread more in the water and you will not have the nicely looking poached egg you are expecting.
Bring a deeper pan of water and a splash of vinegar to a boil. Don't worry about the egg tasting of vinegar in the end, it is only a little splash, let's say about two tablespoon and that will not interfere with the taste of the eggs. But it will help again with the shape of the egg, it will help the egg white firm up slightly and wrap around the yolk in a nicer way.
Turn the heat down, the water should only barely simmer and not boil anymore.
Break each egg into a separate small cup. Take a whisk and stir the water in the pot a little bit to form a kind of gentle whirlpool in the water. This will help the egg white wrap around the egg yolk nicely. Very carefully give each egg to the pot. I would not poach more than two eggs at a time unless the pot is very wide. Otherwise do that in several batches or in two different pots.
As a general rule cook the eggs for 4 minutes. Of course, the size of the eggs makes a bit of a difference. So I check by very carefully lifting an egg out of the the water using a slotted spoon and gently pressing it with a finger. You will be able to tell if the egg is done to your liking or if it needs an extra half a minute or so.
Remove the eggs from the water with the slotted spoon and leave them to dry shortly on a plate lined with kitchen paper. I also pat them gently dry on top with some kitchen paper.
Ingredients
250 g/ 8.8 oz mushrooms

1 teaspoon butter

2 fresh eggs

2 slices sourdough bread

1 garlic clove

a bit more butter for the toast

salt and pepper

a sprinkle of paprika powder

a splash of vinegar

chives or 1 thin green onion
Instructions
Bring a pan of water and a splash of vinegar to a boil.
In the meantime clean the mushrooms with kitchen paper and slice them.
Melt the butter in a large pan and fry the mushrooms slices until golden while stirring several times in between. This will take about 3 or 4 minutes.
Chop the chives or the green onion into thin rings.
When the water is boiling, turn the heat down to a minimum and wait until the water just simmers. Make a little whirlpool in the water using a whisk and slowly tip the eggs in the water. Simmer the eggs for 4 minutes. Gently lift them out of the water using a slotted spoon and place them on a plate lined with kitchen paper. You may pat them dry a bit if you wish.
Toast the bread while the eggs are poaching. Rub it with the garlic clove and butter it lightly. Place each slice on a plate. Pile the mushrooms on the bread slices.
Carefully place one egg on top of each mushroom toast and sprinkle with salt, pepper and some paprika powder. Sprinkle with the chopped chives or green onions as well.
Serve immediately with green salad or some sliced tomatoes and cucumbers.