Last Updated on
A delicious Polish recipe for kasha – roasted buckwheat groats with mushrooms, onions and lots of dill and parsley.
KASHA RECIPE – POLISH STYLE
After one year entirely dedicated to Romanian food, I am starting another Eastern Europe recipes short series today. This time I will show you some wonderful Polish recipes.
Why Poland? Well, we spent a week in Poland during the kids' autumn holidays at the beginning of October last year and I liked the food soooo much, I just had to try to recreate some or better said almost all of the delicious dishes we had there, at home.
And because there were quite a few of them I wanted to cook myself, I decided to make a blog series out of it. Maybe you would like to try these delicious and super easy to make puff pastry croissants filled with jam, these Polish meatballs or this amazing Bezowy or meringue cakes, whick is one of the best cakes ever.
From all the food we had and liked in Poland, I only left out the pierogi, which were amazing actually. But, I know myself pretty well, when it comes to making anything with noodle dough, I just don't have the time and most of all the patience for it.
But, no matter, there were plenty of other amazing Polish recipes to choose from. 🙂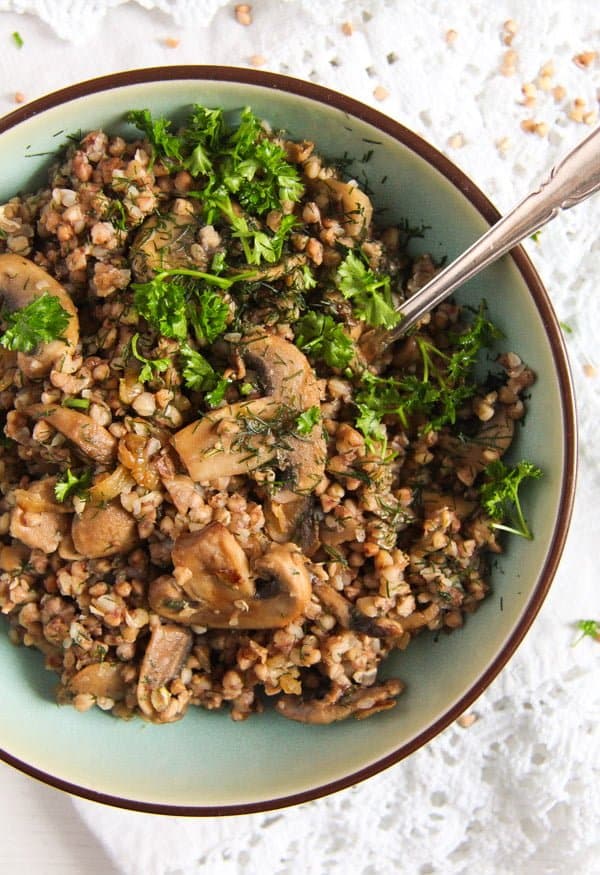 ROASTED BUCKWHEAT OR KASHA
I am starting with this roasted buckwheat or kasha recipe because this is a dish we had for breakfast in the hotel a couple of times. It would have never occurred to me to serve such a dish for breakfast, but there it was: a rather dark (almost black) heap of nondescript something with bits of mushrooms and onions in it, in the middle of all the other breakfast foods.
I must tell you, it didn't look inviting at all, not one bit and definitely not in comparison with all the other delicious looking things on the table.
But, when it comes to food, I am so curious that I just could not let it be, I had to try it. I thought, if the cook dares to offer something so bad looking, there must be a reason behind it… Right?
And there was a good reason behind it – this kasha with mushrooms and onions being the best thing we had (better said I had, husband and kids refused to try it) for breakfast in Poland.
I was only disappointed that from the six or seven breakfasts we had there, we were only served kasha twice… I could have had it every day.
I did not manage to make my roasted buckwheat with mushrooms and onions or Polish kasha look so ugly as the dish in Poland, my dish looked actually a lot prettier than expected, but at least I can have the kasha at home now when I crave it.
Not for breakfast though, cooked dishes with mushrooms and onions are not really in for breakfast around here, but the kasha makes a perfect light and delicious lunch or dinner. A salad and some garlic yogurt/ smetana on the side and I couldn't be happier! 🙂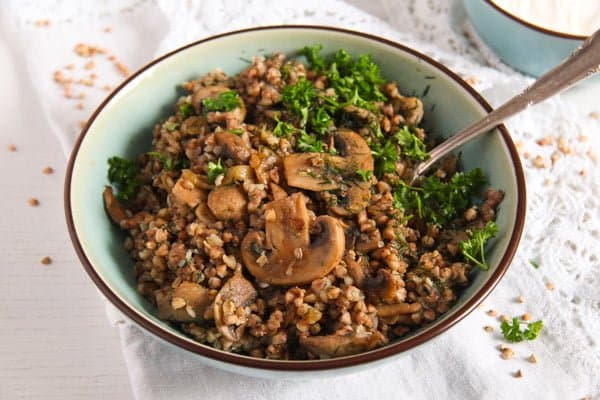 ROASTED OR UNROASTED BUCKWHEAT?
Just a few words about buckwheat, in case you are not very familiar with it. I wasn't really until recently, I use it mostly for soups or as a side dish, so I wasn't even sure what exactly was meant with roasted, even the word groats was a bit confusing.
So, apparently you can buy buckwheat either roasted or unroasted. Sometimes the issue is specified on the packet of buckwheat, but unfortunately not always.
So, as most recipes I cooked with buckwheat ask for roasted buckwheat, I did actually searched the internet for instructions on roasting buckwheat myself. I had just assumed that, unless specified on the packet, the buckwheat would be unroasted.
But, apparently I was so wrong and lost lots of time roasting buckwheat that was already roasted…
Most buckwheat that you would find in a regular store is already roasted and usually the packet will only mention anything if the buckwheat is raw, so unroasted. I wish, I had known that before…
The best and easiest way to tell if the buckwheat is roasted or not is by looking at it: raw buckwheat has a very light color, while roasted buckwheat is brown and crunchier if you bite it… That easy!
As all buckwheat I have ever bought was very brown, I know now that it had always been roasted. 🙂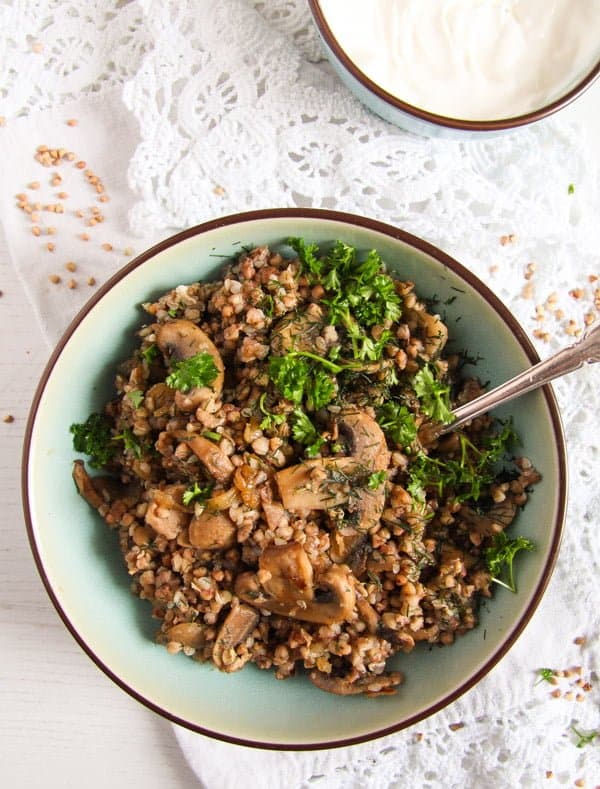 OTHER RECIPES USING ROASTED BUCKWHEAT
Did you buy a bag of roasted buckwheat to make kasha with mushrooms and onions? And you don't know what to cook with the rest of it?
Here are some recipes ideas using roasted buckwheat:
ROASTED BUCKWHEAT SALAD – VEGAN BUCKWHEAT RECIPE
ROASTED BUCKWHEAT WITH VEGETABLES – VEGAN BUCKWHEAT RECIPE
CHICKEN BUCKWHEAT SOUP WITH VEGETABLES
BUCKWHEAT AND RICE SALAD WITH DRIED CHERRIES AND HAZELNUTS
ZUCCHINI AND MUSHROOM VEGGIE BURGERS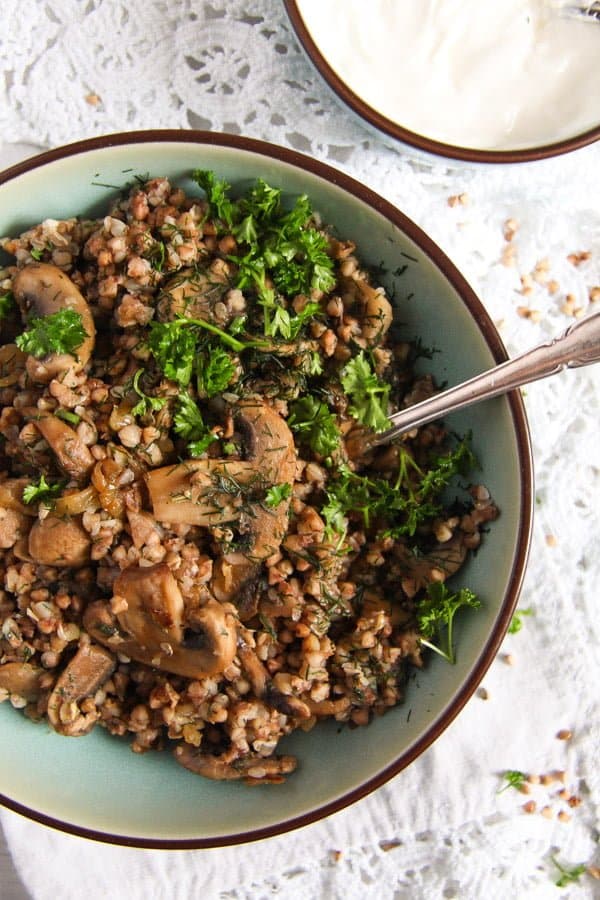 Roasted Buckwheat with Mushrooms and Onions – Polish Kasha
A delicious Polish recipe for kasha – roasted buckwheat groats with mushrooms, onions and lots of dill and parsley.
Ingredients
150 g/ 5.3 oz roasted buckwheat groats
1 egg
450 ml/ 15.2 fl.oz/ a bit less than 2 cups chicken stock or vegetable broth (See note)
3 small onions
2 tablespoons butter, divided
1 tablespoon olive oil
250 g/ 8.8 oz brown mushrooms
salt and freshly ground black pepper
a small bunch of dill
some parsley, less than dill
Instructions
Beat the egg lightly in a bowl. Add the buckwheat and mix well.
Heat a non stick pan without any fat, give the buckwheat to the pan and cook for about 3-4 minutes until all the corns are dry and separated.
In the meantime slice the onions thinly.
Remove the buckwheat from the heat and transfer it to a small saucepan. Add the chicken stock or vegetable broth, bring to a boil, turn the heat down and simmer for about 15 minutes or until the buckwheat is soft and the stock has been absorbed.
Heat 1 tablespoon butter and the oil in the pan and cook the onions on low heat for about 15 minutes or until they are very soft and deeply golden. Don't forget to stir often and don't let them catch. I added two small splashes of water in between, the onions were threatening to catch and I didn't want to add more butter.
Clean the mushrooms with kitchen paper and slice them as well. When the onions are cooked, add the mushrooms and continue cooking until they release their juices and the juices then evaporate, this will take about 5-7 minutes. Adjust the taste with salt and pepper.
Give the buckwheat to the pan and stir well to mix. Stir in the second tablespoon butter. Chop the dill and the parsley and give them to the pan. Serve immediately with some green salad.
Notes
I used chicken stock because I had some homemade stock in the fridge, but for a vegetarian version you can definitely use vegetable broth instead.
Nutrition Information:
Yield:

4
Serving Size:

1/4 of the dish
Amount Per Serving:
Calories:

223
Total Fat:

12g
Saturated Fat:

5g
Trans Fat:

0g
Unsaturated Fat:

6g
Cholesterol:

65mg
Sodium:

761mg
Carbohydrates:

22g
Fiber:

3g
Sugar:

7g
Protein:

8g
Nutritional information is not always accurate.