Roasted buckwheat with mushrooms – a delicious Polish recipe for kasha with onions and lots of herbs.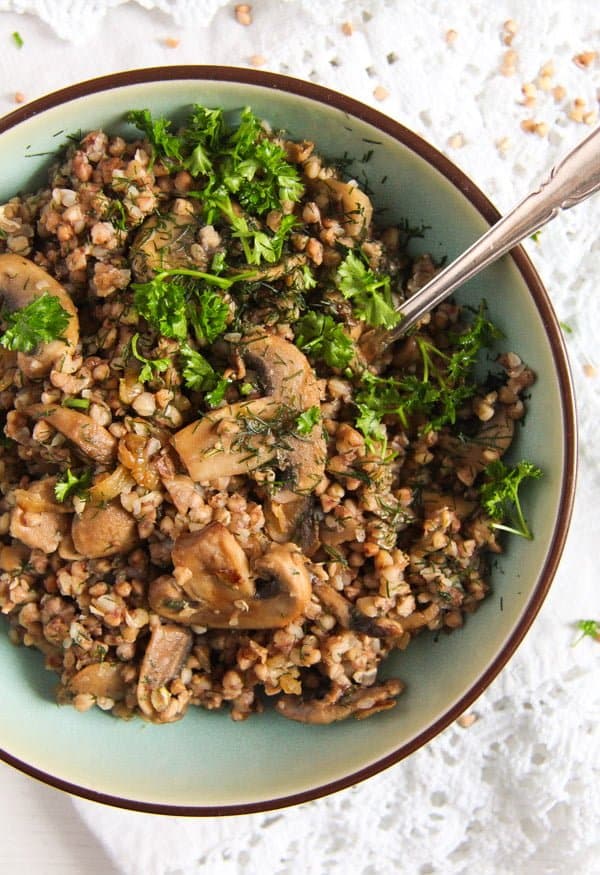 After one year entirely dedicated to Romanian food, I am starting another Eastern Europe recipes short series today. This time I will show you some wonderful Polish recipes.
Why Poland? Well, we spent a week in Poland during the kids' autumn holidays at the beginning of October last year and I liked the food soooo much, I just had to try to recreate some or better said almost all of the delicious dishes we had there, at home.
And because there were quite a few of them I wanted to cook myself, I decided to make a blog series out of it. Maybe you would like to try these delicious and super easy to make puff pastry croissants filled with jam, these Polish meatballs, or this amazing Bezowy or meringue cakes, which is one of the best cakes ever.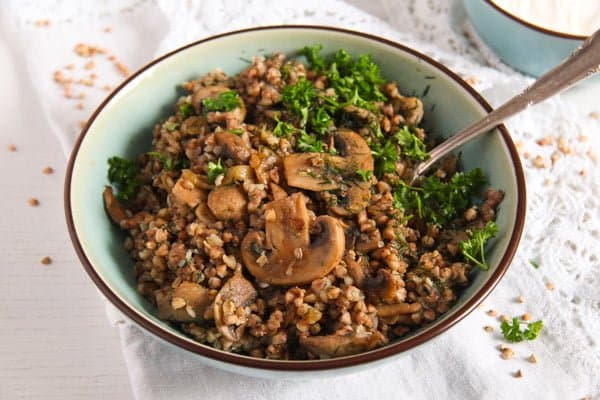 What is Kasha?
I am starting with this roasted buckwheat recipe or kasha because this is a dish we had for breakfast in the hotel a couple of times. It would have never occurred to me to serve such a dish for breakfast, but there it was: a rather dark (almost black) heap of nondescript something with bits of mushrooms and onions in it, in the middle of all the other breakfast foods.
Despite the looks, this kasha with mushrooms and onions was the best tasting dish we had in Poland. And that is saying a lot, considering that all the food we had there was delicious!
Kasha is a porridge made from buckwheat or other grains, like wheat, pearl barley, or semolina, for instance. In the US, when referring to kasha people mean porridge made with buckwheat groats, but otherwise (in Eastern Europe), there are lots of types of kasha.
Kasha actually means "groats" and not buckwheat, like I used to think.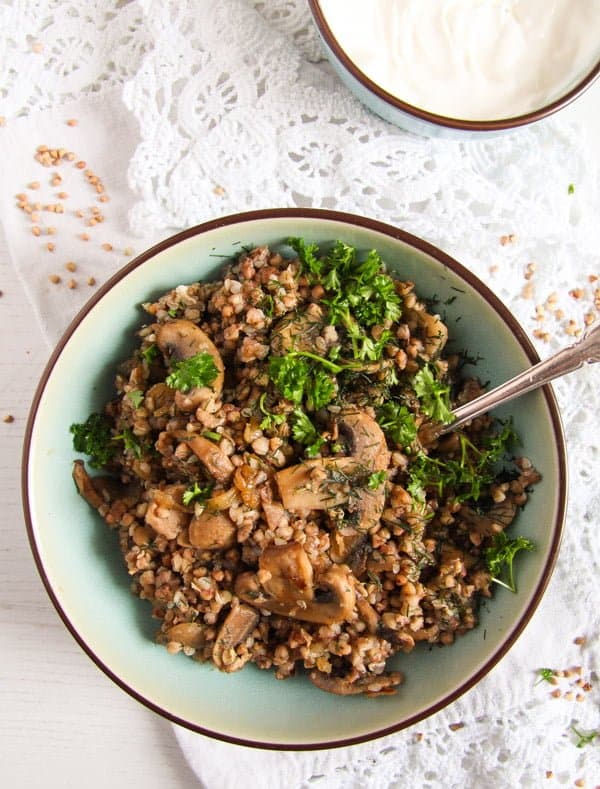 Roasted or unroasted buckwheat?
You can buy buckwheat either roasted or unroasted. Sometimes the issue is specified on the packet, but unfortunately not always.
Most recipes I cooked with buckwheat ask for the roasted kind, so I did actually searched the internet for instructions on roasting buckwheat myself. I had just assumed that, unless specified on the packet, it would be unroasted.
But, apparently, I was so wrong and spent time roasting groats that were already roasted...
Most buckwheat that you would find in a regular store is already roasted and usually, the packet will only mention anything if it is raw. I wish I had known that before...
The best and easiest way to tell if the groats are roasted or not is by looking at them: raw grains have a very light color, while the roasted ones are brown and crunchier if you bite on them... That easy!
As all buckwheat I have ever bought was very brown, I know now that it had always been roasted. 🙂
Why toast buckwheat with eggs?
A commonly asked question.
The egg helps separate the groats, and that gives the kasha its specific consistency.
You will not really be able to taste the eggs.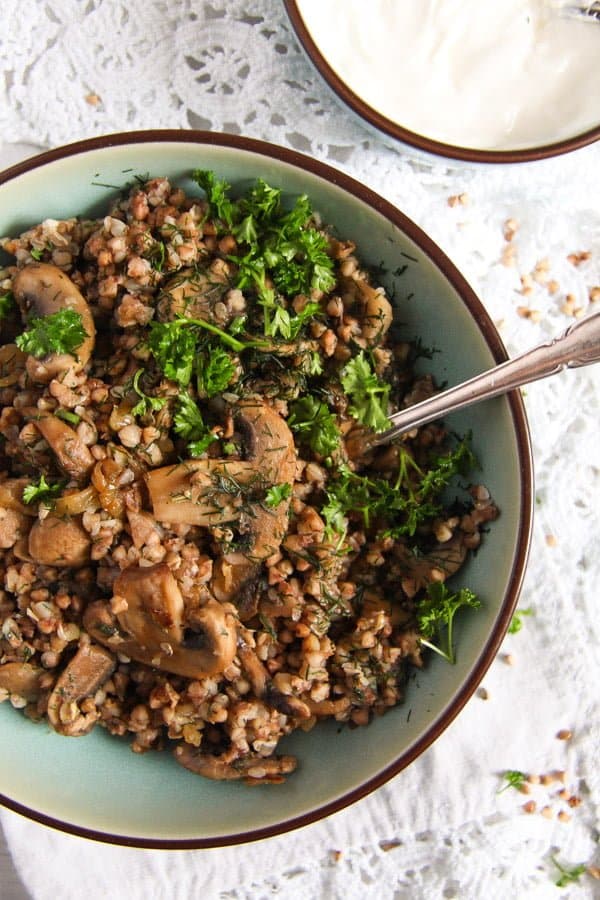 More buckwheat recipes:
Did you buy a bag of roasted buckwheat to make kasha with mushrooms and onions? And you don't know what to cook with the rest of it?
Buckwheat Soup with Vegetables
Buckwheat Bread - made with the flour
Roasted Buckwheat with Mushrooms – Polish Kasha
Roasted buckwheat recipe with mushrooms – a delicious Polish recipe for kasha with onions and lots of herbs.
Print
Pin
Share
Grow
Saved!
Rate
Ingredients
150

g/ 5.3 oz/ ¾ cup roasted buckwheat groats

Note

1

egg

450

ml/ 15.2 fl.oz/ a bit less than 2 cups chicken stock or vegetable broth

3

small onions

2

tablespoons

butter

divided

1

tablespoon

olive oil

250

g/ 8.8 oz brown mushrooms

fine sea salt and freshly ground black pepper

a small bunch of dill

some parsley

less than dill
Instructions
Beat the egg lightly in a bowl. Add the buckwheat and mix well.

Heat a nonstick pan without any fat, place the buckwheat into the pan and cook for about 3-4 minutes until all the corns are dry and separated.

In the meantime slice the onions thinly.

Remove the buckwheat from the heat and transfer it to a small saucepan. Add the chicken stock or vegetable broth, bring to a boil, turn the heat down and simmer for about 15 minutes or until the buckwheat is soft and the stock has been absorbed.

Heat 1 tablespoon butter and the oil in the pan and cook the onions on low heat for about 15 minutes or until they are very soft and deeply golden. Stir often and don't let them catch. I added two small splashes of water in between, the onions were threatening to catch and I didn't want to add more butter.

Clean the mushrooms with kitchen paper and slice them as well. When the onions are cooked, add the mushrooms and continue cooking until they release their juices and the juices then evaporate, this will take about 5-7 minutes. Adjust the taste with salt and pepper.

Add the buckwheat to the pan and stir well to mix. Stir in the second tablespoon butter. Chop the dill and the parsley and add them to the pan. Serve immediately.
Notes
Roasted buckwheat has a darker color than raw buckwheat. You will be able to buy it roasted most of the time, especially if buying it in a Russian store.
Nutrition
Serving:
1
/4 of the dish
|
Calories:
223
kcal
|
Carbohydrates:
22
g
|
Protein:
8
g
|
Fat:
12
g
|
Saturated Fat:
5
g
|
Polyunsaturated Fat:
6
g
|
Cholesterol:
65
mg
|
Sodium:
761
mg
|
Fiber:
3
g
|
Sugar:
7
g