Last Updated on
Comforting Polish meatballs in a smooth mushroom and sour cream sauce.
Are you in the mood for a really comforting winter dish, something to warm you up from inside and make you feel satisfied and at peace? Try these delicious Polish Meatballs with Mushroom Sour Cream Gravy or any other meatball dish you might find on Where Is My Spoon, something like this Turkey Meatball and Vegetable Soup (I am so making this tomorrow, my turkey stock is simmering right now) or these other Polish Meatballs with Mushrooms, this Stewed Sauerkraut with Meat Dumplings or this German Meatballs in Caper White Sauce – Königsberger Klopse.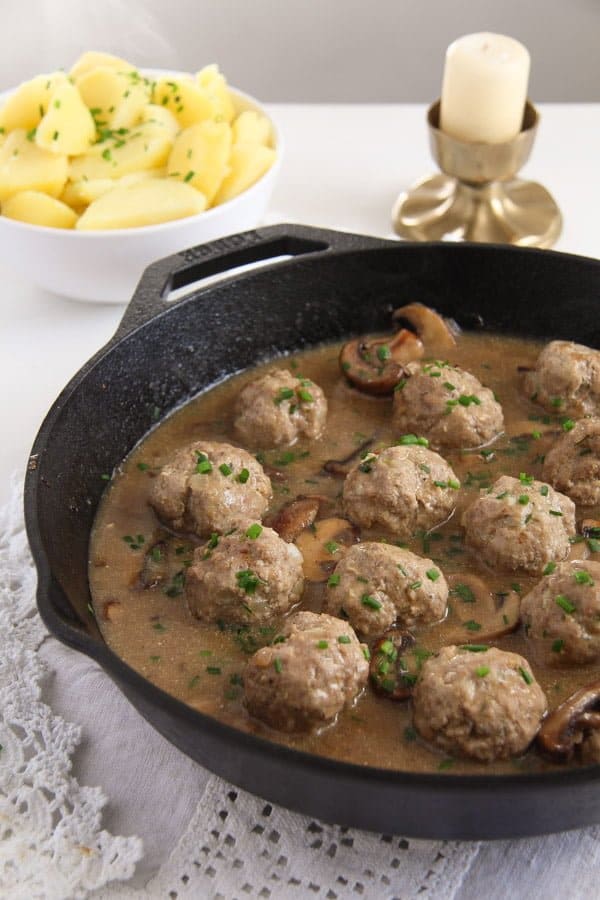 Anything with meatballs is a winner for me, I love them dearly, they are so delicate yet hearty, so comforting, so easy to change according to the mood and ingredients you happen to have, just perfect.
Like most meatball recipes, today's Polish Meatballs with Mushroom Sour Cream Gravy is a very easy dish as well. Best thing about it is that this time you don't even have to fry or bake the meatballs, they get simmered into the broth, which will be used to make that delicious mushroom sauce later on.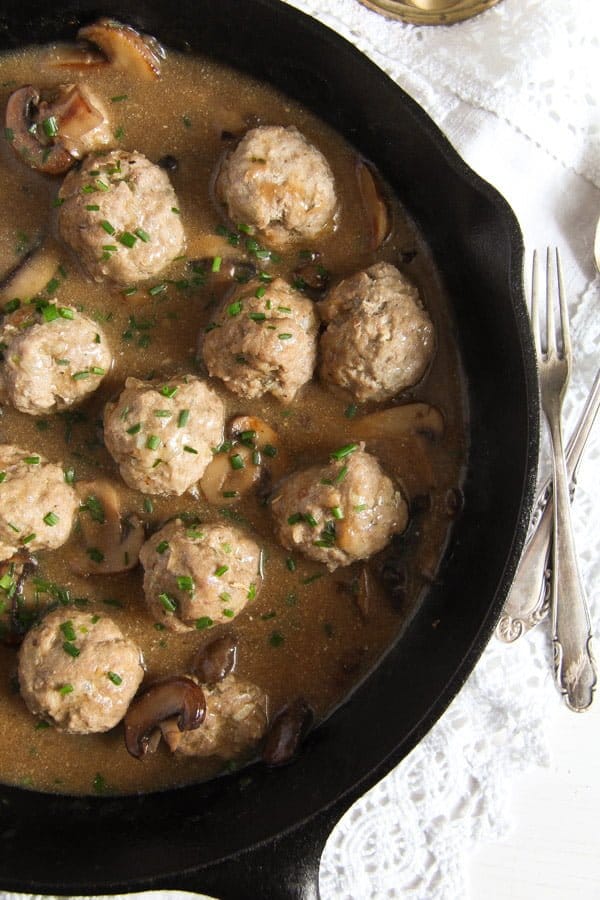 More or less a one-pot dish, that will be on the table in a relatively short time and which is bound to make anybody happy. My kids loved this dish as well, despite all the evil mushrooms, which they diligently removed from their plates before they started eating. There is no chance for the mushrooms it seems, no matter how hard I try, the mushrooms always get spotted, insulted and evicted from their plates…
You can serve this dish with boiled potatoes or with noodles, the way we had it in Poland. And don't forget the gherkins or other pickled vegetables.
Otherwise, I don't have any more words today. My daughter has scarlet fever again, so I spent most of the day fussing around her… We're going to watch Harry Potter and the Goblet of Fire as soon as I am finished writing, I've promised her that and she won't start watching it without me. My sweetheart!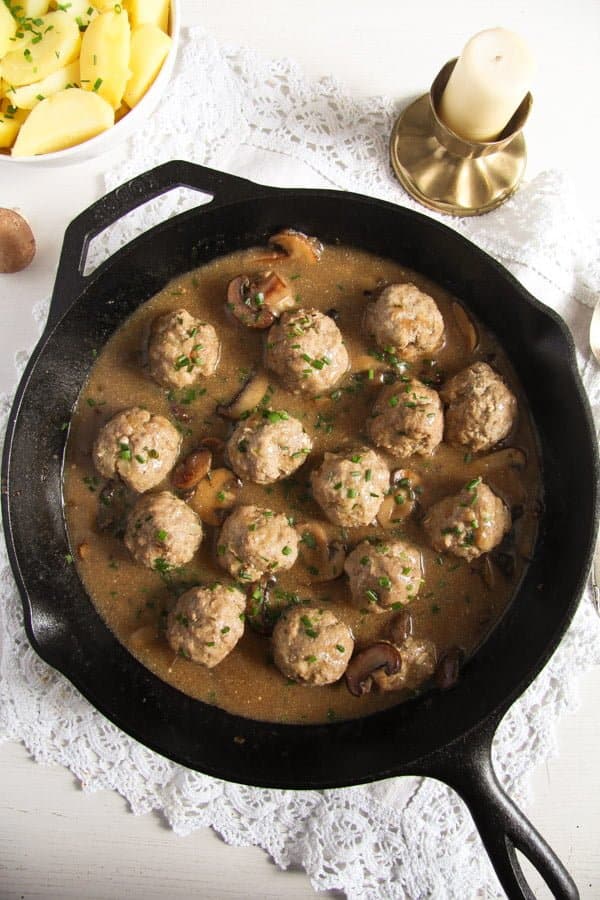 Other comforting mushroom dishes: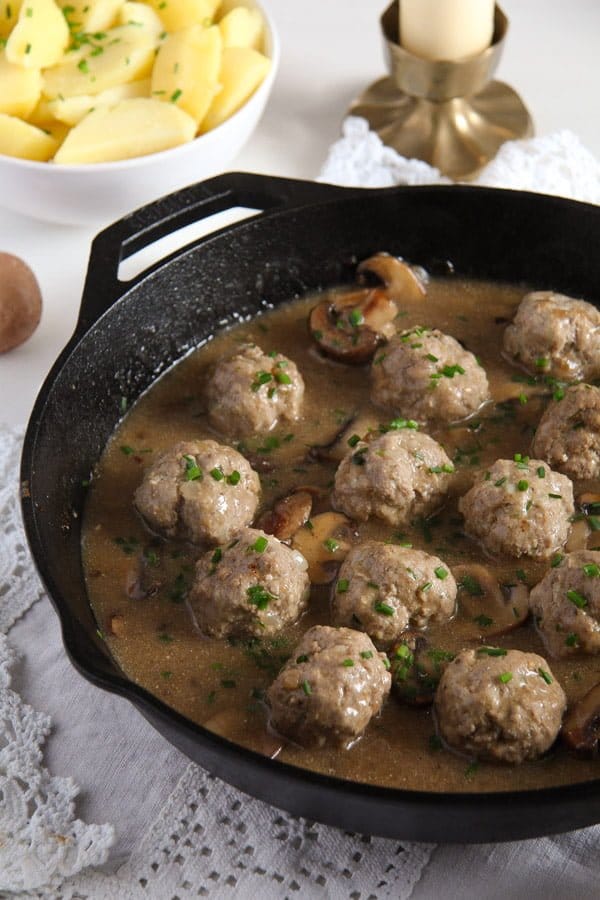 Ingredients
2 onions, divided

2 teaspoons butter, divided

500 g/ 1.1 lbs ground meat, half pork half beef

2 garlic cloves

25 g/ 0.9 oz/ ¼ cup breadcrumbs

1 egg

1 teaspoon mustard

a pinch of thyme or marjoram

750 ml/ 2 ½ cups chicken or beef stock

450 g/ 1 lbs brown mushrooms

1 tablespoon cornflour

2 tablespoons sour cream/ smetana/ crème fraiche

salt and pepper

chives
Instructions
Saute 1 chopped onion in 1 teaspoon butter. Transfer the onion to a bowl.
Add the ground meat, grated garlic cloves, breadcrumbs, egg, mustard, thyme or marjoram, ¾ teaspoon salt and some pepper to the onions in the bowl. Mix well with your hand. Form 15 meatballs. Wet your hands a few times in between, it will be much easier to form the balls.
Bring the broth to a boil into a larger saucepan or a deeper skillet. Turn the heat down, add the meatballs, cover and simmer for 15 minutes or until the meatballs are cooked through. Remove the meatballs with a slotted spoon and keep them warm.
Strain the liquid into another pot.
Wipe the saucepan or the skillet with some kitchen paper. Melt the remaining tablespoon butter and fry the second chopped onion for about 3 minutes.
In the meantime clean the mushrooms with kitchen paper and slice them. Give them to the onions in the pan and continue cooking for 3 minutes. Add about ½ cup of the reserved meatball broth, cover and cook for about 5 minutes on low heat, until the stock reduces.
Add the remaining stock and bring to a boil.
In a small bowl mix together the cornflour and a little water. Add the mixture to the gravy while whisking all the time to prevent the formation of clumps. Simmer for a couple of minutes until the sauce thickens slightly. If too thick, add a bit more water.
Whisk in the sour cream/ smetana/ crème fraiche, adjust the taste with salt and pepper and give the meatballs to the pot as well. Cover and heat through.
Sprinkle with chopped chives and serve with boiled potatoes or noodles and with gherkins or other pickled vegetables.
This post contains affiliate links. The price you pay as a consumer does not change, but if you make a purchase we will receive a commission which helps support the blog.