Homemade cream of mushroom soup without the cream or lots of butter, just some cream cheese to make it really smooth and comforting.
An easy to make, little soup to comfort you during these cold early autumn days. The sun is shining today actually and that might make us think we don't need the winter jacket just yet, but oh, how we do need it! I brought my girl to the kindergarten bus this morning and it was freezing. Really November weather! So I picked up some sage in the garden on my way back, brew a huge pot of tea, started a fire in the fireplace and got to sit down as close to it as possible. I already have a cough, I just hope things won't get worse, being confined to the bed for a few days is really not my thing.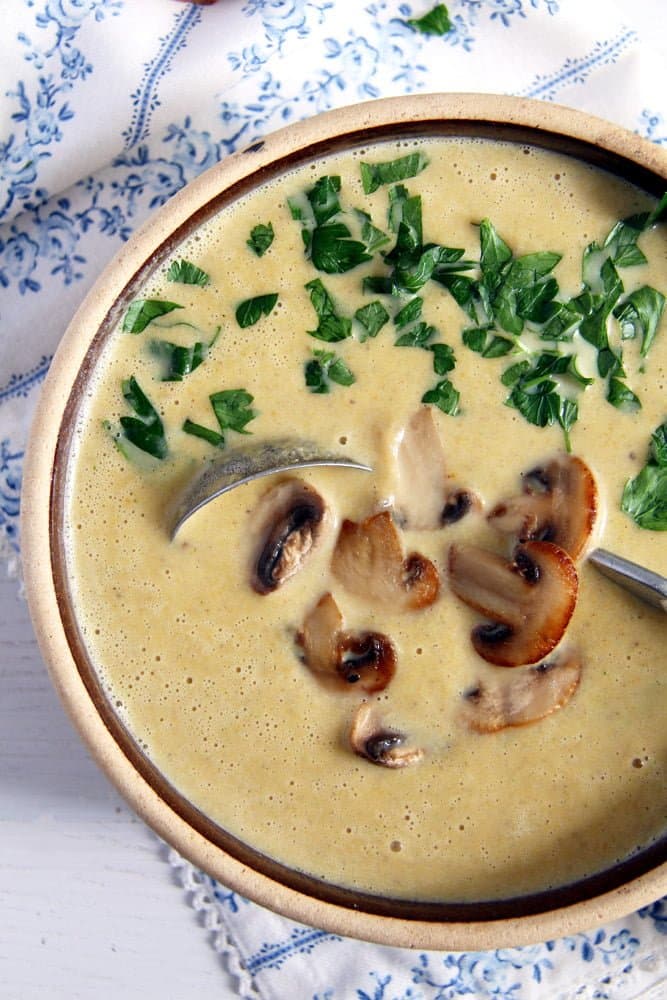 So no better time for soup than now, I would say. I have actually only made this soup yesterday and I still have a bit of it left in the fridge, I am already happily anticipating eating it for lunch. A slice of homemade wholemeal bread smeared with a bit of fresh butter which I bought yesterday from a nearby dairy and I need nothing else!
This is a very simple mushroom soup recipe, ready in about half an hour, so if you are in the mood for a really nice cream of mushroom soup, there is no need to buy the already made one, it is really not worth it! This is so much healthier and tastier and the time involved to make it from scratch is really short. A bit of chopping, stirring and blitzing the soup and you're done.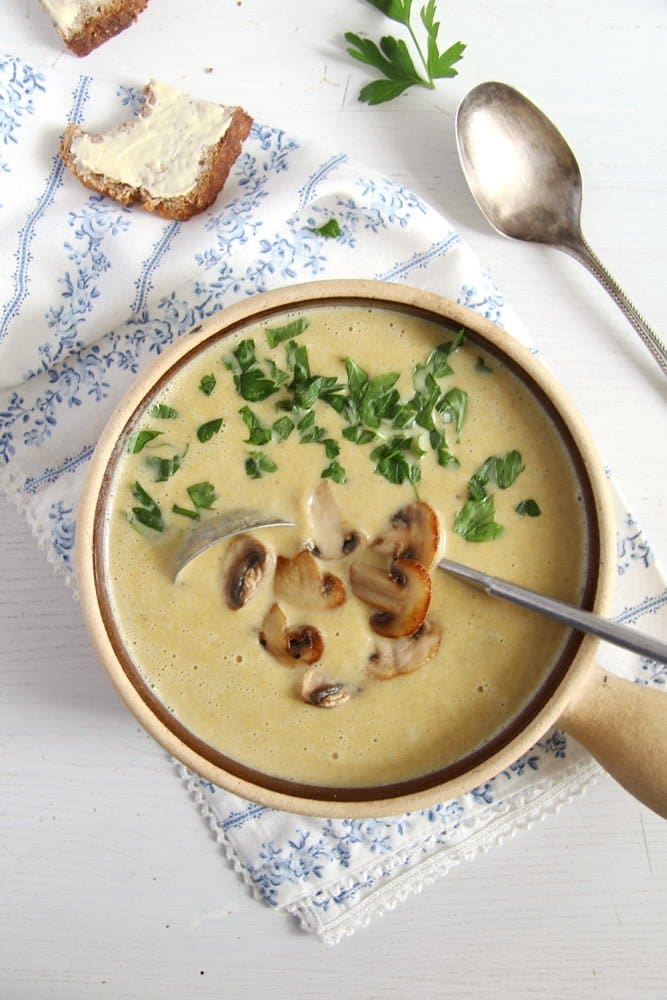 And if you really have some time, you could spend another few minutes with making some nice croutons, I did actually intend to do that yesterday before realizing that my son had already eaten the old bread slices I intentionally kept for this purpose. He likes old, almost dry bread, my Bruno, really, I never have to throw away any stale bread (except if it's moldy, of course), he would eat it either as it is with some butter or toast it. But if you are in no mood for making croutons, do have the soup with fresh wholemeal bread, it fits perfectly as well.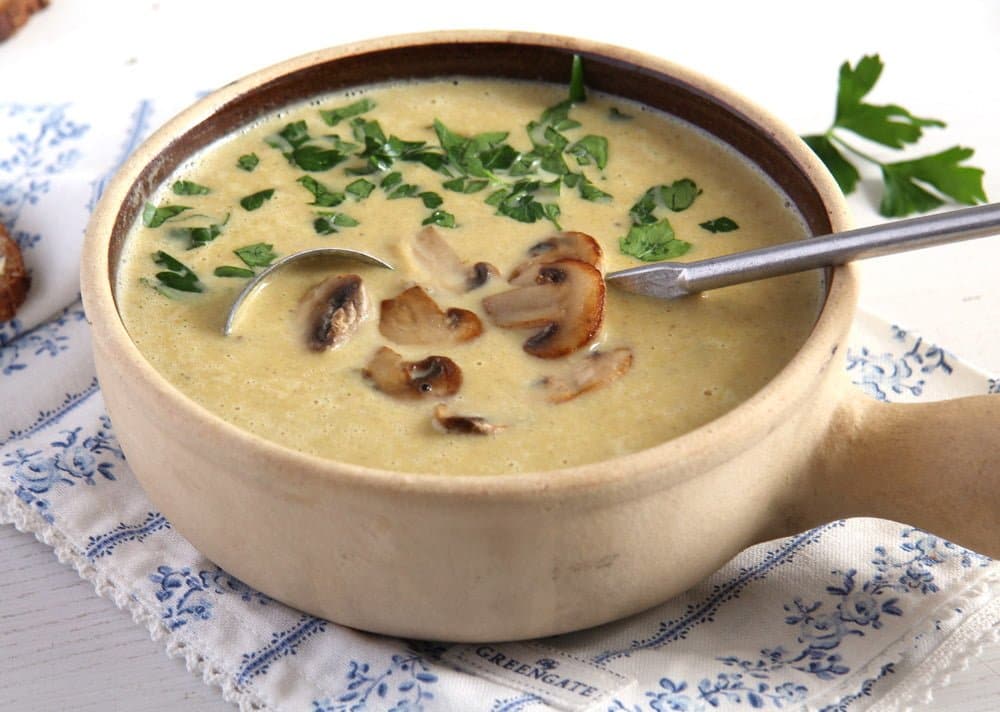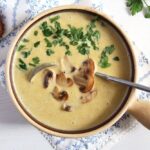 Ingredients
3 medium carrots

1 parsnip or one small slice of celeriac

2 medium onions

3 garlic cloves

1 ½ liter/ 6.3 cups good quality vegetable broth (or chicken stock)

500 g/ 1.1 lbs mushrooms

1 tablespoon butter

3 sprigs of thyme

2 tablespoons all-purpose flour

350 ml/ 1 ½ cups milk

3heaped tablespoons cream cheese

some parsley

salt and pepper
Instructions
Chop the carrots, parsnip or celeriac into small cubes. Chop the onions and the garlic finely.
Pour the vegetable broth or chicken stock into a soup pot. Add the prepared vegetables, bring to a boil and cook until they are soft, about 15 minutes.
In the meantime, wipe the mushrooms clean with some kitchen paper and slice them.
Heat the butter into a large pan, add the sliced mushrooms and the thyme sprigs and fry until the mushrooms are golden, while stirring several times in between. This will take about 5 minutes. Remove about 1/3 of the mushrooms and set them aside.
Push the remaining mushrooms to one side of the pan. Sprinkle the flour into the empty side of the pan, let it get very slightly golden than slowly start adding about 1 cup from the soup while whisking all the time to avoid getting clumps. When the mixture is smooth, stir to coat the mushrooms with it. If it is too thick, you can add a bit more of the soup. Continue cooking for another 2 or 3 minutes. Discard the thyme sprigs.
Give the mushroom flour mixture to the vegetables into the soup pot. Add the milk and the cream cheese and blitz the soup very thoroughly. Heat through again but don't let it boil anymore.
Add the mushrooms that you set aside previously and adjust the taste with salt and pepper. Sprinkle the soup with the chopped parsley and serve immediately.