Typical German beef soup with bone marrow dumplings, vegetables, noodles and egg custard, so comforting and delicious.
This must be the first really German food I had when coming to Germany. It is my mother-in-law's signature dish, I could almost say. She makes it often and always in huge pots, so that she can always bring a large pot for us and a smaller pot for my brother-in-law. It is something we mostly have during the colder times of the year, those are the times when you don't mind a pot of bone broth simmering for hours and hours in the kitchen and when you feel like taking more time to prepare such extra things like bone marrow dumplings and egg custard squares.
The base to make this soup is my beloved bone broth, which is something I have been making on repeat since discovering the broth not so long ago. You can use the homemade version, if you have the time and desire to make it or you could use the Kettle and Fire's Beef Bone Broth, which is an organic beef broth made from grass-feed bones and other organic ingredients, giving it a texture and flavor superior to other similar products. You can also buy this product on Kettle and Fire's website and if you use the promocode MYSPOON15, you'll get 15% off your first order.
If you would like to know more about bone broth and its benefits on health, have a look at this article: The Ultimate Guide to Bone Broth.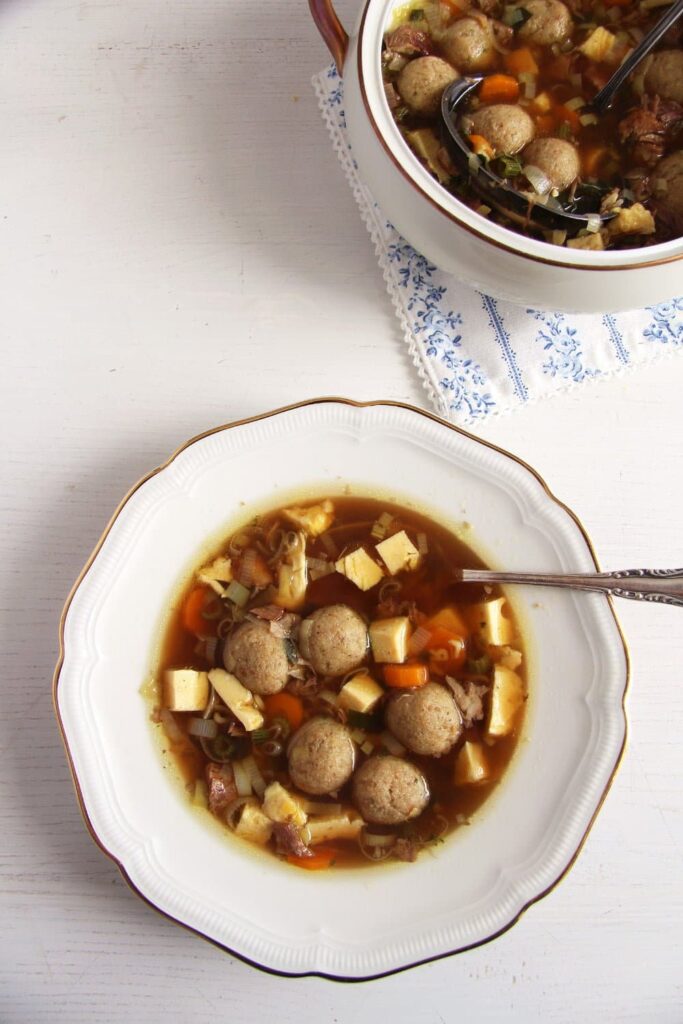 A few words about the egg custard thingies, I am not sure if that is the right name I should give them in English. I had to google for a translation and I found some names like egg custard, egg garnish or custard royal. I have never heard any of these terms in English before, so I am really not sure how to call them. To make you understand better: the eggs are beaten, spiced and poured in a freezer bag. Then you have to cook this freezer bag until the egg set in a whitish, spicy mass, which can be cut into small squares and enjoyed in the soup. I suppose it is something very German as I have never seen something similar in any other international cook book I own (and I do own lots of them). The eggs are so easy to make and delicious, they are really worth it taking the time and making them, they are really a wonderful garnish not only for this particular soup, but for other kind of soups as well.
I often make this soup when cooking fresh bone broth. To make the broth I always use some marrowbones. Before I give the bones to the soup I scratch out the marrow, about 100 g/ 3.5 oz of it and use that to make the dumplings for the soup. However, if you cannot find marrow bones, you could replace the marrow with the same amount of butter. The dumplings will taste a bit different, but you will still like them. If I know I want to make this soup when making the bone broth, I also add a larger piece of beef boiling meat to the soup, which I remove from the broth after several hours (before the bone broth is finished cooking), when the meat is really soft. Decide yourself when the meat is cooked to your liking, I like mine when almost falling off the bone.
My mother-in-law uses Maggi sauce to give the soup its typical dark color and a bit of spiciness. All German people know what that is, but I am not sure how known that is outside Germany. Because I do not like Maggi and I never use it in anything I make, I replace that with some soy sauce. It is very unorthodox (my mother-in-law would think I am crazy for using it), but I think soy sauce not only gives the soup the expected darker color but also adds some more saltiness and flavor to the soup. And I am so much more comfortable with using soy sauce in my cooking than anything else. It has less additives and it tastes better.
Disclosure: This post contains affiliate links, which means that if you click on the product link and make a purchase, I will receive a compensation.
Others you might like:
Beef Broth and Dill Pancakes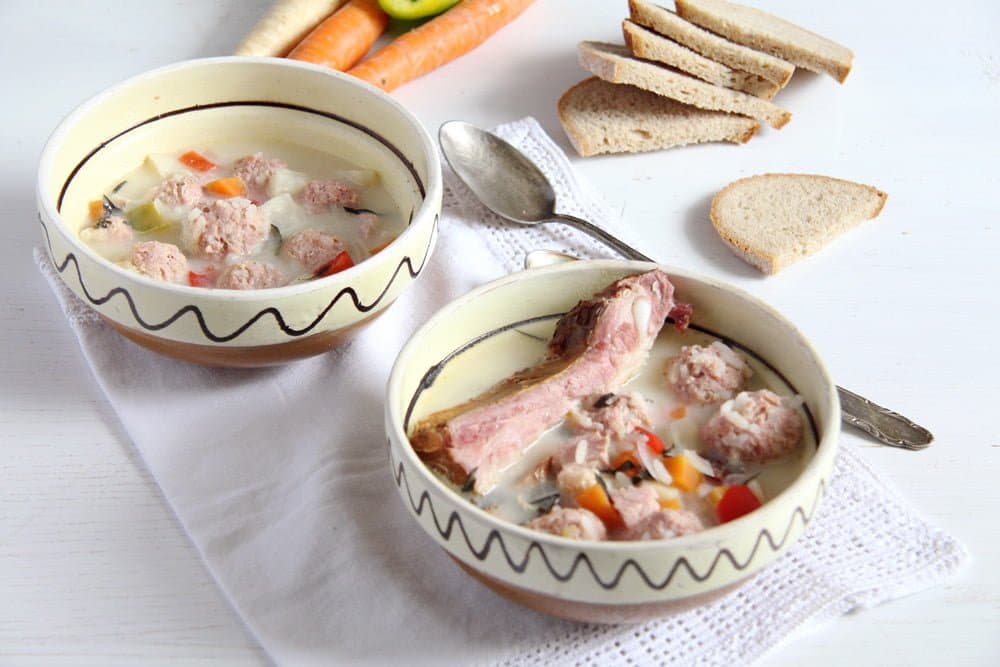 Romanian Meatball Soup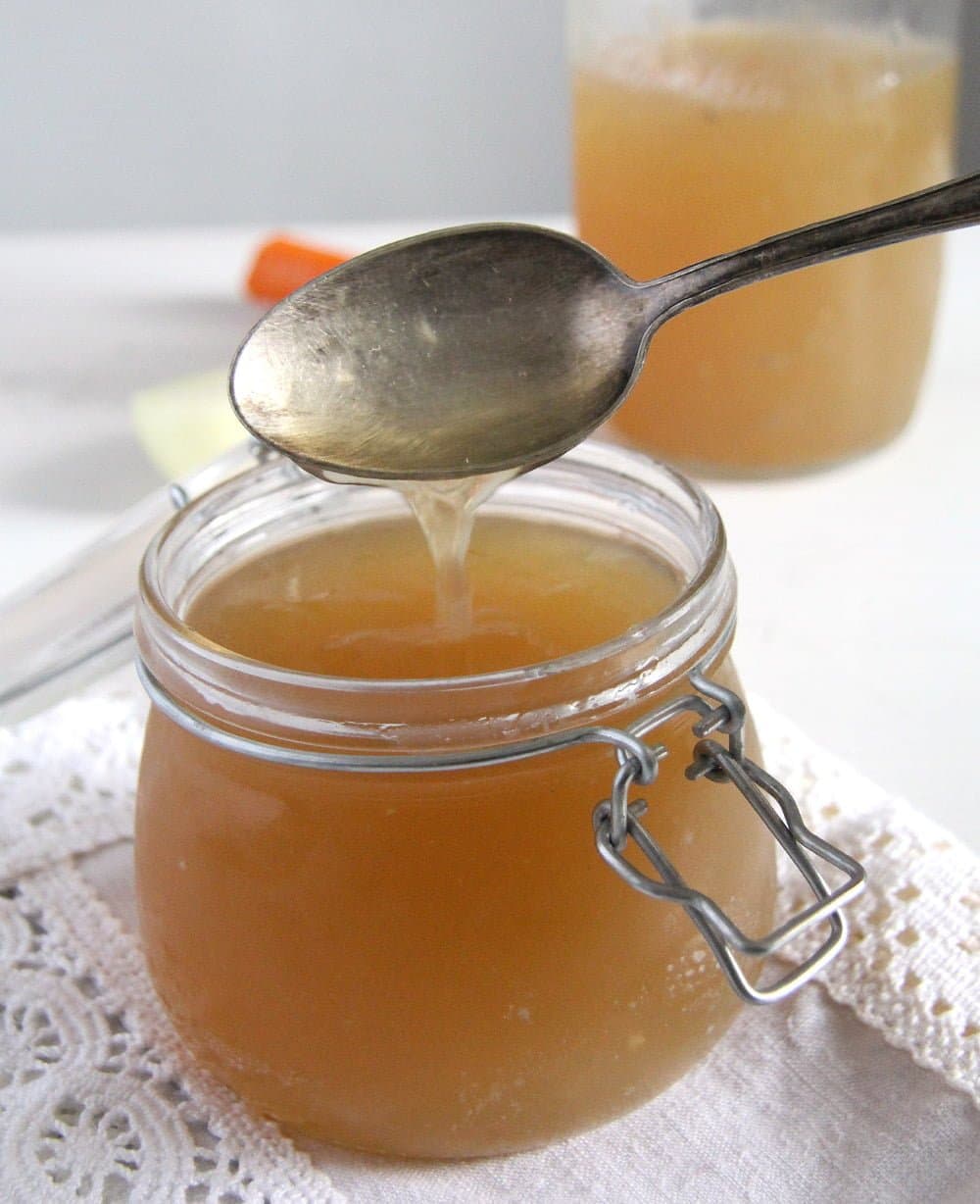 Beef Bone Broth