A typical German soup with leeks, ground pork and cheese, a thick and savory soup everybody loves.
This is one of my mother-in-law's signature dishes, just like the German Beef Soup with Egg Custard and Marrow Dumplings or the Salad "Torte" with Vegetables, Ham and Cheese, that is: a dish I have eaten more often in her house than in my own.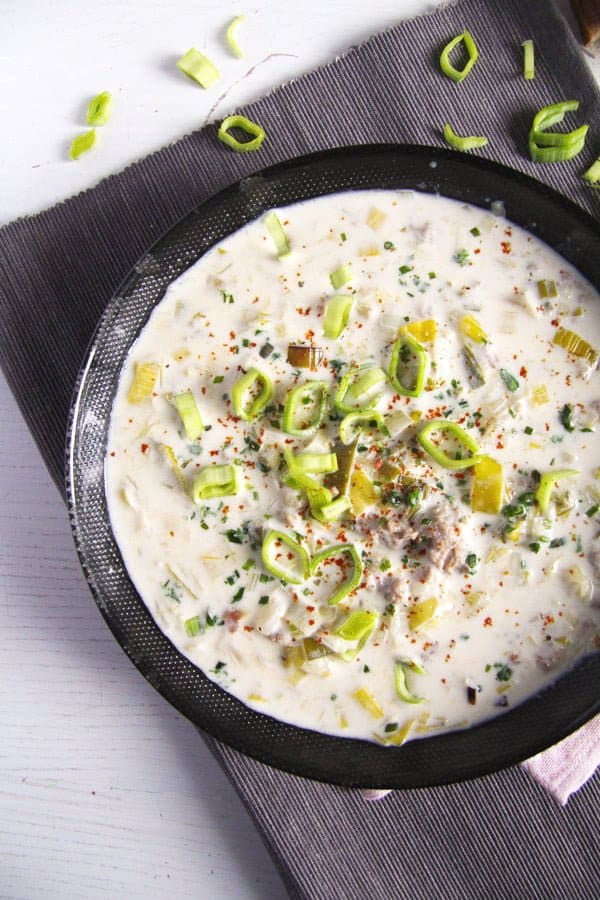 The German Leek and Cheese Soup with Ground Meat was one of the first dishes I have ever eaten upon arriving to Germany, in my mother-in-law's house of course and since then I have had more often than I could count, not only in her house, but in some of my neighbors' and friends' houses as well, most people I know make this soup on a regular basis.
It is a very easy to make soup, using very few ingredients, but due to the processed cheese spread it uses and the ground meat, it is so extremely filling that one relatively small pot full of the soup goes a long way, that means you can feed quite a few people with it, most of them will be full after one bowl and will not take seconds.
But do not think for one second that that means the soup is not good, it is absolutely delicious, no wonder it has been such a hit around here for more than 30 years now, my mother-in-law told me she first ate the soup and got the recipe sometimes in the 80's.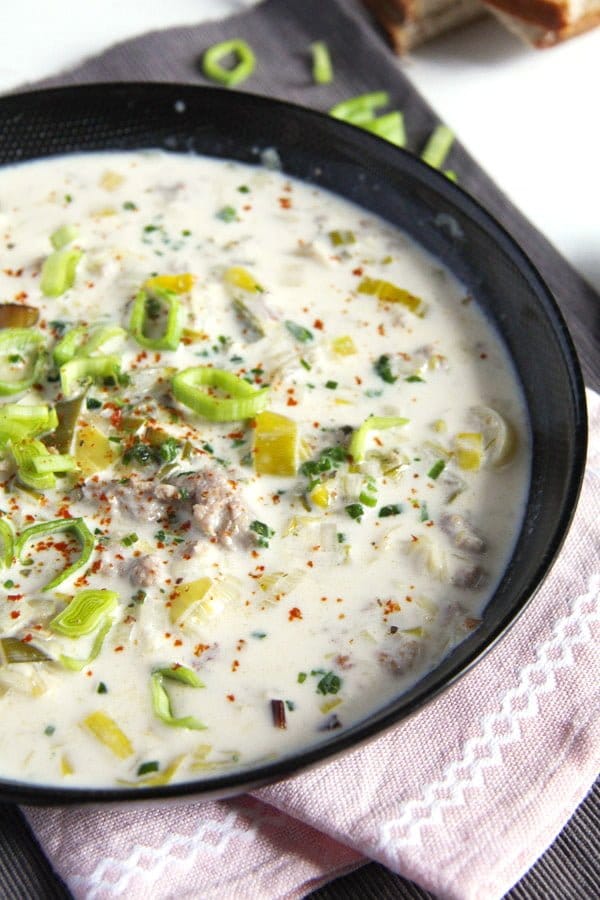 My only "but" when it comes to this German Leek and Cheese Soup with Ground Meat is the use of the processed cheese spread, that is not something I would usually buy and eat, but when it comes to this soup it really cannot be avoided. I have tried to make the soup with cream cheese, but trust me, it was nothing like it was supposed to be… So, do buy that cheese spread, just to make this soup, the final taste and texture of the soup makes it well worth it!
My mother-in-law always makes this soup with the so-called "Mett", which is ground pork spiced with salt, pepper, a bit of garlic and a little caraway. Mett is usually sold to be eaten raw with buns and onions. German people around here absolutely love their raw meat on buns, but that is something I really cannot eat, I always think you have to grow up with it to be able to like it… However, I like cooked Mett in this soup, it is basically just spiced ground pork. If you don't live in Germany, you will probably not be able to buy Mett, but you can definitely use plain ground pork.
So, in case you are looking for a party soup to fill a lot of hungry bellies, this German Leek and Cheese Soup with Ground Pork is it! The following ingredients are enough for about 6 people, but the soup can be easily doubled or tripled.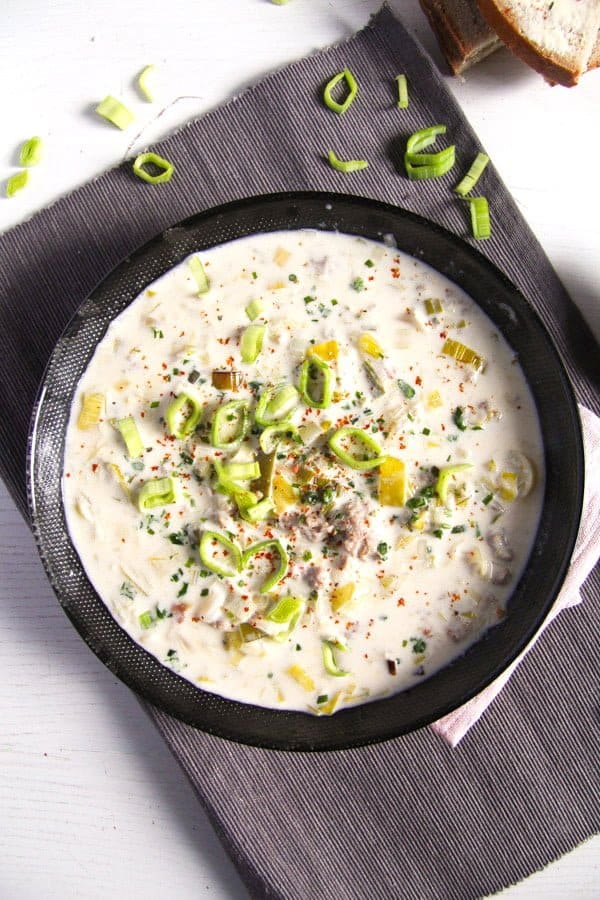 Other soups you could make for a party: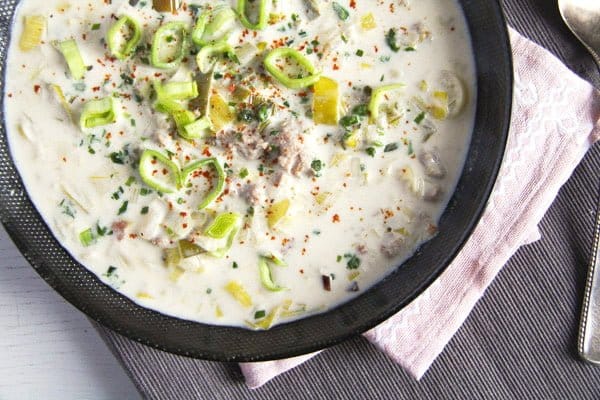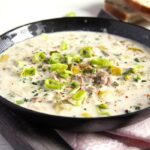 Ingredients
3 large leeks

1 onion

1 tablespoon vegetable oil

350 g/ 12.3 oz ground pork (or Mett in Germany)

a pinch of ground caraway

1 garlic clove

1 liter/ 4 cups vegetable broth

150 g/ 5.3 oz (8 triangles) laughing cow cheese

salt and freshly ground black pepper

chives
Instructions
Chop the leeks and the onion.
Heat the oil in a soup pan. Fry the ground pork until brown, add a pinch of ground caraway, the grated garlic clove and some salt and pepper. If using Mett, you will not have to spice the meat.
Add the leeks and the onion and cook, stirring well a few times in between, for 3-4 minutes. Add vegetable broth and bring to a simmer. Cook for about 20 minutes or until the leeks are soft.
Add the processed cheese spread in small pieces to the soup and stir very well until the soup is completely smooth and there are no cheese clumps inside it anymore. Let simmer for a couple of minutes. The soup is supposed to be very thick, but you could add a bit more broth if you find too thick.
Adjust the taste with salt and generously with freshly ground black pepper. Sprinkle with chopped chives and serve with bread.
This post contains affiliate links. The price you pay as a consumer does not change, but if you make a purchase we will receive a commission which helps support the blog.