Meatball vegetable soup with turkey meatballs, an easy, quick, healthy and delicious meatball soup recipe.
MEATBALL SOUP RECIPE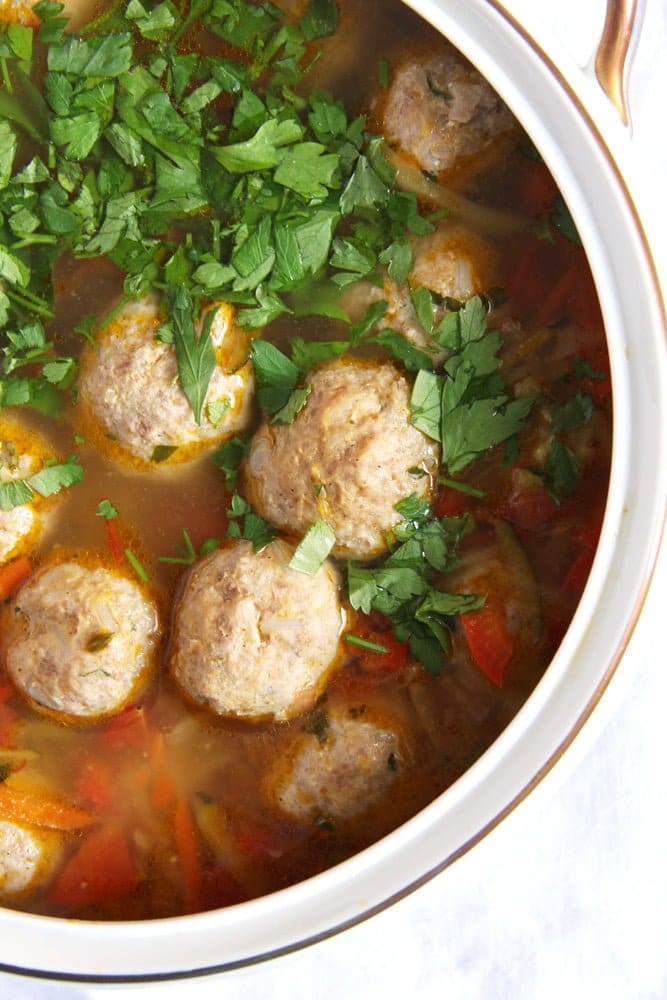 I've made this particular vegetable meatball soup especially for the blog only a few weeks ago for the first time. It is a typical soup eaten in the South of Romania and this is the main reason why I decided to give it a go.
This is actually a repost from 2017. Ever since posting the recipe for the vegetable meatball soup for the first time, I've cooked it dozens of times, it has become one of our favorite and most cooked soups. I make it not only with turkey, but with pork or beef as well, it tastes amazing no matter what.
And for me, this is quite a proof that my grandmother did learn how to cook while she was living in Oltenia, because although this was not her recipe and she never actually made this meatball vegetable soup, the soup tasted just like it was made by my grandmother...
The perfect soup taste for me, I grew up with it and I love it. And although I've cooked many of my grandmother's soups already following the instructions she gave me, no soup (except the chicken and semolina dumpling soup) ever tasted so much as if it was really cooked by my grandma.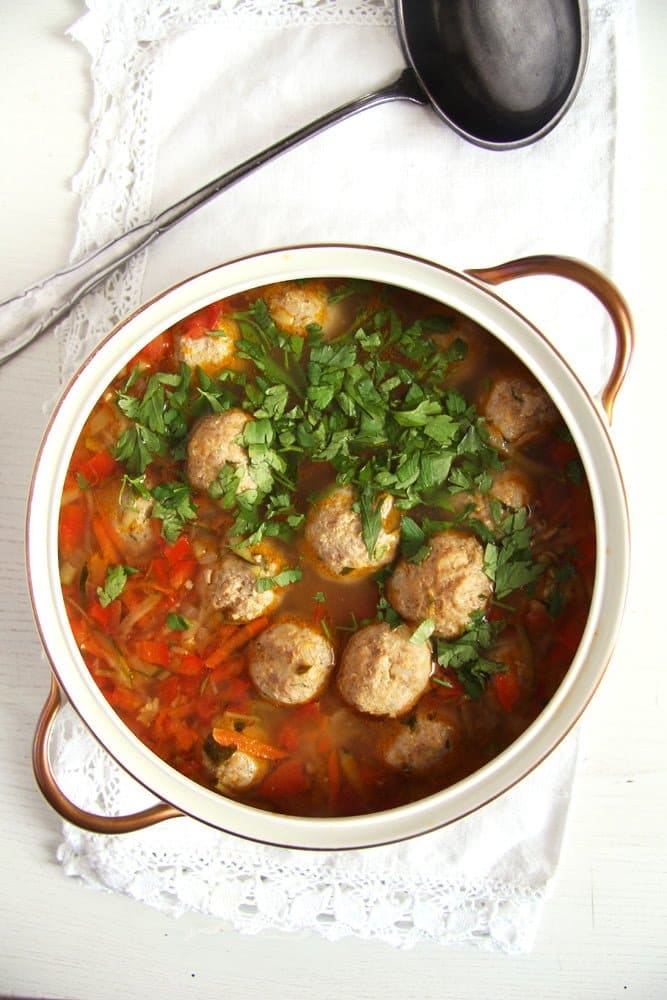 INGREDIENTS FOR VEGETABLE SOUP WITH MEATBALLS
Stock:
Like I've said it many times before the secret to a good soup is the stock you are using. Homemade chicken/turkey stock or bone broth are my absolute favorites and I rarely make soup if I don't have homemade stock.
If I ever do, than I make sure that I buy the best broth or stock I can afford, there are really very few brands that I find OK. So I'd rather take the time and make my broth than use anything of inferior quality.
Making stock is so easy, I really recommend you giving it a try. It takes a bit of time, but it is no work involved there, the broth just cooks slowly and there is nothing that you have to do. Put all the ingredients in the pot and let everything simmer slowly.
I made the broth for this soup with turkey bones from the farm turkey I bought here in the village. You can make chicken broth as well, if turkey bones are not available, it will not make much of a difference, both versions are utterly delicious. Do give it a try, there is nothing better, healthier and tastier than homemade broth!
Meatballs:
I used turkey to make the meatballs, because I love the taste of turkey meatballs and the fact that they have less fat than ground pork or beef.
However, you can use ground pork or beef or a mixture of the two as well.
Chicken meatballs are also an option.
Rice:
You will need some rice to make the meatballs. That might seem unusual for making meatballs, but it is not really in Romania.
I also make pork meatballs with rice for the very popular Romanian soup – ciorba de perisoare or pork meatball soup.
Vegetables:
Carrots
Zucchini
Red bell peppers
Tomatoes
Onions
Herbs:
Parsley
Lovage: fresh lovage is not easy to find. You can replace it with dried lovage, which you should add to the soup together with the meatballs. If you cannot find it at all, leave it out.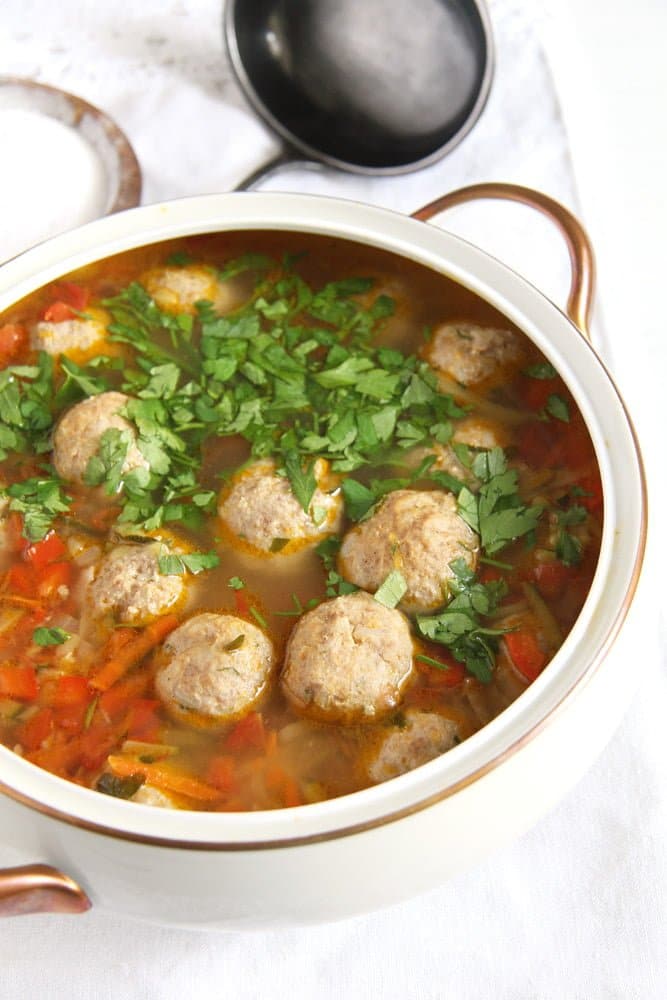 HOW TO MAKE VEGETABLE MEATBALL SOUP?
Cook the rice in salted water until half done, about 7 minutes or according to packet's instructions. Drain well. Set aside.
Cook the chopped and grated vegetables (except tomatoes) for about 5 minutes in some oil.
Add the tomatoes and stock, bring to a boil and simmer while you prepare the meatballs.
Mix together the cooked rice, ground meat, breadcrumbs, egg, parsley, salt, pepper and paprika.
Form small meatballs. Wet your hands a few times in between, this way it will be easier to form the meatballs.
Add the meatballs to the vegetable soup and simmer for about 15-20 minutes or until the meatballs are cooked through.
Add the herbs.
Adjust the taste with salt, pepper and vinegar. Start with 1 teaspoon of vinegar and add more according to your taste.
WHAT TO SERVE WITH TURKEY MEATBALL SOUP?
The vegetable meatball soup makes a hearty meal on its own, it is not meant to be a starter.
I usually serve it with bread, preferably whole wheat bread and butter.
Otherwise, try some bread spreads like this Camembert spread, Polish cottage cheese spread or Hungarian feta cheese spread.
MORE HEARTY SOUPS?
PIN IT FOR LATER!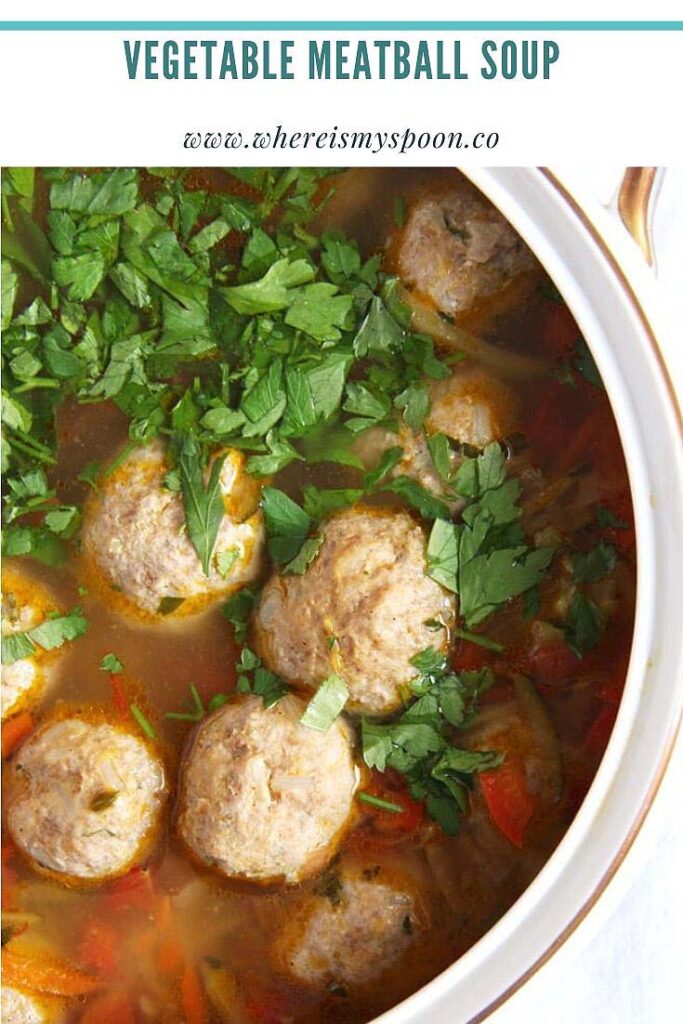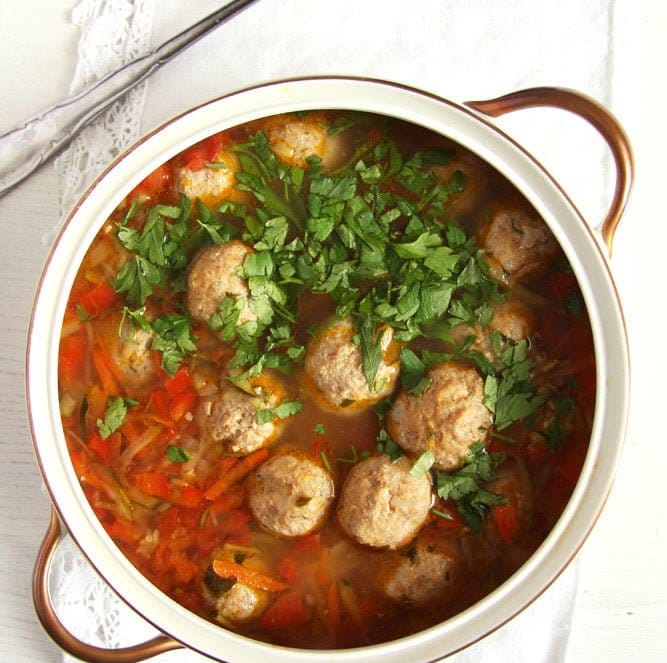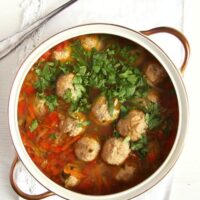 Vegetable Meatball Soup
Meatball vegetable soup with turkey meatballs, an easy, quick, healthy and delicious meatball soup recipe.
Print
Pin
Share
Grow
Saved!
Rate
Ingredients
Meatballs:

2 ½

tablespoons

long grain rice

500

g/ 1.1 lbs ground turkey

2

tablespoons

dried breadcrumbs

1

large egg

2

tablespoons

chopped parsley

½

teaspoon

sweet paprika

¾

teaspoon

salt

ground black pepper

Soup:

2

tablespoons

olive oil

1

onion

1

large carrot

1

medium zucchini

1

red bell pepper

1,5

liter/ 3.2 pints/ 6 ¼ cups good quality turkey or chicken stock

2

medium tomatoes

2-4

teaspoons

white wine vinegar

1

small bunch parsley

4-5

leaves

fresh lovage or ½ teaspoon dried lovage

optional
Instructions
Cook the rice in salted water for about 7 minutes or until half done. Drain well.

Grate the carrot and the zucchini. Chop the onion and the bell pepper very finely.

Heat the oil in a large pot. Cook the onion, carrot, zucchini and bell pepper for about 5 minutes, stirring a few times in between. Add the finely chopped tomatoes and the stock bring to a boil and let cook while you form the meatballs.

To make the meatballs mix the ground turkey, rice, breadcrumbs, chopped parsley, egg, sweet paprika, salt and pepper very well. Form about 25-30 meatballs, about the size of a walnut. Wet your hands from time to time when making the meatballs, it works better.

Add the meatballs to the soup (and dried lovage, if using) and let simmer gently for about 12-15 minutes or until done.

Chop the fresh herbs and add them to the soup.

Adjust the taste with salt, pepper and white wine vinegar. Start with 1 teaspoon of the vinegar and add more to taste.
Nutrition
Serving:
1
/6 of the soup
|
Calories:
402
kcal
|
Carbohydrates:
18
g
|
Protein:
30
g
|
Fat:
23
g
|
Saturated Fat:
6
g
|
Polyunsaturated Fat:
15
g
|
Cholesterol:
127
mg
|
Sodium:
736
mg
|
Fiber:
2
g
|
Sugar:
8
g