What is and how to make bone broth? This is a question that occupied my mind for a while not long ago. I had never heard the term before and then, all of a sudden, it kept popping up from all over the place. I found several blog posts concerning it, I heard about it being sold in bone broth bars in the US, I've read about all its benefits and then I've started to inform myself in order to make it as well.
After reading about the way it is made at home I realized that making bone broth is really not that difficult and the way of making it is not very different from the way of making a normal stock. The main difference is the time of cooking. I usually cook my stock for about 6 hours but you need about 24 hours to get a real bone broth. OK, after throwing everything in the pot and turning on the heat there is not much more you can do, but still, knowing you have to keep your stove on for 24 hours at a time and overnight can be quite intimidating.
But, none the less, I've made my own bone broth and I am glad I did. Why? Because it tastes really amazing. I have made several soups already using it and they were just great. And it's really economical as well. The ingredients cost almost nothing and due to the fact that the broth is so concentrated, you can mix it with some water when making soup (if you wish) and then you can really make a lot of soup out of a large batch of bone broth.
I really cannot tell you how much truth and how much myth there is concerning its health benefits. I mean, I can tell you what I have been reading about it, but after making bone broth twice and eating it mostly in form of a regular soup, I definitely cannot say that it made me in any way healthier or thinner or that my hair is shining now. 🙂 Maybe that happens to regular consumers who drink it every day instead of breakfast, I don't know, I would have to try it out.
But here's what other people say concerning the health benefits of bone broth. The first point and the one that I most easily believe is this one:
"Bone broth used to be a dietary staple, as were fermented foods, and the elimination of these foods from our modern diet is largely to blame for our increasingly poor health, and the need for dietary supplements." (mercola.com)
I remember my grandmother in the communist times of Romania, before the times where you could buy stock powder or cubes in the store or vegetables in winter. She would make stock for every soup she ever cooked and used every part of a chicken or pig in one way or another. She used to make (like most Romanian women) some kind of meat aspic called "piftie" out of the chicken's or pig's head and feet and when I think about it now, that was very similar to bone broth. The bones are cooked together with vegetables for hours and hours, the dish is liquid when warm but it is left to get cold and turn into jelly. It is really something that most non-Romanian people would only grudgingly try, but for us, who grew up with it, it is delicious.
Maybe that and the fermented veggies my grandmother used to make every year were the reason why she was never ill (in comparison to me – I get a cold at least 2 or 3 times every winter). I really don't remember my grandma ever having a cold or blowing her nose or coughing, to the contrary, I remember her bragging about the fact that the last time she had had a cold was sometime in the 1960's. Bone broth is rich in minerals, the minerals from the bones are released in the water during the long cooking process and that is what boosts our immune system apparently.
Furthermore, the gelatin contained in the bone broth could help in case of digestive and intestinal problems, it could help with issues like chronic diarrhea or constipation, the collagen in it might make your skin become smoother, your nails stronger and your hair shinier. The glucosamine contained by the bone broth might help you with joint pains and the chondoitrin sulfate might help prevent osteoarthritis. Regular consumption of bone broth should also help with your energy levels, should make you sleep better and generally feel better. Well, after writing all this stuff, I feel like making another batch or two of bone broth and actually try to drink it every day for a while just to see what happens. 🙂
I've made this bone broth using turkey bones from the huge half turkey I bought from somebody here in the village a few months ago. I also got the back bone, the neck and the wings (my friend who bought the other half of the turkey didn't want any bones, so I got them all). In addition I added 3 beef marrow bones with very little meat attached on them. I roasted the bones first for about an hour and simmered them for 24 hours together with some vegetables and spices. The result is a very rich, dark, thick liquid, incredibly deep tasting and delicious.
You can use any bones you have to make the broth: chicken, turkey, duck, goose, beef, veal, lamb, pork or a mixture of some of them. Ask your butcher for "soup bones" and marrow bones and be sure to include some parts like knuckles, feet or wings, these are the parts that contain more cartilage, which contains a lot of collagen.
One of the soups I have made using the bone broth is this turkey meatball soup, a comforting and warming winter soup, Italian inspired and incredibly healthy. To make the meatballs I used my
homemade mint pesto
, but you can use any pesto you happen to have and like, I am sure they would all be good.
But soup is not the only way of enjoying bone broth. Like I've said, many people drink it as it is (with just a little salt and pepper), you can freeze it in smaller portions and use it as a base for sauces or to add in stews and other recipes requiring stock. When cold the broth will turn into jelly, you could keep this in the fridge for about a week or freeze it in order to keep it longer.
Rating 5.0 from 1 reviews
Prep time:
Cook time:
Total time:
Ingredients
For the bone broth:
2 kg/ 4.4 lbs bones, turkey: back bone, wings, neck and some beef marrow bones (see note)
2 tablespoons oil
3 large carrots, unpeeled, large chunks
1 large

celeriac

piece, large chunks
1

leek

, large chunks
3 onions, unpeeled, halved
1 garlic head, unpeeled, halved

horizontally

a bunch of parsley stalks, optional
1 tablespoon black peppercorns
3 bay leaves
1 tablespoon cider vinegar
4 liter/ about 18 cups water
For the turkey meatballs and the soup:
2 liter/ 9 cups bone broth (you can dilute it to taste)
500 g/ 1.1 lbs ground turkey meat
3 teaspoons pesto (I used my Mint Pesto)
2 tablespoons grated Parmesan
1 large garlic clove, grated
1 egg
50 g/1/3 cup

panko

1 level teaspoon salt
pepper
2 large spring onions
5 handfuls chopped kale
100 g/ 3.5 oz small soup pasta shapes or broken spaghetti
Instructions
Preheat

the oven to 200 degrees Celsius/ 390 degrees Fahrenheit.
Wash and dry the bones and place them on a large baking tray. Rub them well with the olive oil and roast them for 1 hour, turning once after

half

time.
Place the bones and all other ingredients in a very large pan. Cover with water. Use more water if necessary to completely cover the bones and the veggies. Slowly bring to a boil, turn the heat down to low and simmer for 24 hours. Add more water if necessary so that the ingredients are always covered.
After such a long cooking time, the bones should

beginn

to crumble, that is a good thing, a sign that all the nutrients

have been extracted

.
Strain and discard the vegetables. Collect all the meat and discard the bones as well. Use the meat to eat with the soup or to add to other dishes.
Strain the bone broth again through a fine mesh sieve or a clean cloth. Let it get cold then place it in the refrigerator until the fat rises to the top and becomes solid. Remove the fat.
Divide the bone broth into smaller portions if you want to freeze it. I usually heat it, so that it becomes liquid again, divide it into containers and let it get cold before I freeze it. If you want to keep it in the fridge, place it into larger containers.
To make the meatballs mix together the ground meat, pesto, Parmesan, egg,

panko

breadcrumbs, grated garlic, salt and pepper. Form about 30 walnut-sized balls. Bring the bone broth to a light boil, add the meatballs, sliced green onions and chopped kale and simmer for about 10 minutes. Add the small pasta shapes and cook for 5 minutes more or until the pasta

is done

and the meatballs

are cooked

through. Adjust the taste with salt and pepper and serve.
Note: You can use any bones you have to make the bone broth: chicken, turkey, duck, goose, beef, veal, lamb, pork or a mixture of some of them. Use

so called

"soup bones" and marrow bones, if available. Include some parts like knuckles, feet or wings, these are the parts that contain more cartilage.
View Post
You might also like: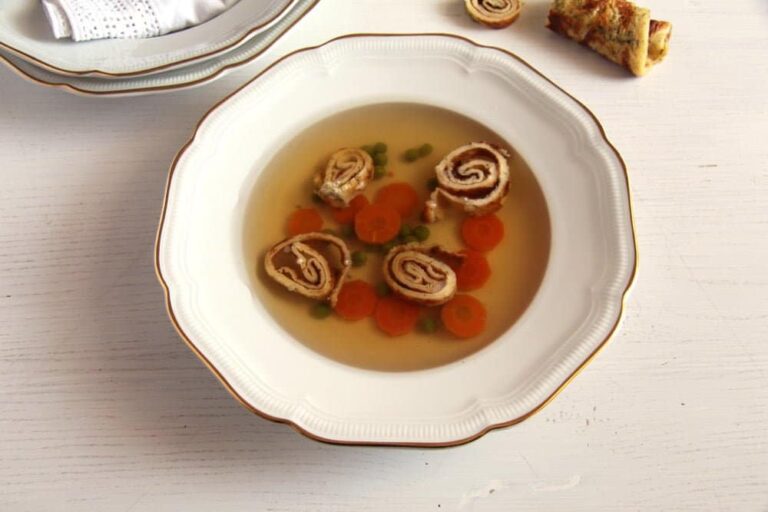 Beef Broth and Dill Pancakes
Chicken Stock and Semolina Dumplings
Red Wine Balsamic Turkey