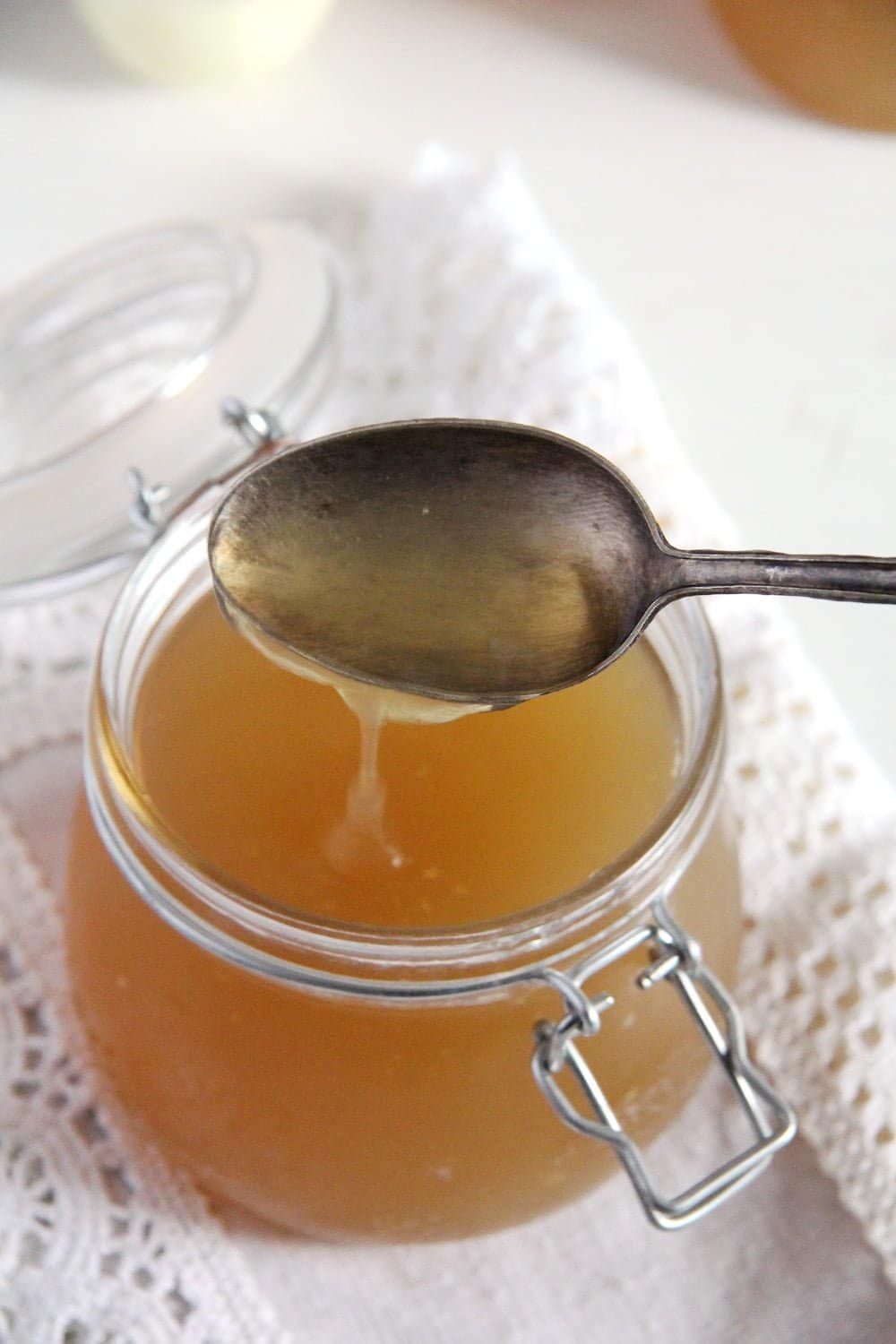 Turkey bone broth made from the leftover turkey carcass or other bones. This healthy and easy to make bone broth makes the basis for countless delicious soups, sauces, and gravies.
HOW TO MAKE BONE BROTH?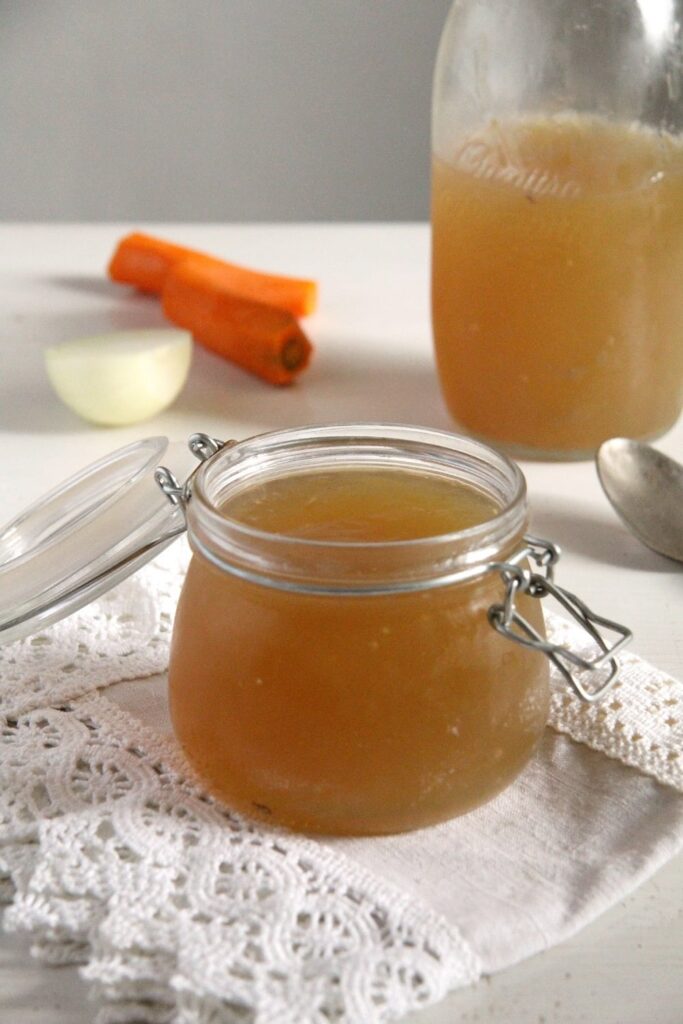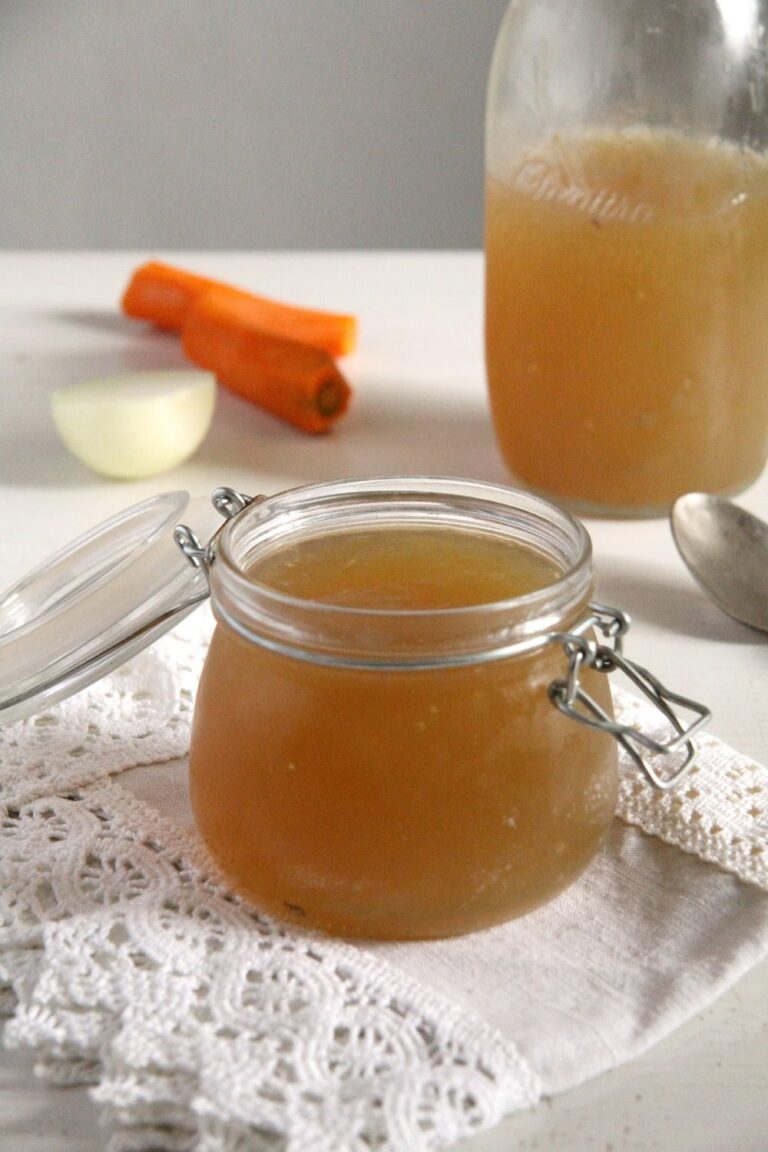 Turkey bone broth is the kind of stock I make most of the time. I am able to buy turkey at a farmer in the village, so we really eat a lot of turkeys. But what to do with the bones, it would be a shame to throw them all away?
The simplest answer is to make turkey stock or, even better, turkey bone broth.
What is bone broth?
Bone broth is made by slowly cooking the bones, bits of meat, and connective tissues of animals for a long time. It can be made from turkey bones, chicken, beef, pork, lamb or game. I often use the bones of our Christmas ducks or geese.
Bone broth versus stock
There is a little bit of confusion between stock and broth, I don't always use the terms accordingly myself. Broths are normally made by boiling pieces of meat, while stocks are made by simmering the bones. I prefer making stocks as they are more flavorful and allow me to use the bones that I would not use for any other purposes anyway.
Bone broth is made by cooking bones that still have bits of meat attached to them in water.
The main difference between bone broth and regular broth or stock is the time of cooking. I usually cook my stock for about 3-4 hours but you need about 24 hours to get a real bone broth. The long cooking time extracts lots of nutrients from the bones. More collagen and amino nutrients are released into the liquid.
Is bone broth healthy?
I really cannot tell you how much truth and how much myth there is concerning its health benefits. I mean, I can tell you what I have been reading about it.
I make bone broth often but I definitely cannot say that it made me in any way healthier or thinner or that my hair is shining now. 🙂 Maybe that happens to regular consumers who drink it every day instead of breakfast, I don't know, I would have to try it out.
However, it is assumed that bone broth is rich in minerals, the minerals from the bones are released in the water during the long cooking process and that is what boosts our immune system.
Furthermore, the gelatin contained in the bone broth could help in case of digestive and intestinal issues, it could help with issues like chronic diarrhea or constipation, the collagen in it might make your skin become smoother, your nails stronger and your hair shinier.
It is also assumed that the regular consumption of bone broth might have a positive influence when it comes to joint pains, might help prevent osteoarthritis or help with keeping good energy levels, it should make you sleep better and generally feel better.
TIPS FOR MAKING BONE BROTH
I make bone broth using the bones of the turkey. These bones are either already roasted after making roasted turkey legs, for instance or fresh. When it comes to the fresh parts, I use the neck, wings and the backbone of the turkey.
You can buy these parts at the butchers. Ask for "soup bones" or marrow bones and be sure to include some parts like knuckles, feet or wings, these are the parts that contain more cartilage, which contains a lot of collagen.
You can also make the broth using the carcass of a Thanksgiving or Christmas turkey, never throw that away. As mentioned above, I use the Christmas goose or duck carcass to make stock or bone broth.
When using fresh bones it is recommendable to roast them first. In order to do that place the wings/neck/backbones on a baking tray and roast them in the oven for about 1 hour.
Once they are roasted, transfer them to a very large pot, add some vegetables and spices, bring the bone broth to a simmer, turn the heat to low and simmer for 24 hours.
The result is a very rich, dark jelly, incredibly deep tasting and delicious. The jelly will become liquid again when reheated.
The vegetables and spices are rather optional, but I always use them. If you want a pure bone broth, leave them out, adding only salt and pepper.
Why is the bone broth cloudy?
Any kind of broth or stock can turn cloudy. That is usually the result of boiling the stock instead of simmering it.
The secret is to never let the bone broth or stock come to a boil, as that will cause the proteins to break into small particles, which will make the stock cloudy. You should also never stir it either.
However, apart from it being not as pretty anymore, cloudy bone broth is just as delicious as clear broth, so don't worry about it, if you (like me) sometimes forget to turn the heat down to very low before the broth starts to boil.
How to store bone broth?
You should always make bone broth in large batches, otherwise, you will waste a lot of energy.
Sieve the bone broth through a large sieve to remove the bones, vegetables, and spices and through a finer sieve to remove the small impurities.
Pour the liquid into large jars with lids or other containers. Let cool on the counter.
Once cool, the turkey bone broth will keep in the fridge for 4 to 5 days.
You can freeze it for a very long time, up to 1 year.
It can be frozen in freezer containers, freezer bags or cube trays.
Freezing bone broth cubes will allow you to defrost smaller portions needed to enrich the taste of a soup or stew, to make sauces or gravies.
How to use bone broth?
The most obvious thing would be to make soups, a soup made with bone broth is better than any other.
I also use bone broth to make stews, sauces or gravies.
VEGETABLE MEATBALL SOUP – Meatball vegetable soup with turkey meatballs, an easy, quick, healthy and delicious meatball soup recipe.
PORK AND POTATO STEW – Even if this is a pork stew, you can still use turkey bone broth to make it.
CREAM OF TURKEY SOUP – The perfect way of using the turkey's carcass and any leftover meat.
PIN IT FOR LATER!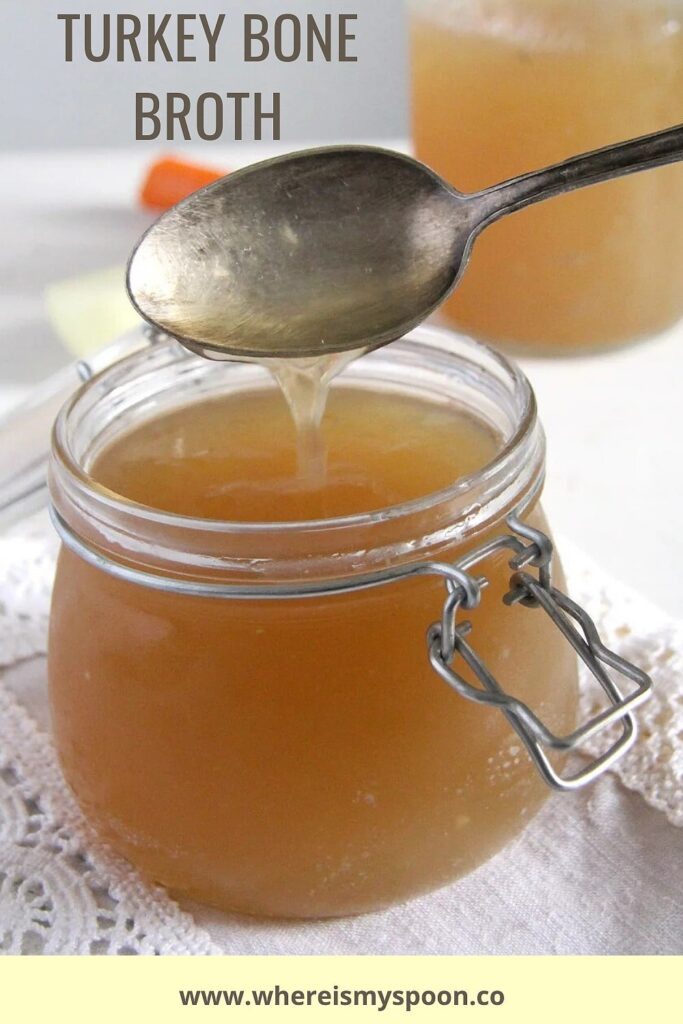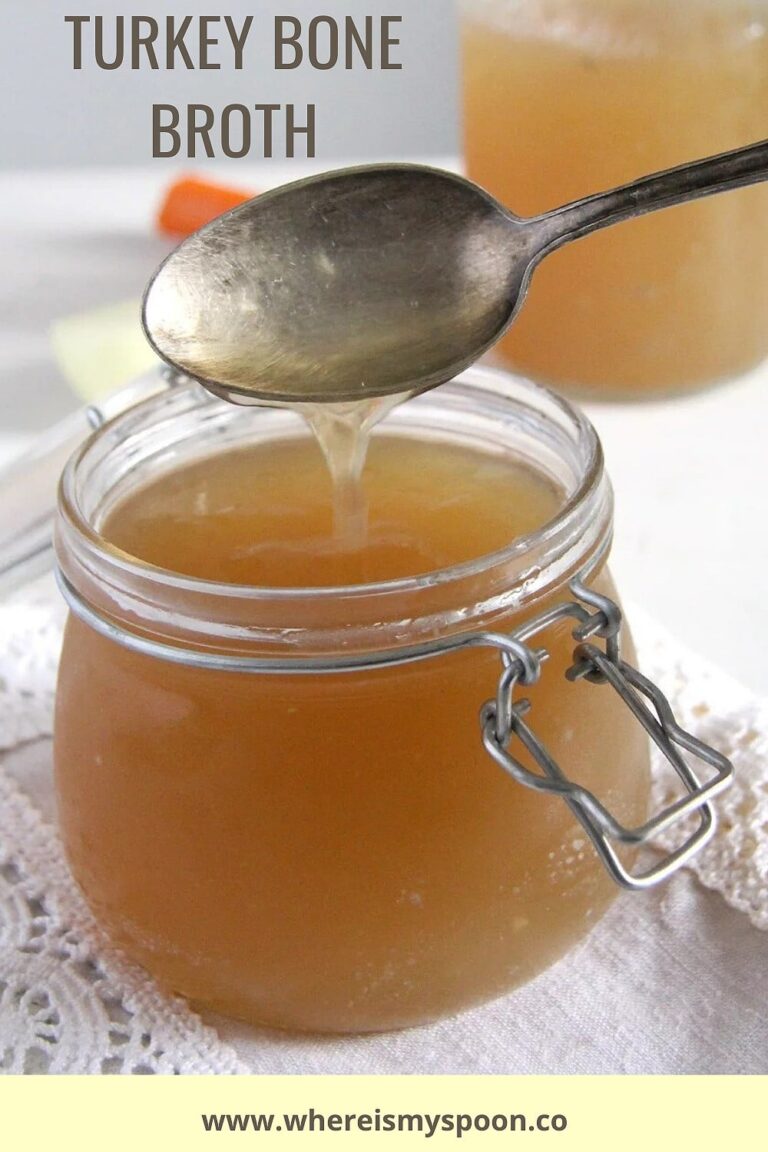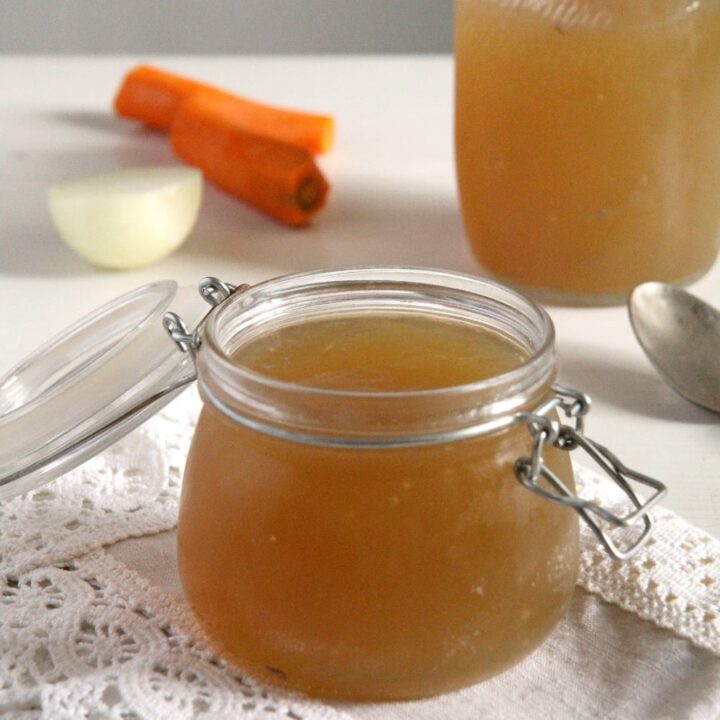 Turkey Bone Broth Recipe
Prep Time:
1 hour
30 minutes
Total Time:
1 day
1 hour
30 minutes
Turkey bone broth made from the leftover turkey carcass or other bones. This healthy and easy to make bone broth makes the basis for countless delicious soups, sauces, and gravies.
Ingredients
2 kg/ 4.4 lbs turkey bones or leftover turkey carcass (See note)
2 tablespoons oil
3 large carrots, unpeeled, large chunks (See note)
1 large celeriac piece, large chunks (or 4-5 celery sticks)
3 onions, unpeeled, halved
1 garlic head, unpeeled, halved horizontally
a bunch of parsley stalks, optional
1 tablespoon black peppercorns
3 bay leaves
sea salt
1 tablespoon cider vinegar
4 liter/ 1 liquid gallon/ about 18 cups water
Instructions
If using a turkey carcass there is no need to roast it. In this case, skip the roasting step, place the carcass into the pot, add everything else and let simmer as the recipe requires.
Preheat the oven to 200 degrees Celsius/ 400 degrees Fahrenheit. Wash and dry the bones and place them on a large baking tray. Rub them well with the olive oil and roast them for 1 hour, turning once after half time.
Place the bones and all other ingredients in a very large pan. Cover with water. Use more water if necessary to completely cover the bones and the veggies. Slowly bring to a boil, turn the heat down to low and simmer for 24 hours. Add more water if necessary so that the ingredients are always covered.
After such a long cooking time, the bones should begin to crumble, that is a good thing, a sign that all the nutrients have been extracted.
Strain and discard the bones and vegetables. Strain the bone broth again through a fine-mesh sieve or a clean cloth.
Place into jars or other containers (suitable for freezing if you want to freeze the bone broth).
Notes
You can use any bones you have to make the bone broth: chicken, turkey, duck, goose, beef, veal, lamb, pork or a mixture of some of them. Use so-called "soup bones" and marrow bones, if available. Include some parts like knuckles, feet or wings, these are the parts that contain more cartilage.
The vegetables are optional, but I always add them to any bone broth or stock I make.
The nutritional information is calculated for the whole batch of turkey bone broth, however, these calculations are only approximate.
Nutrition Information:
Yield:

1
Serving Size:

3 liter broth
Amount Per Serving:
Calories:

528
Total Fat:

30g
Saturated Fat:

2g
Trans Fat:

0g
Unsaturated Fat:

26g
Cholesterol:

0mg
Sodium:

934mg
Carbohydrates:

64g
Fiber:

12g
Sugar:

19g
Protein:

9g
Nutrition information isn't always accurate.