Try our hearty turkey lentil soup recipe to bring warmth and flavor to your cold days. You can whip up this soup with either fresh or leftover turkey meat or ground turkey.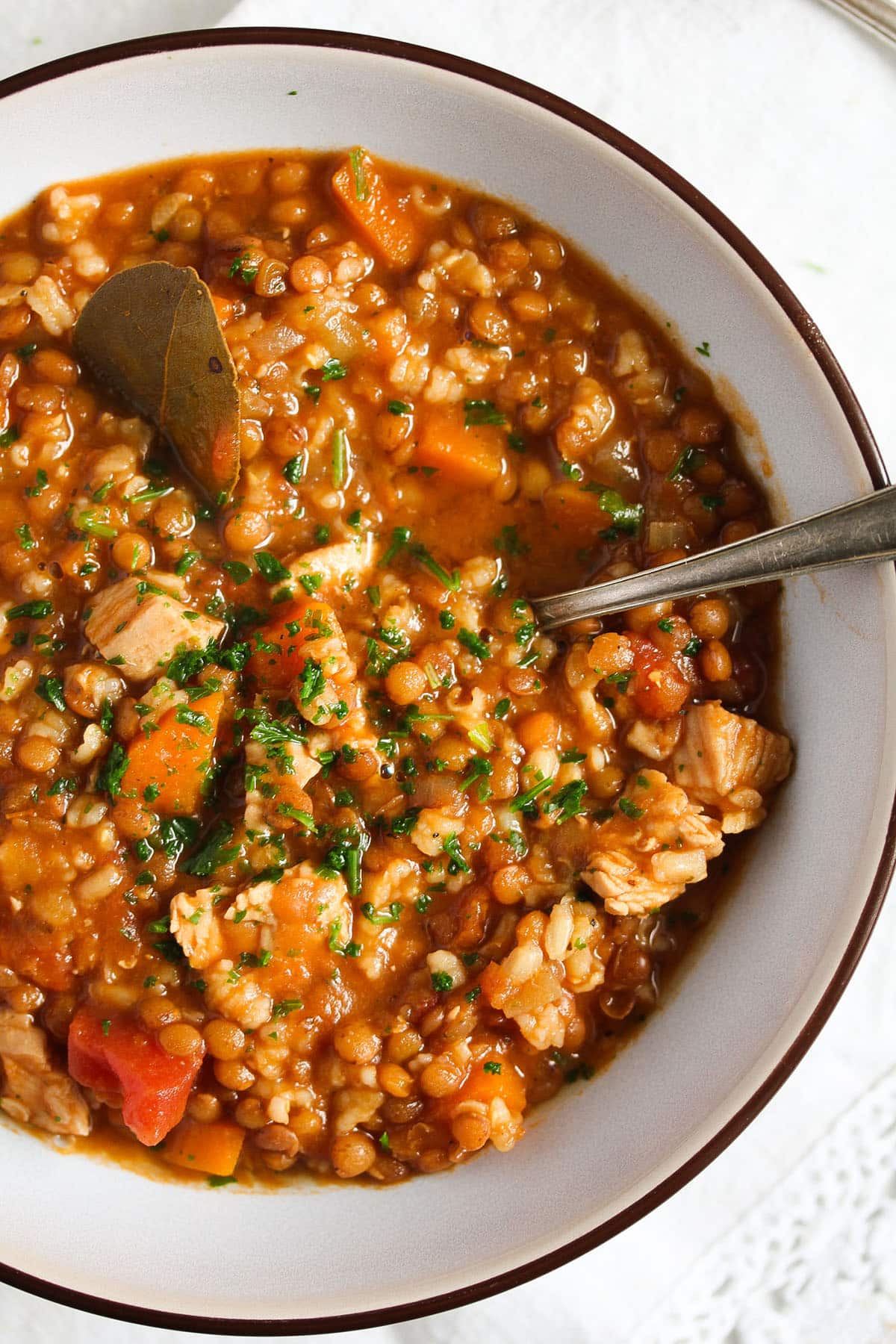 Make a thick, delicious turkey lentil soup by adding brown lentils, turkey, vegetables, and rice. The great thing about it? You can use leftover, fresh chopped meat or ground turkey for this flavorful and protein-packed soup - a satisfying meal for your whole family, a great idea for an easy weeknight meal, or a quick dish during the holiday season.
Bonus: You can whip up this dish using ingredients from your pantry and fridge, so there is no need for post-holiday shopping. You can use fresh meat or make the most of your leftover Thanksgiving turkey with this easy, hearty soup that's quick and delicious, using what you already have.
And if you still have leftovers in the fridge, try some of our favorite recipes: Cream of Turkey Soup, Turkey Fricassee, Turkey Risotto, or Turkey Lasagna; we love them all. Or check out more lentil soup recipes: German Lentil Soup, Carrot and Lentil Soup, or Black Lentil Soup with Pasta.
Jump to recipe
Recipe ingredients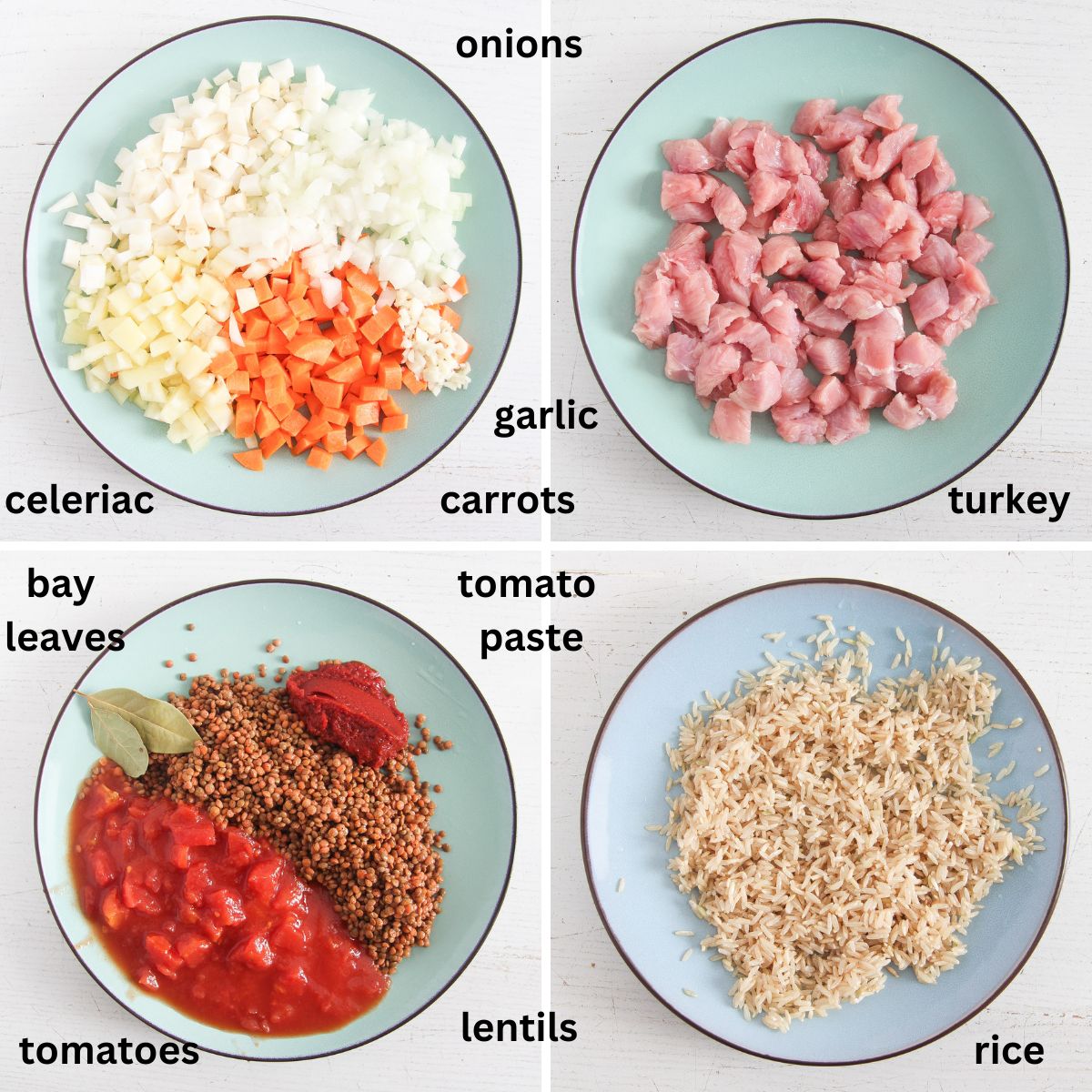 Turkey: Fresh turkey meat, lean ground turkey, or leftover turkey? They all work perfectly.

For leftover turkey, chop or tear it into small pieces and add during the last 5-8 minutes of cooking.
If using fresh turkey, chop and add 10-15 minutes before the soup is done.
Ground turkey should be browned first, then simmered with the rest of the ingredients.

Lentils: Brown lentils are great for this turkey lentil soup recipe, but you can also use black or green lentils. Just be sure to follow the package instructions for cooking time to get them just right.
Stock or broth: The crucial ingredient in making soup is the broth or stock. I always prefer using homemade chicken stock or turkey bone broth, especially after a festive meal when you have the turkey carcass to make it. However, you can also use your favorite store-bought brand if you don't have homemade stock available.

I used 8.5 cups/ 2 liters of stock to make this lentil turkey soup. It might seem like a lot, but remember that the rice and lentils will absorb a significant amount of liquid. As a result, the dish will have a stew-like consistency. Add more stock to achieve your desired thinner consistency.
Vegetables: To add flavor and nutrients, combine vegetables like onions, carrots, celery, bell peppers, garlic cloves, and diced tomatoes.
Spices and herbs: Bay leaf, dried marjoram (thyme or Italian seasoning, if you like), tomato paste, balsamic vinegar, Worcestershire sauce, a little bit of sugar, salt, and lots of ground black pepper.
Rice: Brown rice to add a hearty and nutty flavor that perfectly complements the turkey lentil soup.

If you decide to use white rice, remember that it cooks faster. In this situation, adding the white rice a bit later is a good idea, allowing the brown lentils to cook properly before the rice becomes overly soft.
Variations on the recipe
Use chicken leftovers to make this easy soup recipe.
Different spices and herbs allow you to change the flavor profile. Try adding cumin, smoked paprika, or coriander for a Middle Eastern twist or Italian herbs like rosemary and thyme for a Mediterranean touch.
Grains: You can use grains like quinoa or barley instead of rice, but remember to follow their specific cooking times, as different grains require different cooking times.
Additional veggies: Include other vegetables like spinach, kale, or zucchini.
Protein: Aside from turkey or chicken, you can use sausage for a different taste. Try sliced smoked sausage like kielbasa, cabannosi, chorizo, andouille.

Another tasty option is to form meatballs using sausage meat. Simply simmer the meatballs in the soup for about 10 minutes or until they are thoroughly cooked. Check out our Bratwurst Soup recipe for more details on making soup meatballs using sausage meat.
If you want a plant-based protein, consider adding tofu or tempeh.

Heat: Add some red pepper flakes or a dash of hot sauce.
Add toppings like grated Parmesan cheese, croutons, chopped herbs, or a drizzle of olive oil.
How to make lentil turkey soup?
If using ground turkey, brown it first. Remove it from the pan and return it to the pot once you've sauteed the vegetables (at the end of Step 1).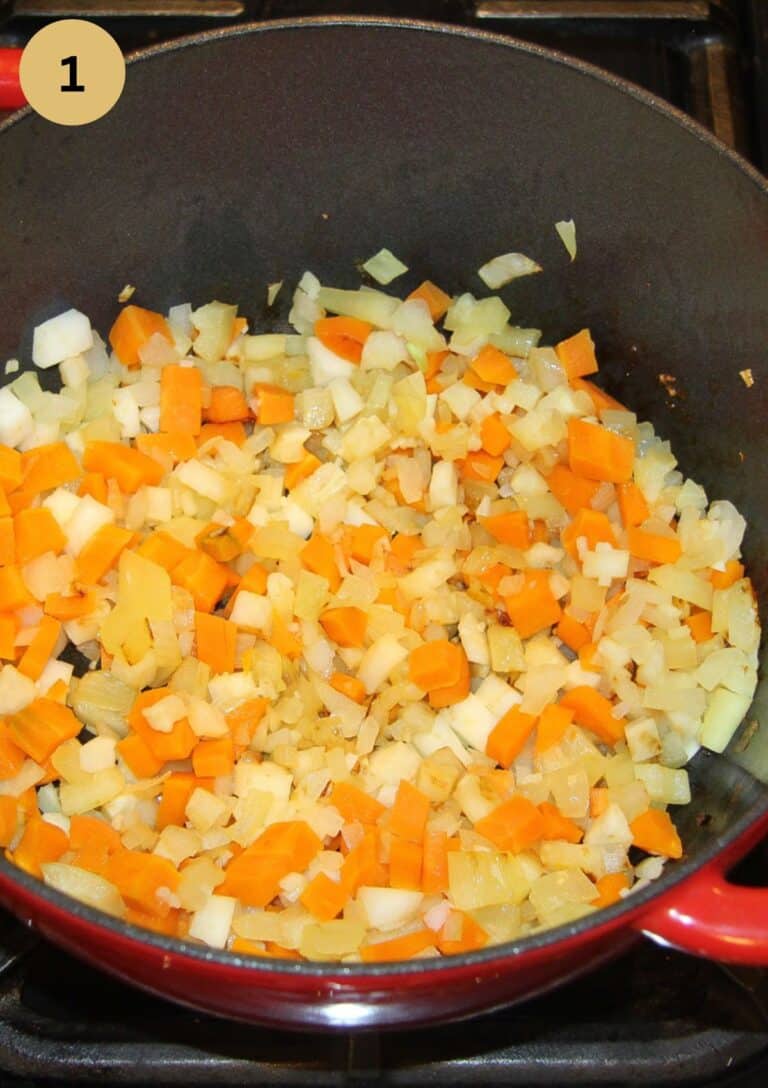 Step 1: Cook the chopped vegetables in a large Dutch oven or another large pot until softer.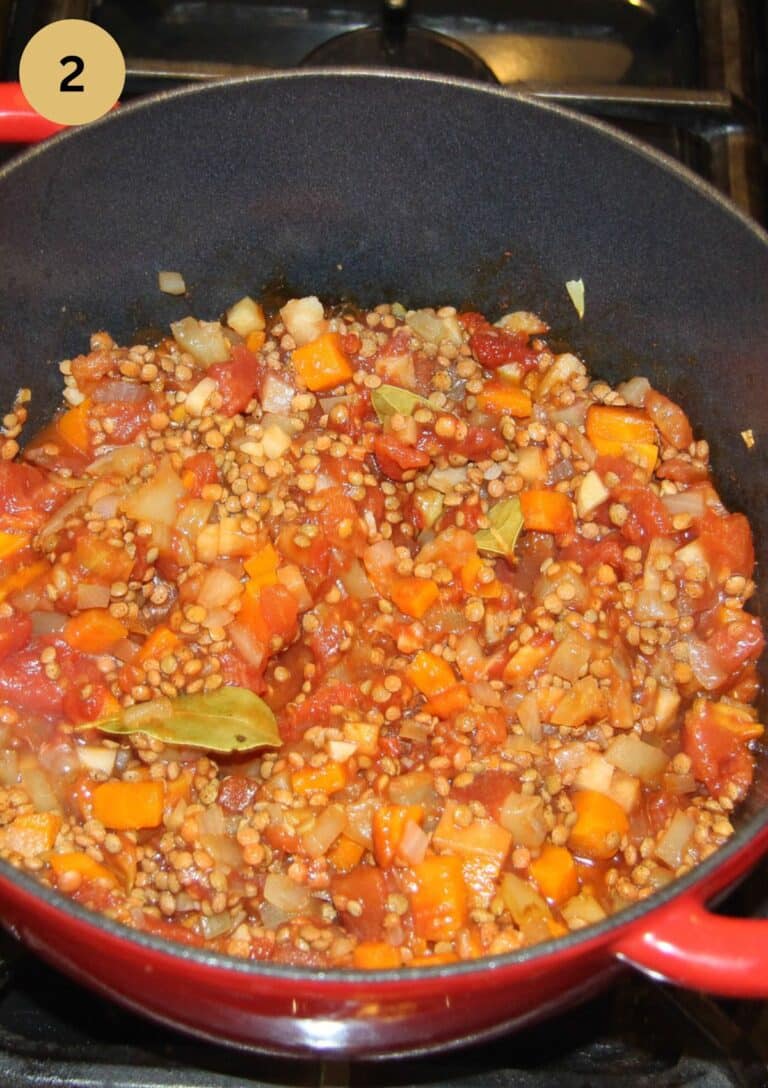 Step 2: Add washed lentils, bay leaves, tomato paste, and canned tomatoes, and stir, scraping the bottom of the pot (2 minutes).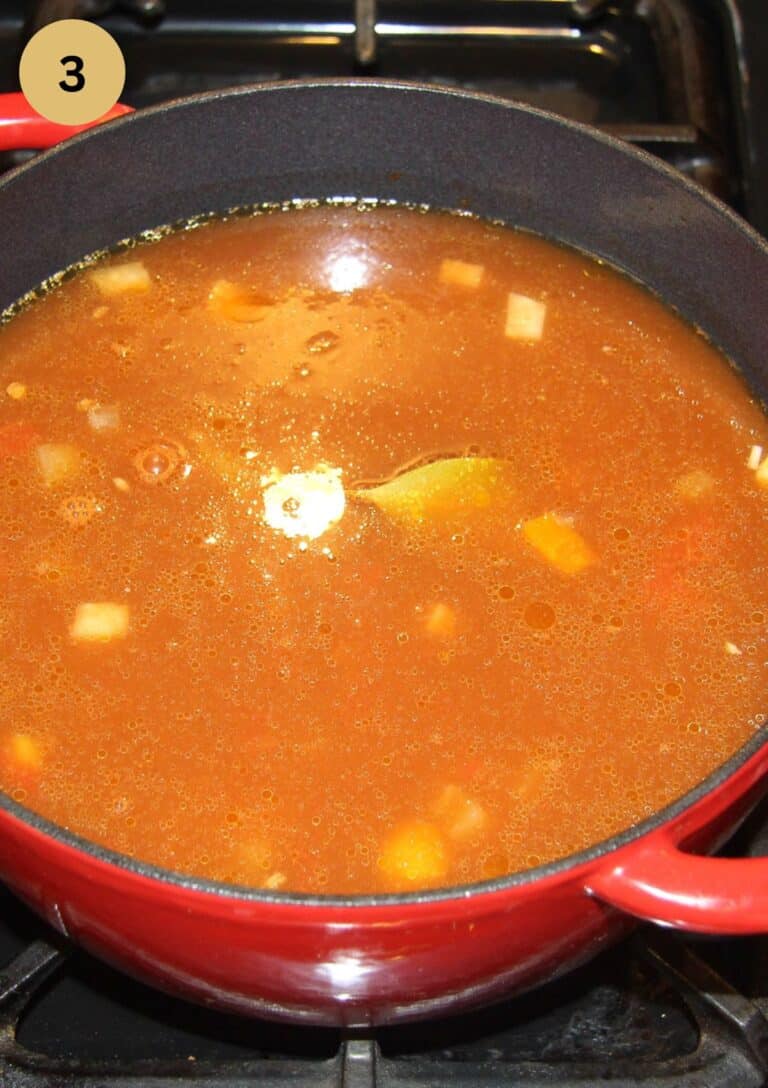 Step 3: Add stock and marjoram, and simmer for about 8 minutes, partially covered.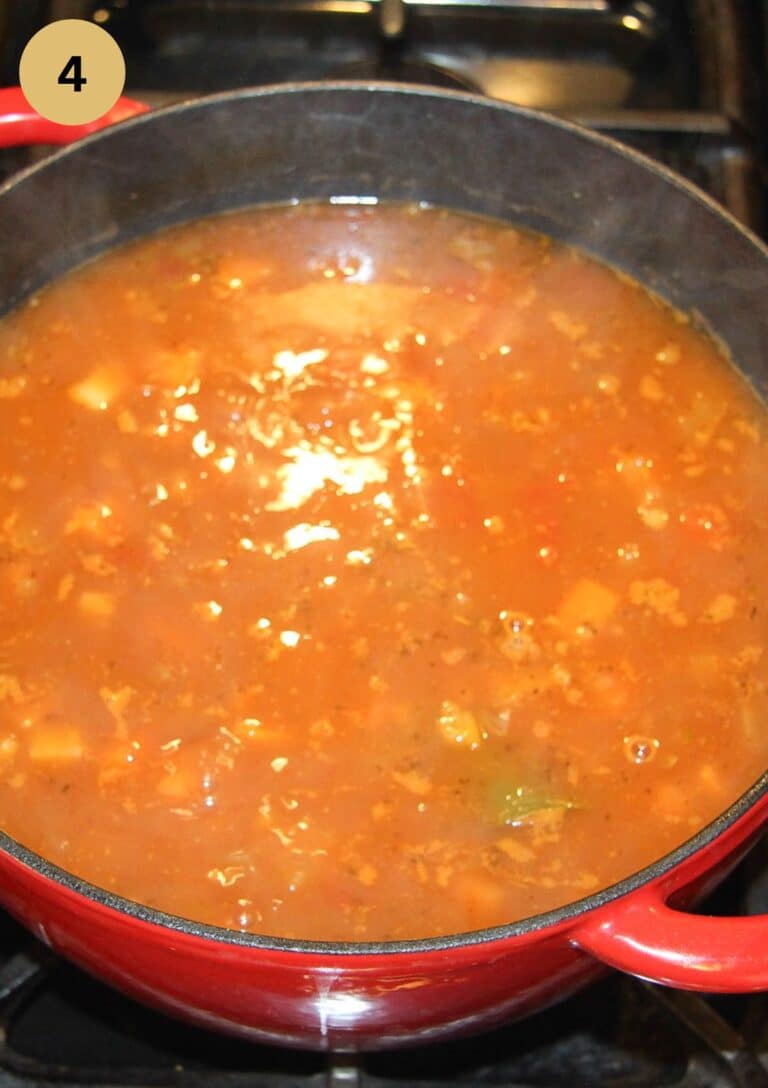 Step 4: Add brown rice.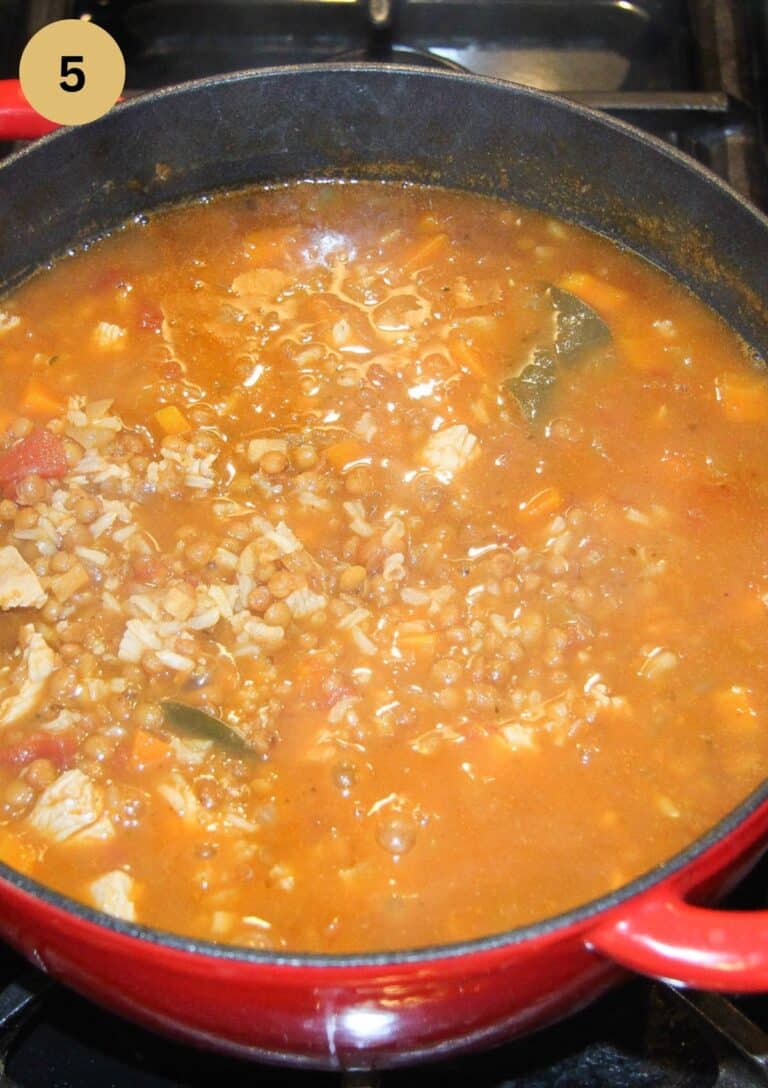 Step 5: Cook for 35-45 minutes or until the lentils and rice are cooked to your liking.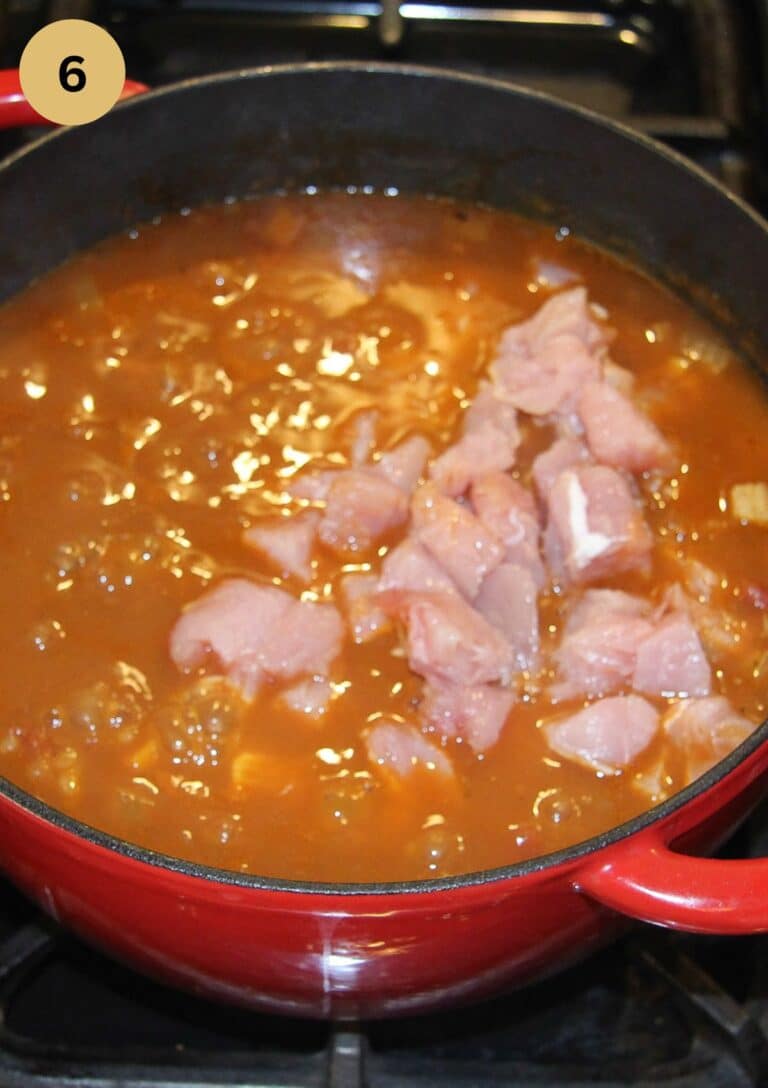 Step 6: Add fresh meat during the last 10-15 minutes of the cooking time OR add leftover cooked turkey during the last 5-8 minutes.
Step 7: Adjust the taste of the turkey lentil soup with salt, lots of pepper, balsamic, Worcestershire sauce, and sugar.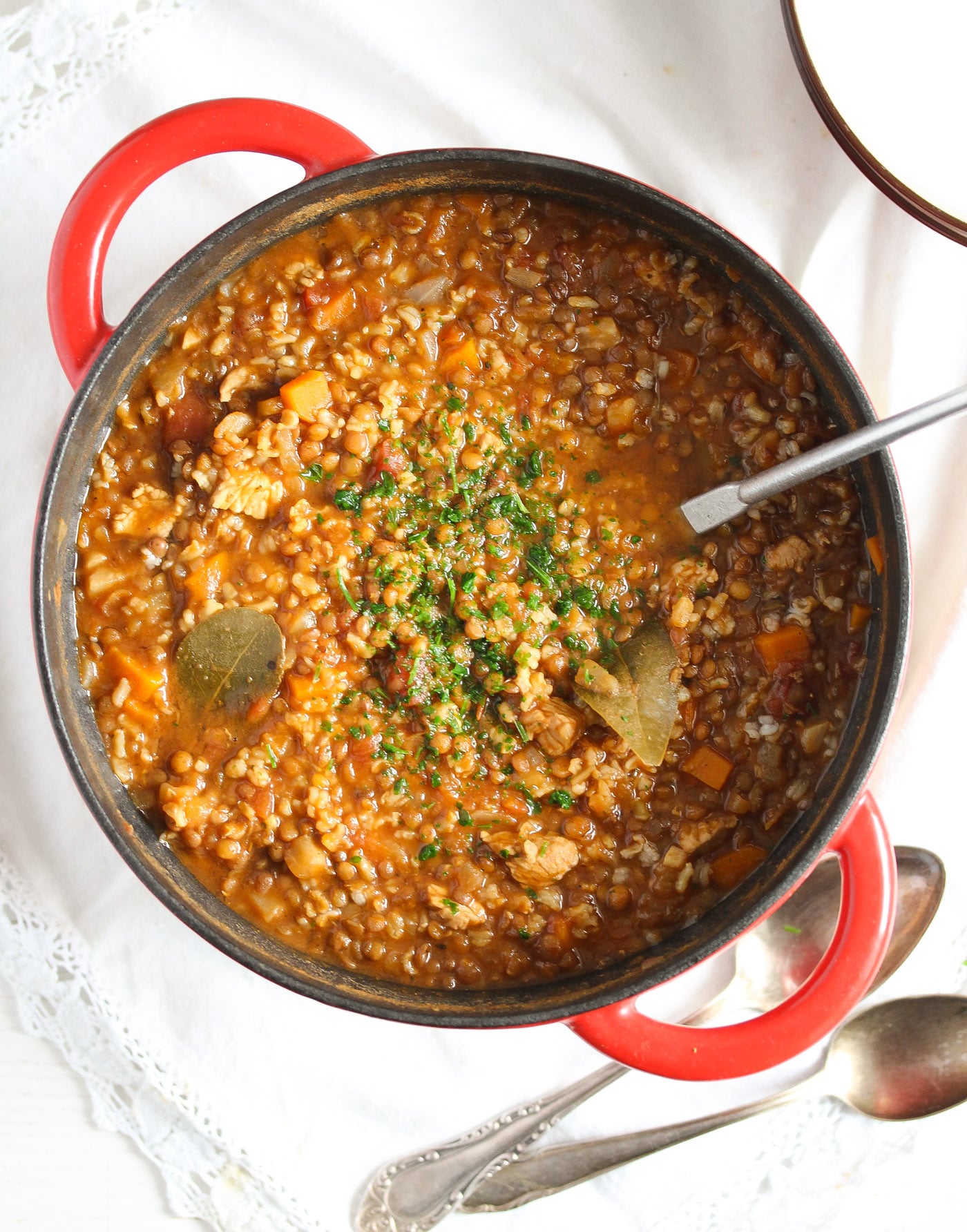 Expert Tips
Cooking Times: Always check the cooking times mentioned on the lentil and rice packages and adjust your cooking accordingly. This is especially important if you're using different types of lentils, such as green or black, or if you're working with white rice. White rice typically requires less cooking time.
Adjusting consistency: This turkey lentil soup has a thick, stew-like texture. If you prefer a thinner consistency, add more stock to make it more soup-like.
Sugar: Adding sugar is optional. Sometimes I include it, and other times I don't. The decision often depends on the acidity of the canned tomatoes (as some brands are more acidic than others) and the brand of balsamic vinegar. Taste and make adjustments as required.
Worcestershire sauce: While optional, it adds a depth of flavor I've come to enjoy. If you don't have it on hand, you can use the same amount of soy sauce or a bit less fish sauce as a substitute. It may not be the typical choice for a non-Asian dish, but it works surprisingly well, especially in hearty soups or stews.
Recipe FAQ
Can I use ground turkey?
Sure! Brown in the pot, remove it, then sauté the vegetables as instructed in the recipe. Return the ground meat to the pot and continue with the recipe.
Can I use another type of lentil?
While brown lentils are commonly used, you can use green or black. Just adjust the cooking time accordingly. Red lentils are also delicious, but they will change the flavor and especially the soup's texture considerably.
How do I thin out the dish if it's too thick for my liking?
Simply add more stock to achieve your desired consistency and make the soup less thick.
How to store and reheat turkey lentil soup?
Refrigerate the leftover soup in the covered pot or an airtight container for 3-4 days.
Freeze in airtight containers for up to 3 months. Defrost in the fridge and reheat before serving.
Reheat on the stovetop in a saucepan on low heat, stirring occasionally. Add more stock or broth if the soup has thickened too much.
Reheat in the microwave in a microwave-safe container, stirring occasionally, and add more stock or broth if needed for a thinner consistency.
What to serve with it?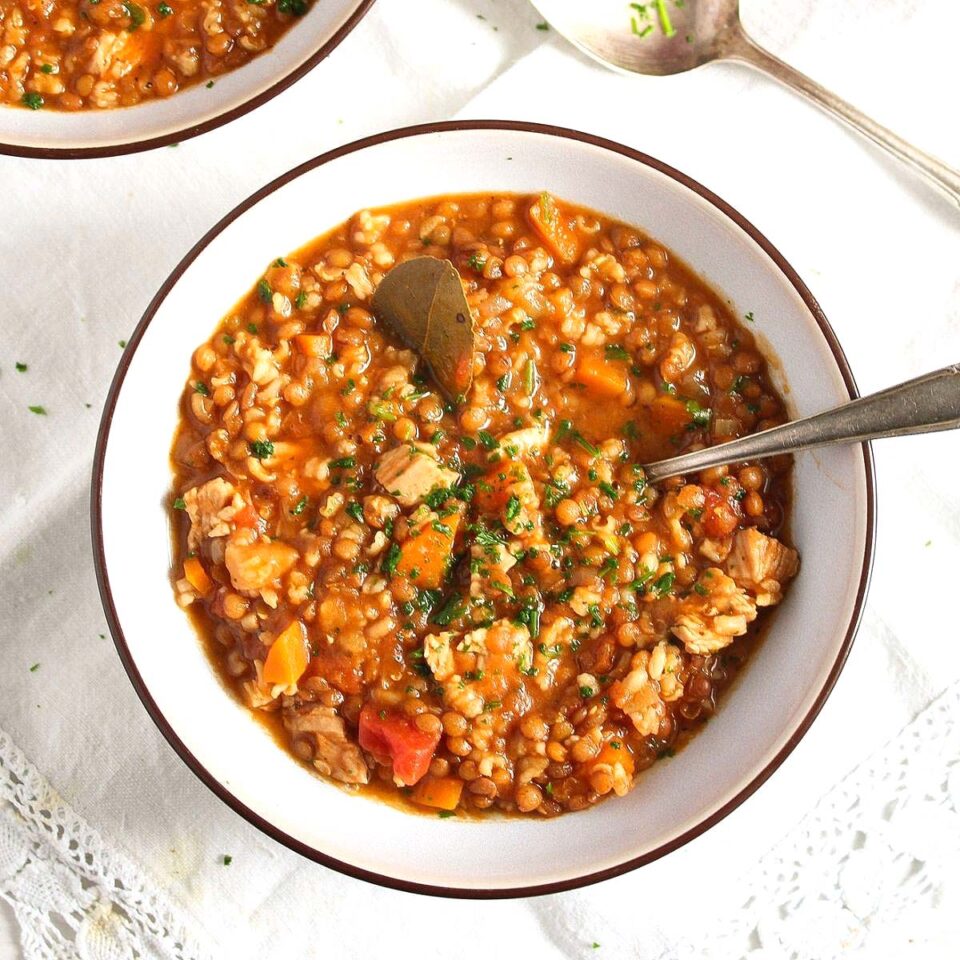 Hearty Turkey Lentil Soup
Enjoy warmth and flavor with our turkey lentil soup. Cook it with fresh, leftover, or ground turkey. Perfect for cold days!
Print
Pin
Share
Grow
Saved!
Rate
Equipment
Large Dutch oven

or soup pot
Ingredients
1

onion

1

carrot

about 150 g/ 3.5 oz

1

piece

celeriac

or 2-3 celery stalks, about 75 g/ 2.5 oz

1

bell pepper

green or red

2

garlic cloves

1

tablespoon

olive oil

1

cup

brown lentils

200 g/ 7 oz

2

bay leaves

1

heaped tablespoon

tomato paste

1

can tomatoes

400 g/ 14 oz

8 ½

cups

chicken stock

2 liters, Note 1

1

teaspoon

dried marjoram

½

cup

brown rice

100 g/ 3.5 oz, Note 2

12

oz

turkey

350 g Note 3

fine sea salt

lots of

ground black pepper

1

tablespoon

balsamic vinegar

1

tablespoon

Worcestershire sauce

½-1

teaspoon

sugar

Note 4

chopped parsley
Instructions
If using ground turkey, brown it in 1 tablespoon of oil for 3-4 minutes. Remove it from the pot.

Prepare the vegetables: Dice the onion, carrot, celeriac or celery, pepper, and garlic.

1 onion

+

1 carrot

+

1 piece celeriac

/2-3 celery stalks +

1 bell pepper

+

2 garlic cloves

Sauté: Heat the oil in a large pot and cook the vegetables for 5-6 minutes, stirring often, until slightly softer. Add the washed lentils, bay leaves, tomato paste, and diced canned tomatoes and stir for another 2 minutes.

1 tablespoon olive oil

+ vegetables +

1 cup brown lentils

/ 200 g +

2 bay leaves

+

1 heaped tablespoon tomato paste

+

1 can tomatoes

Simmer: If using ground turkey, return it to the pot. Add stock and marjoram. Bring to a boil, and simmer on medium-low, partially covered, for about 8 minutes.

8 ½ cups chicken stock

/ 2 liters +

1 teaspoon dried marjoram

Add the washed brown rice, bring to a boil again, and simmer for 35-45 minutes or until the rice is done.

½ cup brown rice

/ 100 g

Add turkey: If using freshly chopped turkey meat, add it to the soup about 15 minutes before the cooking time is up. If using leftover cooked turkey, add during the last 5-8 minutes of the cooking time; it should only get heated through.

12 oz turkey

/ 350 g

Adjust the taste with salt, lots of freshly ground black pepper, balsamic vinegar, Worcestershire sauce, and sugar. Sprinkle with parsley before serving.

fine sea salt

+

lots of ground black pepper

+

1 tablespoon balsamic vinegar

+

1 tablespoon Worcestershire sauce

+

½-1 teaspoon sugar

+

chopped parsley
Notes
Stock: If available, homemade turkey stock (made with the leftover carcass) is excellent. You can use more stock if the soup seems too thick.
Rice: Brown rice is the best choice, but white rice is also ok but has a much shorter cooking time. Check the package instructions and add it later to the soup to allow the lentils to cook appropriately before the rice gets too soft.
Turkey: Make the soup with ground turkey if desired. Cooked turkey or leftovers have different cooking times. Add fresh meat about 15 minutes before the end of the cooking time, but leftovers only during the last minutes; they should only get hot.
The sugar is optional; it depends on the canned tomatoes and vinegar acidity.
Nutrition
Serving:
1
/8 of the soup
|
Calories:
259
kcal
|
Carbohydrates:
23
g
|
Protein:
22
g
|
Fat:
8
g
|
Saturated Fat:
2
g
|
Polyunsaturated Fat:
6
g
|
Cholesterol:
55
mg
|
Sodium:
735
mg
|
Fiber:
3
g
|
Sugar:
8
g