What to do with the turkey leftovers? This amazing cream of turkey soup with potatoes and vegetables, a comforting and super delicious easy soup.
CREAMY TURKEY SOUP WITH LEFTOVERS
Either Thanksgiving or Christmas turkey, there are always leftovers. Even if I only cook one turkey leg or a large piece of the turkey breast, I still have leftovers.
And I love them, actually I plan cooking the leftovers before I even cook the turkey meal. Either a turkey fricassee, a leftover turkey pasta recipe or this cream of turkey soup, which my children adore.
Creamy soups are always great, they are healthy, quick to make and are a perfect way of using leftovers. Not only turkey leftovers, but in most cases vegetable leftovers.
Whenever I find a few carrots or a kohlrabi past their prime in my fridge, I throw them into a pot with some vegetable stock (and maybe some dairy) and make soup…
What does the cream of turkey soup taste like?
Well, as my son put it, this creamy turkey soup tastes a little like turkey fricassee, but in form of a soup. And without the mushrooms, he had to mention that, mushrooms are always offensive to him.
And he's right! So, if you like fricassee, you should definitely make this soup, you will love it!
INGREDIENTS FOR CREAM OF TURKEY SOUP
The stock:
A good stock is the secret to any good soup, the soup can only be as good as the stock.
The best stock is homemade stock.
And this is a great opportunity of making your own stock. If you have leftover turkey you probably have some leftover turkey bones as well.
And making stock it soooo easy, all you need is time, but there is not much work involved actually.
How to make leftover turkey stock?
All you have to do is place the bones of the turkey in a large pot, add one large halved onion, 2-3 carrots, some celery stalks (or 1 piece of celeriac), black peppercorns, salt, bay leaves and some spices like cloves (about 3-4), juniper berries (about 6-7) and allspice berries (about 3-4).
The last three spices are optional, but absolutely great if you happen to have them.
Cover with plenty of COLD water, bring to a boil, turn the heat down immediately and simmer very gently for several hours, at least 4 and up to 24 if you are making bone broth.
Strain the stock well and discard the bones, vegetables and spices. You can strain the broth a second time through a fine sieve lined with a clean cloth to remove all the impurities.
You can use the stock immediately or you can let it cool and refrigerate it (for up to 4 days) or freeze it in portions (for months).
Here are more details about making stock (chicken stock or turkey stock are made the same way) or turkey bone broth.
Can I use bought stock?
Of course, if you don't want to make your own stock, use good quality chicken stock.
I assume ready-to-use turkey stock is not really available, but chicken stock is a perfect alternative.
Turkey leftovers:
I take about two handfuls of shredded turkey meat, between 150 and 350 g/ 3.5 and 12.3 oz, it depends on how much you have and how much you want to use.
Don't stress about exact measurements in this case.
Vegetables:
Onion
Leek, about 150 g/ 3.5 oz, only the white parts.
2-3 celery stalks, depending on size or a small piece of celeriac, about 50 g/ 1.8 oz. Celeriac is slightly better in this case, because it is white and it will help the cream of turkey soup retain a pale color. Not mandatory, but nice.
2 potatoes, about 250 g/ 8.8 oz.
TIPS FOR MAKING THE BEST CREAM OF TURKEY SOUP
Use very good quality stock, either homemade turkey or chicken stock or a very good, tasty brand.
For a velvety pale soup only use the green parts of the leek and celeriac instead of celery stalks.
Remove the soup from the heat before you add the heavy cream and egg yolk mixture, don't let the soup cook anymore after this addition.
MORE TURKEY LEFTOVERS?
Quick Fricassee with Leftover Turkey – the most common way of using turkey leftovers here, I've cooked this fricassee countless times.
Leftover Turkey Lasagna – light leftover turkey lasagna with vegetables and a skinny cheese sauce, this is a great leftover turkey pasta recipe.
Leftover Turkey Risotto – creamy leftover turkey risotto recipe using the rests from your Thanksgiving or Christmas dinner.
Vegetable Strudel with Leftover Turkey – vegetable strudel recipe made with leftover turkey and served with a simple tomato sauce. And information on working with yufka and filo pastry.
Leftover Turkey Pasta Recipe – leftover turkey casserole with noodles and white sauce, this turkey pasta bake will become a family favorite.
PIN IT FOR LATER!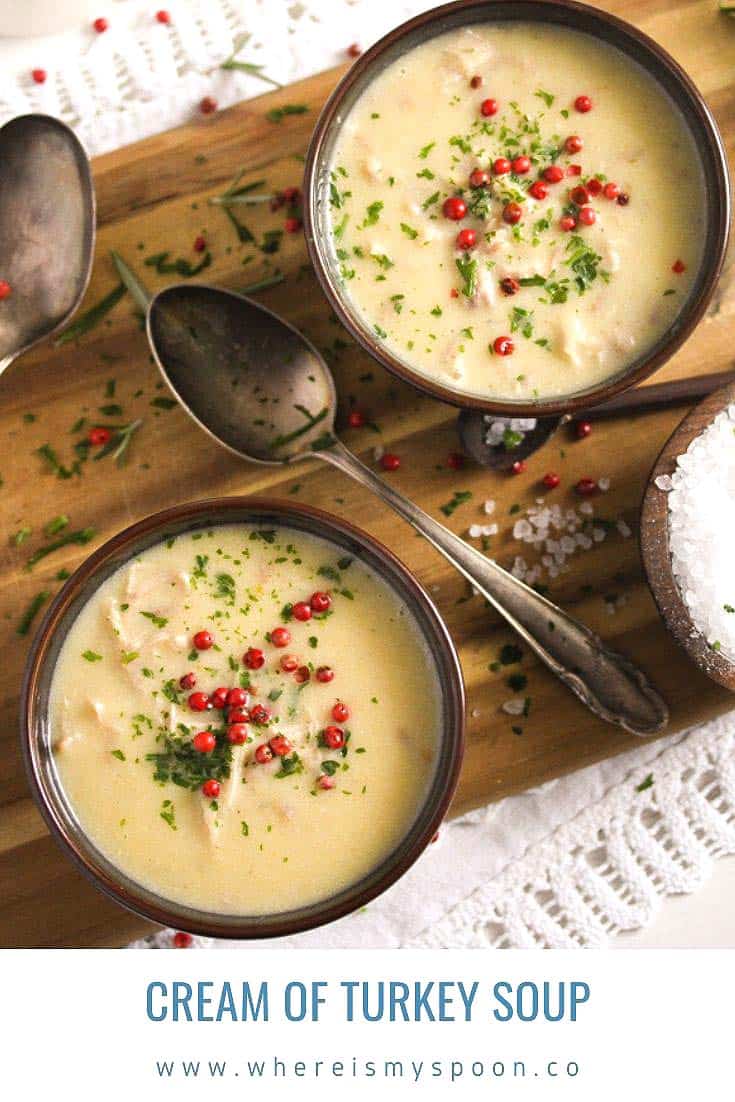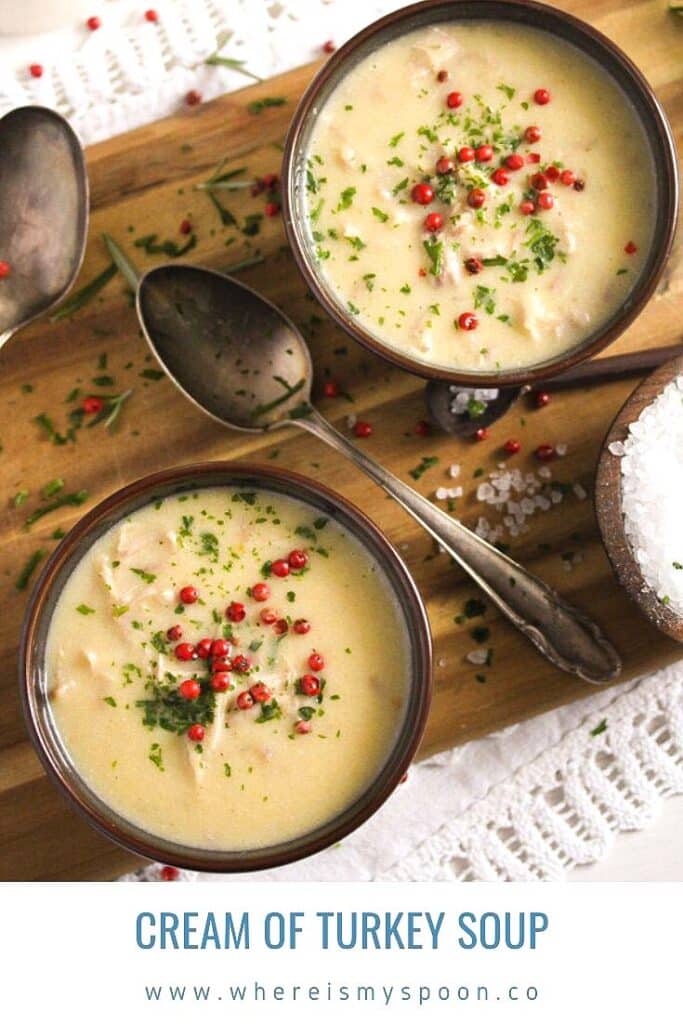 Cream of Turkey Soup
What to do with the turkey leftovers? This amazing cream of turkey soup with potatoes and vegetables, a comforting and super delicious easy soup.
Ingredients
1 medium onion
1 thick leek, only the white part, about 150 g/ 3.5 oz
1 piece celeriac (about 50 g/ 1.8 oz) or 3-4 celery sticks (See note 1)
1 small carrot
2 potatoes (about 250 g/ 8.8 oz)
1 tablespoon butter
2 bay leaves
½ teaspoon dried thyme
¼ teaspoon dried rosemary
750 ml/ 1.6 pints/ 3 ¼ cups chicken or turkey stock
250 ml/ ½ pint/ 1 cup milk
about 250 g/ 8.8 oz/ 2 cups shredded turkey meat (See note 2)
75 ml/ 2.5 fl.oz/ 1/3 cup heavy/double cream
1 egg yolk
a few gratings of nutmeg
fine sea salt and ground white pepper
1-2 tablespoons chopped parsley
red peppercorns, optional
Instructions
Finely chop the onion. Halve the leek white lenghtwise and slice the halves thinly. Chop the celery/celeriac, carrot and potatoes into small cubes.
Melt the butter in a soup pot. Add the vegetables and cook for about 5 minutes, adding a splash of water halfway through. Stir often. The vegetables should become softer, but not take any color.
Add the bay leaves, thyme, rosemary, stock and milk. Cover with a lid leaving a crack open, bring to a boil and simmer softly for about 10 minutes or until the vegetables are soft.
Blend the soup.
Return to the stove and add the shredded turkey. Simmer until the turkey meat is heated through, about 5 minutes.
Adjust the taste with nutmeg, salt and white pepper.
In the meantime, whisk together the heavy cream and the egg yolk in a small bowl. Whisk the heavy cream mixture into the soup. Don't let the soup come to a boil anymore.
Remove from heat, adjust the taste again and stir in the parsley. Sprinkle with a few red peppercorns, is desired. Serve immediately.

Notes
Using celeriac and only the white part of the leek keeps the soup pale.
Between 150 and 350 g/ 3.5 and 12.3 oz are fine, use as much as you have.
Nutrition Information:
Yield:

4
Serving Size:

1/4 of the soup
Amount Per Serving:
Calories:

414
Total Fat:

19g
Saturated Fat:

9g
Trans Fat:

0g
Unsaturated Fat:

9g
Cholesterol:

154mg
Sodium:

955mg
Carbohydrates:

32g
Fiber:

3g
Sugar:

7g
Protein:

29g
Nutrition information isn't always accurate.