Slow-roasted turkey breast – a basic method for boneless breast with crispy skin and moist, tender meat. Make a delicious sauce with roasting juices.
The simplest method of slow-roasting turkey breast in the oven. The result: crispy skin and moist, tender meat. A quick sauce made with the roasting juices, and you're done.
After roasting the turkey drumsticks last week, it was the breast's turn in the oven. I still had a frozen one belonging to the last bird I bought from a farm in our village, a nice and large piece with its skin still on. Normally, supermarket breast pieces have all their skin removed, and although generally, I cannot say that's such a bad thing, I have to admit that the skin definitely keeps the meat moister and gives it lots of extra flavors.
And check out this Dutch Oven Turkey Breast; it is amazing!
.
Internal temperature for roasted turkey breast
The breast sizes can differ very much from bird to bird. I usually roast only half of a large one; it is more than enough for our family. It normally weighs between 1,2 and 1,7 kg/ 2.5 – 3.7 lbs.
Always defrost the meat in the refrigerator. Allow at least 10 hours in the fridge for a large piece, even more for bone-in breasts.
Take the meat out of the fridge about one hour before you start cooking and allow it to come to room temperature.
Start checking the internal temperature using a meat thermometer about 1 hour after starting the cooking process (depending on the size) and continue regularly checking until the meat reaches the required internal temperature, 71°C/ 160°F. (Amazon affiliate link)
Rest the meat for about 10-15 minutes before slicing it. The internal temperature will rise to 73°C/ 165°F during this time, which is the recommended internal temperature.
This is the simplest way I know to roast turkey breast. I mean, roasting a piece of meat is not particularly difficult. Still, you have to take care not to overcook the meat; that's the biggest challenge for me.
I always worry about serving unsafe food to my family (especially when it comes to poultry), and it does happen that, from sheer fear of serving raw poultry, I end up having a dry roast.
But not anymore, not since buying and learning how to use a meat thermometer and taking the time to search for the internal temperature of various types of meat.
I found this site USDA – Food Safety and Inspection Service, to be useful.
They provide detailed information regarding the above-mentioned internal temperature of properly cooked turkey and information on thawing and roasting a whole bird or only some of its parts, including timetables and other cooking tips.
So, if you do not own a meat thermometer yet and don't intend to buy one, those timetables for roasting the meat can be very useful.
Using a meat thermometer
The best part about using the thermometer is that you don't have to calculate the cooking times when it comes to different bird parts weighing more or less than what a particular recipe states.
Sticking the thermometer in the thickest part of the meat and reading the inner temperature allows you to end up the process in time and ensure eating safe yet still moist and juicy meat.
The cut I had weighed about 1,5 kg/ 3,5 lbs, and I needed a total roasting time of 1 hour and 30 minutes by 180 degrees Celsius/ 360 degrees Fahrenheit, a temperature which was lowered to 75 degrees Celsius/ 167 to finish the cooking process.
Of course, the cooking time depends on your oven as well; not all ovens are very precise when it comes to the exact temperature. So you have to know your oven and adjust the times accordingly.
If you don't use a meat thermometer, check the meat after about 1 hour and 10 minutes by inserting a long stick in the thickest part of the breast. The juices should run clear; if they are still red or pink, continue the cooking process rechecking every 5 minutes.
Variations on the recipe
This recipe for slow-roasted turkey breast is basic. It involves only basic seasoning, just a few ingredients. But, like the way things are with basic recipes, they do allow many changes according to your taste. For instance:
Cooking liquid: I used chicken stock, but you could either mix that with some wine, use only wine or only water if you wish.
Spices: You could use any spices you like, for instance, curry mixtures or other Indian spices, anything you like actually.
Vegetables: You could enrich the dish with some carrots, parsnips, peppers, and so on.
Sauce: When making the sauce, puree all or only some of these vegetables and serve the rest of them on the side.

I thickened and enriched the sauce with smetana, but you could use heavy cream or sour cream instead, or you can leave these milk products out of the equation. The sauce is delicious even if you do not add any milk products.
In case the sauce is too thin, you can thicken it with some cornstarch.
How to serve?
Serve with potatoes in any form you like and vegetables or salad of choice.
Potato side dish ideas:
Vegetable side dish ideas:
Do you like this recipe?
Please leave a good rating in the recipe card below. Stay in touch through social media:
Pinterest
,
Facebook
, and Instagram. Don't forget to tag me #whereismyspoon when you try a recipe!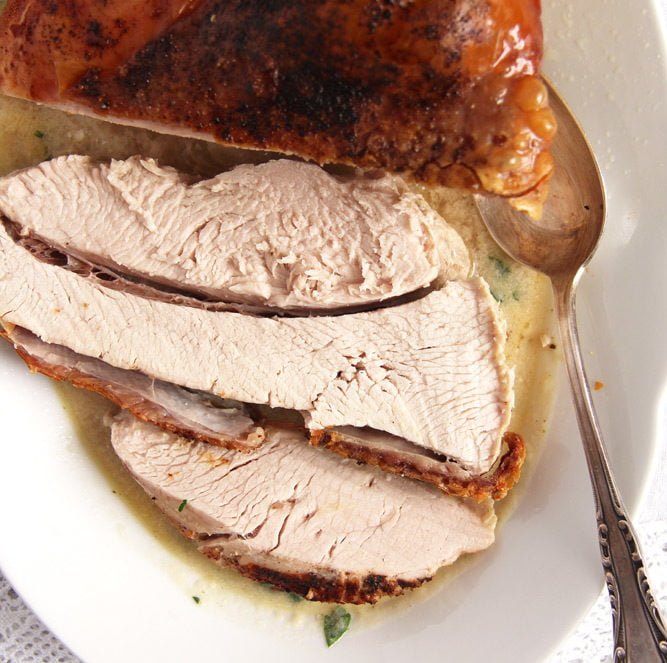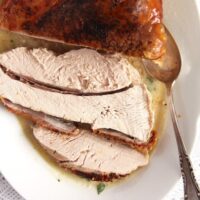 Slow Roasted Turkey Breast
Slow-roasted turkey breast – a basic method for boneless breast with crispy skin and moist, tender meat. Make a delicious sauce with roasting juices.
Print
Pin
Share
Grow
Saved!
Rate
Ingredients
1

turkey breast

skin-on, about 1,5 kg/ 3.3 lbs

1

cup

chicken stock

250 ml

1

large onion

3

large garlic cloves

sweet paprika powder

fine sea salt and pepper

2

tablespoons

smetana/sour cream/ heavy cream

some parsley
Instructions
Preheat the oven to 180 degrees Celsius/ 360 degrees Fahrenheit.

Rub the breast with sweet paprika powder, salt, and pepper all over.

Assemble the dish: Pour the chicken stock into a roasting pan. Add the roughly chopped onion and the garlic cloves to the pan as well. Place the turkey breast on top of the vegetables.

Roast the turkey breast until the internal temperature reaches 70 degrees Celsius/ 158 degrees Fahrenheit. Don't forget to baste the turkey breast with the pan juices from time to time.

Lower temperature: Open the oven shortly to allow the heat to come out, close it again and lower the oven temperature to 75 degrees Celsius/ 170 degrees Fahrenheit. Leave the turkey breast inside until its internal temperature reaches 73 degrees Celsius/ 165 degrees Fahrenheit.

Check: If you don't use a meat thermometer, start checking the meat after about 1 hour of cooking time. Insert a long thin stick in the thickest part of the turkey breast; when the meat is done, the juices should run clear. If they are still red or pink, continue cooking the turkey, repeatedly checking about every 5 minutes or so until the juices run clear.

I needed about 1 hour and 30 minutes until the turkey was done.

Rest: Take the turkey breast out of the roasting pan and place it on a warm serving dish. Let rest for about 10-15 minutes before slicing it.

Gravy: Pour the pan contents into a small saucepan. Puree the onion and the garlic cloves. Bring the sauce to a simmer and whisk in the smetana/sour cream/heavy cream. Adjust the taste with salt and pepper, but only if necessary.

Serve: Chop the parsley and add most of it to the sauce. Sprinkle the rest on top and serve the roast with the sauce, potatoes, and vegetables or salad.
Nutrition
Serving:
1
/6 of the dish
|
Calories:
401
kcal
|
Carbohydrates:
4
g
|
Protein:
77
g
|
Fat:
7
g
|
Saturated Fat:
2
g
|
Polyunsaturated Fat:
3
g
|
Cholesterol:
204
mg
|
Sodium:
487
mg
|
Sugar:
2
g