Roasted beetroot and feta salad with balsamic dressing and crunchy pine nuts on top. This vibrant salad is perfect as a light lunch or side dish.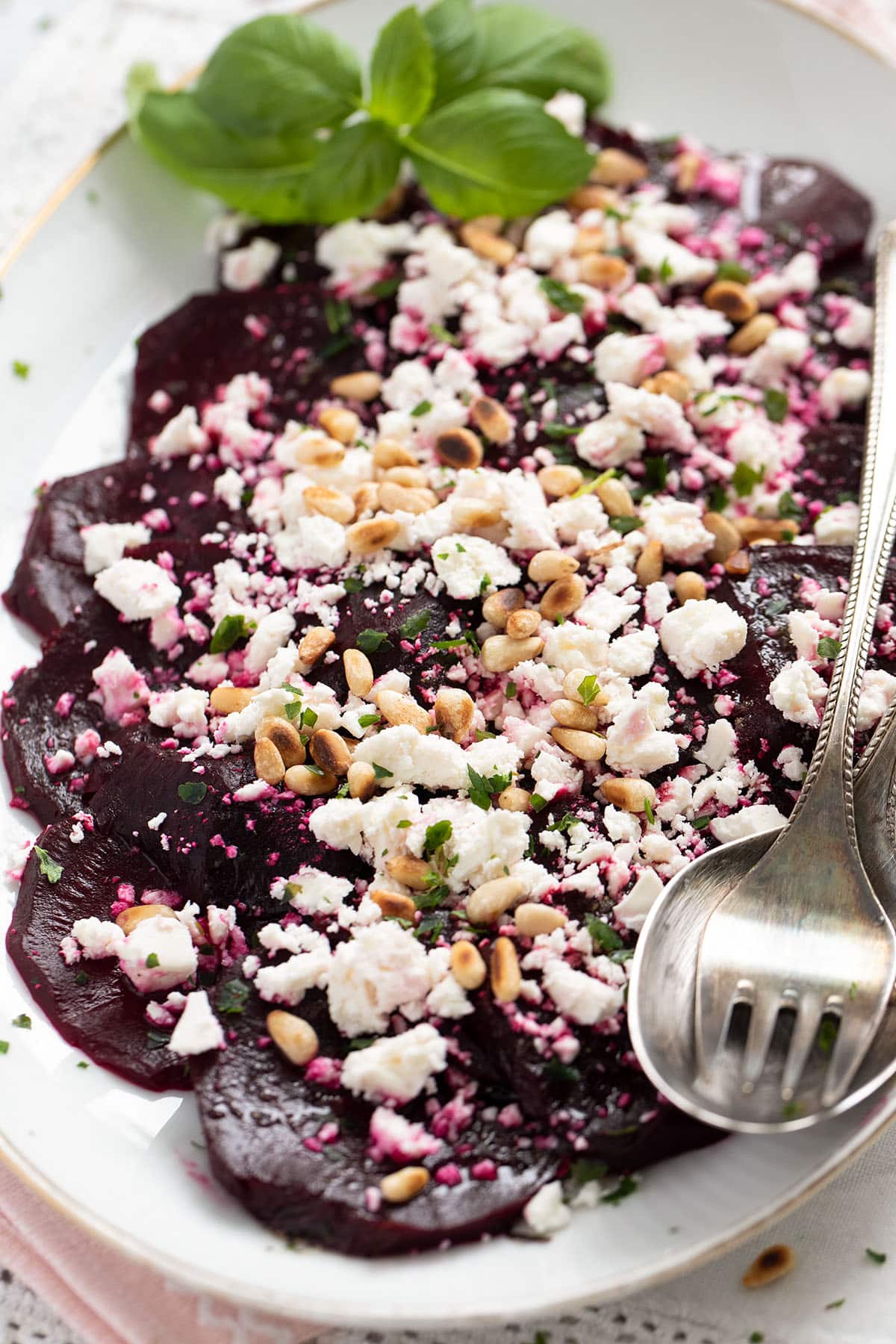 This simple beetroot and feta salad is a delight. The beetroot's earthy and sweet flavor, the creamy and salty feta cheese, and the perfectly balanced dressing will convince you that beets are a vegetable you should eat more often.
An easy recipe made with just a few simple ingredients, a healthy, flexible, and delicious salad that is perfect for any occasion. This beet and feta salad is made with cooked beets, but if you like, you can try this other version - the Raw Beetroot and Feta Salad.
Recipe ingredients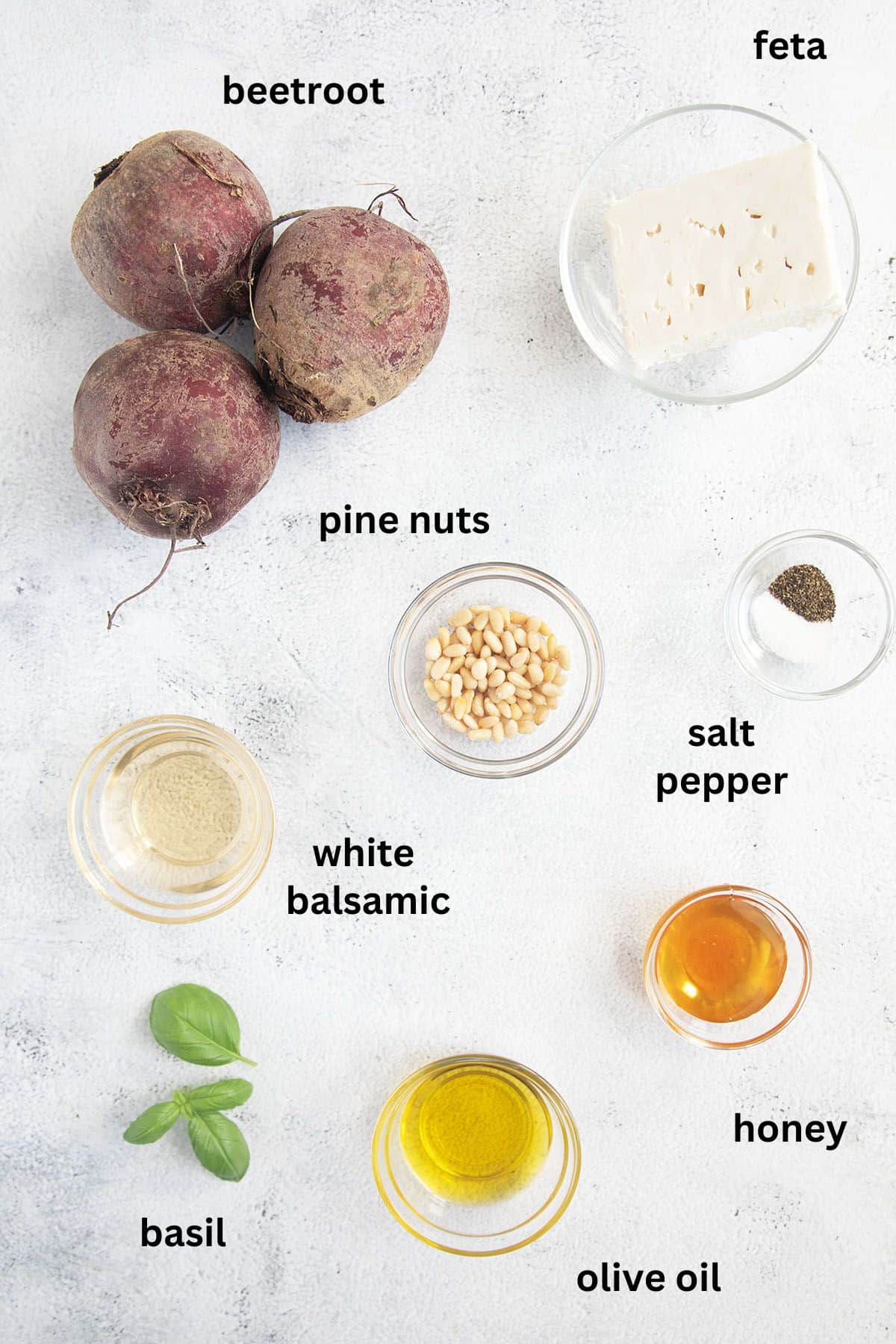 Fresh beets: You will need about 1 lb/ 450 g. I had 3 small-to-medium beets, but their size can differ a lot. A large or extra-large beet can sometimes weigh close to 1 lb.
Feta: My absolute favorite is Turkish feta in brine. 4 or 5 round cheeses are immersed in brine and sold in huge tubes. If you can't find this sort, rest assured that Greek or Bulgarian feta is also delicious. Use your favorite kind, but never use pre-crumbled feta.

Sheep, goat, or cow milk feta are all great.
Check out another favorite vegetable and feta recipe: Shopska Salad.
Pine nuts: They are delicious, and I love their crunchy-creamy texture. However, you can replace them with other nuts or seeds (See below – Substitutions and Additions).
Ingredients for the dressing: Balsamic vinegar (white or red), extra-virgin olive oil, clear honey, fine sea salt or Kosher salt, and ground black pepper.
How to make beetroot feta salad?
Roast beetroots: Wrap beets in foil (1) and roast them on a baking sheet in the oven until fork tender. Let them cool, peel and slice them thinly. Alternatively, boil, steam, or pressure cook the vegetables (See below).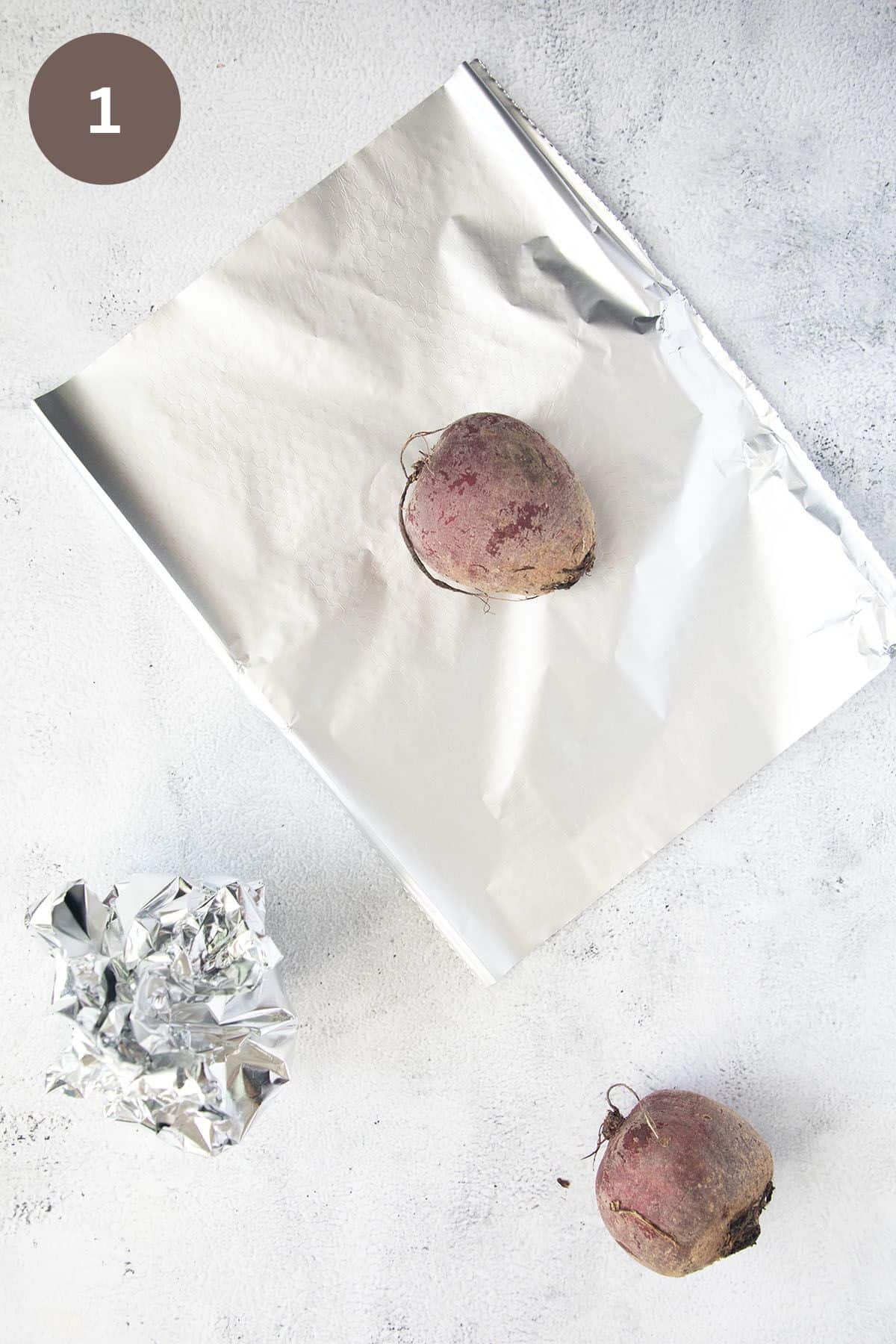 Toast the pine nuts without adding any fat to the pan (2). Transfer them immediately to a plate and let them cool.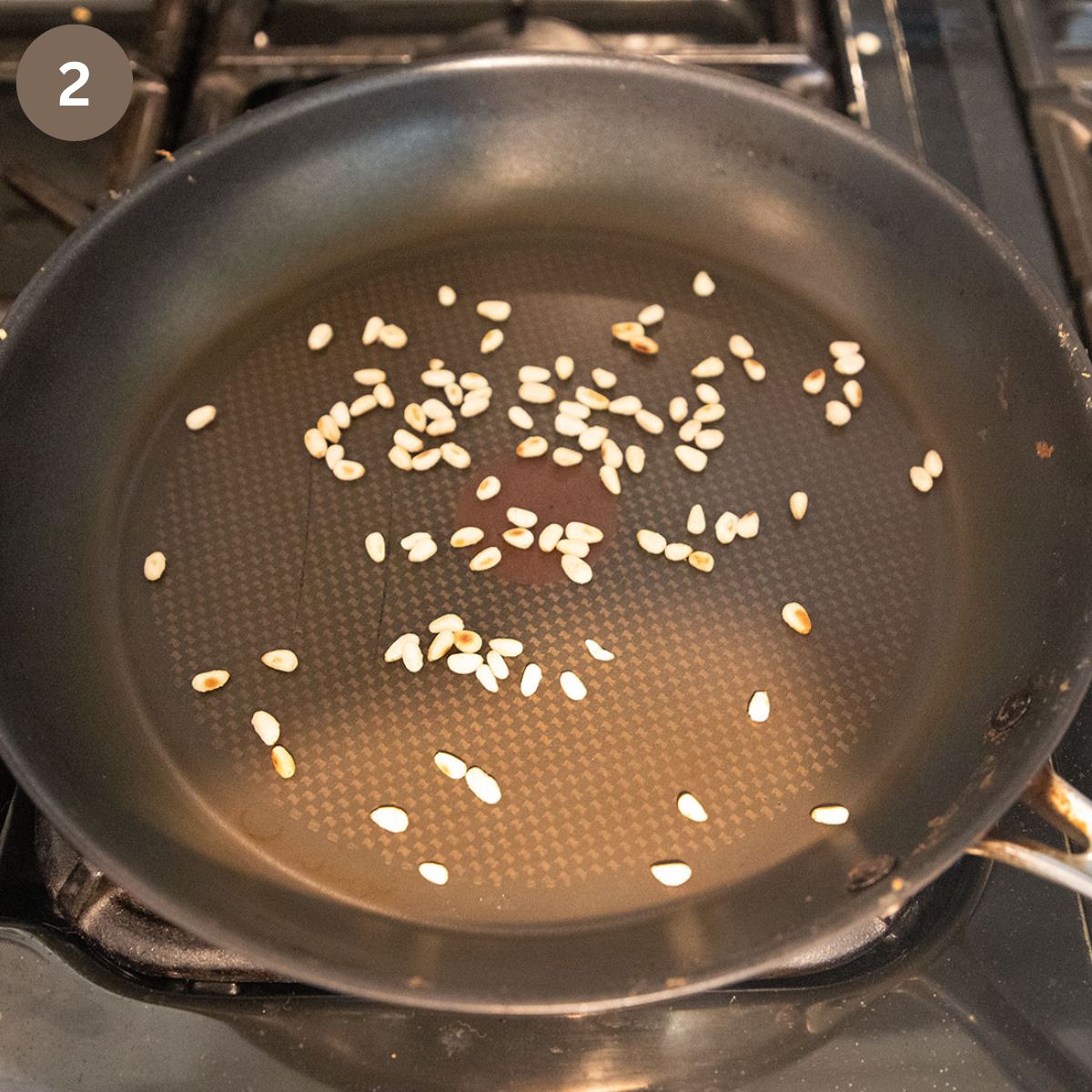 Mix the dressing ingredients in a small bowl or a small jar.
Arrange the thin slices on a platter (3). Pour ½ of the dressing evenly on top (4).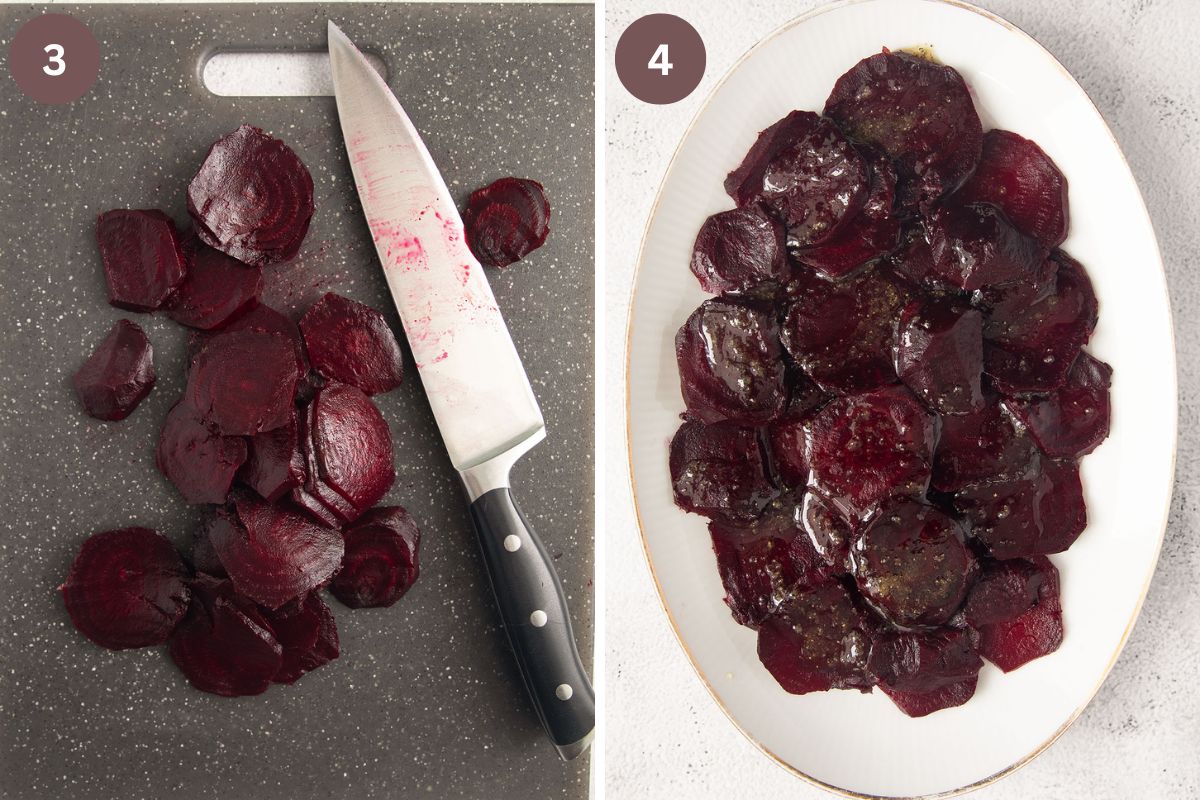 Add crumbled feta (5).
Only add the pine nuts and the basil before serving (6).
Serve the beet feta salad with the remaining dressing.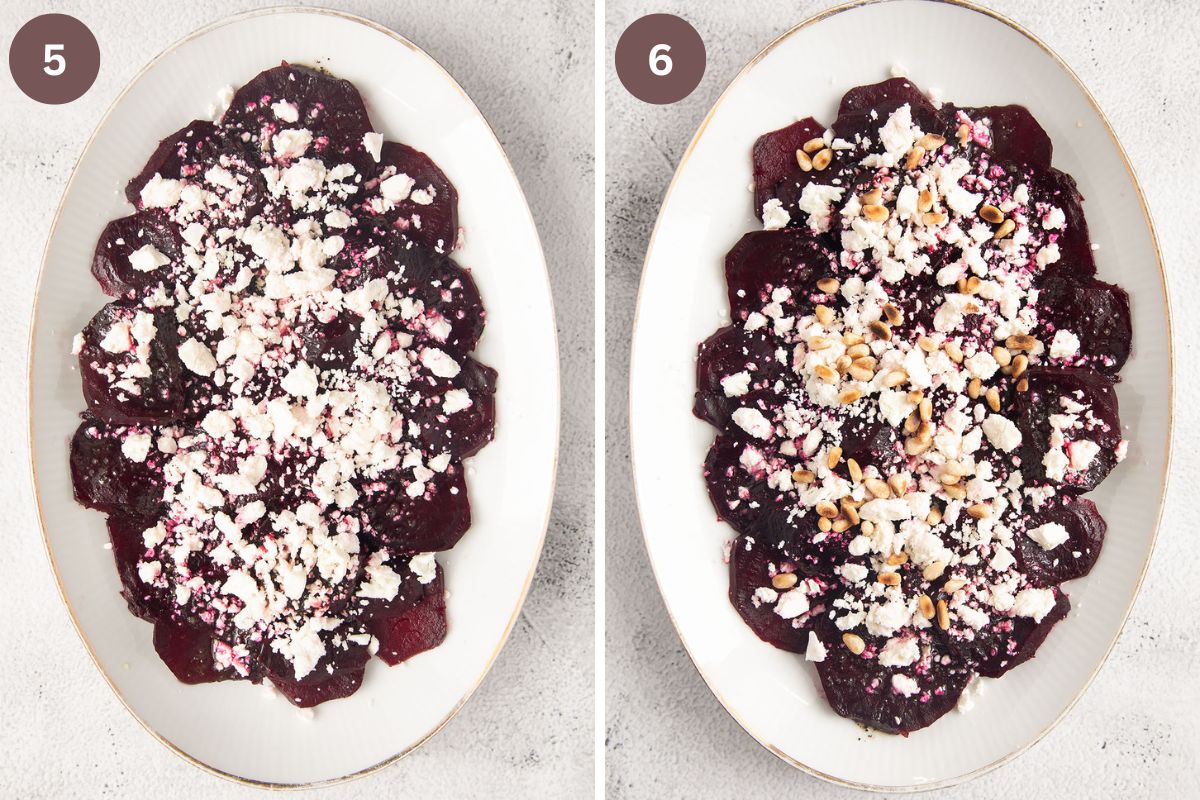 Substitutions and additions
Substitute red beets with golden beets or any other color you can get.
Substitute feta salad with crumbled goat cheese.
Substitute the pine nuts with other toasted nuts or seeds like crunchy walnuts, pecans, hazelnuts, almonds, sunflower, or pumpkin seeds.
Add some finely chopped red onion or finely sliced green onions.
Add 1 teaspoon of creamed horseradish to the salad dressing. Or a tiny sprinkle of chili flakes.
Add a finely sliced apple to the salad.
Sprinkle this beautiful salad with pomegranate seeds.
Use other fresh herbs instead of basil, for instance, fresh dill or parsley.
Mix the salad with cooked buckwheat, quinoa, farro, or other grains for a more substantial meal.
Add chopped rocket leaves, baby spinach, or other greens. If you can, buy the beets with their greens on, wash the leaves, chop them and the thin stems, and add them all to the salad. If you decide to add greens, it's easier to chop the beets into small cubes and toss the salad in a large bowl.
Other ways of cooking beets for this recipe
My preferred method is roasting, but it takes quite a long time. To speed up the process, you can boil, steam, or pressure cook the beets.
Boiling: Wash them well, place them in a pot, cover them with water, and bring them to a boil. Cook them on low heat until fork-tender; depending on their size, it can take anything between 30 minutes and 1 hour.
Steaming: Place them in a steamer basket and steam them between 35 minutes to 1 hour, depending on size. Check if they are tender.
Pressure-cooking: This is the fastest method. Pour one cup of water into the instant pot. Halve very large pieces and place the beets on the rack. Seal the pot, and cook the vegetables under high pressure. Release the pressure naturally.

Small beets will need about 15-20 minutes, medium ones about 30 minutes, and large ones about 40 minutes.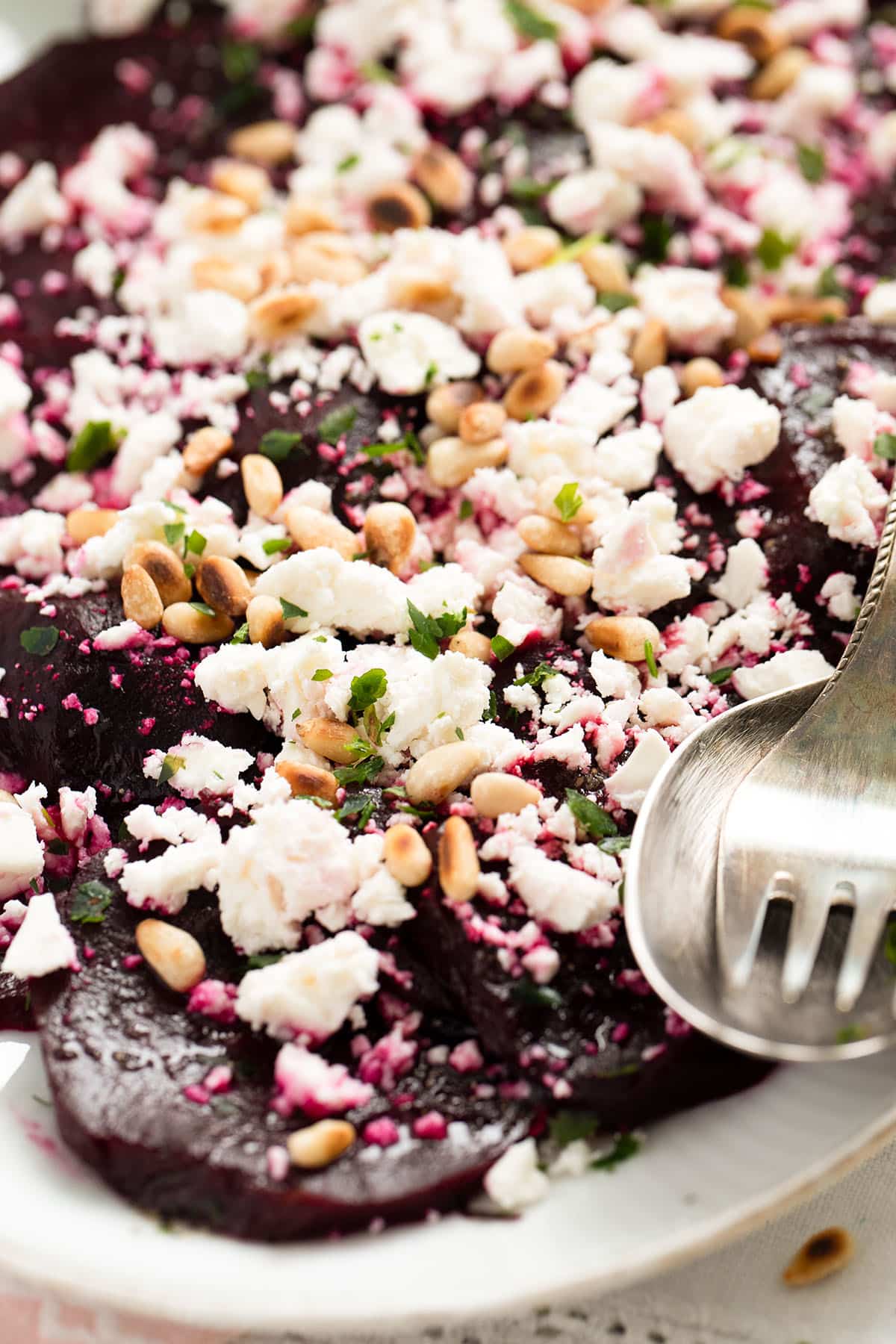 Expert Tips
The most important tip: Use good quality feta cheese from a block of cheese. Please don't use pre-crumbled feta for this recipe (or any recipe, actually).
If you use only one huge beet, it's preferable to cut it into wedges before roasting; otherwise, it will take forever until it gets tender.
Use salt with care; feta cheese is already salty.
Wear gloves when you peel the beets to avoid staining your hands.
Recipe FAQ
How to store raw beets?
Remove the beet greens. If they look fresh and nice, use them and the thin stems for making soup or add them to the salad.
Don't wash the vegetables before storing them. Keep them in the refrigerator's vegetable crisper; they will keep for at least two weeks.
Can I use precooked beetroot?
Yes, buy the vacuum-packed ones, don't use those pickled with vinegar sold in jars.
Are the skins edible?
They are, but I always peel them.
Can I make the salad in advance?
You can cook the beetroot up to 3-4 days in advance. Peel them and keep them refrigerated in an airtight container.
How to store the salad?
Refrigerate the leftovers in an airtight container for 2-3 days.
The salad is unsuitable for freezing, but you can freeze the cooked beets (without other ingredients or dressing) for up to 3 months.
What to serve the salad with?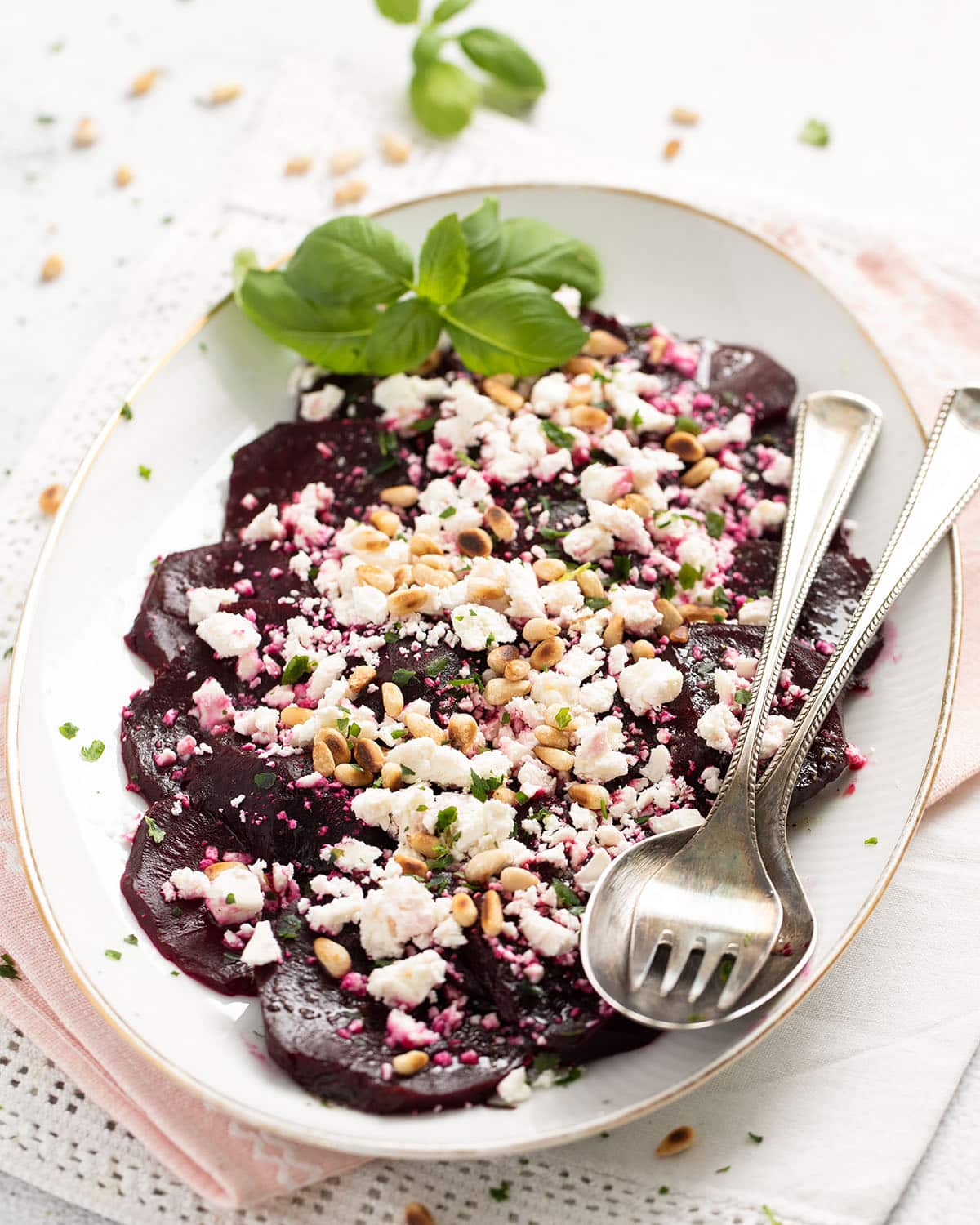 More beetroot recipes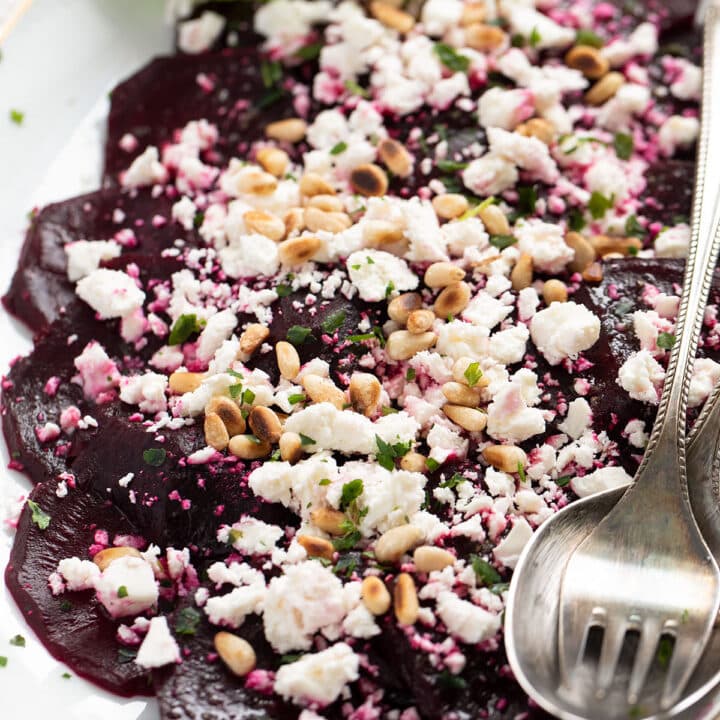 Beetroot and Feta Salad (with Balsamic Dressing)
Roasted beetroot and feta salad with a creamy balsamic dressing and crunchy pine nuts on top. You can serve this delightful beet salad with crusty bread or as a side dish for other meals.
Print
Pin
Share
Grow
Saved!
Rate
Equipment
Baking sheet

Aluminum foil
Ingredients
Beetroot salad:
1

lb

beets

450 g, Note 1

1

tablespoon

pine nuts

2.5

oz

feta

Note 2
Dressing:
2

tablespoons

white balsamic vinegar

Note 3

1

tablespoon

honey

3

tablespoons

extra-virgin olive oil

¼

teaspoon

fine sea salt

or Kosher salt, more to taste

⅛

teaspoon

ground black pepper

more to taste
Instructions
Roast beetroot:
Roast beets: Preheat the oven to 400°F/ 200°C. Loosely wrap each beet in an individual piece of aluminum foil. Bake the beets until fork tender.

Roasting time: This can take anything between 1 and 2 hours, depending on the size of the beets and your oven. My small-to-medium beets (each weighing about 5.5 oz/ 150 g) needed 1 hour and 20 minutes. Start checking after about 1 hour by opening a parcel and sticking a fork into the beet (Notes 4 and 5).

Prepare beets: Let the beets cool. Then, peel them and slice them very thinly. You can use a large chef's knife or a mandoline. You can also cut the beets into small cubes instead of slicing them.
Toast pine nuts:
Toast 1 tablespoon of pine nuts in a frying pan without adding fat. Shake the pan often to prevent the nuts from burning. Once golden and fragrant, transfer them to a plate and let them cool.
Dressing:
Mix white balsamic vinegar, honey, salt, and pepper in a small bowl. Slowly add the olive oil and whisk until the dressing is slightly emulsified. Adjust the taste with salt and pepper (Note 6).2 tablespoon balsamic + 1 tablespoon honey + about ¼ teaspoon fine sea salt + ⅛ teaspoon black pepper + 3 tablespoon olive oil
Arrange salad:
Arrange the roasted beet slices on a serving plate. Evenly spoon ½ of the balsamic dressing on top. Crumble the feta cheese on the beets. Top with the toasted pine nuts and freshly chopped basil (or parsley) just before serving. 5.5 oz/ 75 g feta + 5-6 basil leaves (or chopped parsley)

Serve with the remaining dressing.
Notes
Beets: 3 small to medium beets. You can start with fresh beetroot and roast them yourself. Buy roasted vacuum-packed beets (not pickled beets) for a speedier version.
Feta: Please don't use already crumbled feta. Use fresh feta from a block of cheese.
Balsamic: Substitute white balsamic with red balsamic vinegar.
Size of beets: If your beets are very large, halve or quarter them before roasting; otherwise, it will take forever until they are done.
Cooking alternatives: Alternatively, you can boil, steam, or pressure cook the beets. See the blog post for instructions.
Add 1 teaspoon of creamed horseradish to the salad dressing if you like.
Nutrition
Serving:
1
portion from 4
|
Calories:
230
kcal
|
Carbohydrates:
18
g
|
Protein:
5
g
|
Fat:
16
g
|
Saturated Fat:
4
g
|
Polyunsaturated Fat:
2
g
|
Monounsaturated Fat:
9
g
|
Cholesterol:
16
mg
|
Sodium:
440
mg
|
Potassium:
408
mg
|
Fiber:
3
g
|
Sugar:
13
g
|
Vitamin A:
113
IU
|
Vitamin C:
6
mg
|
Calcium:
109
mg
|
Iron:
1
mg