Salad Russe or Russian potato salad with beets, a very popular Eastern European salad, also known as Olivier Salad.
SALAD RUSSE
This Russian salad recipe could be the vegetarian version of the Boeuf Salad my grandmother used to make so often.
And that Boeuf Salad is pretty much the Olivier Salad, which is famous not only in Russia and Eastern Europe, but also in the Middle East and Latin America.
As much as we all loved the classic, a change was nice from time to time and then she would make this equally delicious salad russe where she would use beets instead of chicken.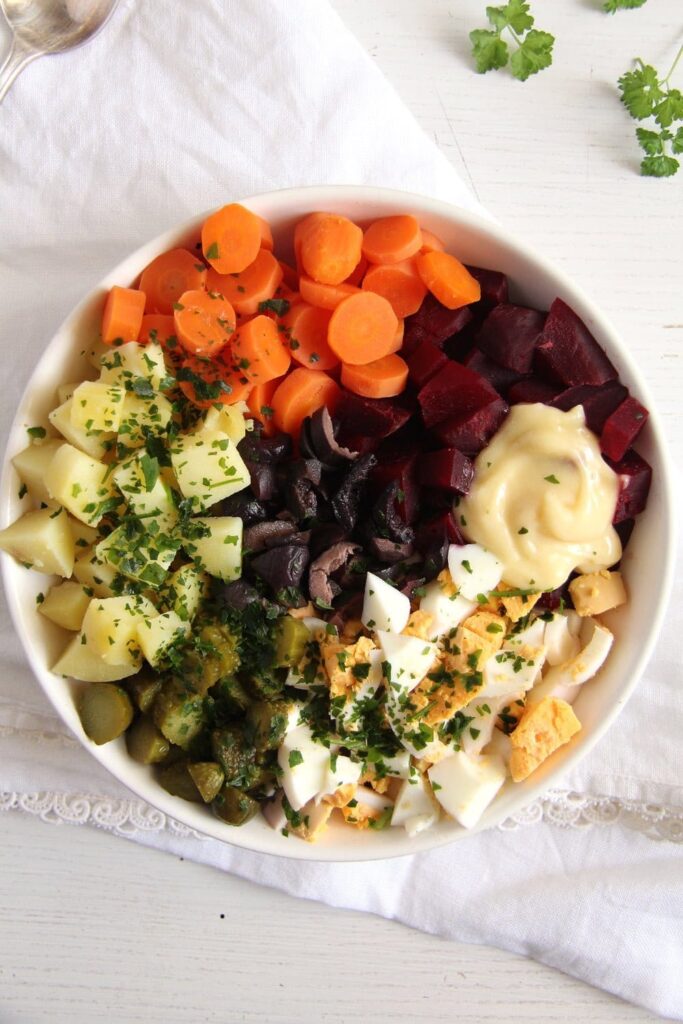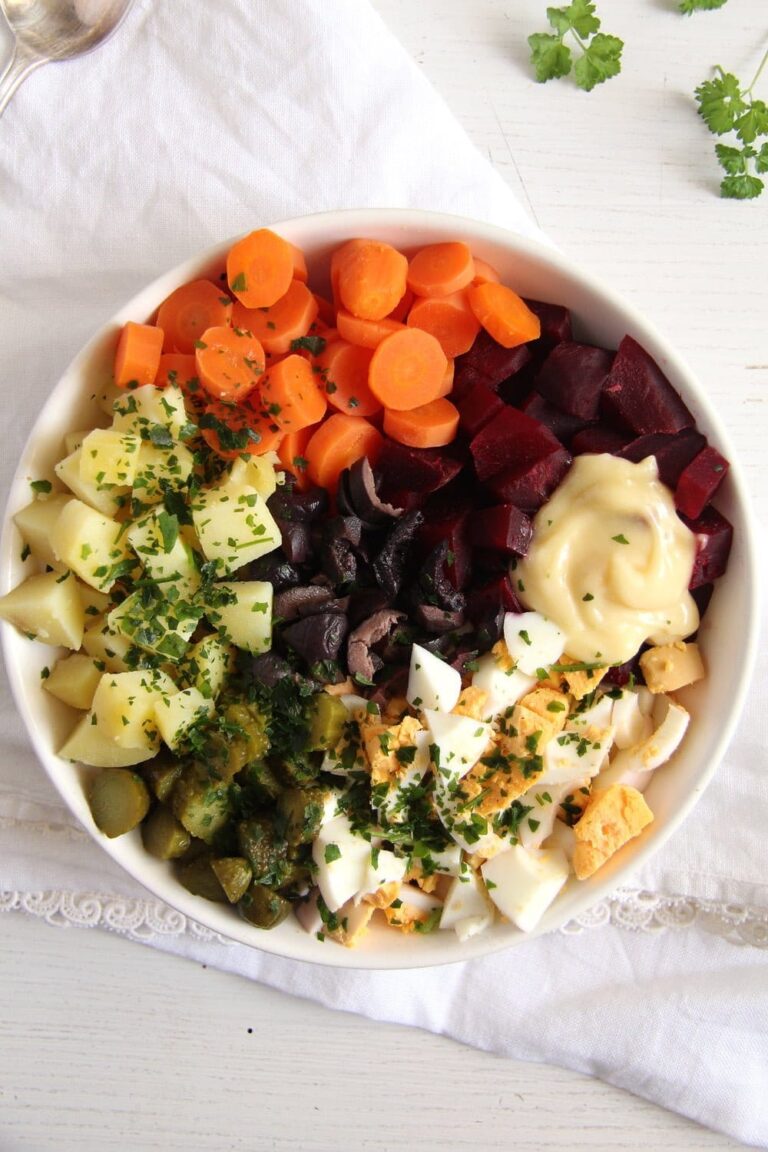 I remember myself as a kid being so glad when my grandmother would come home from the market with a couple of large beetroots in her bag. She would always bake them in the oven, it would take quite a few hours until they were done, but what a treat they were afterward.
Most of the times she would make a simple beet salad with horseradish, but sometimes it would be this salad russe or often enough I would just slice the beets and eat them plain with some bread and cheese. So sweet and delicious.
I don't know how you feel about beets, but I was very surprised when moving to Germany to find out that beets are something a bit like Brussels sprouts or eggplants in the world of veggies, something that many people don't like.
I grew up eating beets and eggplants and never once it has occurred to me that they are not kids' vegetables, so to say. But in Germany it is not only the kids who crinkle their noses at the sight of these wonderful vegetables, unfortunately many adults do that as well.
Funny story regarding my mother-in-law and beets (she's always good for this kind of "what I don't eat" stories, but she knows ich habe sie lieb:) ).
So she happened to be here a few weeks ago when I made and took pictures of this salad. She saw me peeling and cutting the beets and asked me very carefully: "Are those beets?" You see, I had already asked her if she would like to eat some salad with us and she had already said yes, so she was getting worried.
I said "yes, they are beets" and she started telling me that when she was a girl, she had a neighbor who would eat pickled beets on bread and that from time to time she would eat that too. I was already smiling inside because I just felt how worried she was about having to eat beets, which she didn't really want to or running the risk of me getting upset that she didn't.
So I said if you like pickled beets, you would like these baked ones as well, they are actually much better. The tormented look in her eyes… I could not stop myself from laughing.
Then we sat at the table and she started again about not being able to swallow things she doesn't like and stuff like that. At this point I was getting a bit annoyed because first of all: she's an adult, when she doesn't want to eat something, she doesn't have to do it, I don't need extra stories and I don't get upset so easily and secondly, when my son heard her talking like that about the beets he completely refused to even try the salad, which is the one thing that really annoys me when we eat.
So I told her that if she didn't want to eat she didn't have to, but it would be a good example to the kids when she would at least try.
So she did, reluctantly, and the end of the story was that she ended up eating two rather large servings of the Russian salad recipe and wondering out loud about how good beets and the whole salad actually tasted… (She only left the olives on the side of the plate, which I can live with 🙂 )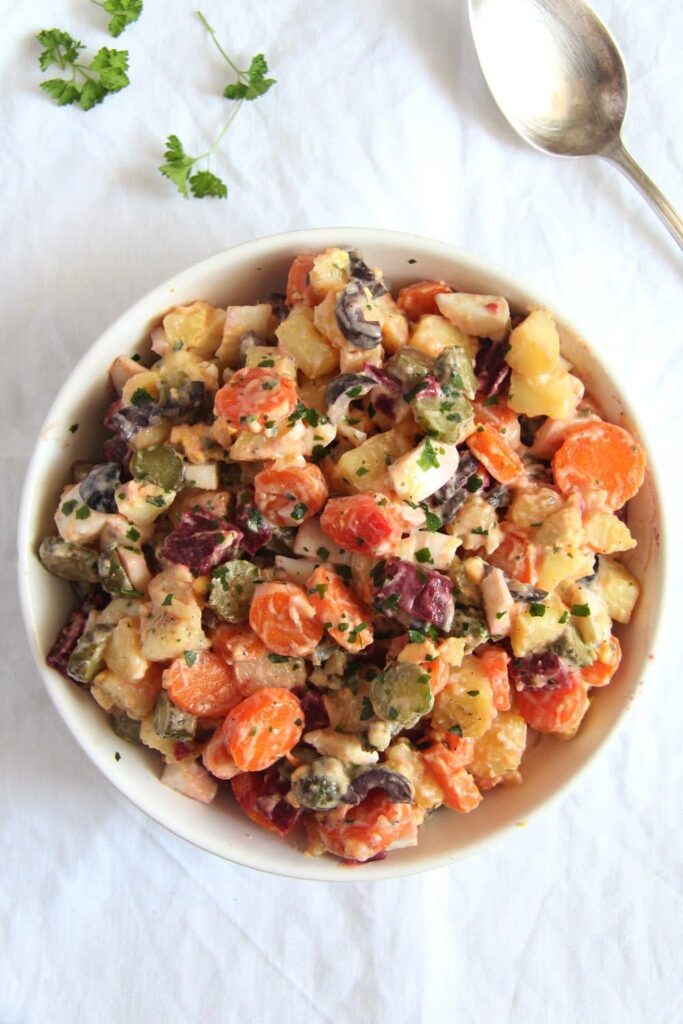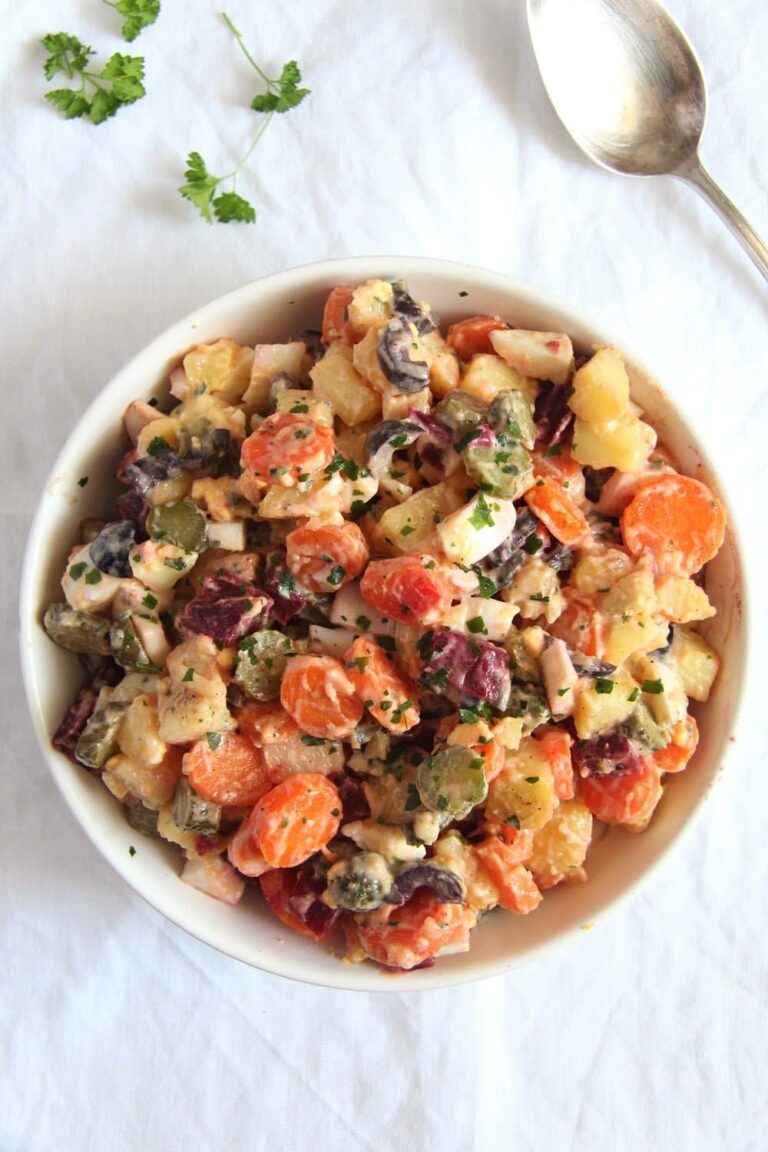 INGREDIENTS FOR SALAD RUSSE
Beets:
You can use either fresh beets, which you will have to cook or roast yourself or buy the packaged cooked beets. Not pickled beets though.
I bought fresh beets and baked them myself in the oven, I do recommend that because I think the beets taste best when baked at home, but I admit it is quite a lengthy process which I don't go through myself all the time either.
Mayonnaise:
Homemade mayonnaise is always best and I do make it all the time for this kind of salad, but if you don't feel like it, you can use your favorite brand of mayonnaise as well.
Olives:
When it comes to olives, I always recommend using whole black olives
with the pit in. It might take a few minutes to pit the olives, but they taste about a million times better than olives in brine. They actually taste of olives and not of water…
Otherwise, you will need cooked potatoes and carrots, hard boiled eggs and some gherkins.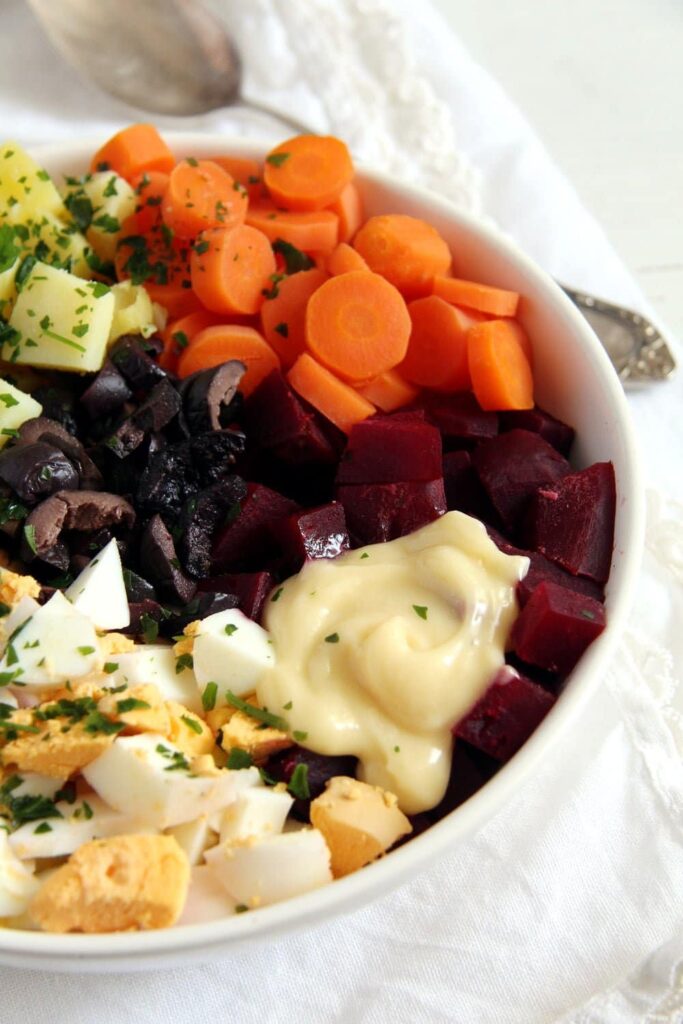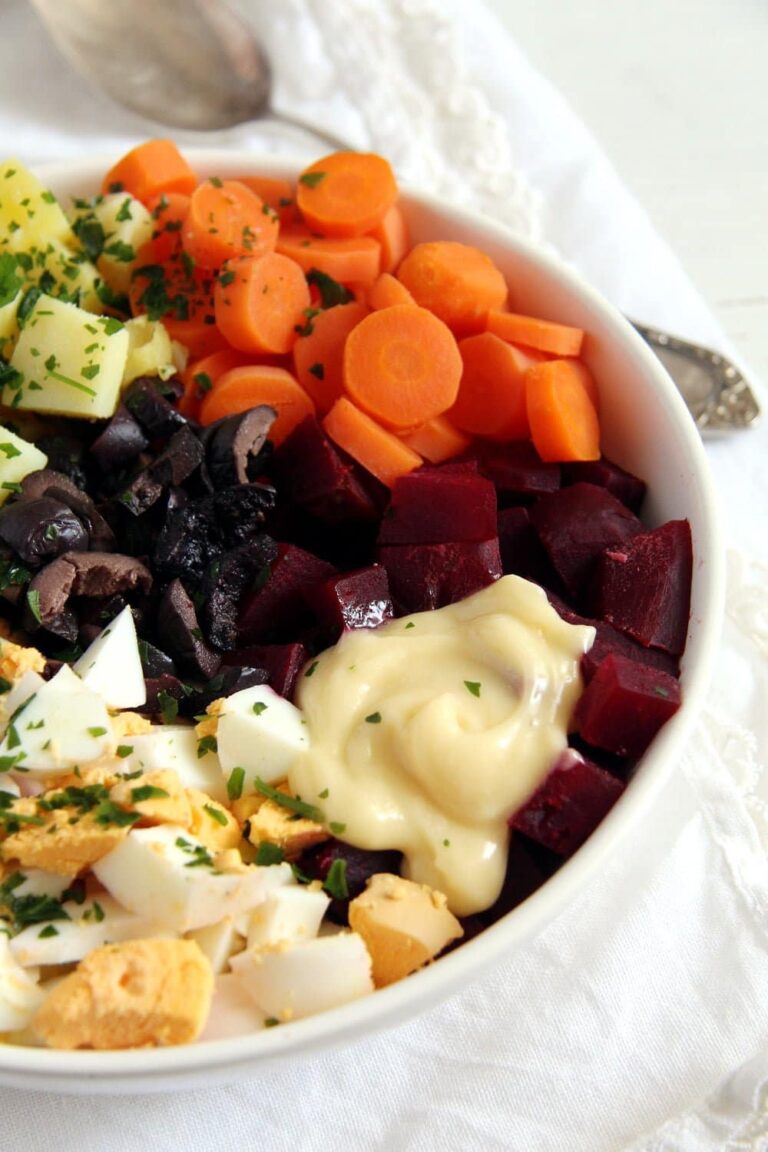 HOW TO SERVE RUSSIAN POTATO SALAD OR SALAD RUSSE?
This Salad russe would make a great addition to any Easter brunch table, but it is also delicious served on its own as a light meal or you can definitely take it to work or to a picnic.
It contains hard boiled eggs, so you could make this salad after Easter with some of the leftover Easter eggs. And in case you have a larger amount of hard boiled eggs, have a look at this post – What to do with hard boiled eggs?
MORE DELICIOUS POTATO SALADS:
Sour Cream Potato Salad with Bacon – our latest discovery when it comes to potato salad, we all love it!
German Potato Salad – a typical Swabian potato salad with oil and vinegar dressing.
Romanian Oriental Salad – I grew up on this delicious potato salad with eggs and onions.
Romanian Bouef Salad – made with chicken and not with beef (boeuf) like the name says…
PIN IT FOR LATER!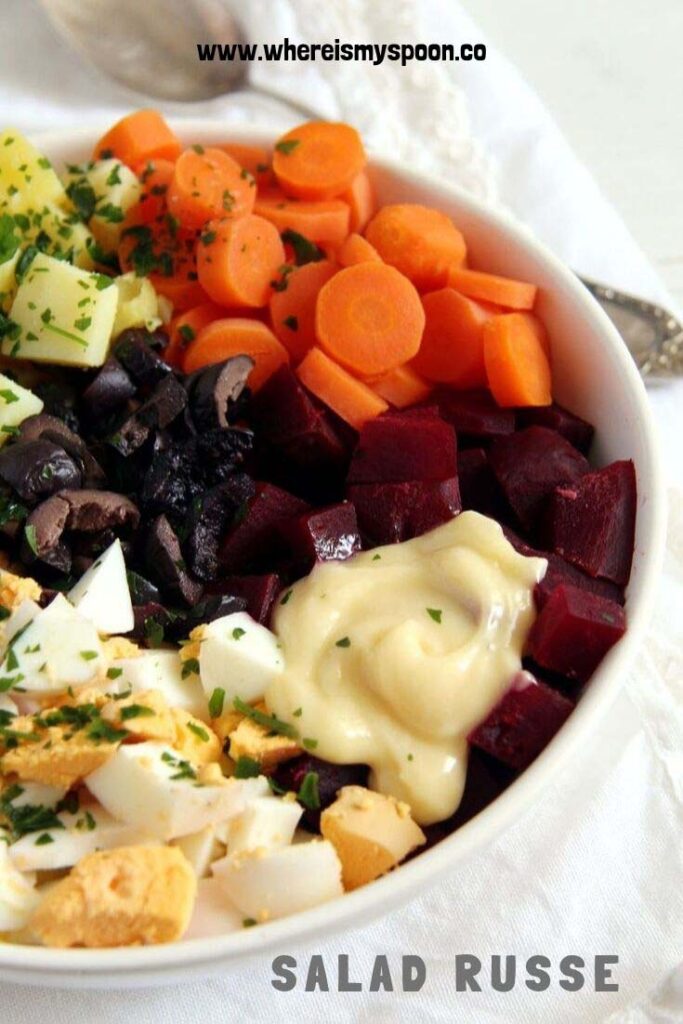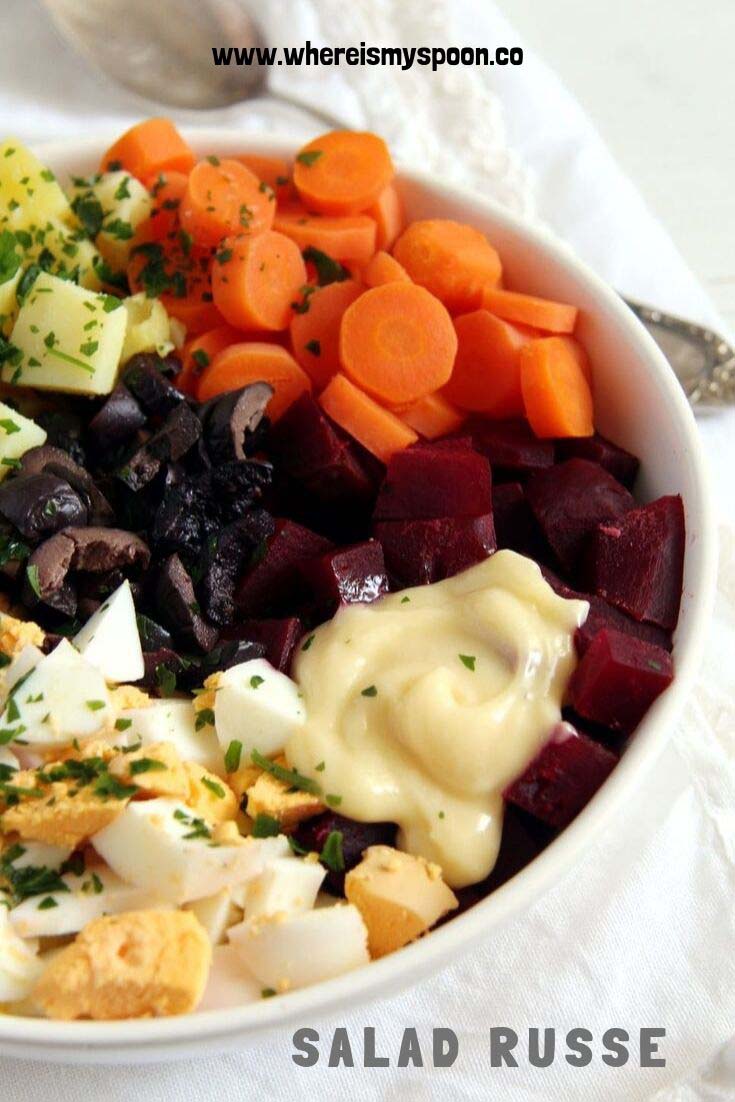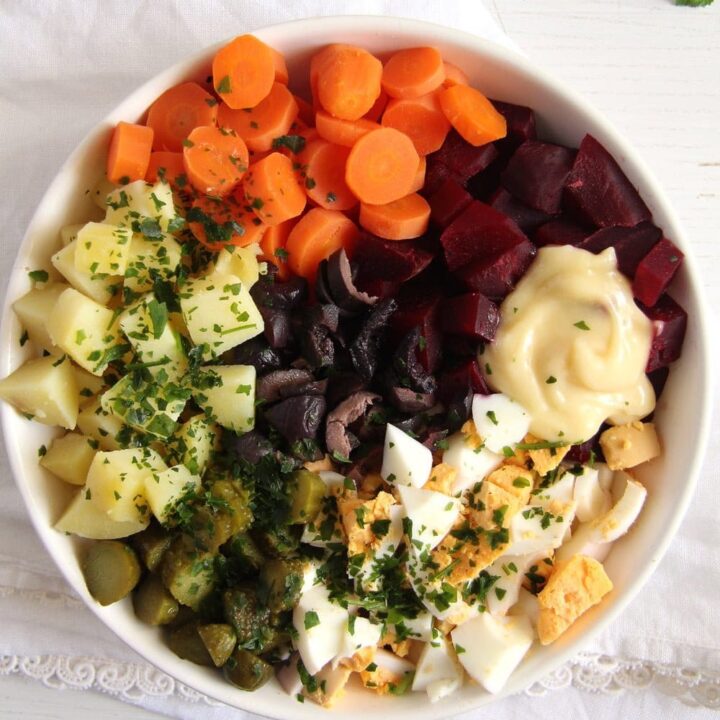 Salad Russe - Russian Salad Recipe
Cook Time:
1 hour
30 minutes
Salad Russe or Russian potato salad with beets, a very popular Eastern European salad, also known as Olivier Salad.
Ingredients
1 medium beetroot, fresh or already cooked
350 g/ 12.3 oz potatoes
3 medium carrots
3 eggs
10 small gherkins
4-5 tablespoons mayonnaise
1 teaspoon Dijon mustard
fine sea salt and black pepper
some parsley
Instructions
If your beetroot is not already cooked, wash and dry it well and place it on a baking dish. Preheat the oven at 200 degrees Celsius/ 400 degrees Fahrenheit and bake the beetroot until soft, you should be able to easily prick it with a fork. This will take at least one hour or more depending on the size of your beetroot, keep checking.
In the meantime, cook the potatoes until soft. Cook the carrots. Cook the eggs until hard as well. Leave everything to cool, the beetroot as well.
When all the cooked vegetables and the eggs are cold, chop them into nice cubes or slices.
Remove the stone of the olives and chop them roughly.
In a small bowl combine the mayonnaise and the mustard, add some salt and pepper.
Give the mayonnaise to the vegetables and mix carefully.
Adjust the taste with salt and pepper again and sprinkle the salad with some chopped parsley.
Nutrition Information:
Yield:

4
Serving Size:

1/4 of the dish
Amount Per Serving:
Calories:

349
Total Fat:

19g
Saturated Fat:

4g
Trans Fat:

0g
Unsaturated Fat:

15g
Cholesterol:

147mg
Sodium:

786mg
Carbohydrates:

37g
Fiber:

5g
Sugar:

15g
Protein:

8g
Nutrition information isn't always accurate.